Curious about VoIP and how it can give you the ability to make affordable calls? Read on the find out how VoIP works.
What is VoIP?
VoIP is an abbreviation for voice over Internet protocol. A traditional telephone system connects you with other people using a network of copper wires and other systems. In comparison, VoIP calls are transmitted through the Internet. Each part of the conversation is sent as a packet of data to the person you are speaking with and then translated back into sound.
VoIP calls are used by millions of people every day. If you've ever worked in a modern office building, there is a good chance you have already made and received VoIP calls using this system.
Now, let's take a closer look at how VoIP systems work to keep you connected.
How does VoIP work?
To make and receive calls through PBX and VoIP technology, you don't have to know how the system works in detail. However, a high-level understanding of the mechanics of VoIP service is helpful.
To illustrate VoIP technology in action, let's assume you have a VoIP solution right now and your best friend calls you. The following steps explain how the call works.
Your friend dials your phone number. This call ultimately connects to your VoIP service provider and their IP network.
The VoIP service provider sends the call to your VoIP phone using an Internet connection.
You hear the sound of an incoming call and answer the phone. As soon as your friend says hello, you start speaking.
As the call progresses, each sound of your conversation is transmitted back and forth through an IP network. VoIP technology constantly transmits this digital information and converts it back into audio as the call continues.
How do you optimize your Internet connection for VoIP?
A high-speed Internet connection is vital to make VoIP calls. There's just one challenge: you probably have multiple devices at home and your office that simultaneously use your broadband Internet connection. When there are too many demands on your broadband Internet connection, your VoIP connection may suffer.
To prevent disappointment, use the following tips to optimize your Internet connection.
Distance to the wireless router. Your computer or mobile device is probably connected to the Internet by wi-fi. You can get a faster connection by getting physically closer to your router during calls.
Turn off other devices and programs that use your Internet connection. Before each VoIP call, consider turning off apps that stream audio and video (e.g., video streaming services like Netflix and Internet-connected video games). When these other devices and services are disconnected, your VoIP call is likely to have better quality.
If the above tips do not help you optimize your broadband Internet connection, calling your Internet service provider (ISP) is a good next step. They may have additional technical suggestions on how to speed up your Internet connection.
What are the pros and cons of VoIP?
Like any technology, there are pros and cons to using VoIP. So before you switch to a business VoIP provider and cancel your traditional phone systems, take a few minutes to understand the pros and cons.
Advantages of VoIP
Cost savings compared to traditional phone lines. Further, VoIP service providers often provide greater flexibility (e.g., you can make VoIP calls from your PC, smartphone, or tablet). A further advantage of VoIP over an analog phone is speed. You can set up VoIP phone systems in minutes or hours while signing up for an analog phone or a cell phone can take much longer.
Disadvantages of VoIP
You must have a working broadband connection to use VoIP. Another potential downside is the time required to fully use VoIP if you are used to making calls with traditional phone lines. In addition, power outages can make it challenging to access VoIP with a PC, but you can still use a VoIP mobile app.
Traditional phone systems also have pros and cons to consider. The main advantage of traditional phone systems is that they still work during a power outage. In addition, an analog phone does not require an Internet connection to make calls. On the other hand, the downside to making telephone calls with an analog phone is the higher costs and lack of flexibility.
What is the difference between VoIP and unified communications?
Before making changes to your network infrastructure and buying an IP phone for every employee, you may consider whether you should choose unified communication instead. There are some key differences to keep in mind.
Business communications focus. A unified communications system combines multiple capabilities like video conferencing, audio conferencing, a mobile app, and business phone service. In contrast, a VoIP phone can be used by an individual or a business.
Cost differences. Understanding the cost of your business communications tools is essential. In most cases, a business VoIP provider will probably be cheaper than unified communications, especially if you only need to make telephone calls.
Professional services. Due to the complexity and many options involved in unified communications, you may need to pay for professional services (e.g., consultants) to set up the system. In contrast, VoIP implementations can be much more straightforward.
How do you choose the best VoIP provider?
As a business owner, some buying decisions matter more than others. When choosing a VoIP service provider, remember that you will use the system every day. Therefore, it is worth spending some time comparing different VoIP providers before making your choice. To simplify the process, use the following selection criteria as a starting point.
VoIP service provider reputation – Ask your friends and colleagues for suggestions on the VoIP service provider they use. Further, take some time to look up online reviews that highlight the pros and cons of different providers (e.g., voice quality) so that you can develop your shortlist.
international calling – VoIP vendors approach international calling in different ways. Some provide unlimited international calling to a few countries, while others offer international calling to dozens of locations.
security capabilities – When your customers speak with you, they may share confidential information like payment details (e.g., credit card numbers). That's one reason why security is such a critical feature when choosing a VoIP service provider.
service quality – Have you ever been disconnected while on an important phone call? It's an incredibly frustrating experience. In terms of service quality, pay particular attention to the audio quality offered by the VoIP service provider. In addition, check what type of customer support (e.g., email, phone, or chat) is offered by them.
cost – Don't assume that every monthly plan is comparable. Some may include additional features like video calls, SMS, and the ability to connect with your customer relationship management (CRM) system.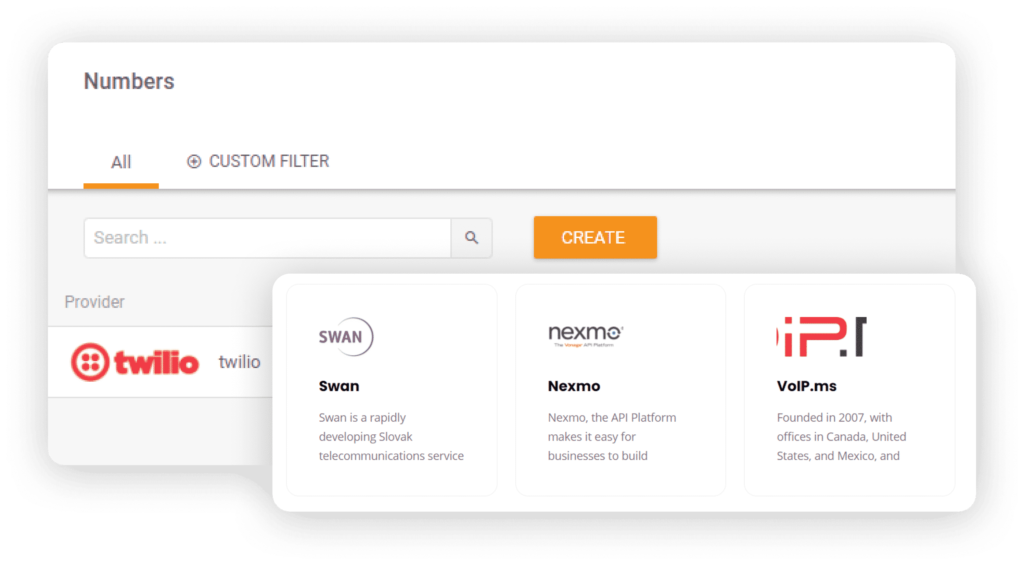 Make a list of your key features (e.g., must include international long-distance and include voice mail) before looking at cost.
Choose the right VoIP provider
LiveAgent offers plenty of integrations with various VoIP providers so you can pick the right one for you. Curious about all the opportunities?
Watch a video about VoIP
LiveAgent helpdesk is a comprehensive customer service solution that offers a wide range of features to help businesses engage with their customers, including customer service technologies, chat, and VoIP connections. It is designed to create an automated workflow to help address customer inquiries and escalate them as quickly and efficiently as possible. A VoIP connection is an internet-based connection that allows businesses to communicate with their customers without the need for traditional phone lines. This connection provides customers with fast and effective support by allowing live voice and video chats. LiveAgent takes advantage of this technology to help businesses communicate and engage with their customers more quickly. LiveAgent's support team is available to provide help to customers in any segment, anytime, anywhere, ensuring that their customers receive the best customer experience.
What is VoIP? | Yeastar01:42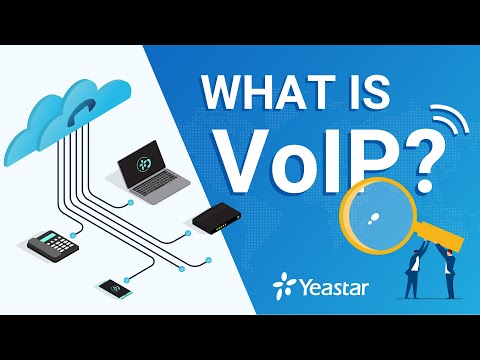 Yeastar
Topics
VoIP technology
Internet-based calling
data packets
Video summary
The video explains what VoIP (Voice over Internet Protocol) is and how it works. It compares traditional landline phones with VoIP, which uses the Internet to transmit calls. The process of packing audio into data packets and unpacking them is discussed, as well as the benefits of using VoIP, such as low cost and easy installation. The video ends with a call to visit yeastar.com for more VoIP solutions.
Frequently Asked Questions
What is VoIP?

VoIP is an acronym for voice over Internet protocol. It is a way to make phone calls using the Internet rather than a telephone company.

How does it work?

Voice over IP works by connecting your desk phone to the Internet and transmitting your conversation through an IP Network. Ultimately, VoIP lets you make calls to anybody whether they have a desk phone or a cell phone.

How do you optimize your Internet connection for VoIP?

To improve the quality of service on VoIP calls, you need to make sure data-intensive services (e.g., video streaming) are not using your broadband connection at the same time as your calls. If you are experiencing difficulties anyway, try to get closer to your network router. If neither of those tips works, ask your Internet service provider for further advice.

What are the advantages and disadvantages of VoIP?

The advantages of VoIP include affordable low-cost phone services and flexibility (e.g., you can use your smartphone to make VoIP calls). The disadvantages of VoIP include occasional problems with voice quality and the requirement that you have a quality broadband connection.

What is the difference between VoIP and unified communications?

VoIP is a technology to make phone calls through the Internet instead of using cellular service or a traditional phone. In contrast, unified communication is a suite of business communication tools that may include a fax machine, email, phone calls, video conferencing, and more.

How do you choose the best VoIP provider?

Start by defining what is important to you. For example, if you need low-cost international calling, focus on VoIP providers offering this feature. In most cases, the perfect solution will offer cost savings, high service quality, customer support, and an excellent provider reputation.
Expert note
VoIP technology is a game-changer for customer support. It allows businesses to provide seamless, high-quality communication with customers, regardless of where they are located. It's a must-have tool for any company looking to provide exceptional customer service.

Andrej Saxon
Sales manager