Partner
Partner website
Partner Privacy Policy
Please follow the step-by-step guide outlined below to activate your Highrise plugin.
First, you need to have an active Highrise account.
If you do, activate the Highrise plugin in the LiveAgent Plugins section. (Configuration > System> Plugins)
Hit configure and copy your Highrise Account's API and URL.
Confirm and you are good to go!
What is Highrise?
Highrise is a cloud-based CRM tool created by 37signals. CRM – Customer Relationship Management, is a method for interacting with your current and future customers. The objective of CRM is to engage more customers and retain your current ones by always being prepared when you communicate with them. You can also keep track of their current problems or the problems they've encountered in the past.
How does it work?
Keeping your customers' data in two separate interfaces might be time-consuming. That's why we integrated Highrise directly into LiveAgent. Highrise will help you to keep track of previous deals and/or issues with your contacts and LiveAgent will allow you to provide them with quality help – desk customer service. Activate Highrise and start managing Highrise data within LiveAgent(and the other way around).
Example:
Let's say Mr. Marsellus Wallace submits a ticket. You already know Marsellus and keep track of his previous deals in Highrise. Your support agent will be able to see all this information in LiveAgent, therefore he will provide the most accurate and quick response. Additionally, agents can add notes directly in LiveAgent which will also show in Highrise.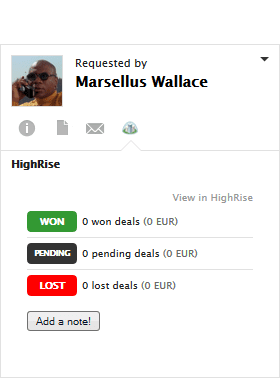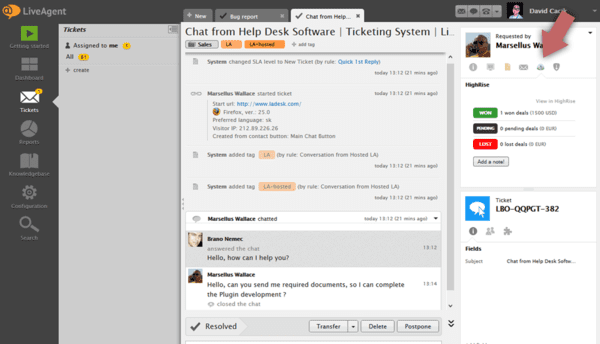 Frequently Asked Questions
What is Highrise?

Highrise is a powerful Customer Relationship Management system that helps you manage and view data your company has about the customers. By connecting Highrise with LiveAgent, you can leverage the CRM right from your ticket and effectively help your customers from one interface. 

How can you integrate Highrise?

Log in to your LiveAgent account > click on Configurations > System > Plugins > activate Highrise. Insert URL and API key from Highrise and USE!