Partner
Partner website
Lorem ipsum
What is Facebook?
Facebook is a social media platform used by people worldwide. It's used to connect with friends, chat in real-time, follow news or memes. It's also used by businesses to help them interact with their customers, provide updates, sell products or services, or provide customer support. 
How can you use it?
Besides in your personal life, you can use Facebook to promote your business with a custom Facebook page. Share news, updates via posts, create stories, promote your products or services, communicate via Messenger and create advertising campaigns. You can do many of these actions from your LiveAgent ticketing software and keep focused on the job from one software.
Benefits
Popular social media as a support channel
Keep track of your accounts and pages from LiveAgent
Manage posts, messages and more
Communicate via Facebook Messenger from LiveAgent
How to integrate Facebook with LiveAgent?
LiveAgent has a native Facebook integration available for all customers. All you need to do is connect it. After connecting your Facebook account and a page, you will be able to communicate with your customers from LiveAgent.
Go to your LiveAgent's Configuration > Facebook. When you're there, click on the ENABLE FACEBOOK button.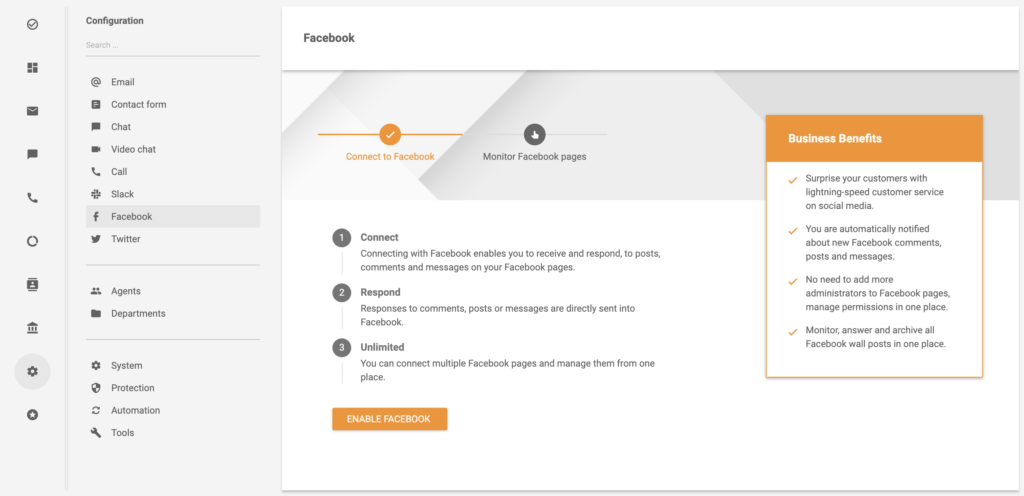 Depending on whether you already had a Facebook account connected or not, you will be asked to log in and provide access to your data. 
It's time to connect your page after enabling access to Facebook. Go to the second section Facebook pages.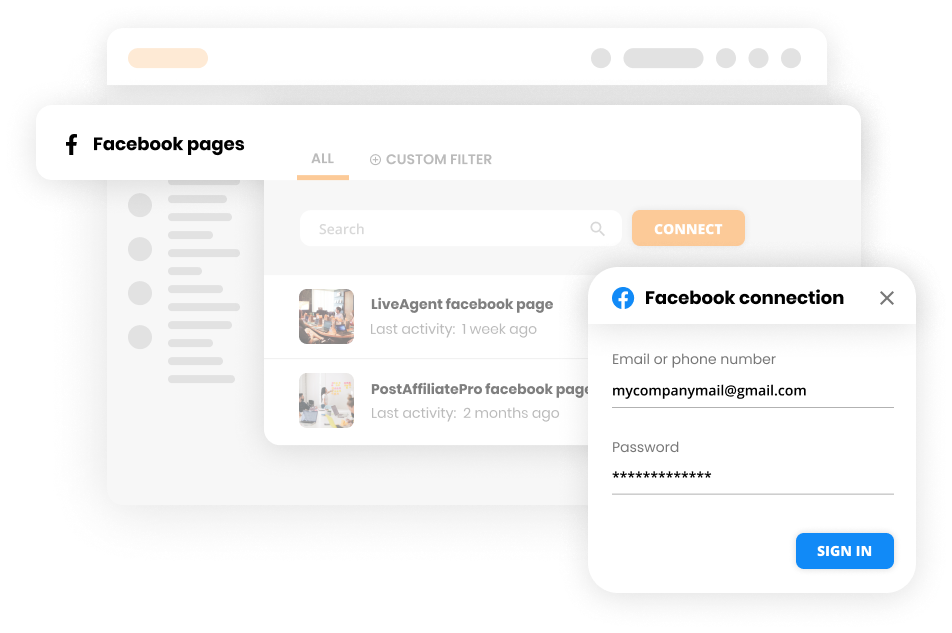 Click on the orange Connect button in the top left corner. Enter your login details and password. After that you will be asked to select Facebook pages you want to connect with LiveAgent. Select them and continue.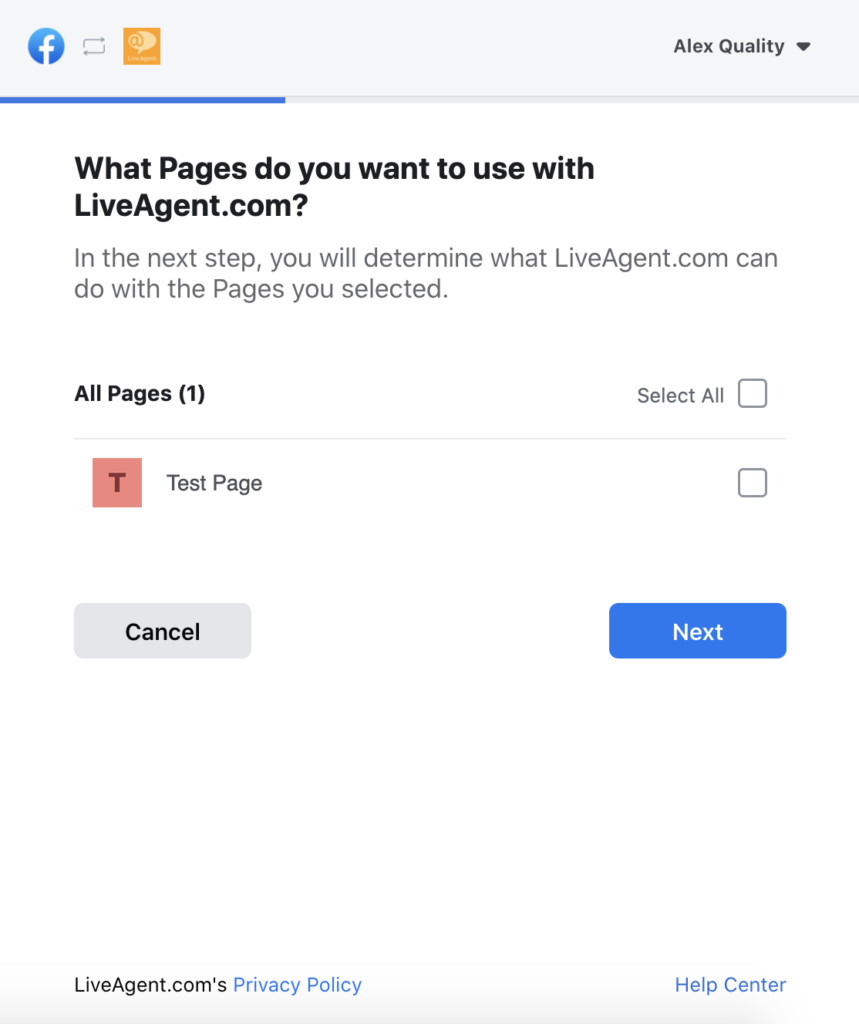 You can select which page actions will LiveAgent be able to manage for you. Customize your Facebook integration experience in this section of the setup. When you're done click on Done.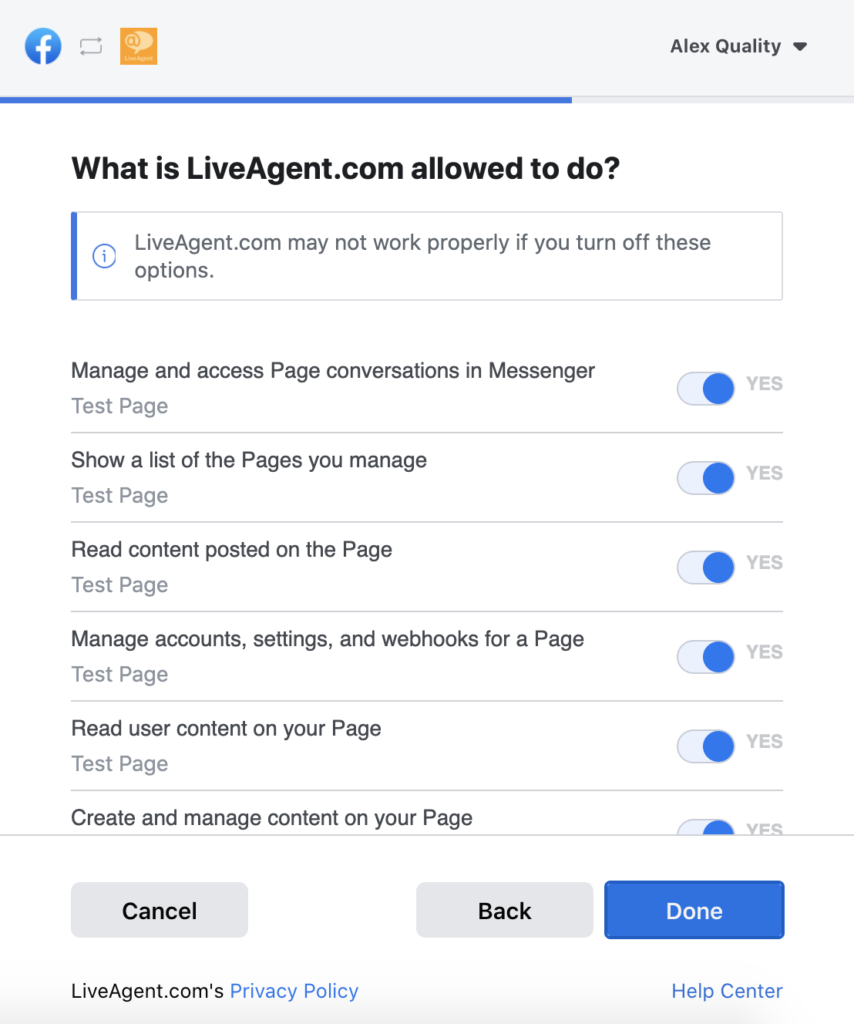 That's it. You successfully integrated your Facebook pages with LiveAgent.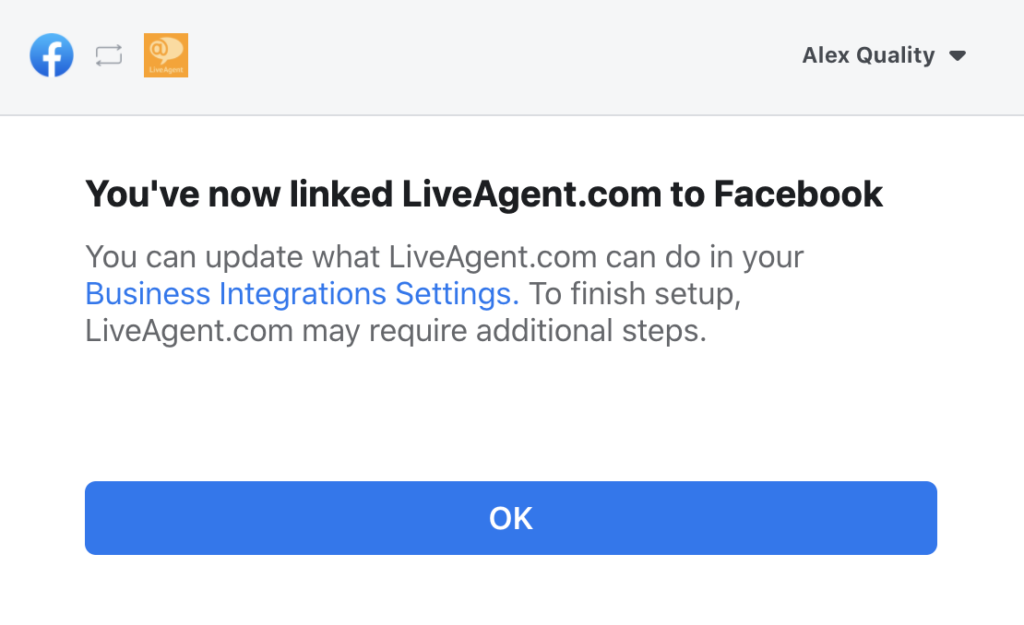 Let's test out how it works. Let's send a message to our Test page on Facebook. Then we can check if it was delivered into our LiveAgent ticketing system.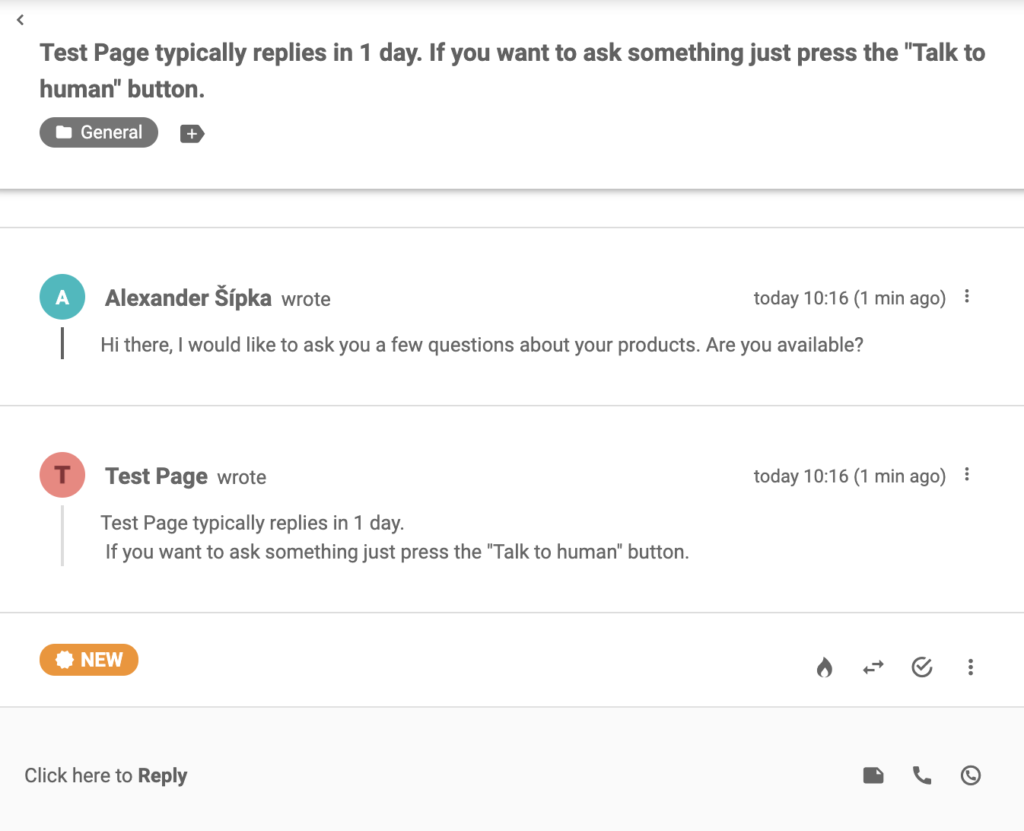 The message arrived to your ticketing system. The integration works. 
How to connect LiveAgent with Facebook Pages via Zapier
Zapier allows you to connect two apps within minutes without any coding experience. It works by connecting a trigger from one app and a resulting action of the trigger in the second app. First of all, you're going to need a Zapier account. You can create one here. If you already have one, simply log in and go to the LiveAgent + Facebook Pages integrations page. 

Scroll down until you see the Connect LiveAgent + Facebook Pages in minutes section. Here you can select a trigger and an action. To show you an example, we used Facebook Pages trigger New Post by You and LiveAgent action Create Conversation. 
Pick what suits you and continue by clicking the blue button below. 

Now you need to set up the trigger. Connect to your Facebook account and give Zapier your permission to handle your data. Click on Save & Continue when done.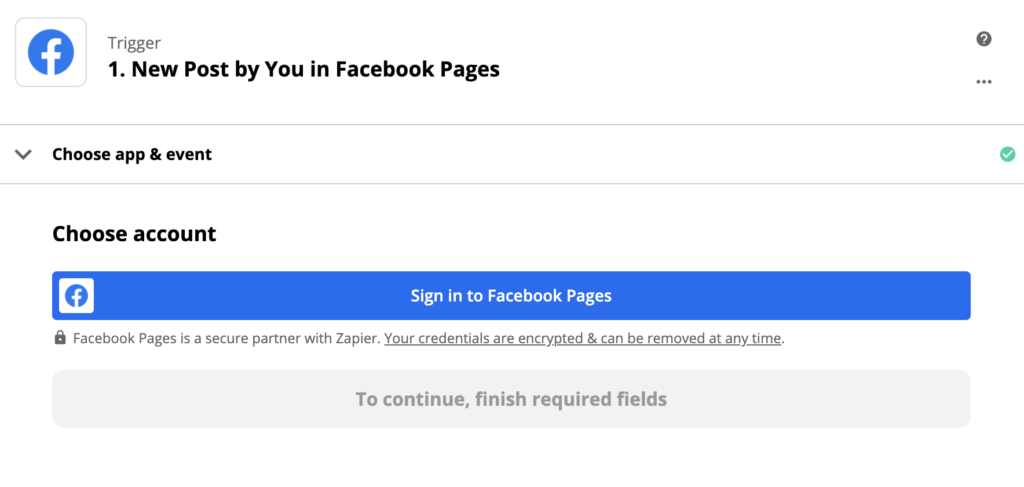 After that you can test your trigger. This step is not necessary but we highly recommend it to see if the trigger works as it should.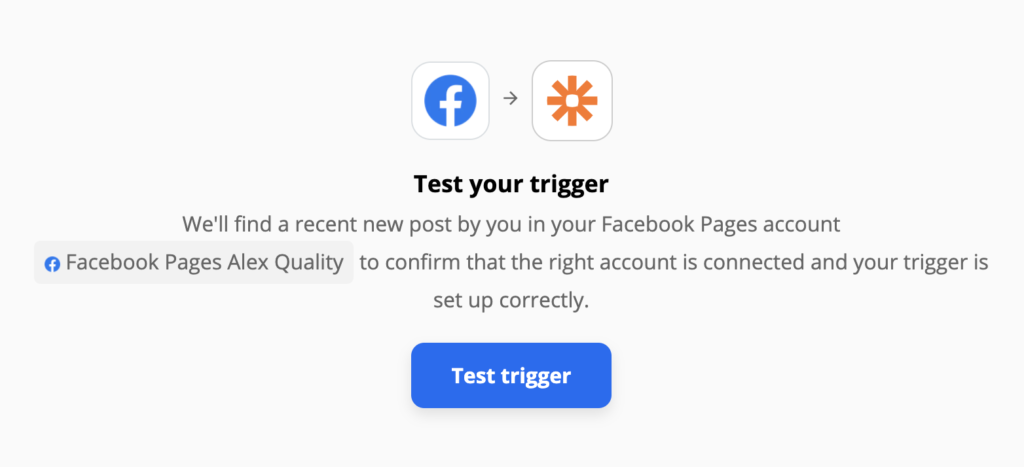 After a successful test, it's time to set up your LiveAgent action. This setup requires more specific information. Fill the required fields. If you want to specify the message further, you can fill out non-required fields. Click on continue.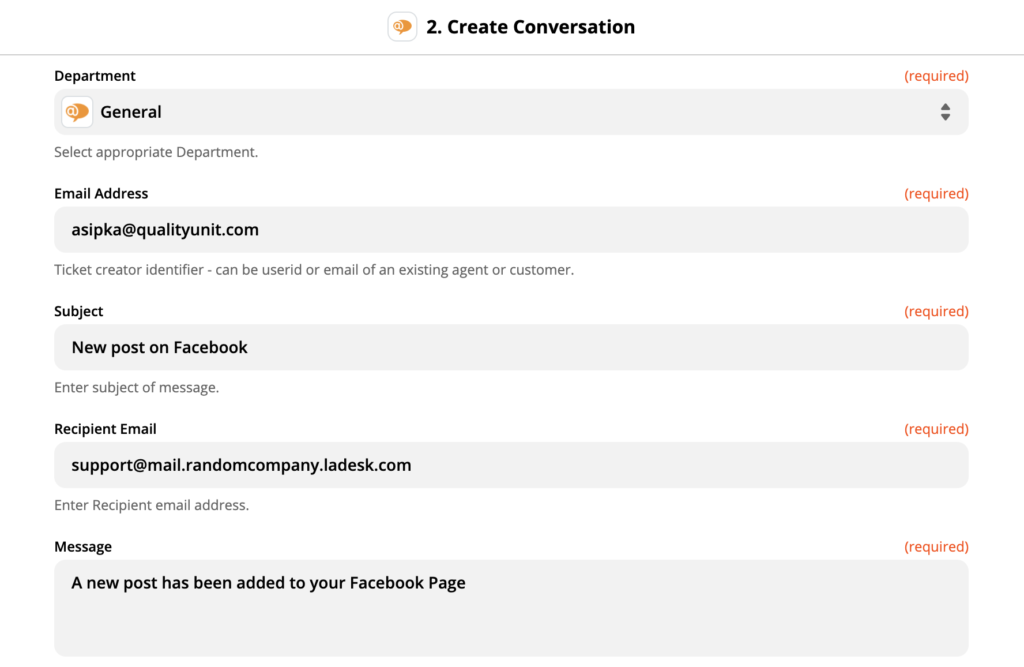 Now a final test of the integration is necessary.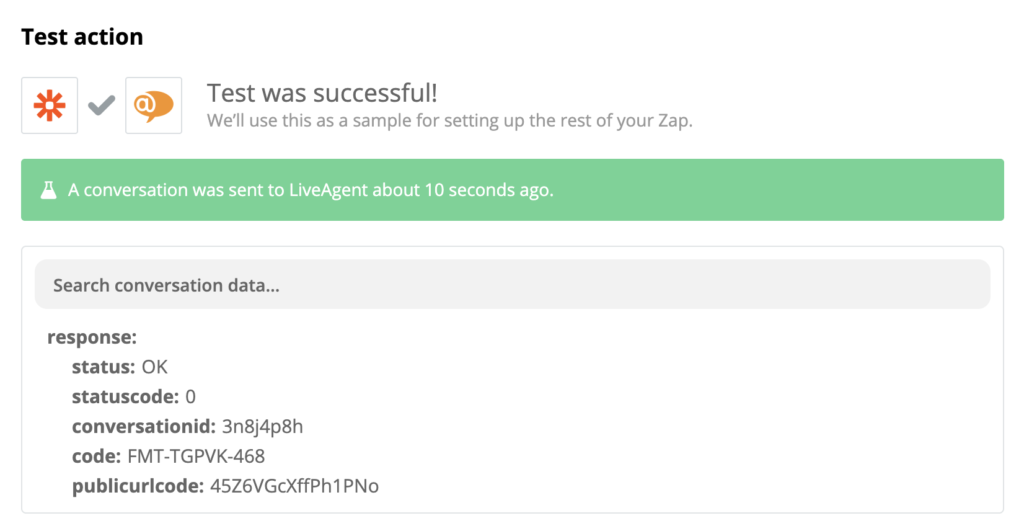 Congratulations, you've successfully integrated Facebook Pages with LiveAgent. Let's check LiveAgent ticketing system to see if it works. Go to your tickets and see if the ticket has been received.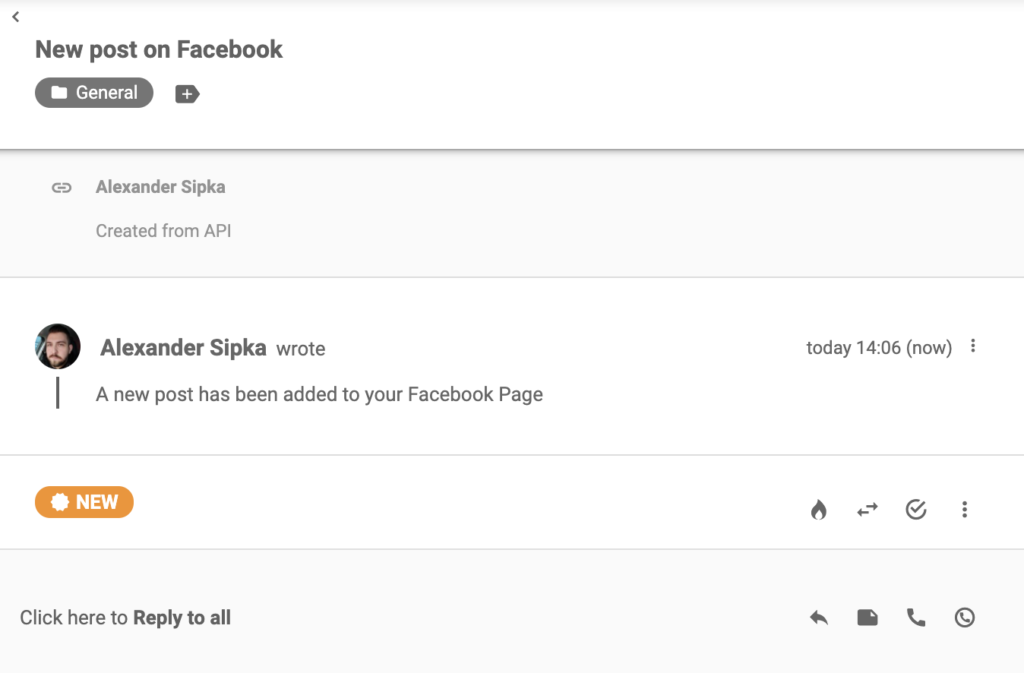 That's it, you're done. Feel free to return to Zapier and create more integrations. 
Frequently

asked questions
How can you utilize Facebook integration in LiveAgent?
Integrating Facebook into LiveAgent will help your customer service effectively deal with all Facebook inquiries, posts, comments from one place. As a result, you stay updated and always available for your customers.   
What are the steps to integrate Facebook with LiveAgent?
Navigate to Configurations from your LiveAgent Dashboard > Search for Facebook > Facebook Pages > Connect.