VoIP phone systems are computerized telecommunications services that allow users to make voice calls over the internet instead of a regular phone. The best VoIP phone systems can be easily configured and provide text message alerts about missed calls, voicemail messages, and call routing. In addition, some VoIP service providers allow you to pre-purchase blocks of time at discounted prices, which all countries can use. With the most outstanding VoIP phone systems, you don't have to worry about international rates and save money with your calling plan.
What is a VoIP phone system?
VoIP phone software is a telephone service that uses Voice over IP technology to transmit calls. It sends analog signals online to digital systems rather than through traditional telephone lines. Companies can utilize business VoIP services with home-based phones or commercial VoIP systems like Vonage or Dialpad. These phone systems enable the transfer of pictures, video, and sound online.
Several phone services are available like:
Traditional VoIP systems have features such as holding calls and call waiting.
Cloud-based VoIP phone systems contain more features and are accessible via any device with internet access.
Self-hosted VoIP phone systems keep the phone system hardware on-site.
Self-hosted VoIP systems – Self-hosted systems save money on installation costs. When making calls on your self-hosted system, calls are routed over the internet—requiring an online connection to make or receive calls. Additionally, outgoing calls cost less per minute because you host the VoIP system. Because of these reasons, self-hosted systems can be used by starting call centers looking to begin operations with minimal up-front cost.
In-house VoIP systems – In-house systems involve using VoIP phones and equipment at your business location. This equipment is connected directly to routers installed by the telephone company. This type of VoIP may also be called PBX or Private Branch Exchange. A business that can afford the upfront cost of equipment for its call center is an example of a company that can benefit from utilizing in-house VoIP systems.
Traditional VoIP phone systems – VoIP phones communicate through VoIP protocols and software installed on a server. In hosted VoIP systems, VoIP servers are housed in remote data centers or an adjacent building via a high-speed internet connection. Businesses looking for a more scalable and cost-effective solution over traditional in-house telecom could most utilize this system.
How does a VoIP phone system work?
Calls placed over VoIP systems transmit your digital voice as data packets across internet protocol (IP) networks. These systems allow telephone calls to be made anywhere and use packet switching instead of the traditional circuit-switched public telephone network.
Pairing VoIP softphones with fast broadband connections provides cost savings by having one provider handle both functions. In addition, these phone systems digitize your voice, which takes up far less bandwidth than analog data transmission methods such as cable internet service—allowing your business to avoid paying extra for telephone line rentals or additional call charges.
Unlike traditional analog, VoIP systems have no separate lines needed to connect two parties. The digital signals make conversations clear and unaffected by outside noise or other interference.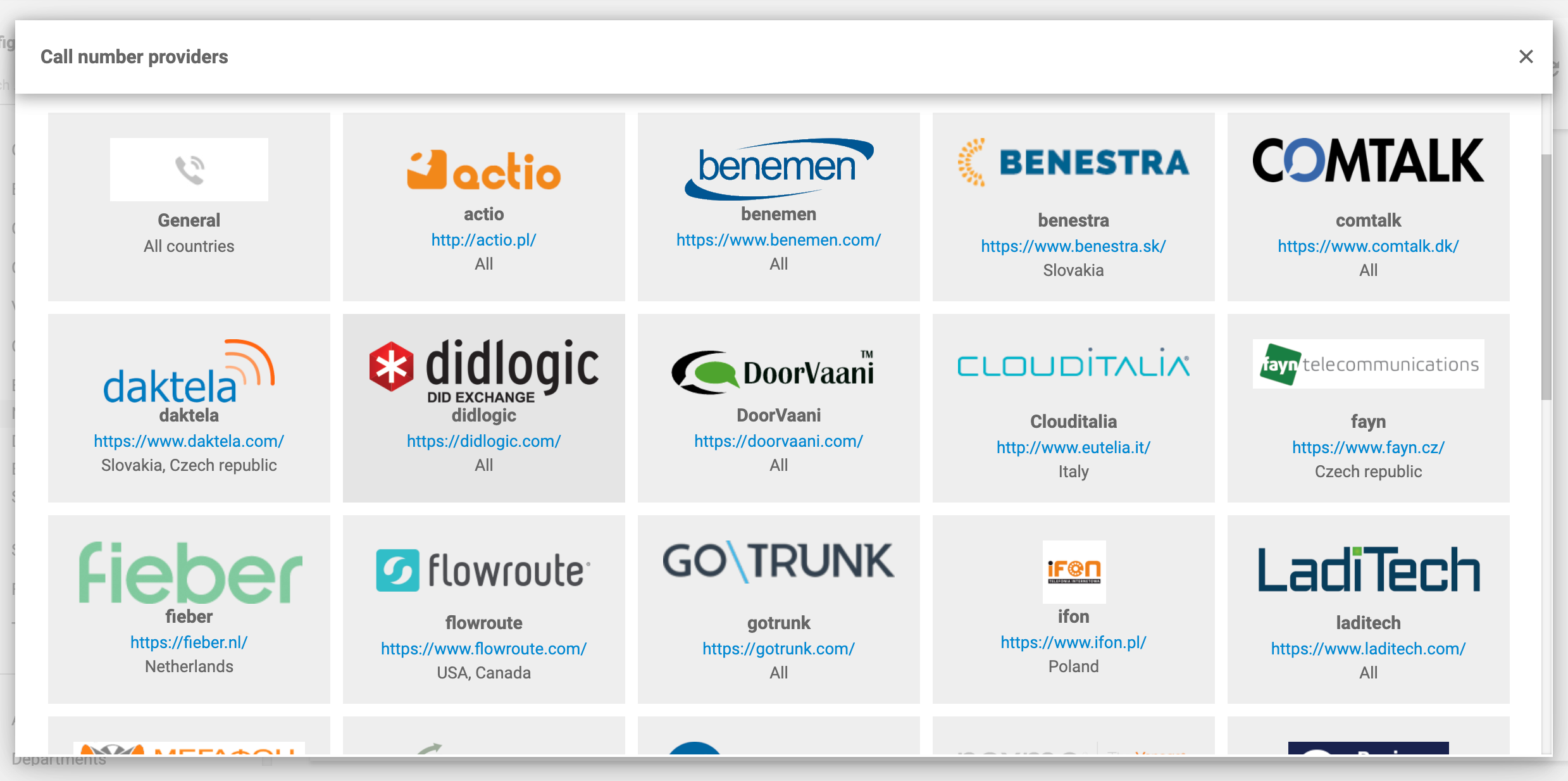 What are the reasons for using a VoIP phone system?
A VoIP phone system uses features such as advanced telephony applications and transferring voice calls. A traditional phone is used for direct communications of information. VoIP technology has calling features and services which can improve your business. Some features include:
Caller ID – If configured with your VoIP provider, your device will display the calling party's name and number.
Call waiting – If you are having a conversation on a VoIP phone and another call comes in, you can quickly answer or ignore the second call.
Transfers – This management feature lets agents forward incoming calls directly to another number to improve efficiency.
Voice mail management – Most VoIP providers offer free call recording services that track your messages and save you money.
Three-way calling – Various VoIP systems can use three-way calling when talking with people in the US or Canada for easy communications.
Cost Savings – Centralized routing of calls to different locations using a VoIP system equals lower call rates than traditional phone systems.
Unlimited access – Agents can use the same telephone number regardless of the physical location.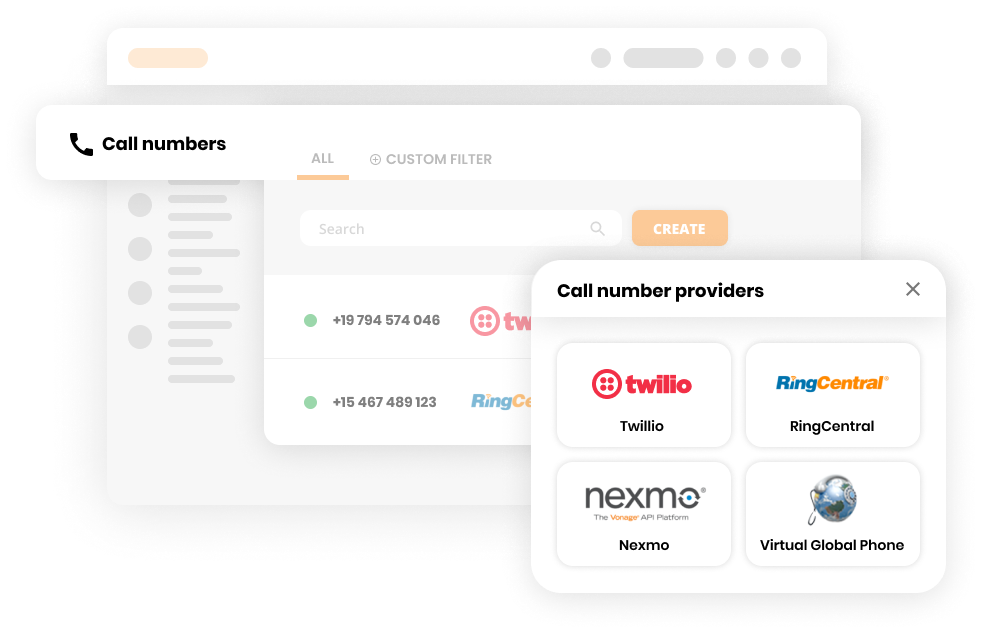 Are VoIP phone systems better than a landline?
VoIP provides voice calls over the internet to anyone who has an internet connection. All in all, these services are seen as a better option than landlines by many people.
VoIP voice quality varies widely depending on connection speeds and other factors. System quality is often better than that of a traditional landline if you have enough bandwidth. However, voice quality can be worse than a landline if bandwidth is scarce. Additionally, these digital systems do not care if multiple people use them at once; traditional phone lines require extra equipment to accomplish this.
Business VoIP services are more flexible than landlines because you can use them on essentially any device you want, so businesses do not have to worry about compatibility issues when upgrading computers or buying new machines.
Find the right VoIP
Are you still looking for the solution that will fit your needs? LiveAgent offers plenty of useful features for a reasonable price. Curious about all the opportunities?
How to choose the best VoIP phone system
Choosing the correct VoIP phone system can be tricky. A lot goes into choosing a VoIP phone system; it's not a decision to be made lightly. It's necessary to understand what to consider when selecting the correct VoIP phone system for your business.
Commitments
To choose a VoIP phone system, you should become familiar with the software's commitments, including payment plans, software requirements, hardware requirements, trunks, and gateways. It is not recommended to commit to a VoIP phone system until you know it fits your business operations.
Price
Companies need to consider pricing models when choosing a VoIP phone system. Prices vary depending on the VoIP software you choose. For instance, Vonage requires you to contact them for a quote and may charge based on each minute of calling.
Support
When choosing a VoIP solution, you want to ensure that your team quickly makes and takes phone calls. Select a VoIP provider with 24/7 support, especially if you have a large or remote team in various time zones.
Ability to scale up/down
You can manage a VoIP support team of any size from anywhere in the world. No matter your current business size, you want to choose software to meet your business's current and future needs. You want to choose a VoIP phone system that allows you to quickly scale your payment plan and equipment based on your company's needs.
Collaborative Options
Choosing a customer phone system that allows team collaboration can be highly beneficial to team communications. Be it a VoIP provider or chatting with customers. By using omnichannel software, you can further customer and in-house collaboration using your VoIP phone system.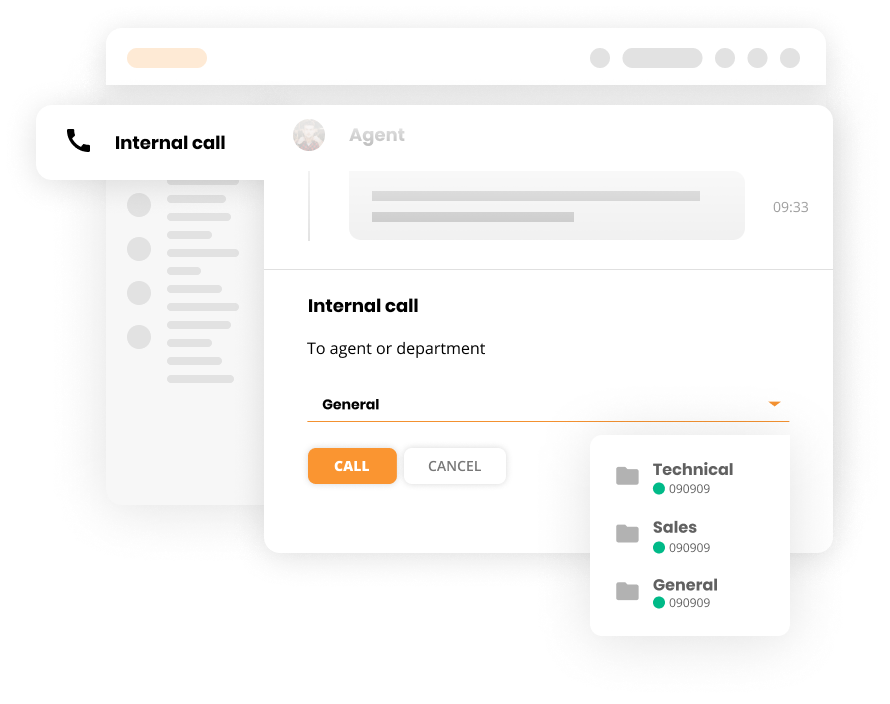 Software Limitations
To choose a VoIP phone system that meets your business needs, you want to know your software's limitations. Consider your current staff size and the features that will meet your client's needs. Be it contact channels, inbound calling, or outbound calling. Ensure your VoIP phone system does not limit your business's practices.
Benefits of using a VoIP phone system
The integration of VoIP phone systems has revolutionized many facets of the industry. VoIP phone systems allow for more mobility than traditional private branch exchange phones. Instead of being confined to landlines, business owners can use their phone center system from anywhere. By implementing these systems, organizational efficiency reaches an all-time high as costs become reduced.
Business VoIP phones have more additional features compared to traditional business phone service providers. The transition from standard landline telephone service to VoIP phone systems offers many benefits for all business sizes by:
Eliminating expensive long-distance and international calls.
Conference calling, automatic call distribution, and auto-attendant services.
Call forwarding, caller ID, and a virtual phone number.
VoIP systems use a virtual PBX platform, allowing the user to create custom extensions for each department.

Which industries benefit most from VoIP phone systems?
VoIP software is beneficial for small businesses to large enterprises, with features to fit the needs of companies across industries.
Small-sized businesses in industries like hospitality will benefit because VoIP phone software makes it easier to handle technical support issues independently.
Medium-sized businesses involved in networking industries like real estate can improve customer outreach with a VoIP system to accommodate their large volume of calls.
Large-sized businesses that field customer interactions like e-commerce will find VoIP systems are helpful for users within the organization and with clients calling.
What are the disadvantages of a VoIP phone system?
A VoIP phone system is a reliable, affordable method for businesses to have phone lines.
However, some disadvantages come with them as well like:
Latency or lag time
Reliable internet service
Expensive initial setup
Signal disruptions due to poor quality microphones or speakerphones.
Latency is caused by several factors, like the distance between the source and destination server. The farther away callers are the more potential latency can occur during the call. The initial setup cost of a VoIP system is too high for some companies who may not want to switch because they would have to pay a large amount of money upfront. Finally, poor sound quality from low-quality microphones or speakerphones has been known to create disruptions during business hours.
What are the requirements for setting up a VoIP phone system?
The network should have gigabit ethernet connections throughout its infrastructure for consistent connections. If users want to use their data plans on mobile devices such as tablets and smartphones, they'll need 4G WAN or 3G/4G USB modems. The modem and the LAN connection can be via cable or wifi. A minimum speed of 2 Mbps upload and 5 Mbps download is suggested for good quality audio transmission over the internet.
The CPU's core count can influence the number of concurrent calls possible in a system. For example, if there are 100 simultaneous VoIP channels and each call requires 6 Mbps of bandwidth, the CPU will need at least six cores to handle this amount of data. If the CPU is not fast enough, it will fall behind on processing data and cause delays or dropped packets.
Using a high bandwidth network can reduce latency problems, which is not always possible depending on the business size. High latency won't be a problem if your business doesn't require streaming audio and video. Implementing quality service policies is highly recommended if you are expecting large amounts of voice traffic. This ensures that voice traffic is not interrupted by non-time-sensitive tasks such as file sharing.
How much does a VoIP phone system cost?
Average costs for VoIP phone systems start at about $100 and go upwards of $25,000 for larger systems. Several actions will determine the cost of your service like:
The quantity and quality of telephones you use
How many telephone lines the system should support
The inbound and outbound calls you make
Equipment needed to upgrade
VoIP phone software can offer a variety of payment plans after you make the initial investment.
Payment plans can be monthly, yearly, or per minute. Depending on the international calling rate features included, the international calling price range per user is usually $20-$50 a month or more. When you add international text messaging, you can expect to pay around $80 a month in international calling rates. Various software offers additional options like unlimited calling and conference calling features companies should consider before purchasing their VoIP system.
Stand out from your competitors with the right VoIP software
Top 20 VoIP phone systems and integrations
To allow your small, medium, or large business to handle digital calls proficiently, we have compiled a list of the 20 best VoIP phone systems and integrations available in 2024. You need a system to meet business VoIP needs with various features, benefits, downsides, and price options.
1. LiveAgent
LiveAgent is multi-channel help-desk software that lets you keep track of all your customers' communications under one single roof. LiveAgent's universal inbox allows you to view and answer tickets. Like your email inbox but smarter, it will show all your emails, chats, calls, Facebook & Twitter tickets, forum posts, and suggestions. Moreover, it has extensive amounts of flexible VoIP options to connect a number.
Recommended for small-medium+ e-commerce businesses
LiveAgent can assist any business looking to provide outstanding customer service using VoIP systems. Ecommerce businesses, from startups to enterprises, will benefit from the various VoIP and customer service features LiveAgent offers.
Key features
LiveAgent sets itself apart from other systems by easily integrating with over 60 VoIP providers.
Features include:
Archiving & retention
Event-triggered actions
On-demand recording
Text, email, phone, and video communications
HD voice conversations using the opus codec
Call center management
Pros
Live chat and help desk solutions in the same app
Customizable labels and tags prioritize workflows
Automated ticket systems make tracking interactions easy
Cons
Good messages can sometimes end up in the spam folder
No open tracking for emails
Price
LiveAgent offers a free version with limited features in addition to their 30-day free trial version. Multiple pricing plans to choose from, including $15, $29, and $49 a month with various features. No credit card is required with a free trial of LiveAgent.
2. Intermedia Unite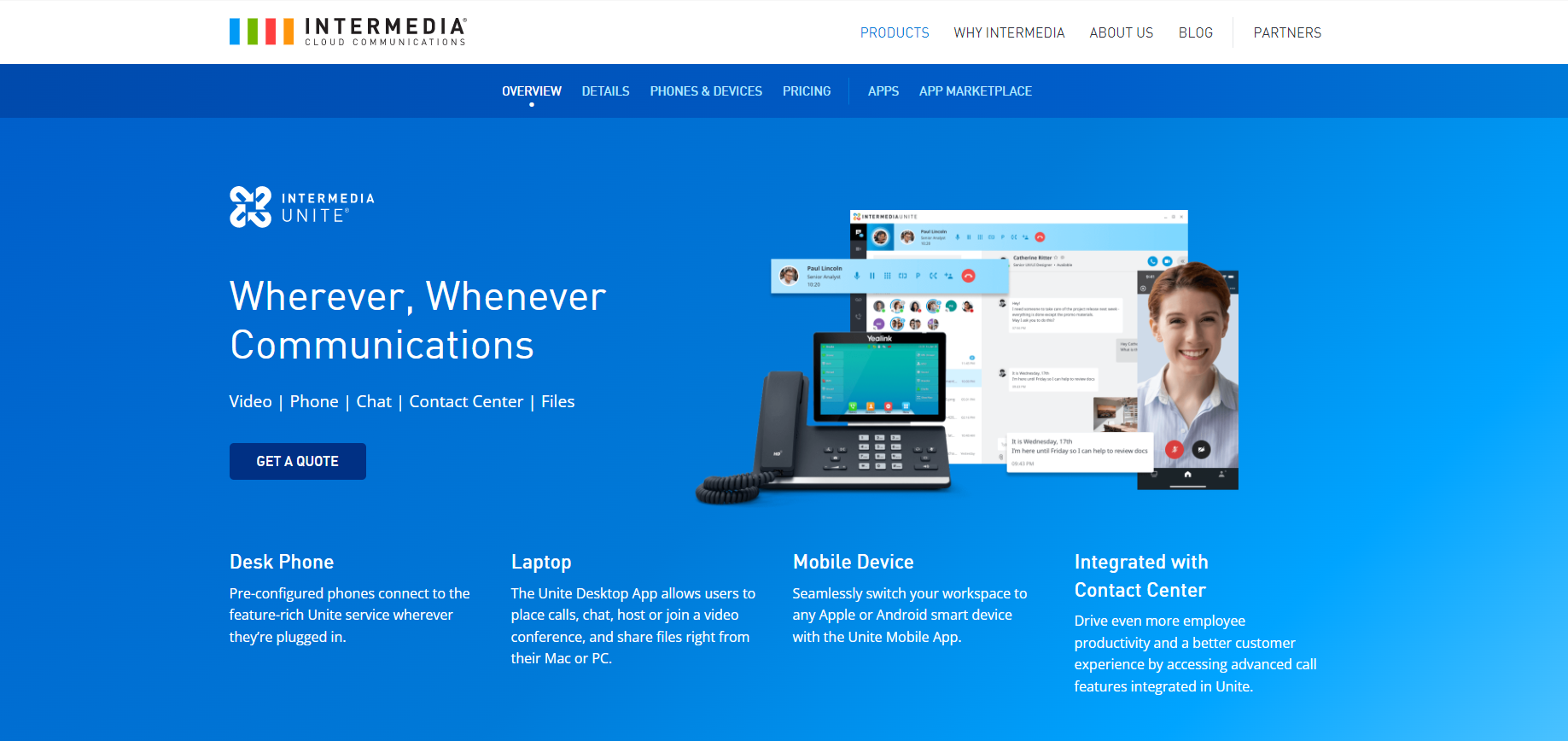 Intermedia Unite offers users a reliable way to access their business and personal contacts through VoIP. Intermedia Unite offers plans that support specific business needs to connect only one telephone line or 20.
Recommended for micro-businesses
Intermedia Unite specializes in providing VoIP features for very small or micro-businesses with a maximum of five employees.
Key features
Intermedia Unite is set apart from other systems because of its integrated video conferencing, screen sharing, and file sharing.
Features include:
IVR and voice recognition
Multi-user collaboration
File sharing
Audio and video conferencing
Mobile access
Pros
Helpful technical support
Easy to add new employees to the system
Exceptional hardware phone and soft client support
Cons
System implementation can be difficult
Recent calls don't show incoming or outgoing
Support can be slow to respond
Price
Intermedia Unite offers a $27.99 and $32.99 per agent per month option, with each level containing different features.
3. RingCentral MVP
RingCentral serves businesses around the world with cloud-based phone systems. The services allow users to create customized plans and make calls anywhere they have an internet connection, ensuring accessible communication even when companies are on the go.
Recommended for unlimited extensions
Businesses of all sizes and types use RingCentral. RingCentral lets you have a local, toll-free, or vanity phone number with unlimited extensions that can be answered from your email inbox.
Key features
RingCentral stands apart from other systems because of its unlimited extensions, which can be accessed from anywhere.
Features include:
Call recording
Multi-level auto attendant
Audio and video conferencing
Reporting and analytics
Voicemail transcription
Telemarketing management
Pros
Fast and reliable
Easy forwarding of calls in-app
Easy setup
Cons
Learning curve
Limited customer support
Limited options for scalability
Price
RingCentral MVP offers a free trial version and free software. You can contact them directly for a custom quote.
​​Are you looking for a customer service solution that integrates RingCentral? Look no further, LiveAgent offers a free RingCentral integration.
4. Dialpad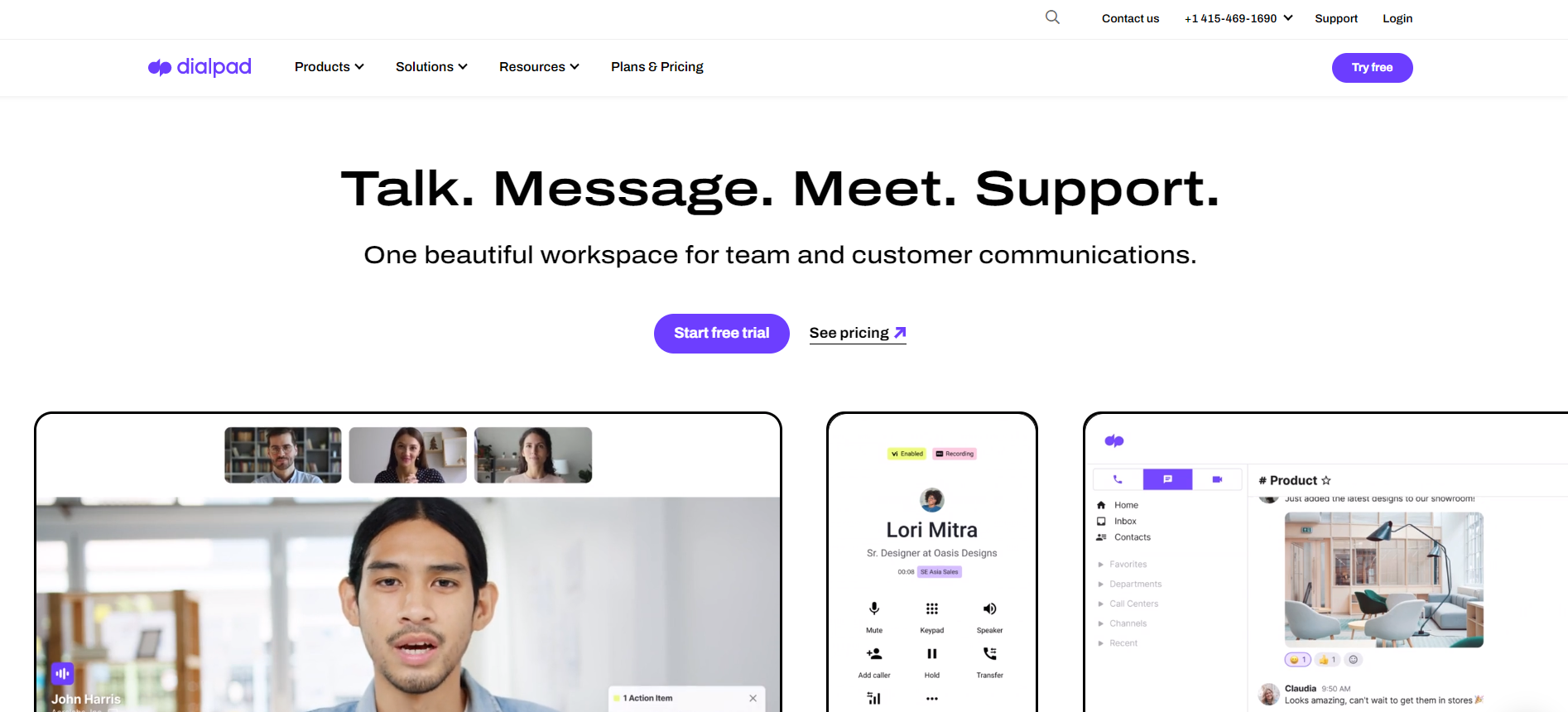 Dialpad is a cloud-based phone system that enables you to receive and make calls from your desk or mobile phone.
Recommended for cloud-based software
Dialpad is recommended for businesses looking to use cloud-based software to use VoIP services from anywhere.
Key features
Dialpad is different from other pieces of software because of its ability to allow any size of business to use VoIP systems remotely.
Features include:
Voicemail transcription
Customer routing
Number porting
Outbound call center
Inbound call center
Performance management
Reporting and analytics
Pros
Tracks KPI's
Simple system deployment
Easy to update features
Cons
Additional fees add up
Delayed notification on mobile
Minimal control of groups
Price
Dialpad has a 14-day free trial and three plans, which start at $15, but you need to contact them directly for a quote.
5. 8×8 X Series
The 8×8 X Series of VoIP phones are designed to make your business communication more efficient and manageable. The X Series comes pre-configured with advanced features for an intuitive user experience.
Recommended for seamless integration
The 8×8 X Series integrated networking capabilities combined with the wide variety of applications in the cloud ensure that IT managers can provide users access to systems anytime, anywhere.
Key features
8×8 stands apart from other software on the market because of its seamless integration with businesses.
Features include:
Contact management
Presence detection
Multi-user collaboration
Telemarketing management
Unified communications
Virtual call center
Pros
Can access phones directly
Call recording for QA management
All-in-one solution
Cons
Bugs may occur
Rings on phone and computer simultaneously
Limited faxing solutions
Price
8×8 X series prices start at $10 per agent per month, but you can contact them directly for a quote. There is no free software or free trial version.
6. Microsoft 365 Business Voice
Microsoft 365 Business Voice combines advanced office apps designed with powerful tools like Skype for Business and Outlook in mind for seamless communication.
Recommended for use with Microsoft products
Microsoft 365 Business Voice is a VoIP phone system targeted at small business owners and entrepreneurs which offers easy integration with Microsoft Dynamics.
Key features
Microsoft 365 Business Voice is different from other systems because of its advanced office apps.
Features include:
Brainstorming
Document management
Video conferencing
Reporting and analytics
Document generation
Multi-user collaboration
Pros
Easy to work remotely
Supports many devices
Multiple tools for collaboration
Cons
Closed issues can reopen
Features can be confusing
Complicated features
Price
There is a $5, $10, and $15 per agent per month plan. This price gets cheaper if you commit to a year at once. There is a free trial version but no free software.
7. Vonage Business
Vonage Business is a business-class phone service that allows users to make and receive landline phone calls over the internet.
Recommended for video conferencing
Vonage Business is ideal for SMBs and large enterprises needing a video conferencing solution with various tools.
Key features
Vonage Business sets itself apart because of its server message blocking abilities.
Features include:
Presentation streaming
Real-time chat
Reporting and analytics
Call center management
IVR and voice recognition
Pros
Helpful customer support
Painless setup and use
Reliable connection
Cons
Difficulty porting numbers from the previous service
Limited integration with third-party apps
Dashboard is not intuitive to use
Price
There is a $14.99 and $39.99 per agent per month option with a $.03 addition per minute on outbound calls, free software, and a free trial version.
​​Are you looking for a customer service solution that integrates Vonage? Look no further, LiveAgent offers a free Vonage integration.
8. Freshdesk Contact Center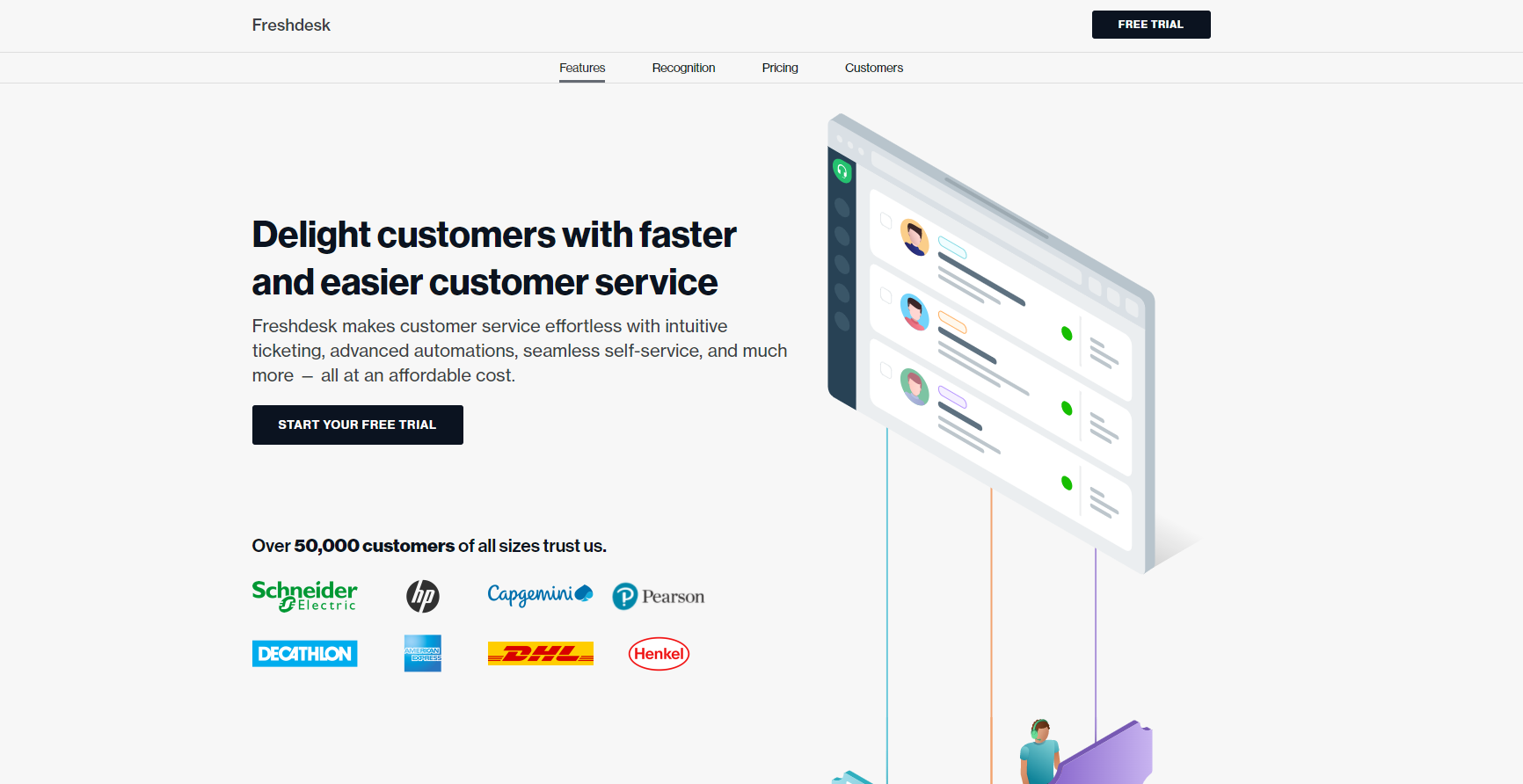 Freshdesk transforms agents into customer advocates through social media integration with Facebook, Twitter, Gmail, LinkedIn, and more.
Recommended for NGOs
Freshdesk contact center manages and streamlines phone conversations for those in the NGO, NFP, and BFSI industries.
Key features
Freshdesk contact center sets itself apart because of its ability to manage and streamline operations in medium to large businesses.
Features include:
Virtual call center
Reporting and analytics
Employee activity monitoring
Collaboration tools
Blended call center
Voicemail transcription
Pros
Analyzes weekly call volume
Monitor and track customer issues
Easy setup
Cons
Every ticket is redirected to the account manager
Slow customer service response
Call flow is not easily adjustable
Price
There is a free version in addition to a $15 and $39 per agent per month option. There is also a free trial version of the system.
9. MiCloud Connect
MiCloud Connect 's goal is to provide a single platform for managing support tickets, VoIP services, and live chats. MiCloud Connect also offers phone integration.
Recommended for using group chat
MiCloud Connect is designed for businesses of all sizes. It is a communication platform that helps teams communicate through calls, group chats, conferencing, and more.
Key features
MiCloud Connect sets itself apart with its effortless ability to communicate with in-house teams and incoming callers.
Features include:
Predictive dialer
Call center management
Video conferencing
Queue management
Pros
Good solution for legacy customers
Easy to configure phones
Voicemail and email
Cons
Unreliable connection
Limited customer support
Can't listen to voicemails on an earpiece
Price
MiCloud Connect offers no free trial version or free software. Contact them directly for a quote.
10. Ooma Office
Ooma Office is a cloud-based phone system that brings together local, long-distance and international calling.
Recommended for a virtual assistant
Ooma office is recommended for home-office and smaller businesses because their virtual assistant can assist you with daily tasks.
Key features
Ooma office is different from other systems using a hardware DECT endpoint by including cordless phones.
Features include:
Unified communications
Call center management
SIP Trunking and PBX
Automated Attendant
Voicemail Transcription
Pros
Virtual receptionist
Easy setup
Easy to disguise cell #
Cons
Features can be difficult
Limited training materials
No on-hold music
Price
Ooma office costs $19.99 a month and includes one toll-free number. They have a free trial version but no free version. Contact them directly for a further quote.
11. Line2
Line2 is a VoIP phone service that allows consumers to call and text from their mobile phones without using cellular minutes.
Recommended for mobile device users
Line2 is a VoIP phone service that allows consumers to call and text without using cellular minutes, making Line2 an ideal solution for those who primarily use mobile devices.
Key features
Line2 can be installed on any internet connection and used from any device from anywhere in the world.
Features include:
Virtual extensions
Ring groups
Online voice transmission
Multi-user collaboration
Audio and video conferencing
Mobile Access
Pros
Auto-attendant feature
International calling
Good call quality
Cons
No conference calling or backup lines
No search option
Calls can drop or be glitchy
Price
Line2 has a $14.99, $19.99, and $24.99 per agent per month plan. You can get two months free with an annual plan.
12. Nextiva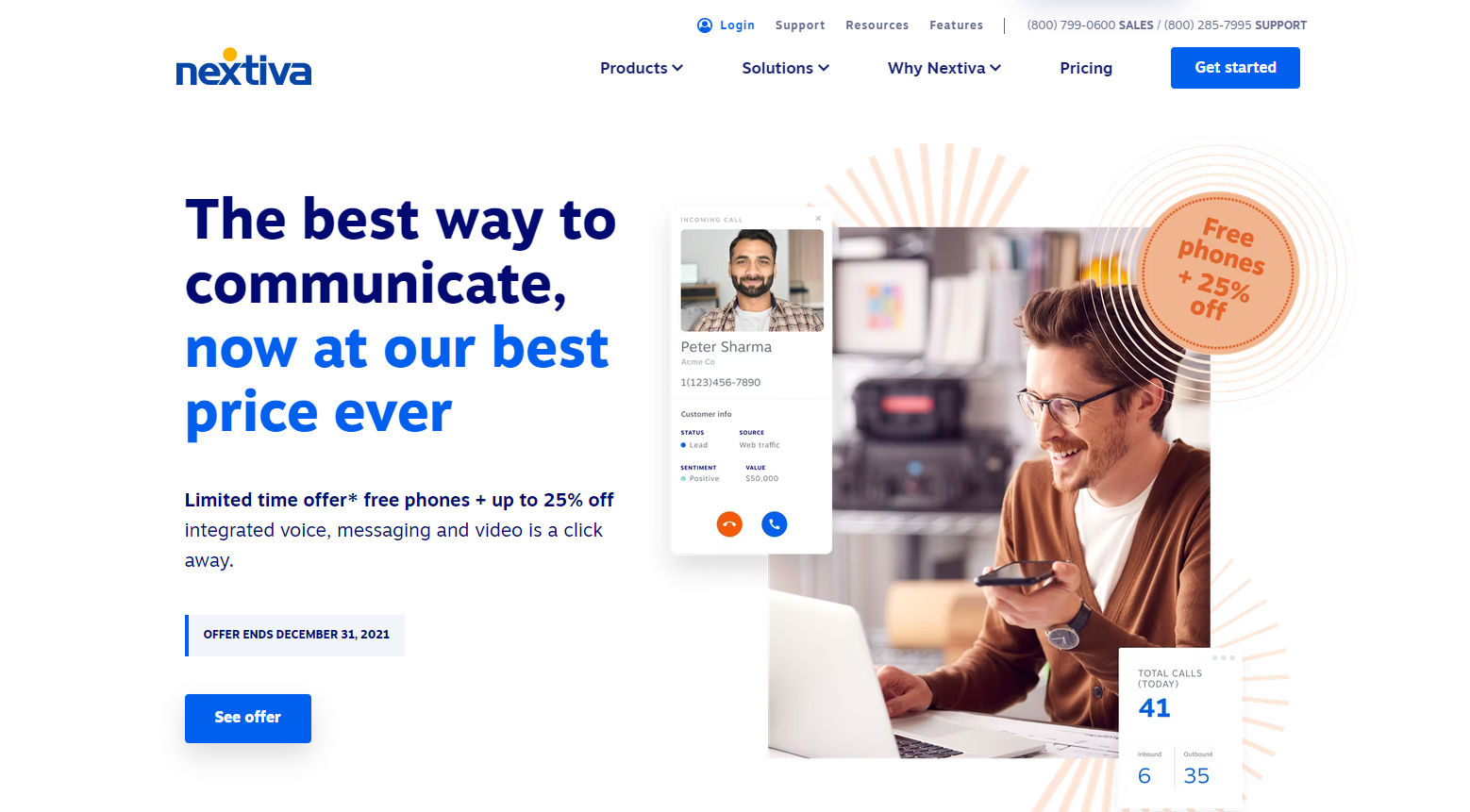 Through Nextiva's VoIP technology, users can make and receive phone calls using an internet connection rather than a standard telephone line.
Recommended for 1-10 employees
The majority of Nextiva users are small to medium-sized companies, including local businesses with 1 to 10 employees per location. Nextiva serves more than 30 countries on six continents.
Key features
Nextiva is unique, emphasizing VoIP services for iOS and Android devices.
Features include:
Real-time chat
Mobile access
Third-party integrations
Complaint monitoring
Two-way audio & video
Pros
Reliable and quality phone connections
Fast VoIP connections
All-in-one solution
Cons
Difficult onboarding process
Software can glitch
Ample training required
Price
Nextiva offers an $18.95, $22.95, $32.95, and $57.95 option. There is a free trial version of their VoIP system.
13. GoToConnect
With the GoToConnect, IP-PBX, and SIP, servers can make calls to any other host or user in the world over their VoIP services.
Recommended for multi-site use
GoToConnect is a phone system that enables small- to medium-sized businesses and works well with multi-site companies with up to 100 employees per site.
Key features
GoToConnect is different from other providers because of their "over the top" virtual PBX services.
Features include:
Time zone tracking
Remote access and control
Task management
Inbound call center
Outbound call center
Pros
Can be used with or without landlines
Good call quality
Screen sharing features
Cons
Online portal can be confusing
System can glitch when logging in
Lengthy onboarding process
Price
GoToConnect offers a basic, standard, and premium version, but you need to contact them for a quote.
14. Grasshopper
Grasshopper offers a phone number and software which allows you to make and receive calls from your computer or mobile device.
Recommended for self-employed business owners
Grasshopper is recommended for small, self-run businesses looking to handle their VoIP needs from computers or mobile devices.
Key features
Grasshopper has no monthly fees for using its system, unlike other providers.
Features include:
Virtual extensions
Reporting and analytics
Mobile users
Auto-attendant
Fax management
Price
Grasshopper offers a $26, $44, and $80 option in addition to a free trial version.
15. ChaseData CCaaS
ChaseData provides a CCaaS phone system through the cloud that offers your business unified services.
Recommended for startups
ChaseData CCaaS offers eight unique phone service plans to suit any organizational needs, especially for startup businesses.
Key features
ChaseData CCaaS provides hosted IVR services that can be launched over SMS messages to set themselves apart from other systems.
Features include:
Telemarketing management
Inbound call center
Outbound call center
FCC compliance
Computer telephony integration
Pros
Reporting and automation
Fast and organized
Well crafted dialer
Cons
Limited training
No iOS support
Setup takes time
Price
A free trial version is offered in addition to an $89, $139, and $169 option per agent per month.
16. Cloudtalk
Cloudtalk VoIP phone system is a cloud-based telephone/PBX service capable of supporting 500 employees.
Recommended for trunking features
Using an IP-PBX is recommended for all users setting up trunking and conference facilities. Cloudtalk simplifies the operation of these trunking features.
Key features
Cloudtalk sells a hosted conference PBX platform with a mobile app that can connect users to multiple conference rooms, unlike other providers.
Features include:
On-demand recording
Inbound call center
Outbound call center
Mobile access
Reporting and analytics
Pros
Quality phone connections
Easy system adaptability
IVR works well on a website
Cons
Features are not very customizable
Limited automation
Basic app with program bugs
Price
Cloudtalk offers a free trial version, a $20, $25, and $40 option. You can contact them directly for a quote for more services.
Are you looking for a customer service solution that integrates Cloudtalk? Look no further, LiveAgent offers a free Cloudtalk integration.
17. Voip.ms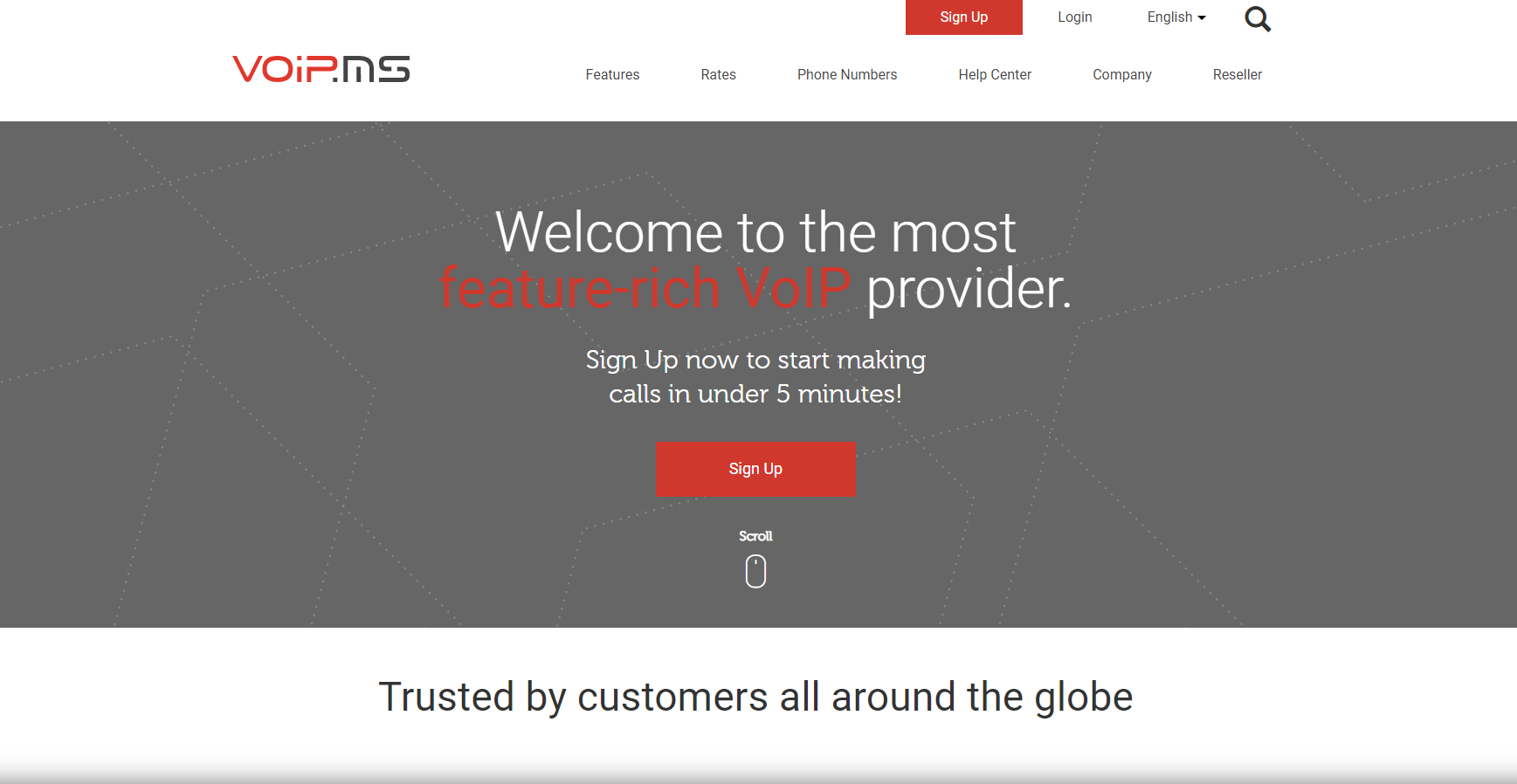 VoIP.ms is a free VoIP service that allows you to call other people worldwide for free or at very low rates.
Recommended for basic VoIP service
VoIP.ms can provide the primary calling features your small business needs with its cut and dry features.
Features include:
Ring groups
Video conferencing
Auto-dialer
Voice mail
Reporting and analytics
Pros
Good sound quality
Softphone support
Per-minute pricing model
Cons
Dropped or lost calls
Features can be challenging to use
Fax service is unreliable
Price
VoIP.ms has pricing options for calling in the US, Canada, and internationally. They offer rates that cost $.01 per minute or less.
18. Bandwidth
Bandwidth VoIP phone system is an affordable business phone solution that can easily fit into any budget.
Recommended for improved telcom features
Bandwidth's APIs make it easy to embed voice, messaging, and 911 access into software and applications.
Key features
VoIP.ms virtual phone system sets itself apart with its use of API embedding in its services.
Features include:
Chat and messaging
API design
SIP trunking
Voicemail transcription
IVR and voice recognition
Pros
Simple porting of #s
Easy to find telephone #s
Lower rates
Cons
Lack of features
Dashboard can be complicated
Response to critical issues can be lacking
Price
Bandwidth offers voice API and messaging API with a per minute or per 100 character rate. There is a free version and a free trial version.
19. Ringover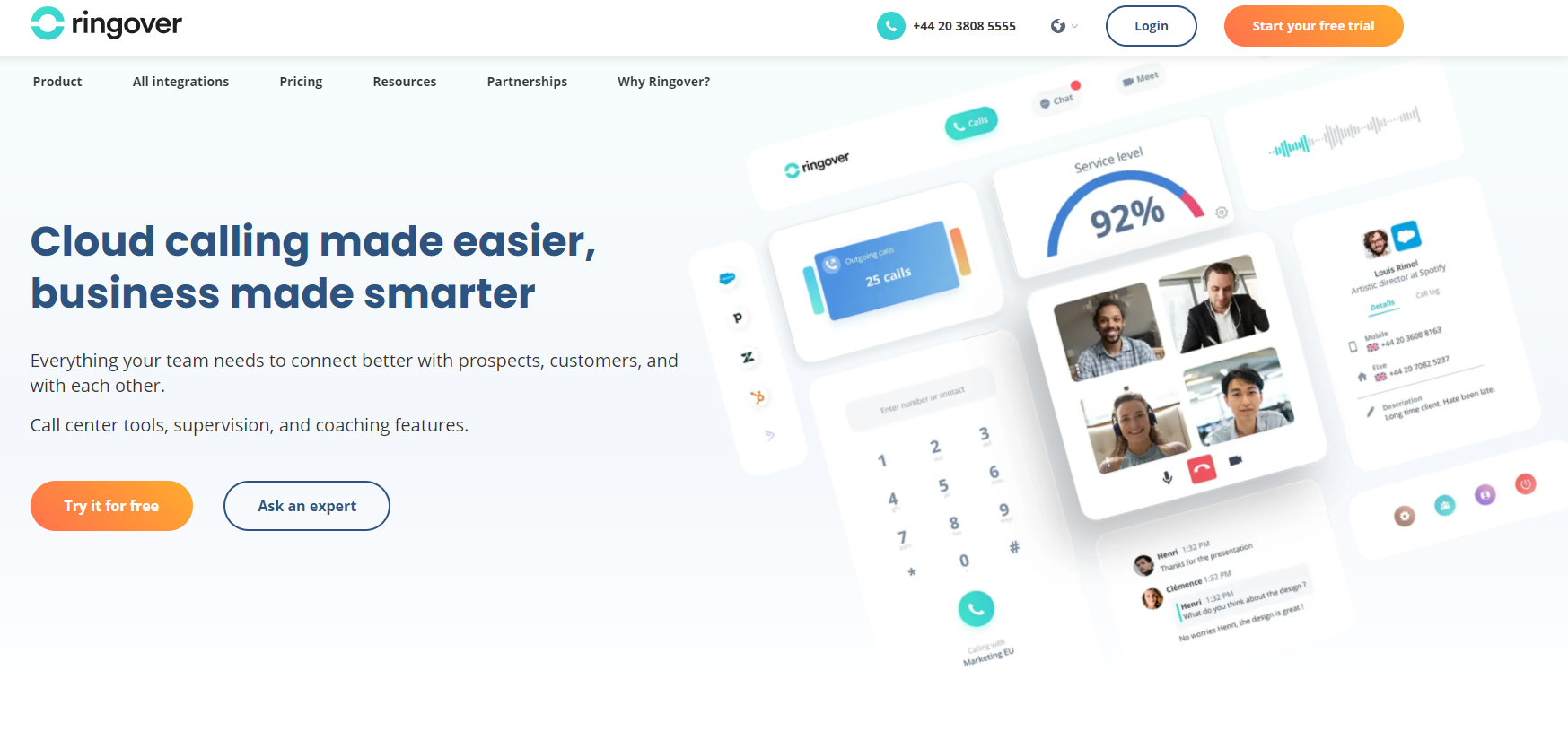 Ringover VoIP phone system was created to allow businesses and users to take advantage of the latest internet technology without spending a fortune on new hardware.
Recommended for calls in Europe
Ringover operates its network of more than 20 points of presence across Europe to improve its connection quality.
Key features
Ringover enables VoIP phones to switch between computers or other devices in case of technical difficulties, setting itself apart from other providers.
Features include:
Video chat
Text to speech
Call recording
Voice mail
Video conferencing
Remote support
Pros
Can use anywhere
Free calls in the UK and internationally
100% web based
Cons
Delay in conversation
Clarity can be insufficient with poor Wi-Fi
Payment methods can be complicated
20. Skype for Business
Skype for Business provides conference calling and instant messaging features that allow enterprise-grade phone services.
Recommended for hybrid hosting
Microsoft's Skype for Business can be deployed in on-premise data centers, in a hosted cloud datacenter, or a hybrid of the two.
Key features
Skype for Business is different from other providers because they offer skype calls on your phone systems.
Features include:
Video calls
Smart messaging
Screen sharing
Private conversations
Audio calls
Call recording
Pros
Chat functionality
Group functions
Audio and video features
Cons
Call quality issues
Integration issues with conference rooms
No customer service
Haven't found the right solution yet?
LiveAgent may offer the best features for you too, so why not try it now?
Demo version of a VoIP phone system
Demo versions allow you to try out a VoIP system or call center system without obligation or penalty should you decide that the service isn't suitable for your needs. Most companies offer their demo version free of charge. So potential customers can test drive their product without signing a contract or paying fees. Demo versions also make it easy for customers to compare their offerings with those of competitors. Demo versions do not always offer all available features depending on the system.
Advantages of trial VoIP phone system version
The greatest part about free trials is that they are genuinely free. You don't have to pay for the service you are not using or even spend your money on a system until you know if the company's services suit your needs. This way, you can find out what might fit you better. The free trial can last for a limited time or be free forever once you decide to go with the company's services over all others you have tried.
Conclusion
Your VoIP phone system is a vital part of your business. It helps you communicate with clients, employees, and vendors daily. We hope we have given you an idea of the top 20 VoIP phone systems and integrations. These are some great tools to help your business grow and thrive while saving money on your voice-over IP costs. You should consider multiple factors like hardware, software, payment plans, and current business needs to select the VoIP software that is right for you.
Frequently Asked Questions
What is a VoIP phone system?

A VoIP phone system is a telephone system that uses voice over internet protocol to make and receive calls. This allows cheaper long-distance rates because all calls are routed through the internet instead of being carried by traditional methods. Since many people have broadband connections to the internet these days, this service has become very common due to its low cost compared to standard landline phones.

The benefits of using a VoIP phone system?

VoIP phone systems allow for lower costs than traditional telephone services. You can reduce international rates by using an IP-based system instead of the geographically limited public switched telephone network. VoIP phone systems offer low-cost benefits and other cost-saving features such as auto-attendants, voicemail transcription services, call recording options, and conference calling.

What are the reasons for using a VoIP phone system?

There are many reasons to use a VoIP phone system. Whether it's for business or personal use. Companies can benefit from the flexibility, affordability, and overall savings that come along with using a VoIP phone system through: Easier collaboration; Reduced costs; Information security; Reduced hardware needs and Multi-channel communications.

How does a VoIP phone system work?

VoIP systems work by sending all spoken words into a microphone on a PC or laptop to a sound card with software attached. When a person speaks into their speakerphone or headset, their voice signal gets sent across the internet. With a mixture of other features, VoIP software can meet your business's phone needs.

How much does a VoIP phone system cost?

The cost of a VoIP phone system is generally anywhere from $50 to $200 for a SIP phone. Additional factors such as the number of phones and licensing will also determine the cost of your VoIP phone system.

What is the best VoIP phone system?

LiveAgent is one of the top help desk software with VoIP integrations available, according to Capterra and G2. It is straightforward to set up and doesn't require any on-site hardware or third-party connections.

How to choose the best VoIP phone system?

Choosing a VoIP phone system is based on the business's infrastructure, the number of employees, and how often they work is a smart move. Smaller companies may not want or need complex systems. In comparison, larger companies might wish to have more advanced features for their phone systems. For many businesses, less expensive plans will do all that's necessary. It's essential to choose a solution based on your company's needs rather than price alone.

What are the requirements for setting up a VoIP phone system?

Each VoIP phone needs a built-in IP address that is compatible with the network. Internet access is required for proper communication with other phones on the system. Call control needs to be handled by a server application that supports web services communication, including SIP.