Partner
Partner website
Partner Privacy Policy
If you want to start utilizing LiveAgent's chat button on your uKit site, please follow the step-by-step integration guide below, or simply watch the integration video.
How to add live chat into uKit website | www.liveagent.com | Live Agent02:05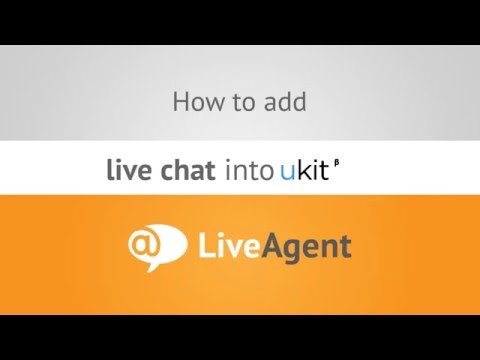 Live Agent
Open uKit builder and navigate to Widgets>Contact
Select LiveAgent and drag the widget onto the site, holding the left mouse button.
Click on the live chat button and then in the left sidebar click on Connect account.
Fill in the url and the API key of your LiveAgent account. If you don't have an account, feel free to create a new one by clicking on Create account.
Where's the API key?
In your LiveAgent account navigate to Configuration>System>API and copy your API key from here.
You're done. The default live chat button is shown on your website.
If you want to change the default button (colors, texts…) open your LiveAgent account, navigate to Configuration>Chat>Chat buttons and click on the button to edit its look.
Why uKit?
uKit is a website builder is an easy and effective way to create a functional business website. The builder is meant for those who aren't technical. It's easy-to-navigate, fun and modern. uKit has a sleek drag-and-drop editor that allows you to easily customize your template of choice.
How can you use it?
LiveAgent's uKit integration enables you to place a live chat button on your uKit store.
Frequently Asked Questions
How can you integrate a live chat button into Ukit?

Navigate to Ukit's Widgets - Contact - Liveagent. Fill in the URL and API key from LiveAgent. Log in to your LiveAgent account. Customize your live chat in Configurations - Chat - Chat button .

What are the benefits of using Ukit?

The benefits are: cost-friendly, adaptive, simple to use, stunning design.