Partner
Partner website
Partner Privacy Policy
To activate your Squarespace plugin, please follow the guide outlined below.
To connect LiveAgent with Squarespace, you'll need a Zapier account. Once you're logged in, please click here.
Click connect these apps.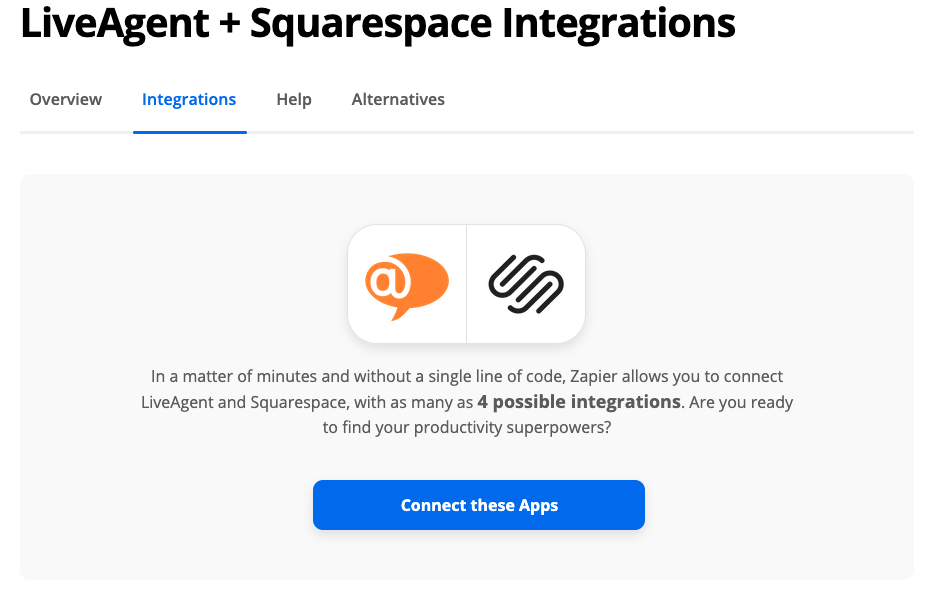 Fill out the required fields such as triggers and desired actions.
What is Squarespace?
Squarespace is a private American company, based in New York City, that provides software as a service for website building and hosting. Its customers use pre-built website templates and drag and drop elements to create webpages.
How can you use it?
LiveAgent enables you to place live chat buttons on your Squarespace websites.
Frequently Asked Questions
What are the benefits of using Squarespace?

The benefits are: 24/7 customer support, variety of beautiful templates, user-friendly.

How can you connect SquareSpace with LiveAgent?

To connect SquareSpace with LiveAgent, use the following link. Choose preferred triggers or actions and follow up with Zapier's instructions.