Partner
Partner website
Partner Privacy Policy
What is Integrately?
Integrately is automation software that connects over 600 applications and software solutions. It's mainly used to create integrations and various workflows between two or more apps. These automations can be shared with your colleagues or clients.
How can you use it?
Integrately can be used to create custom integrations, actions and workflows between apps that you use daily. Connect LiveAgent with other platforms, create better workflows for specific departments, improve your channel communications or create new stunning features for your customer service workflow. 
Not sure how to improve your workflows? Here are a few ideas
LiveAgent is a customer support software that supports almost 70 custom integration plugins that can be used to improve your workflows, create personalized communication processes, and improve your customer relationship management.
All you need is access to the apps you want to connect and permissions to activate plugins in your LiveAgent account. We cover the most popular integrations to create the perfect solution for you, however, if you want to create more custom-tailored integrations, here are some ideas.

Automatically add contacts from email marketing software to LiveAgent
If your email marketing lists of contacts differ between apps, you can create a quick integration between LiveAgent and software like Mailchimp to automatically sync contacts. This action can improve agent productivity and help keep track of communication with clients.
You can also recreate this process vice versa and add contacts from LiveAgent to Mailchimp. This integration can help you reach a larger audience with your marketing communication while increasing your chance of generating more business clients. 
Keep track of billing
Does your sales team have trouble keeping track of billing, orders, refunds, payment invoices, and other data regarding payment gateways? Connect your payment platform and create a new custom integration that will provide every piece of information you need to keep your customers happy in the long run. 
Get company updates with automated messages
Tired of relentlessly switching between apps and monitoring different accounts? Use Integrately to receive email updates about events in the apps that you use daily. Every time an event happens in an app you use, an email with sets of tasks set by yourself will be delivered straight to your inbox. After that, you can execute actions on your own to avoid time delays by constantly checking other apps or switching between them.
What are the benefits of using Integrately?
Integrate LiveAgent with over 600 apps
Better workflow
Saves time
Everything under one roof
How to create integrations between LiveAgent and other apps with Integrately?
To create integrations between LiveAgent and third-party software, follow these simple steps. You can start by clicking on this link. It will take you to the LiveAgent integrations page on Integrately.
Open your Integrately account and navigate to the explore automation section that's accessible right after the login. Select LiveAgent and other apps of your choice. In this guide, we're going to show you how to create a custom integration between LiveAgent and YouTube.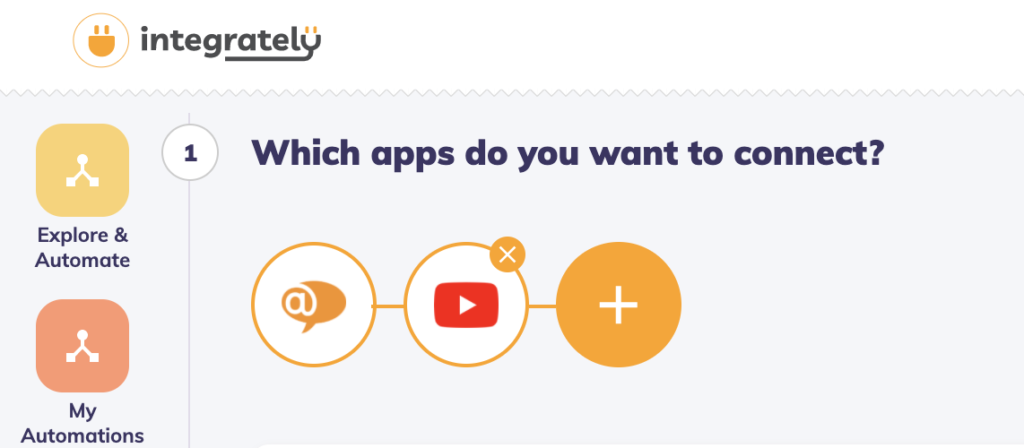 When you select your apps, scroll down and choose the actions you want to be executed. You can choose from multiple options to create a custom integration. Select one or more actions in the first app and a response to those actions in the secondary apps.

When a specific event happens in the first app, the other app will perform a certain action, therefore creating a custom integration and giving you complete control over what happens.

When you're done selecting what your custom integration will do, click on the green Go button.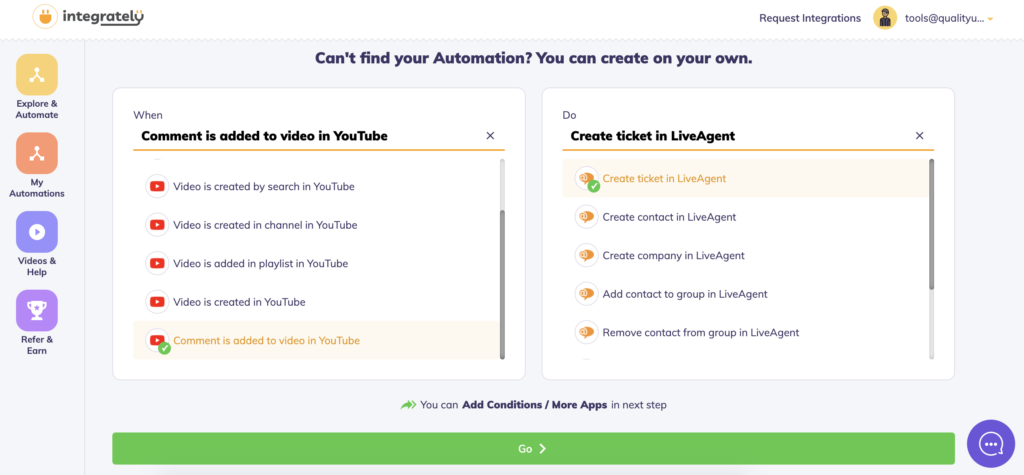 Next, you'll have the option to add more conditions and apps into your custom integration via the automation builder. You also have the option to test the integration or to simply activate it.
If you select the automation builder, you can add more options and apps to your custom integration and test them. This can be used to create a much more elaborate workflow and integration roadmap with multiple options and actions happening when triggered by one app.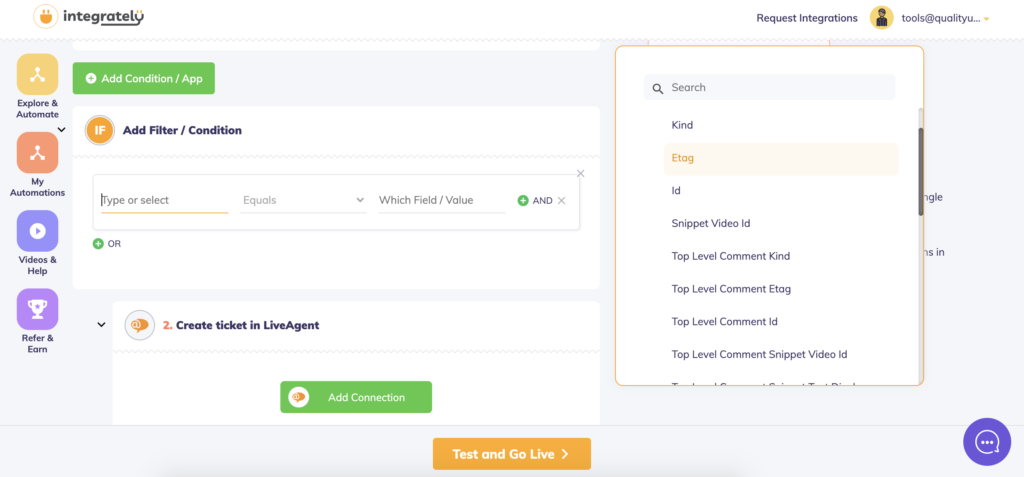 If you choose to jump to test, there are a few additional steps. In the case of our custom integration, we had to add a link to YouTube video to specify which comments should trigger ticket creation in LiveAgent.

Another step was to provide the LiveAgent API key to Integrately. You can find and generate API in your LiveAgent account Configuration > System > API. You also have to fill out custom fields in Integrately depending on what your custom integration does.

In our case, we had to fill out information such as the message subject, message body, sender and recipient email addresses, and department id amongst other email integration data.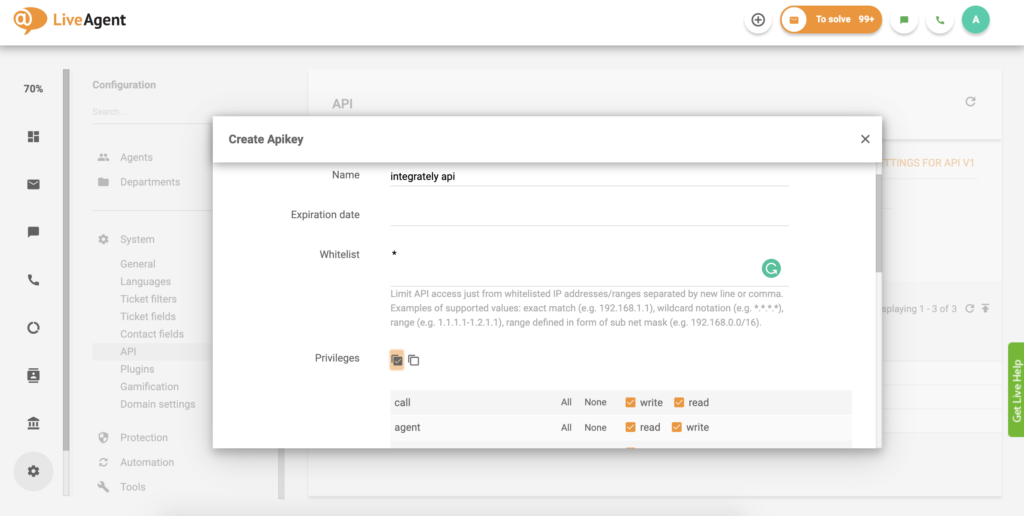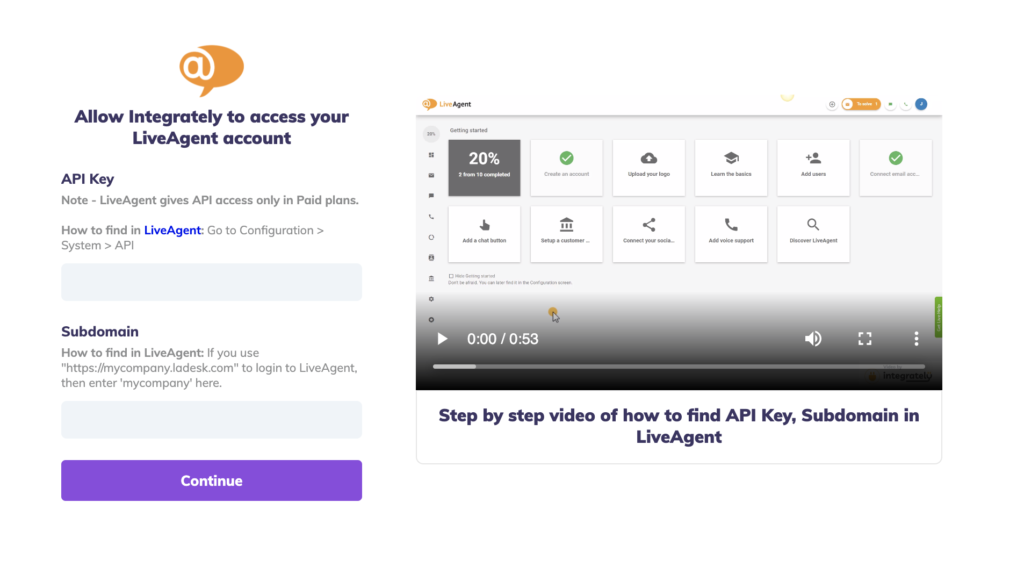 The last step is to test your custom integration. Click on Test & Go Live at the bottom of the page.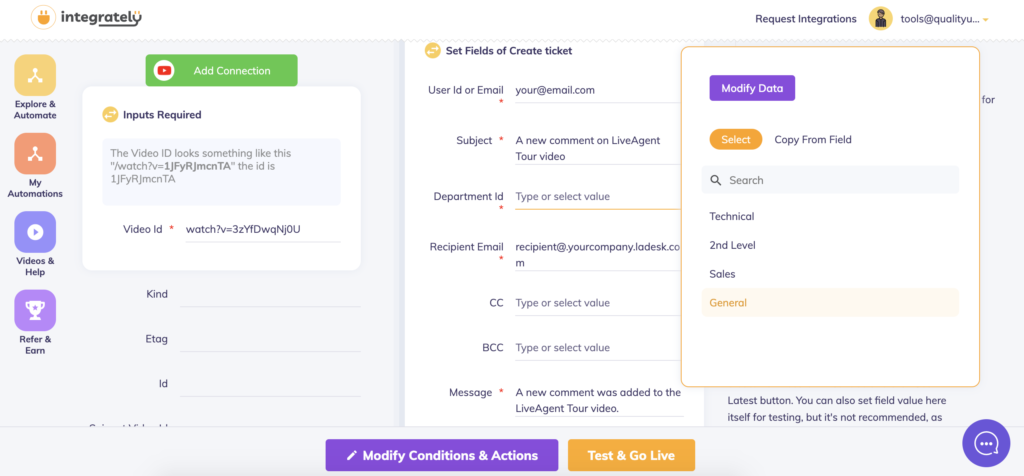 The integration is finished. Now each time a comment is made under our LiveAgent Tour video on Youtube, we'll receive an email notification/ticket in our ticketing system.

Frequently Asked Questions
What is Integrately?

Integrately is an app integration service that lets users connect various applications together and create new, elaborate and custom-tailored workflows.

How can I use Integrately with LiveAgent?

Integrately can be used to create custom integrations for your LiveAgent help desk software. Use it to make your workflow easier, get updates, email reminders, create automations and much more. The limit is your imagination and the number of apps you use. 

Do I have to pay for using Integrately with LiveAgent?

You can use Integrately with LiveAgent for free and create up to 200 tasks.