Partner
Partner website
Partner Privacy Policy
What is Twitter?
Twitter is a microblogging and social media website used by millions of people worldwide. Users interact via short messages called Tweets, where they can share text and various media to interact with their followers. Twitter is also used by companies and businesses to promote their products, interact with customers or provide them with support.
Twitter can be an excellent tool for your customer support team. It can increase customer satisfaction and your agents can provide help in real-time, instead of just handling emails or phone calls.  
How can you use it?
Use Twitter to create a business account and share your product or services. Twitter can be also used as a powerful customer service channel with the right software and knowledge. Connecting Twitter to LiveAgent can bring you another way to reach your customers and create a name for your company. 
After integrating Twitter, your team inbox will monitor messages and tweets from your account. 
Now you can define your own list of queries – monitoring tweets generated on Twitter. Here are a couple of examples of how to search for specific tweets and turn them into tickets: 
Example
Finds tweets…
twitter search
containing both "twitter" and "search". This is the default operator
"happy hour"
containing the exact phrase "happy hour"
love OR hate
containing either "love" or "hate" (or both)
beer -root
containing "beer" but not "root"
#haiku
containing the hashtag "haiku"
from:twitterapi
sent from the user @twitterapi
to:twitterapi
sent to the user @twitterapi
place:opentable:2
about the place with OpenTable ID 2
place:247f43d441defc03
about the place with Twitter ID 247f43d441defc03
@twitterapi
mentioning @twitterapi
superhero since:2011-05-09
containing "superhero" and sent since date "2011-05-09" (year-month-day).
twitterapi until:2011-05-09
containing "twitterapi" and sent before the date "2011-05-09".
movie -scary 🙂
containing "movie", but not "scary", and with a positive attitude.
flight 🙁
containing "flight" and with a negative attitude.
traffic ?
containing "traffic" and asking a question.
hilarious filter:links
containing "hilarious" and with a URL.
news source:tweet_button
containing "news" and entered via the Tweet Button
Benefits
Keep track of Tweets and messages in real-time
Everything is handled via ticketing system
One solution packed with features that handle your social media
How to integrate Twitter with LiveAgent
LiveAgent includes a native integration for your Twitter accounts. Simply go to your LiveAgent account, open Configuration and find Twitter in the left panel or on the main screen. 

Twitter needs to be enabled first. You can do so by clicking the orange button in the section. LiveAgent will restart after this.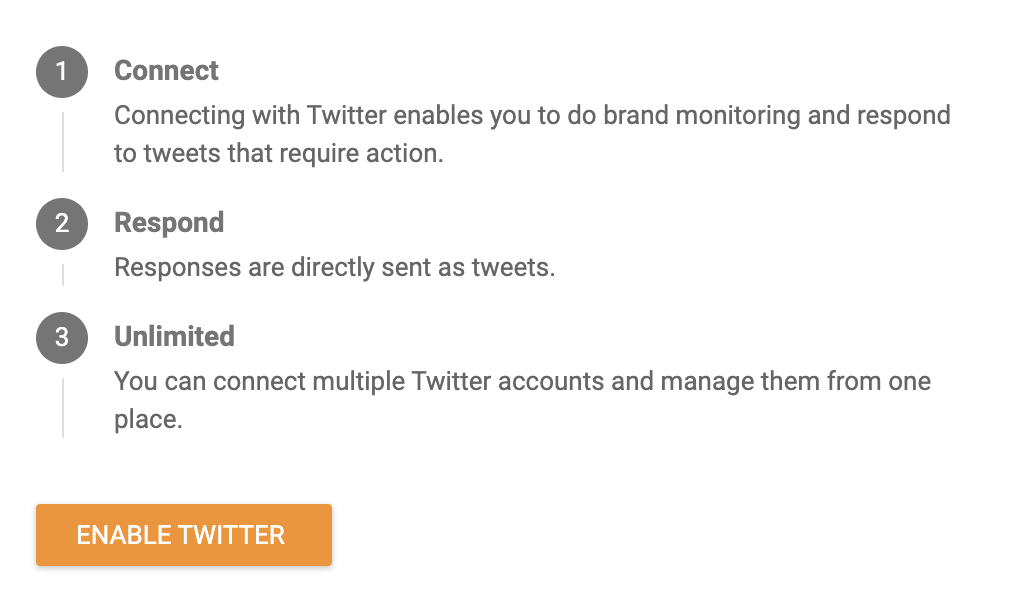 Next, go to Twitter accounts. It's the section right underneath Twitter in the left panel. You can add your Twitter accounts here. Click on the orange button Add Twitter account.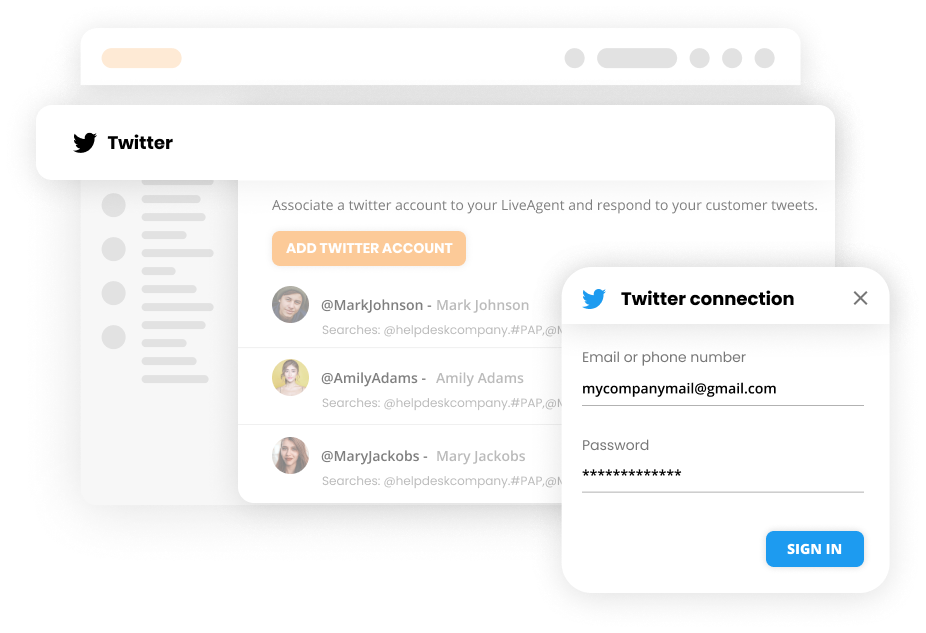 A new window will pop up. Log into your Twitter account and give LiveAgent permissions to handle your data and provide access to your help desk software.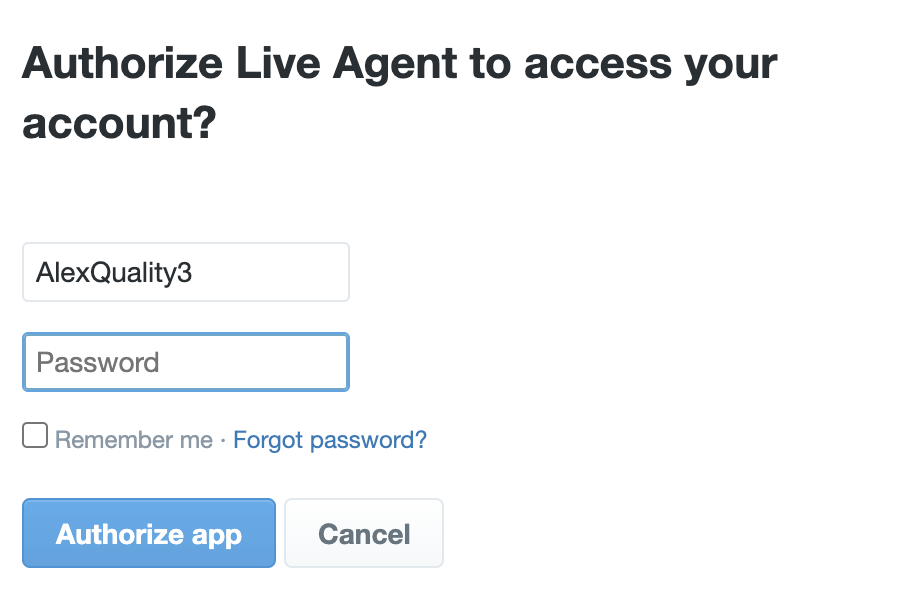 Your Twitter account has been connected and you should see it available in the section. The last step is to click on the pencil icon on the right side.

You need to check the Status box to finish the integration. This will allow LiveAgent to handle your Tweets and turn them into Tickets in your Ticketing system.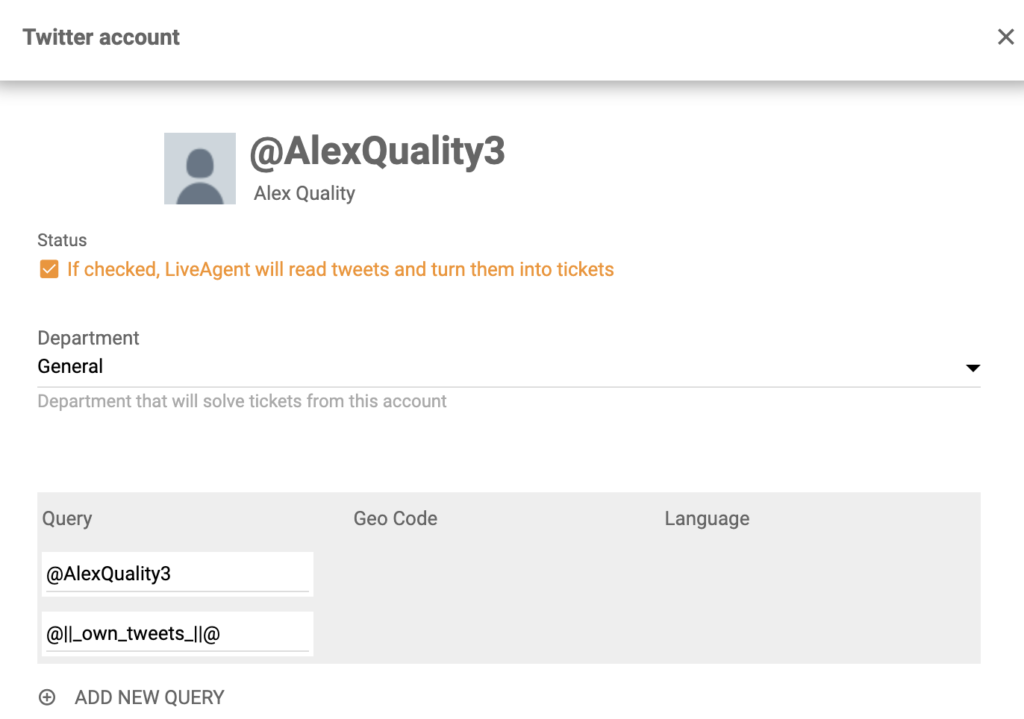 You're done. Go ahead and check your ticketing inbox. You should see your Tweets and replies from your followers in there.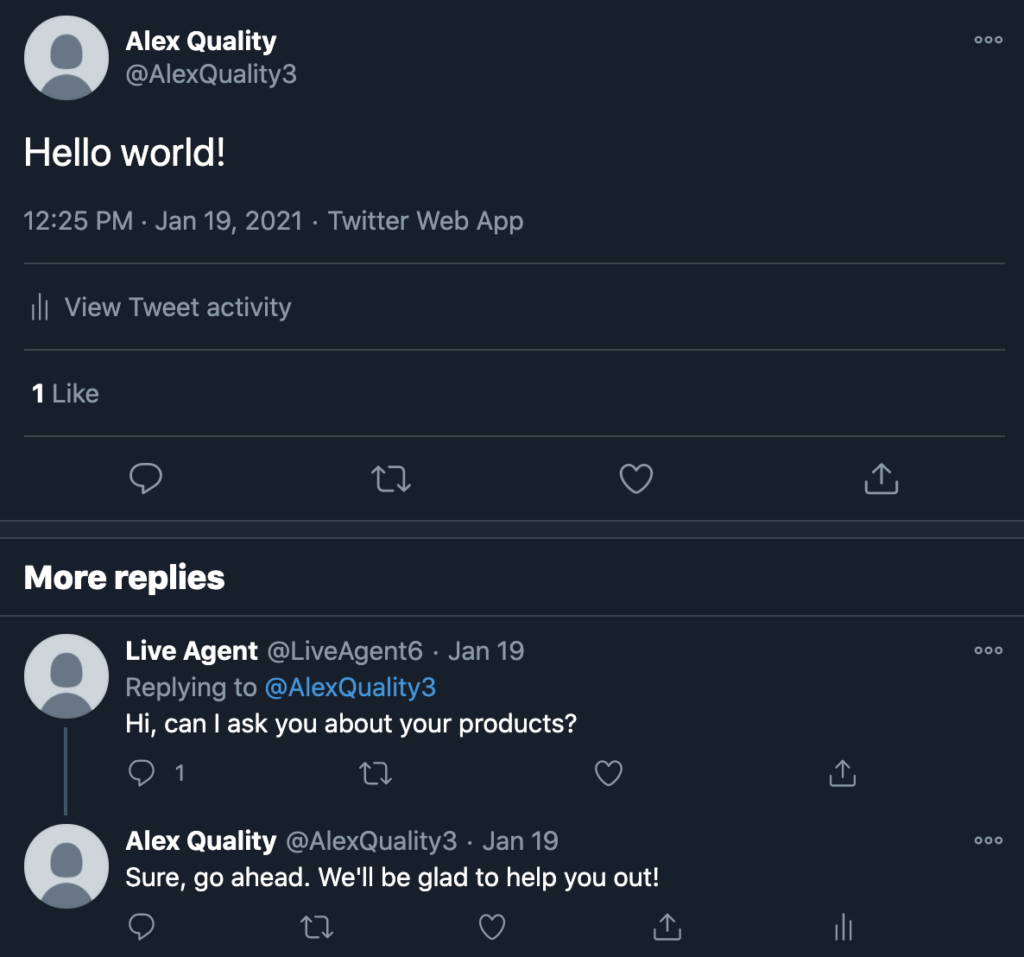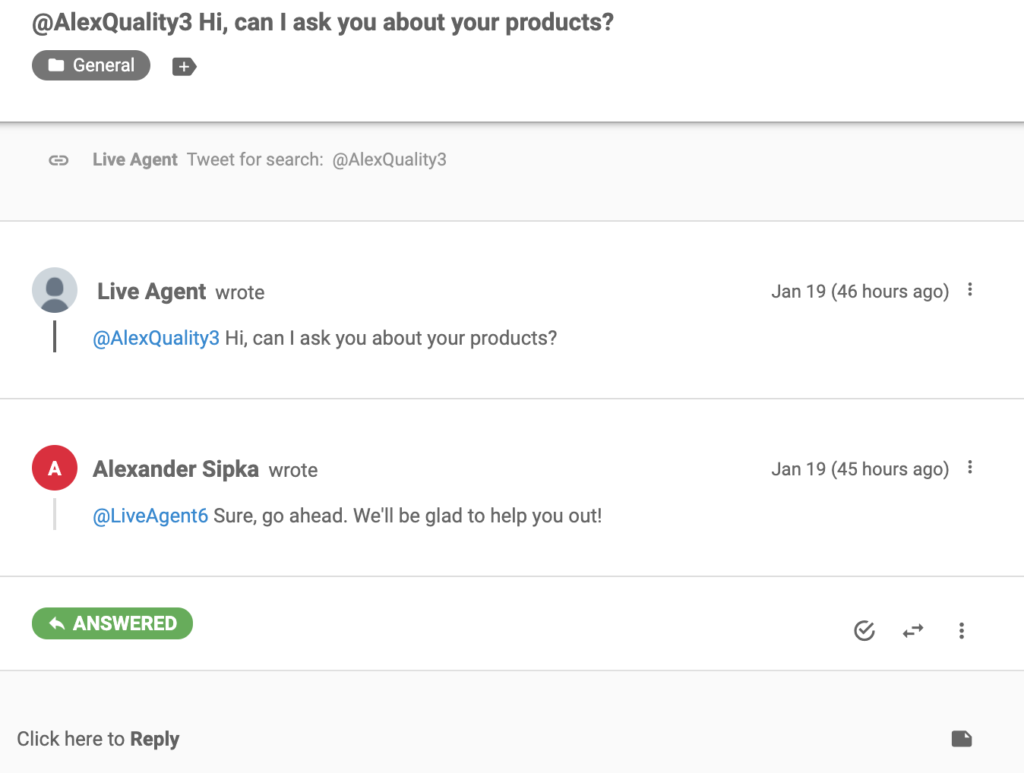 Now you don't have to switch between apps and handle all of your customer communication from your LiveAgent inbox. Feel free to add more accounts.
How to integrate Twitter with LiveAgent via Zapier
If you prefer, you can integrate Twitter with LiveAgent via Zapier. Zapier is a service that can help you integrate two apps. The integration is simple and can be done in a few minutes. 
First of all, you're going to need a Zapier account. You can create one here. When you're done, go to the LiveAgent + Twitter integrations page. 

Scroll down on the page until you see the connect Twitter + LiveAgent in the dedicated section. This is where you can pick triggers and action. A trigger in one software will activate an action in the second one. So think of what you want your integration to do and pick a trigger and an action. 
As an example for this guide, we picked Twitter trigger New Follower and a LiveAgent action Add New Customer. You can use this integration to keep track of user per month data, get new contacts for conversations in your team inbox, sales or marketing purposes. 
Click the blue button to continue.

Now it's time to configure the trigger. Log into your Twitter account and give Zapier necessary permissions to handle your data.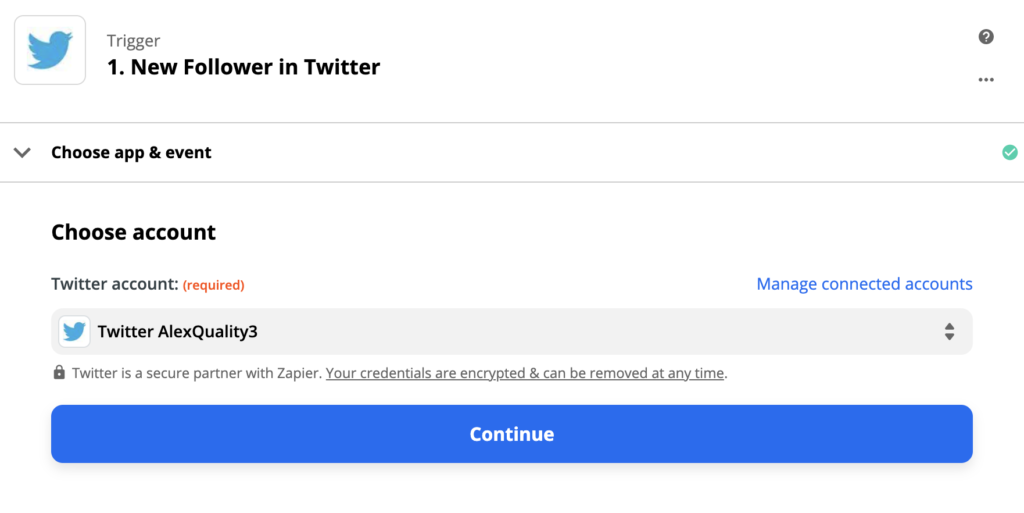 Make sure you test the trigger to see if it works. Zapier will check if you have any followers and users available in your Twitter account and gather the data.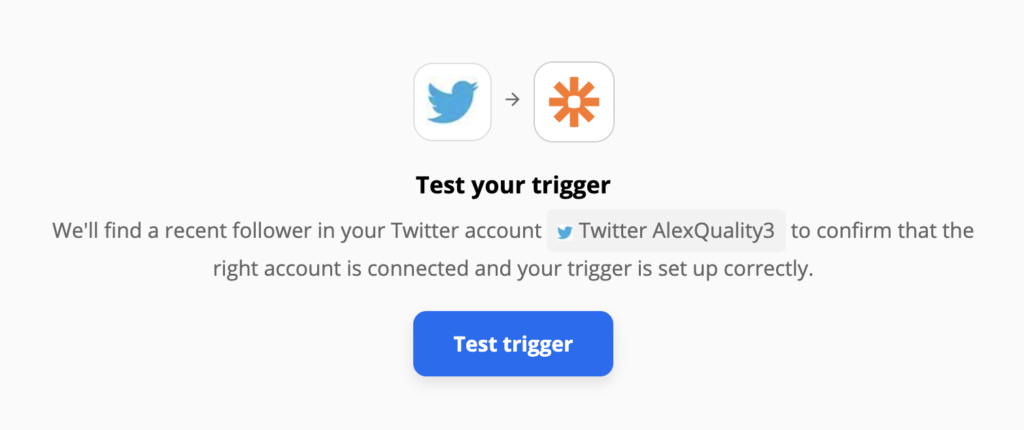 After a successful test of the trigger, proceed to configure LiveAgent action. 
Here you need to fill out a few forms. In the Email field, select the option as shown on the picture below or consider other options that work better for you. In either case, you don't have to fill out an email address in the email field.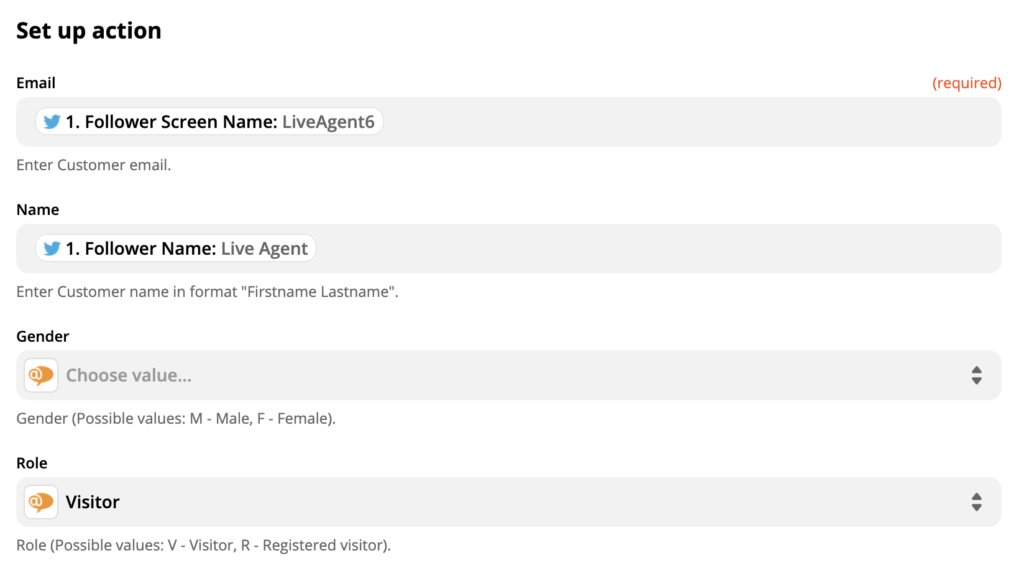 When you're done, do one final test of the integration and see if it works. 

Works? Great! Now any new Twitter follower will be saved as a contact in your LiveAgent ticketing system. 

Feel free to return to the Zapier page and create more integrations for different purposes. 
Frequently asked questions
What is Twitter integration inside LiveAgent?

Twitter integration creates a new ticket whenever you get mentioned in a tweet. As a result, you can always engage with customers and stay updated from one interface.

How do you integrate Twitter with LiveAgent?

Sign in to your LiveAgent account > Click on Configurations > Search for Twitter > Twitter accounts > Add Twitter account > Connect > Click on Edit and check the Status box.