Customer support - help and advice that a company makes available to customers when they have bought something
What is meant by customer support?
Customer support is a set of services provided by a company to a customer. It is also a part of customer relationship management. Companies use a Helpdesk to provide customer support. Thus, customers can connect with the company through different types of channels. For instance: Email, Phone, or Live chat.
Companies assist in installation and training. Moreover, they try to resolve customers' problems and queries. 
What is the difference between customer service and customer support?
The main difference between the two is that customer support is responsible for assisting a customer with technical issues. On the other hand, customer service is about helping the customer use the product/service to its full potential. This is where you engage with customers and grow customer relations. Thus, providing the best value.
If you would like to learn more details, read Customer service vs Customer support.
Why is customer support important?
Having customer support is important because it creates a loyal customer base. However, there are way more benefits.
Here are a few benefits of having good customer support:
Higher sales
Higher revenue
Customer satisfaction
Customer retention
Efficient workflow
What are the most effective customer support channels?
Live chat
Live chat is an important part of every customer support software. It enables your customer representatives to chat or simply approach customers in real-time. It is believed that millenials are the only ones who use live chat. However, there are also other age groups that use live chat. Don't miss out on live chat and its benefits.
If you would like to learn more, read LiveAgent – Live chat.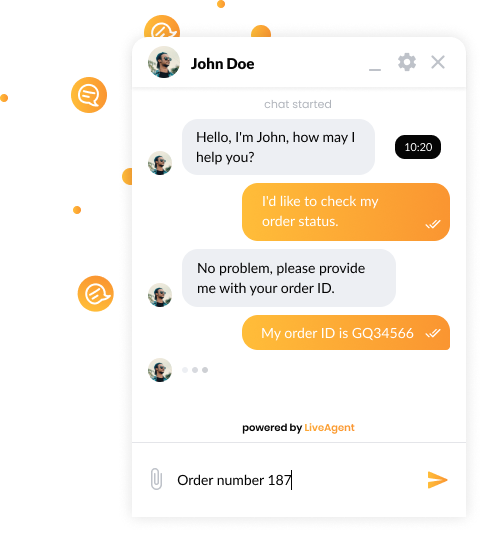 Email
Emails are the usual and basic part of every customer support. Some might say, it can be a lengthy form of support channel. Why? Well simply, because it can take longer to resolve an issue/problem. However, the reach via Email is worldwide and it is still a well-used channel.
If you would like to learn more, read LiveAgent – Email.
Phone
The phone is also one of the preferred ways to reach out to your customer support. It is used by customers who might not be tech-savvy or simply just prefer to have a conversation (the human-touch).
If you would like to learn more, read LiveAgent – Phone.
Social Media (SoMe)
Facebook, Instagram, or Twitter. These are just a few platforms where customers interact with each other. Moreover, they engage with your brand/company. Answering customer inquiries or helping customers via SoMe is a crucial part these days for every customer support. Customer service software, such as LiveAgent can help you manage SoMe inquiries from one interface. Thus, being able to efficiently answer and engage with all kinds of customers.
If you would like to learn more, read LiveAgent – Social Media.
Customer portal/Self-service
Having a customer portal/Self-service is important to operate 24/7 as a business. Therefore, even though your customer agents are not available, your customers still get the needed support. This could be via Knowledge Base articles that provide; guides, product information, videos, and more.
If you would like to learn more, read LiveAgent – Knowledge Base.
What is customer support software?
Customer service software, such as LiveAgent creates an optimal workflow for your customer agents that make them more efficient and effective at the same time. The ability that stands out the most is that a customer representative does not have to switch between interfaces while working. Thus, being able to resolve a customer inquiry from all kinds of channels from one place.
One important help desk feature that allows businesses to manage customer support requests is a customer support ticketing solution. It is a type of software that automatically turns every customer request into a ticket which can be then assigned to the appropriate agent or department. A ticketing tool is a vital component of any efficient help desk system that serves to simplify the assignment process and ticket resolution process.
All of the above-mentioned channels are included in LiveAgent.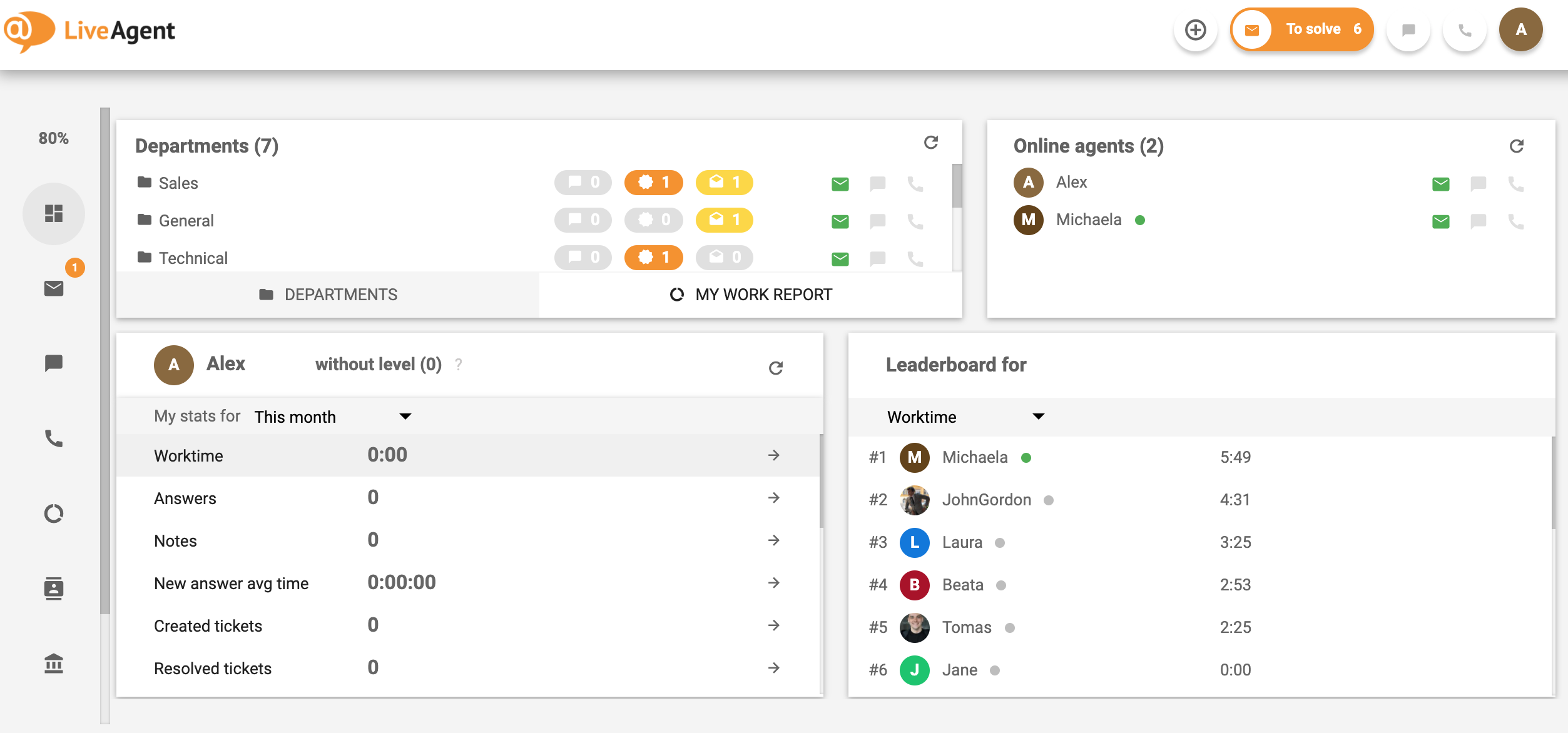 Other LiveAgent features:
CRM
Canned messages/ Predefined messages 
Merge tickets/inquiries
Rules/SLAs
Analytics overview
Video chat with customers and colleagues too
If you would like to learn more, read about all LiveAgent – Features here.
Try out LiveAgent for FREE
Handle all customer inquiries from one interface. Start improving your customer service with a 30-day free trial right away!
Frequently asked questions
How to define customer support?

Customer service is a range of services offered by an organization to help customers with their problems with your product or services and to support them in getting the most out of using your product. It includes answering customer questions and helping with problem solving.

What are the principles of customer support?

The key to good customer service is, above all, building lasting, good relationships with customers. For this to happen, the customer service team needs to know what customers think is good customer service, stay up to date with customer feedback that helps improve customer service, and look for ways to improve customer service and exceed customer expectations. 

What tools to use to provide the best customer support?

In order to provide the best customer service, it is good to use several tools and communication channels that allow for comprehensive service. It is worth engaging in communication using communicators in social media, e-mail, text messages. In addition to these traditional forms, it is worth building communities in groups on social media or online forums, where clients can contact each other and chat with experts. Live chat is an important tool that allows you to chat in real time when a customer needs quick help. Customer service is also improved by a responsive and intuitive mobile application. In addition, the customer service team should have an appropriate system from which they will be able to manage all channels.
Expert note
<p>Excellent customer support is crucial for business success. Providing personalized service, responding quickly to inquiries, and actively listening to feedback can differentiate companies from competitors and grow customer loyalty.</p>

Andrej Saxon
Sales manager