What are tags?
Tags can be defined as labels that are attached to help desk tickets. They are primarily used in the ticketing tool to organize and categorize tickets, but can also offer a preview of the ticket's contents at a glance. Generally, tags are considered as one of the key features of help desk ticketing tool because they can help you differentiate between different customer segments and support topics in a quick and easy way.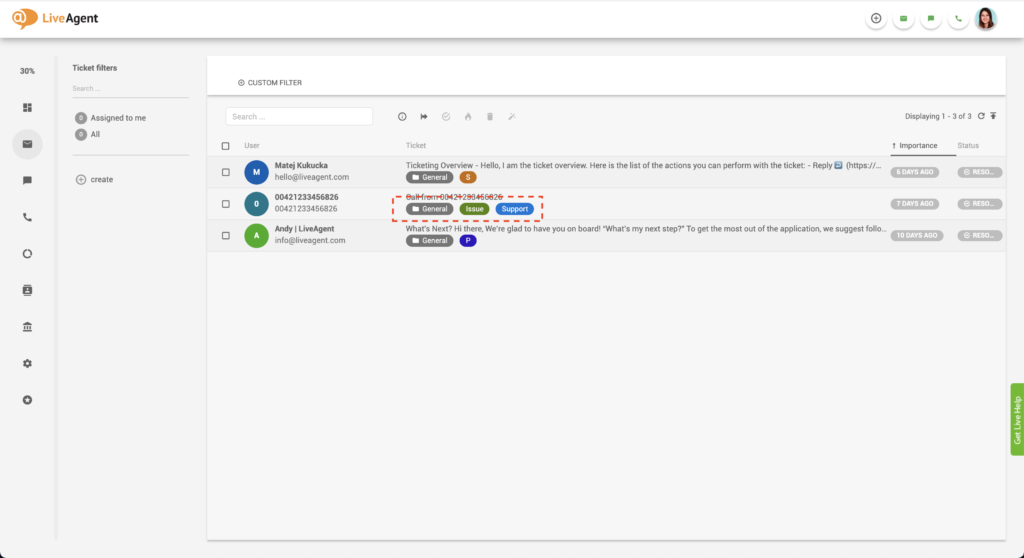 Examples of tags
Example #1
You can set up an automation rule that will automatically assign the "sales" or "pre-sales" tag to any ticket that contains the words "billing" or "pricing".
Example #2
You can assign a "Twitter" tag to every ticket that's from Twitter to make it easier to find inside your help desk. Alternatively, you can create an "urgent" tag as well to help you filter out urgent tickets from Twitter.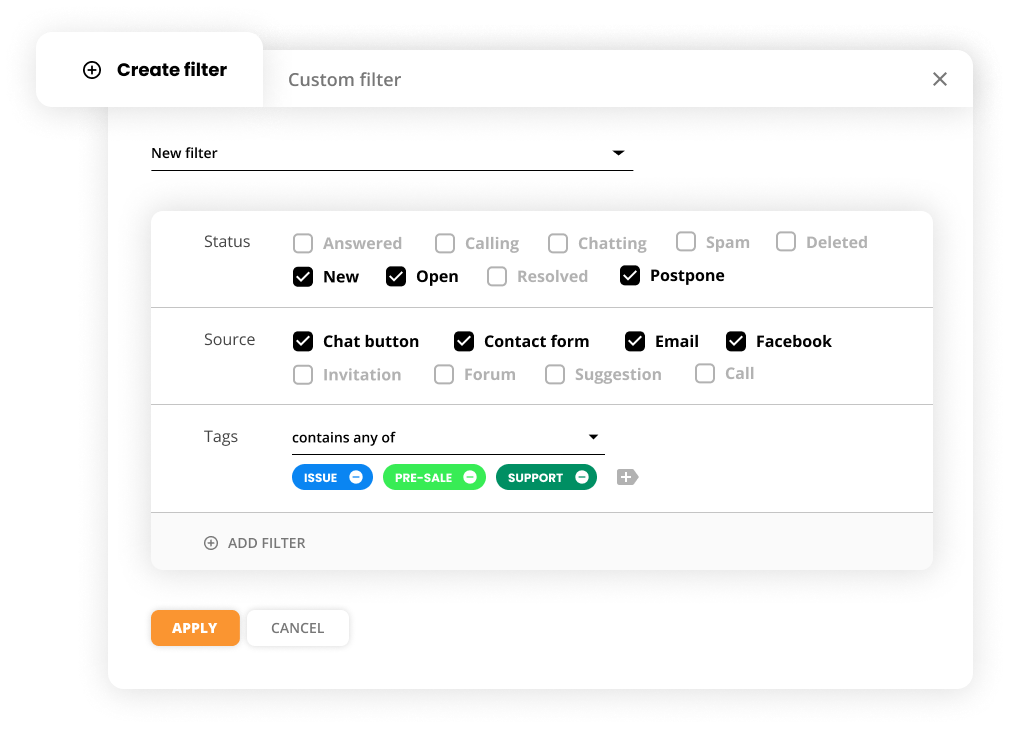 Example #3
The system can automatically assign a dedicated department tag such as "marketing" or "IT support" based on the department the ticket is assigned to. Assigning tags in this manner can clearly showcase who's responsible for solving each ticket.
How can you use tags?
As a LiveAgent user, you can:
Add tags manually or automatically, and use them to create custom workflows.
Filter tickets by tags.
Organize your help desk tickets.
Use tags in your automation rules (Rules, SLA Rules, Time Rules).
Create tag reports to gain a deeper understanding of the types of issues that your agents solve on a daily basis.
Add multiple tags to a single ticket.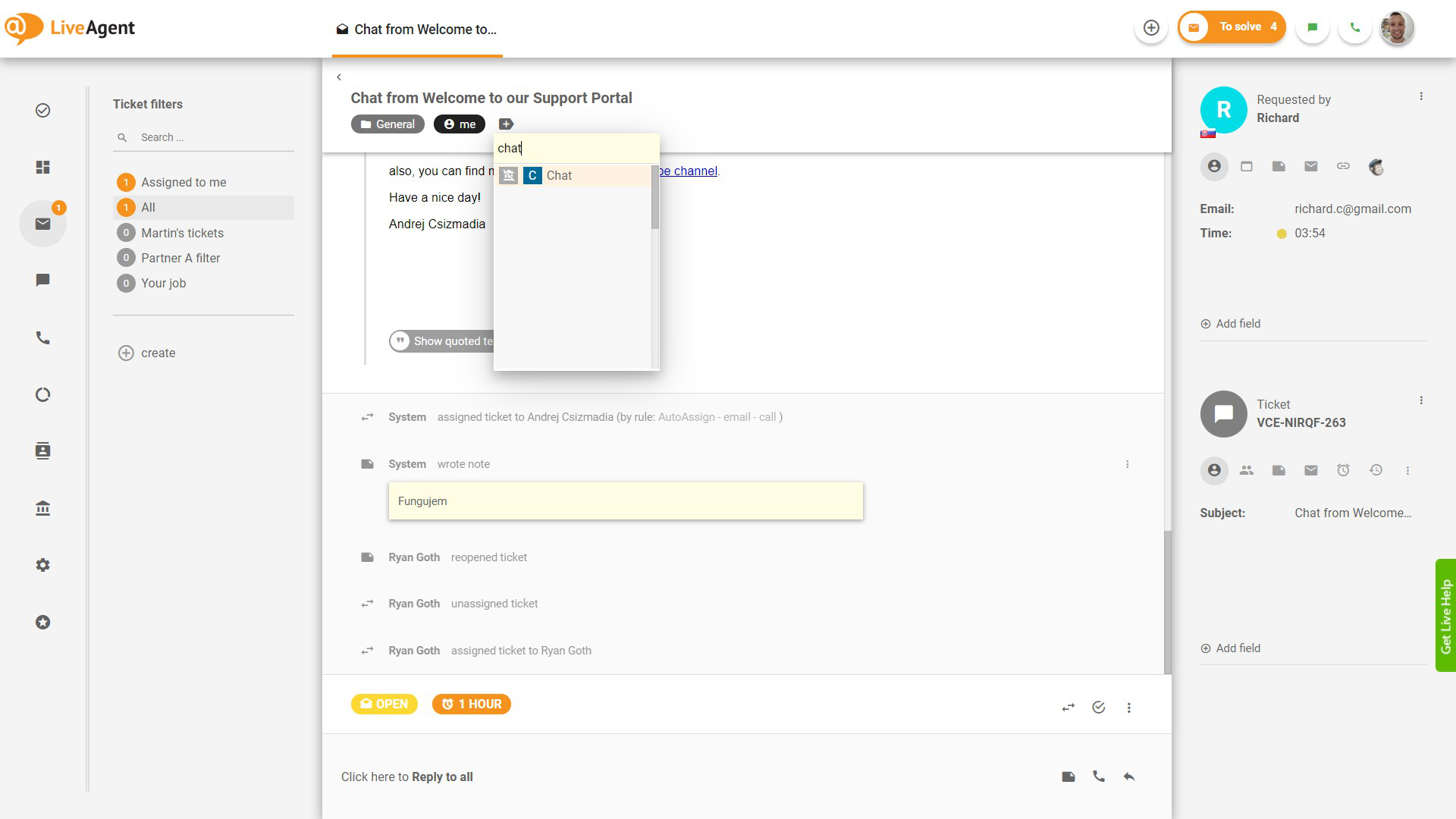 How can you benefit from using tags?
Tags can bring organization and clarity to your ticketing tool. By implementing ticket tags, you bring an element of organization and clarity to your IT ticketing tool. These tags enable support agents to easily categorize and prioritize tickets, thereby improving efficiency and response times. Having an organized help desk can benefit you in many ways, mainly by improving agent efficiency which also improves response times, the quality of your customer service, customer satisfaction, and eventually sales and MRR (monthly recurring revenue).
Improved agent efficiency and productivity
Adding tags to tickets ensures that your agents can find them quickly. This improves agent efficiency and productivity and enables them to focus on solving tickets instead of wasting time looking for them.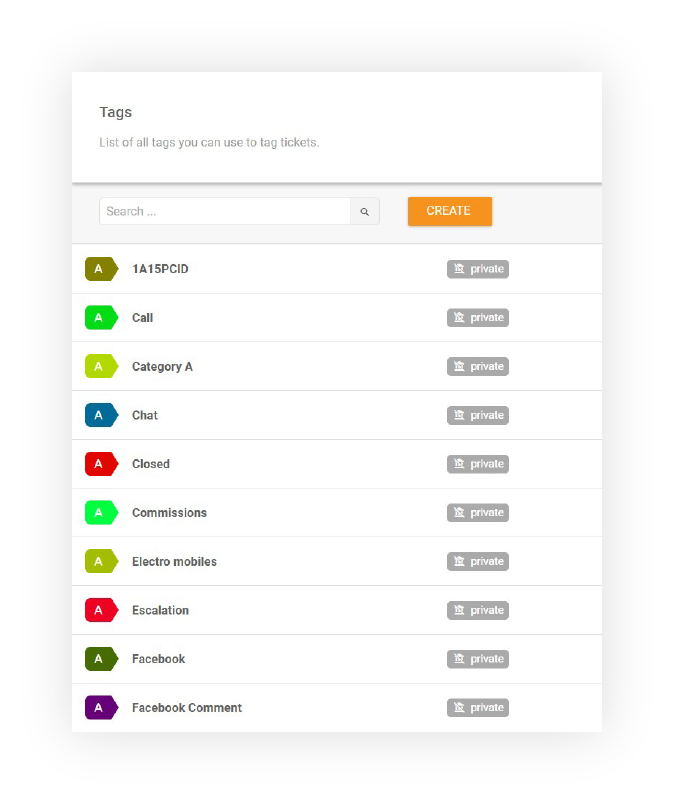 Improved response times and customer service
The less time agents have to spend figuring out what tickets to solve and where to find them, the faster they can answer pending tickets. This of course improves response times and the quality of your customer service which then impacts customer satisfaction and retention.
Improved customer satisfaction, retention, and sales
The better service you provide, the happier your customers are. If you continuously provide exceptional service, they will have no reason to churn. They'll keep coming back and become loyal customers to your business. This, in turn, will improve your sales and MRR as lifetime customer value increases alongside customer loyalty.
View tickets at a glance
Let LiveAgent add tags to each ticket based on pre-defined rules and enjoy viewing each ticket's contents at a glance. Try it today.
How to create tags in LiveAgent
Log in to LiveAgent.
Click on Configuration (cogwheel icon in the navigation bar)
Click on Automation.
Click on Tags.
Click on the orange Create button.
Name your tag.
Select the text and background color.
Choose whether you want the tag to be public or private.
Click on Create.
Click on Tickets in the left navigation bar.
Select a ticket of your choice.
Click on the insert tag button.
Select the tag you want to add.
To remove a tag simply click on the small X in the top right corner of the tag.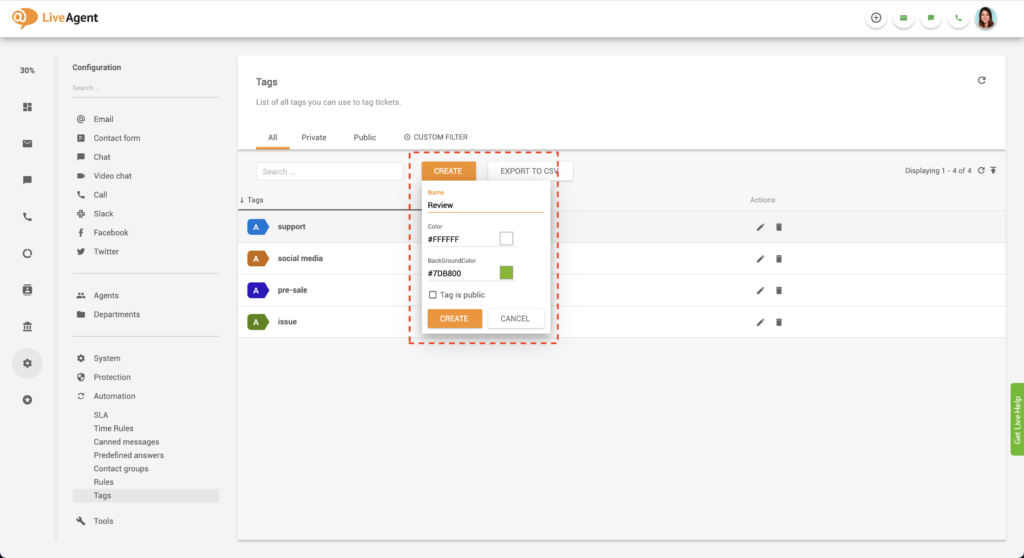 How to create an automation rule that automatically adds tags to tickets
Log in to LiveAgent.
Click on Configuration (cogwheel icon in the navigation bar)
Click on Automation.
Click on Rules.
Click on the orange Create button.
Check the Status Active checkbox.
Name your rule.
You can leave the notes section blank, or describe what the rule does in more detail.
Select apply when ticket created.
Click on Add condition group.
Select If ticket source Instagram, Twitter, and Facebook.
Select perform action add tag.
Select the social media tag.
Click on Save.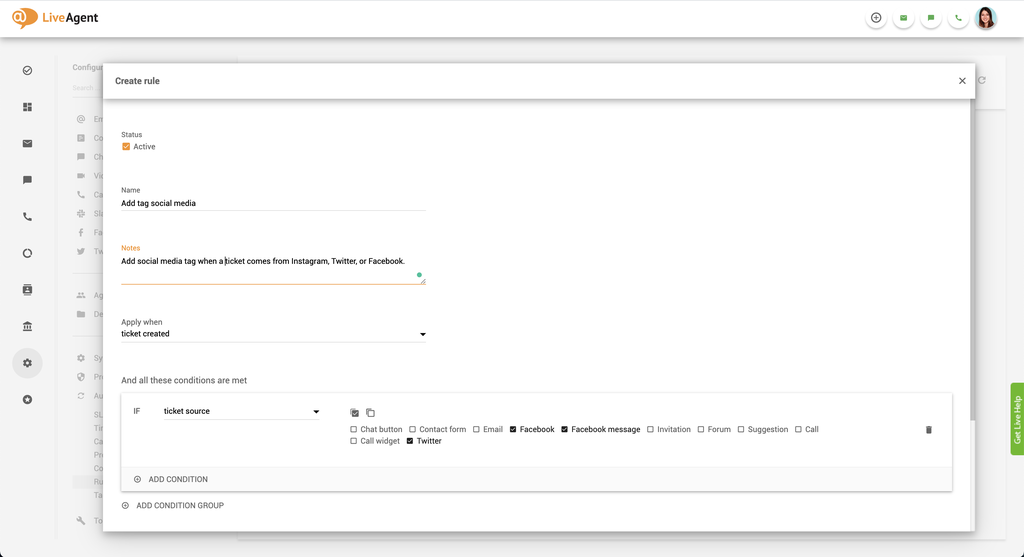 Creating tag reports
If you want to gain insights about what types of tickets your agents spend the most time on solving, you can take a closer look with our tag reports feature.
You can generate tag reports by day, week, month, year, or from a specific time range. Individual entries can be sorted by time range, department, channel, and agent. All tag reports can be exported into a CSV file, to make it easier to share with upper management.
What types of tag reports can you create in LiveAgent?
You can generate tag reports in multiple formats including: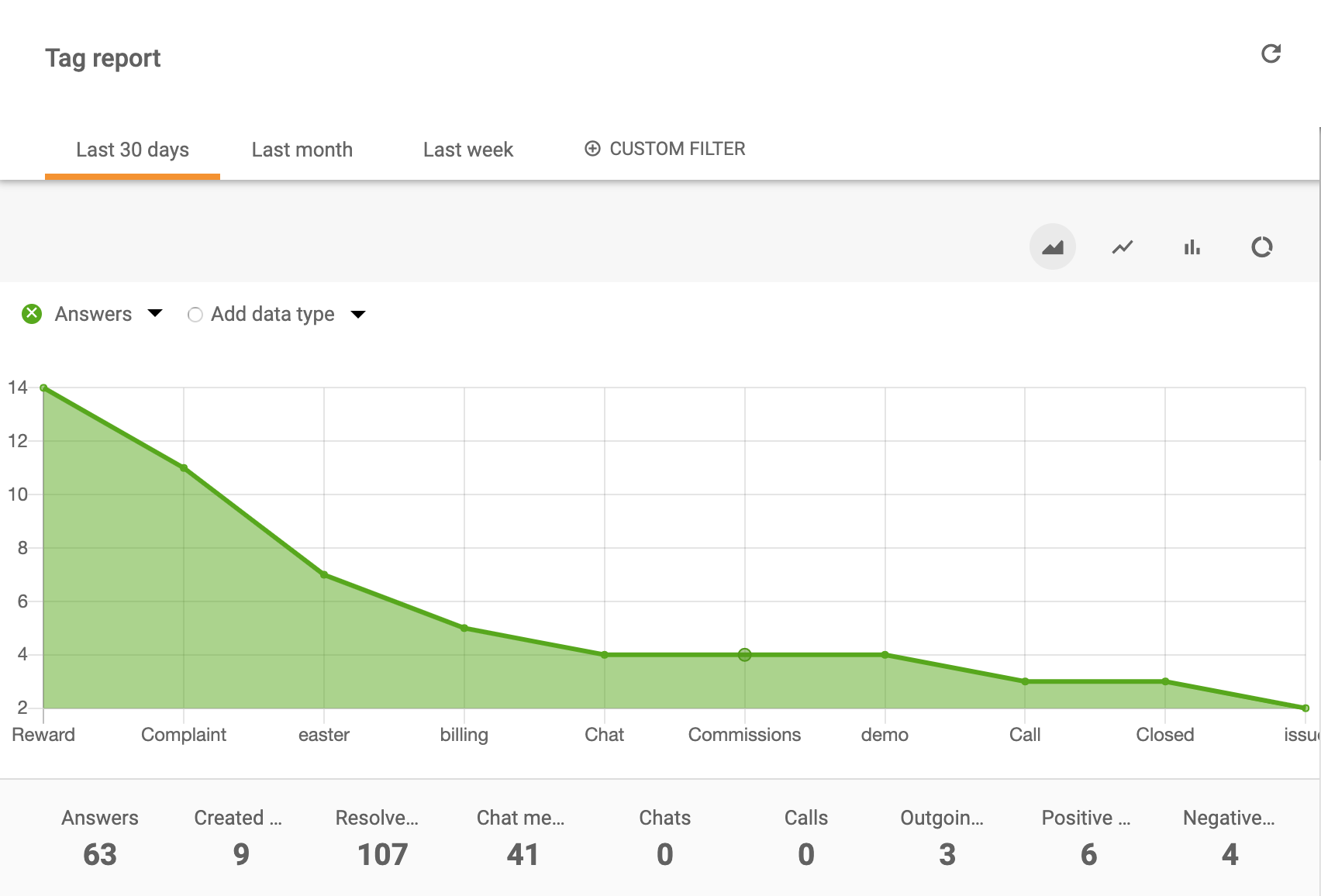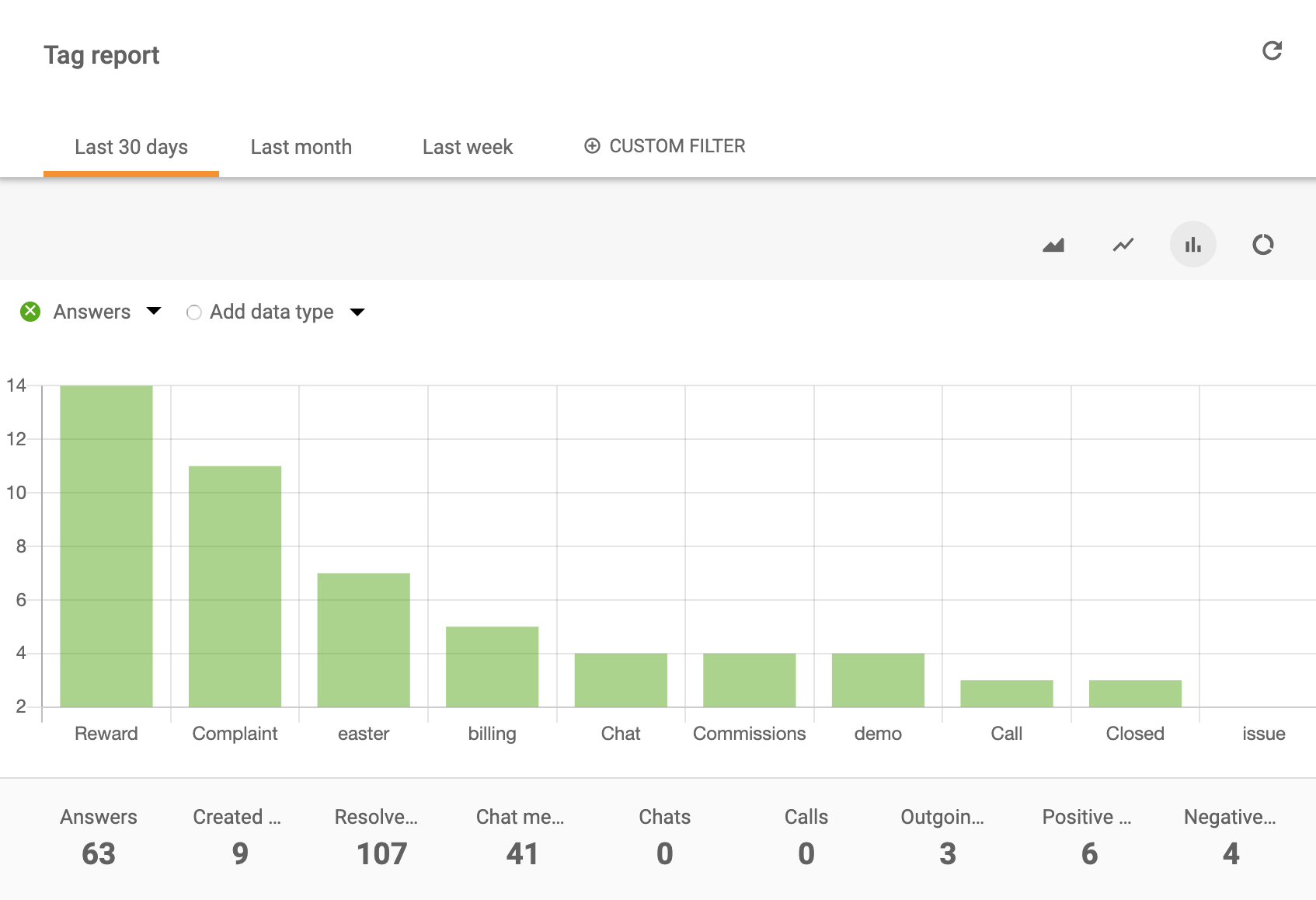 Tag report display options (columns):
Tag
Answer
New answer avg. time
Open answer avg. time
Calls
Missed calls
Call minutes
Chat messages
Chats
Missed chats
Chat pickup avg. time
Chat avg. time
Not ranked
Not ranked %
Rewards
Rewards %
Rebukes
Rebukes %
Incoming messages
Incoming calls
Finished calls
Incoming chats
Finished chats
Notes
Created tickets
Resolved tickets
Using tag reports with API
Check out the following link to learn more about LiveAgent REST API and call values from tag reports.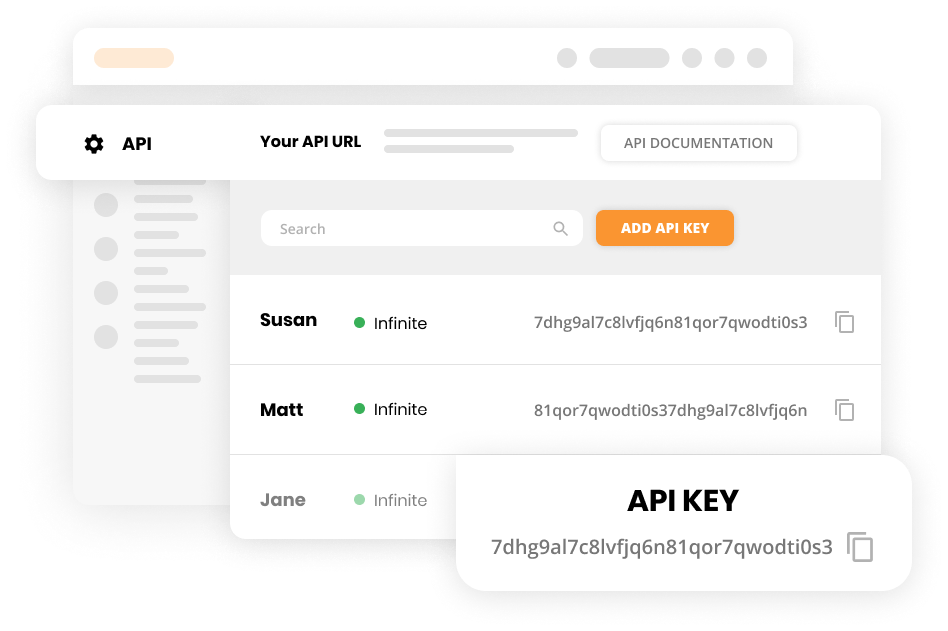 Tag customization
When creating a tag you can modify it's:
Name
Text color
Background color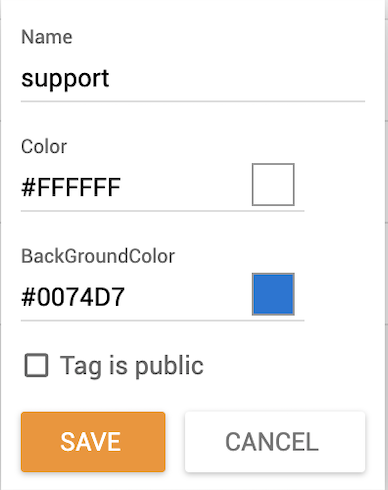 These modifications can be made at any time, so if you want to edit a tag's name or color, you can do so.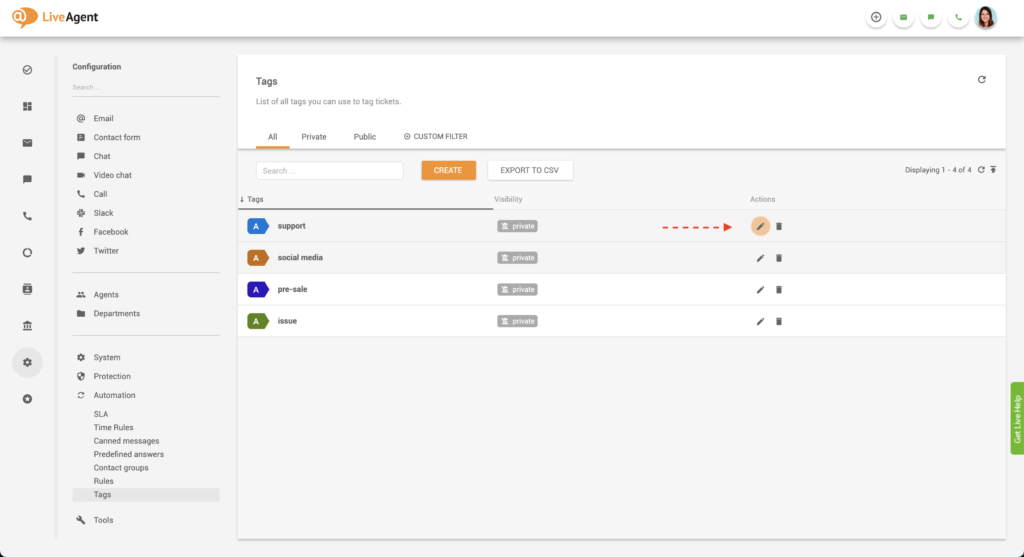 How to modify tags
Log in to LiveAgent.
Click on Configuration (cogwheel icon in the navigation bar).
Click on Automation
Click on Tags.
Select a tag and click on Edit.
Change the background color, name, or text color according to your liking.
Click on Save.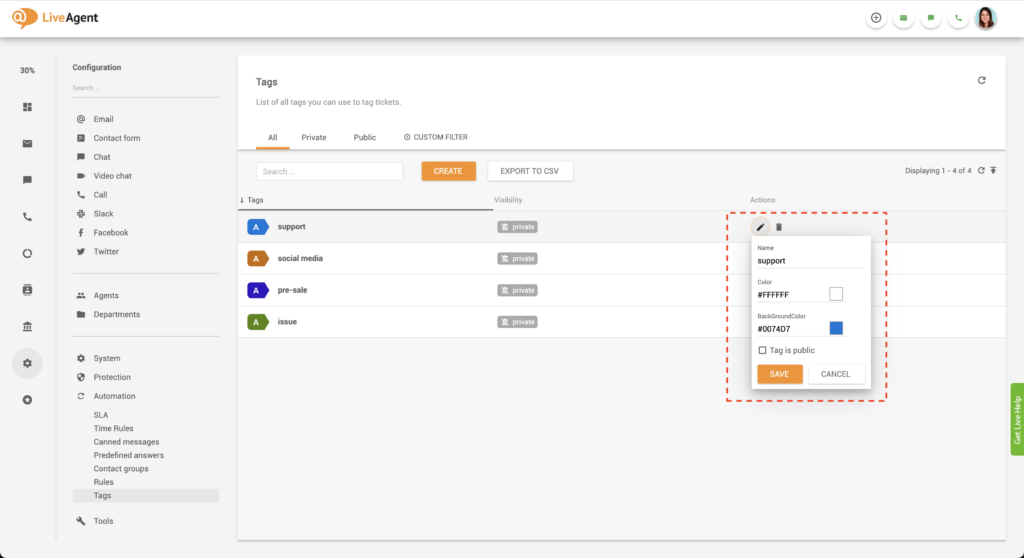 Knowledge base resources
To learn more about tags check out our knowledge base articles and guides:
Ready to create custom tags?
Organize your help desk with custom tags starting today. Ease your workload by leaving the heavy lifting to us, so you can focus on serving your customers. With automated tag assignments, it's easy. Try it today with our free 30-day trial. No credit card required. No strings attached.
Looking for a way to organize and prioritize your customer support tickets?
With LiveAgent's Tags, you can easily label, categorize, and filter support tickets based on specific keywords or criteria to quickly locate and address high-priority tickets or issues.