Live chat support stands as a game-changer in the realm of customer service, offering a dynamic way to elevate your interactions with customers. But what lies beneath this powerful tool? How does it operate, and what benefits does it bring to the table? Moreover, what are the proven best practices that many are leveraging to maximize its effectiveness?
The popularity of online chat is evident based on the volume of daily visitors and exchanged messages between businesses and their customers. To put it in numbers, on average, a company engages in around 50 conversations per day, whereas an agent usually resolves around 14 chats daily.
Another reason why live chat is becoming more and more popular among users is its speed. With available agents, the response time is usually within just a few seconds. That's why it makes up around 15% of all customer communications. With such strong indicators of its utility, let's delve into the world of live chat support to answer the most important questions and ultimately transform the way you connect with your customers.
What is live chat (live chat support)?
Live chat is one of the help desk software tools that enables customers to contact your business in real-time via chat on your website.
Instead of making customers wait on hold or letting them search through a lengthy FAQ section, they can click on a chat box and initiate a chat for support questions, describe their issues, or provide feedback to customer care representatives. Online chat provides a convenient way for them to do so, and for customer support reps to quickly address issues without escalating.
It also enables businesses to take a proactive chat approach and engage with potential clients. This means that a live chat agent can reach out, offer assistance, and take care of visitors who have been on the website for a certain time, turning them into satisfied customers. By proactively engaging with potential clients, you can provide personalized assistance and address any concerns they may have, ultimately increasing the chances of converting them into loyal customers.
Should every business implement live chat support?
The great thing about live chat tools is that they can be used by businesses of all sizes and industries. Whether you're running a small e-commerce store, a tech startup, or you are a healthcare provider, the live chat support channel has something to offer you.
E-commerce websites: Online retailers can use the live chat option to assist their customers during the purchase journey, reduce cart abandonment, and therefore, increase sales.
SaaS and technology: Software-as-a-Service (SaaS) companies and technology providers can offer live chat services to help their customers troubleshoot technical issues or provide guidance during the set-up process.
Travel and hospitality: Travel agencies, hotels, and airlines can use live chat to assist customers with their bookings, itinerary changes, or travel-related queries.
Healthcare: Medical providers can offer patients quick access to medical advice, appointment scheduling, and general inquiries through live chat quickly and easily.
Financial services: Banks and financial institutions can take advantage of live chat functionality in order to provide personalized financial guidance and support to their clients.
Here are just a few of the many reasons why every business should consider implementing online chat support:
Real-time messaging and access to conversation history
Instantaneous response time
Improved client satisfaction
Better customer experience
Building strong relationships and a loyal customer base
Increased sales and conversion rates
Cost-effective customer service
Competitive advantage
It is reported that around 85% of businesses in the B2B sector and around 74% in the B2C sector use live chat platforms to improve their customer support and increase their sales. The real-time support and answering customer questions right before they check out can eliminate doubts they may have which is why 60% of brands that provide support through live chat report a significant increase in their sales.
How does live chat support work?
Live chat support has revolutionized the way businesses interact with their customers, offering real-time assistance at the click of a button. But how exactly does this technology function, and what should you consider when implementing it for your business?
To get started, the first step is finding the right provider. Numerous chat options are available on the market, and your choice will depend on your specific needs and preferences. One popular chat solution is LiveAgent, a powerful customer support software that offers a comprehensive suite of tools, including live chat support.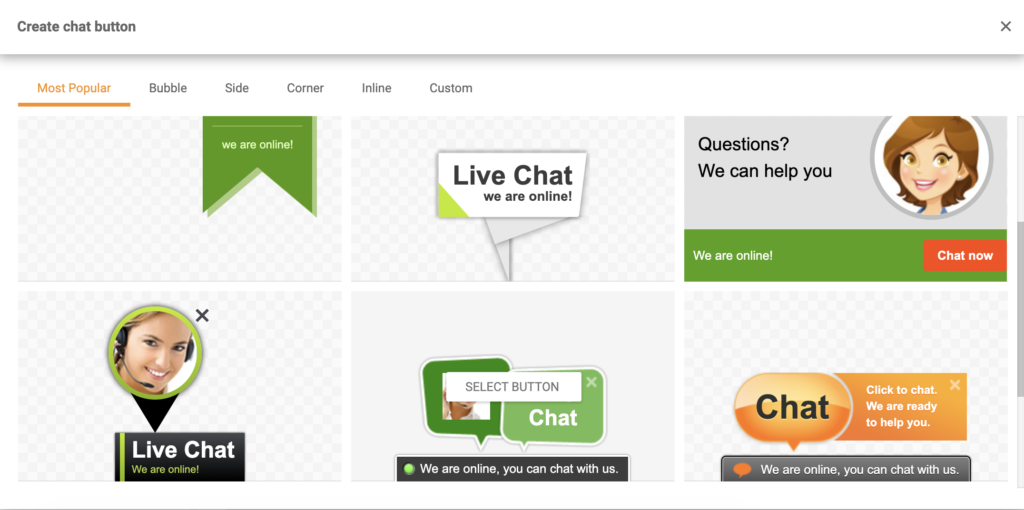 After selecting your provider, you'll need to set up an account and customize your chat box to match your brand's look and feel. Once your chat widget is ready, it's time to place it on your website. This is usually done by adding a snippet of code provided by your software provider to your website's HTML. And that's it, your live chat platform is ready to be used.

You can also consider using a chatbot as a part of your online chat support strategy. These chatbots are available 24/7 and can handle basic queries and simple tasks, such as answering FAQs, booking appointments, providing shipping and tracking information, and collecting contact details, among others. This leads to more efficient business processes and allows your human agents to focus on more complex issues that need that human touch.
There is also an option to include pre-chat and post-chat forms that can gather additional data from your customers and provide valuable feedback. These forms can collect their name, email, number, or any other relevant contact details that can be then used to personalize the conversation.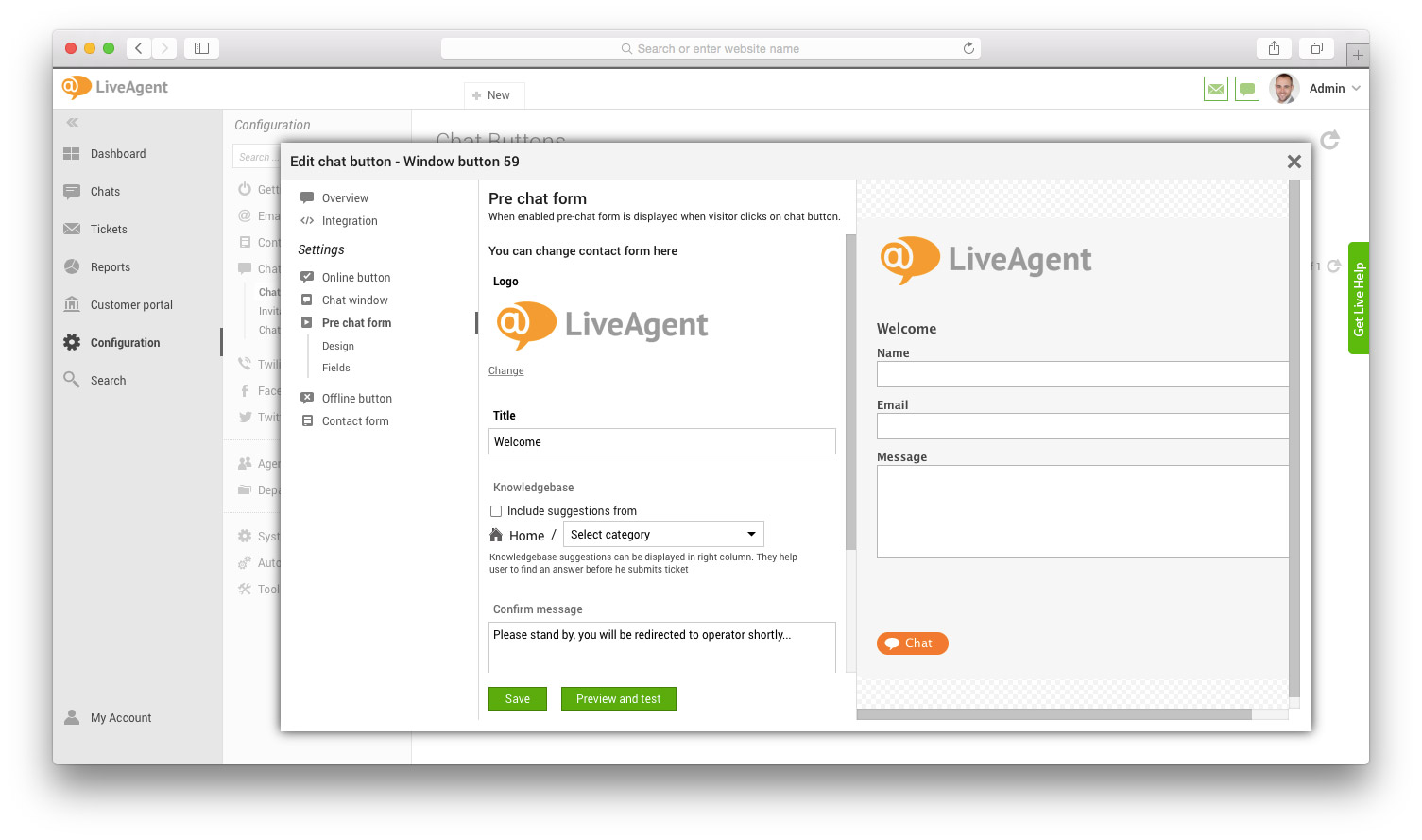 But what happens when your agents are offline and unavailable? There is a simple solution that lets your visitors leave a message for them, which your agents can answer as soon as they are back online. This way, no customer inquiry goes unanswered.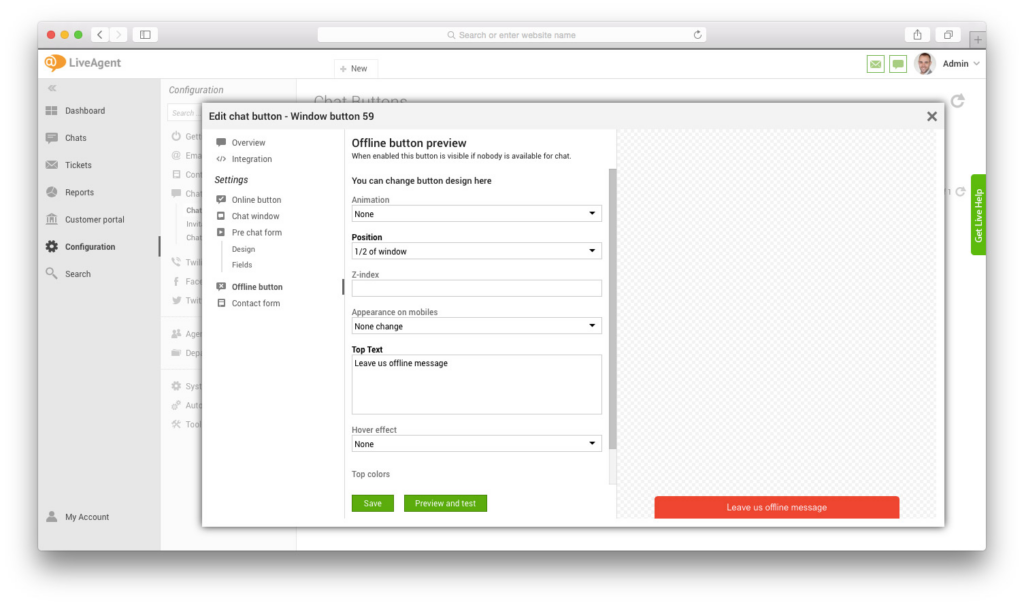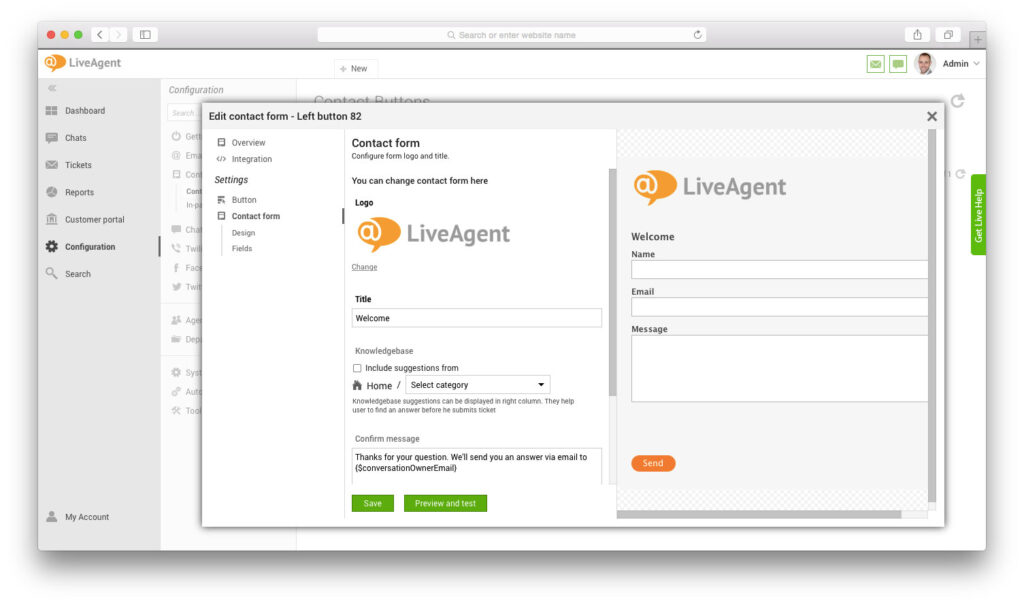 How can I chat with customer service?
Customers can communicate with the customer support team in real-time by utilizing a chat box that is placed on the business's website.
If your website is built on WordPress, a variety of plugins are available to seamlessly integrate live chat support functionality into your site. Check out our separate article on the 25 best WordPress live chat plugins to learn more about the different plugins and find the perfect fit for your website.
For example, some live chat providers such as LiveAgent can be easily integrated with your WordPress website as well. It comes equipped with a live chat feature that helps you connect your customers with your support agents in real-time just by clicking on the chat icon on its website.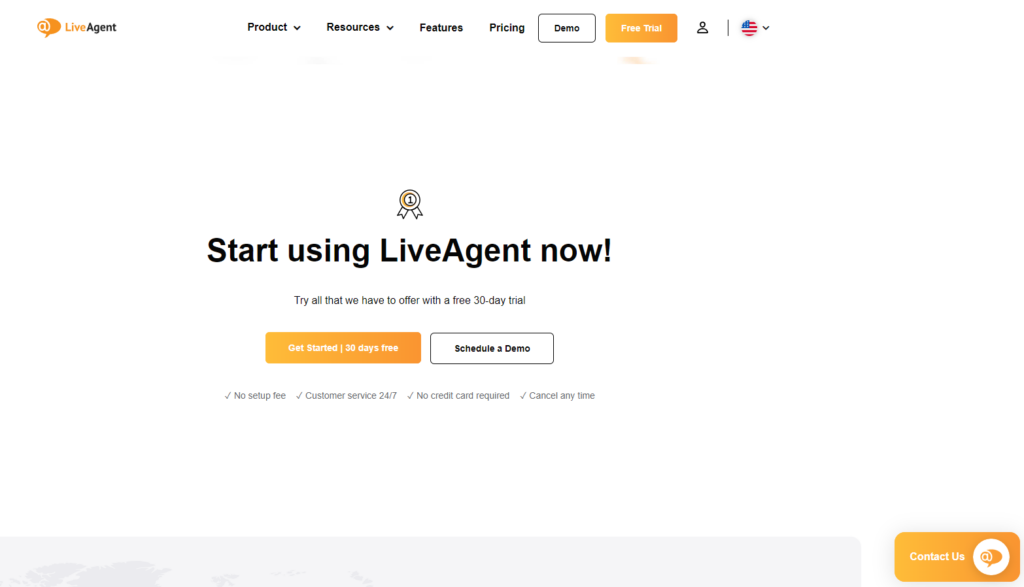 Do customers like live chat?
Both customers and businesses love live chat support because it's quick, efficient, and cost-effective. With online chat, customers can get answers to their questions in a matter of minutes. They no longer have to wait on hold for hours or deal with long email response times. Although the average response time for live chat queries varies from business to business and from industry to industry, it is a universally accepted notion that live chat queries should be answered significantly faster than emails and phone calls.
Customers and web visitors who use live chat platforms report an 81,2% satisfaction rate due to their convenience, speed, and high resolution rates. They also give it a score of 9 out of 10 when it comes to rating their live chat experience.

On top of that, many companies offer video live chat that makes it easy for both customers and support agents to quickly and efficiently address any issue. It is an incredibly convenient way that allows customers and agents to multitask during the conversation. Live chat for WordPress websites is a must-have feature that makes chat communication with customers easy and efficient. It saves time and effort, making the overall customer service experience more enjoyable.
If you're ready to discover how you can improve your customer service with live chat, try LiveAgent's free 30-day live chat trial.
Live chat support best practices
When it comes to live chat support, following best practices can make all the difference in providing exceptional customer service and elevating your live chat strategy. Let's dive in!
Choose a strategic place for your chat window
It's crucial to strategically position your chat button on your website to ensure it's both easily visible and accessible, allowing visitors to quickly find and engage with it. So, make sure it is prominently displayed and that your visitors don't have to scroll down in order to find it. The main goal is to increase engagement and provide a seamless support experience.
You don't need to add your live chat button on every single page of your website. Make sure that you choose the most relevant pages. Think about where visitors are most likely to have questions or need assistance on your website. For example, it's a good idea to offer it on the most important pages such as your homepage, contact page, FAQs, or the checkout page.
Personalize customer conversations
Adding a touch of personalization is key when it comes to providing an exceptional live chat experience for customers. By personalizing the chat interactions with your customers/visitors, you can create a more meaningful and engaging experience where they feel valued and understood.
What you can do is address customers by their name. This adds a personal touch that makes the whole conversation more friendly. Additionally, if they have previously contacted you, you can refer to their past interactions using the conversation history feature, which is one of the functionalities offered by the chat system. This shows them that you have taken the time to understand their history with your brand and therefore provide the best possible support.
Tailor your responses to the customer's specific needs and problems and avoid using generic, one-size-fits-all responses. Last, but not least, make sure you show empathy and understanding. Acknowledge any frustrations your customers may be experiencing and reassure them that you are there to help them find a solution.
Use video as a part of your live chat support
By adding video capabilities to your live chat support, you can enhance the customer experience and provide even more personalized service. Video allows face-to-face communication which can improve the sense of trust because it adds a human touch to the interaction.
Videos also help explain more complex issues or instructions that can be challenging to explain through text alone. Company representatives can share their screens or use co-browsing functionalities during the chat session to guide customers through the process in real-time. This can improve team efficiency and save time for both parties involved.
Use canned responses
When it comes to providing efficient and consistent live chat customer service, using canned messages and pre-written templates can be valuable. Canned messages, also known as predefined responses, are pre-written snippets of text that agents can use during live chat conversations. Canned responses can be a time-saver, but it's important to use them wisely.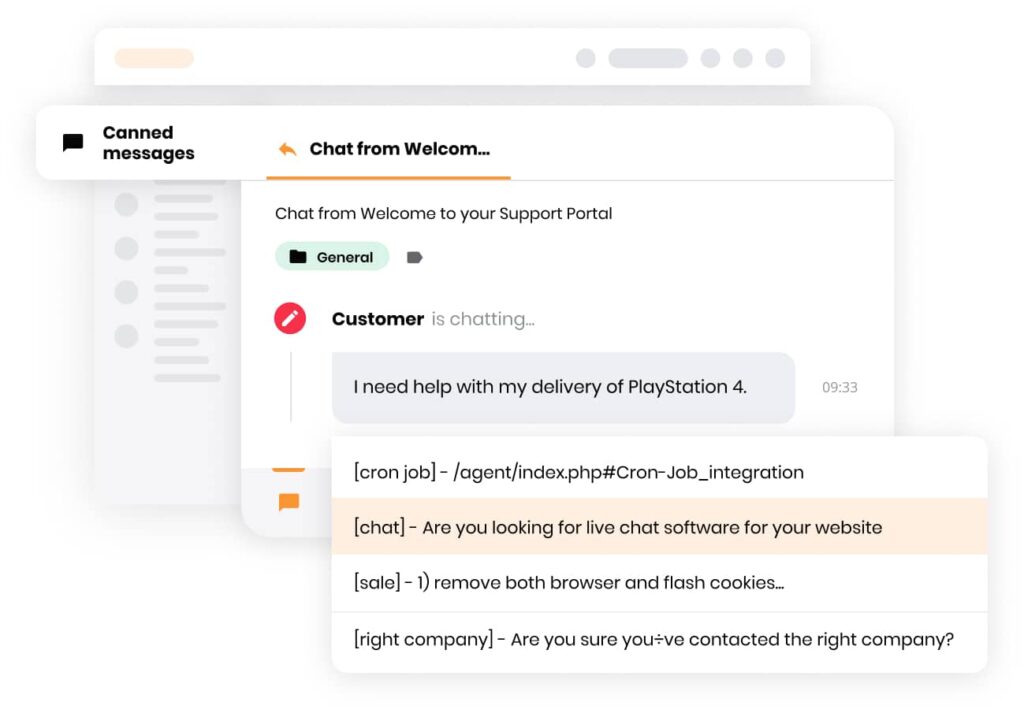 Canned messages can save significant time and effort during conversations. Instead of typing out the same response repeatedly, agents can simply select the appropriate message from a predefined library and send it with a click. They also help ensure consistency and accurate responses to frequently asked questions or commonly encountered issues. This ensures that customers receive the same level of service, regardless of which agent they're chatting with.
Using pre-written templates also reduces the risk of human error, especially when it comes to providing complex or technical information. Canned messages are carefully crafted and reviewed to ensure that you only share accurate information with your customers.
Integrate your live chat with other tools
Do you want your business processes to become more efficient? Integration allows you to synchronize customer data between your live chat software and other business tools like your customer relationship management (CRM) system. This third-party integration ensures that customer information is up-to-date and available to support agents, allowing for more personalized service and informed interactions.
You can also integrate your live chat platform with your help desk software or ticketing system to seamlessly convert chat conversations into support tickets. This allows for better organization, tracking, and follow-up on customer inquiries, ensuring that no customer falls through the cracks.
When integrated with analytics and tracking tools, live chat platforms can provide customer insights into visitor behavior and common browsing patterns. This data can then be used to proactively engage with visitors at the right time, offering assistance or personalized recommendations based on their interactions on your website.
Collect customer feedback and surveys
Soliciting feedback through pre-chat and post-chat surveys is a vital strategy for enhancing your online chat customer service. By collecting valuable insights from customers about their experiences, you can significantly improve your services. Asking targeted questions can help you understand their pain points, expectations, and areas for improvement.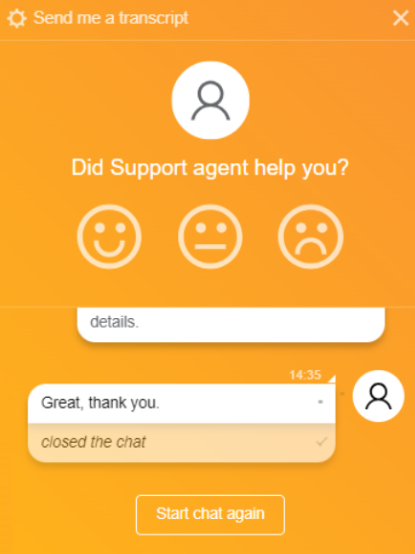 Implementing surveys allows you to assess the quality and effectiveness of your live chat support. Invite them to rate the customer satisfaction level of service they received, and gain data that can help you identify areas of strength and areas that need improvement. It will also help you recognize and reward exceptional support agents while addressing any issues or gaps in service.
These are just a few best practices to keep in mind. You can check out our separate in-depth article where we dive deeper into mastering live chat best practices and explore even more of these practices for you to incorporate.
6 Benefits of live chat support for any business
Improved customer satisfaction: Providing instant and personalized live chat customer service leads to higher customer satisfaction rates. Customers usually appreciate the convenience of instant messaging and getting their issues resolved quickly.
Increased sales and conversion rates: Live chat is the ultimate tool to engage with customers in real-time communication, guiding them through the entire purchasing process, and addressing their concerns. This can ultimately increase your sales and conversions.
Cost-effectiveness: Compared to traditional phone support, live chat platforms allow support agents to handle multiple conversations simultaneously, reducing the need for additional staff and ultimately saving costs.
Valuable insights: Another live chat benefit is that it allows you to gather valuable data and customer insights. By analyzing customer service interactions and chat transcripts, you can identify common trends and pain points, as well as make informed business decisions to improve your overall strategy.
Quick problem resolution: Live chat enables the customer support team to troubleshoot and resolve issues quickly and in real-time, minimizing frustration and eliminating the need for lengthy back-and-forth interactions.
Enhanced customer experience: By offering your customers a convenient way to engage with your business through browsing your website or even accessing support from their mobile devices, you can create a seamless and positive customer experience.
These benefits only scratch the surface of what live chat support has to offer. If you're eager to explore the topic further, check out our separate article, where we take a closer look at the various benefits of live chat support in depth.
Real-life examples of live chat support
To illustrate how live chat is used effectively in real-world scenarios, here are some examples to make note of.
LiveAgent
LiveAgent offers a live chat button on their website that provides instant messaging and will quickly connect you to customer service representatives in case you need any type of assistance. Whether it's questions about their services, technical issues, or information about their pricing plans, their friendly team of experienced agents is ready to answer all your questions.
Their fast live chat widget and advanced features make every customer interaction a breeze.
LiveAgent offers 24/7 customer support.
Chat routing makes sure that your message is automatically sent to the most relevant department and agent based on the purpose of your inquiry.
You can contact the support team through several customer service channels: contact form, live chat, messenger, or WhatsApp.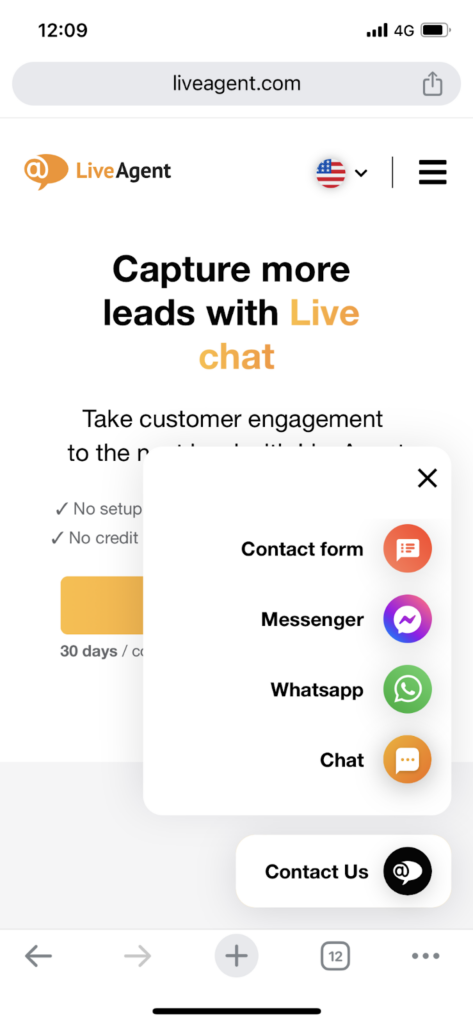 Decathlon
Decathlon handles a large number of customer support issues on a daily basis. Slow response times through phone support and email led them to start using live chat through WhatsApp.
Decathlon added automation to engage with customers efficiently and distribute complex queries to available agents.
Each agent can handle multiple queries at once which allows them to solve more issues without hiring more agents.
They also started offering self-service support in the form of a knowledge base that can be used for simple tasks and queries, which decreased their average handling time by 50%.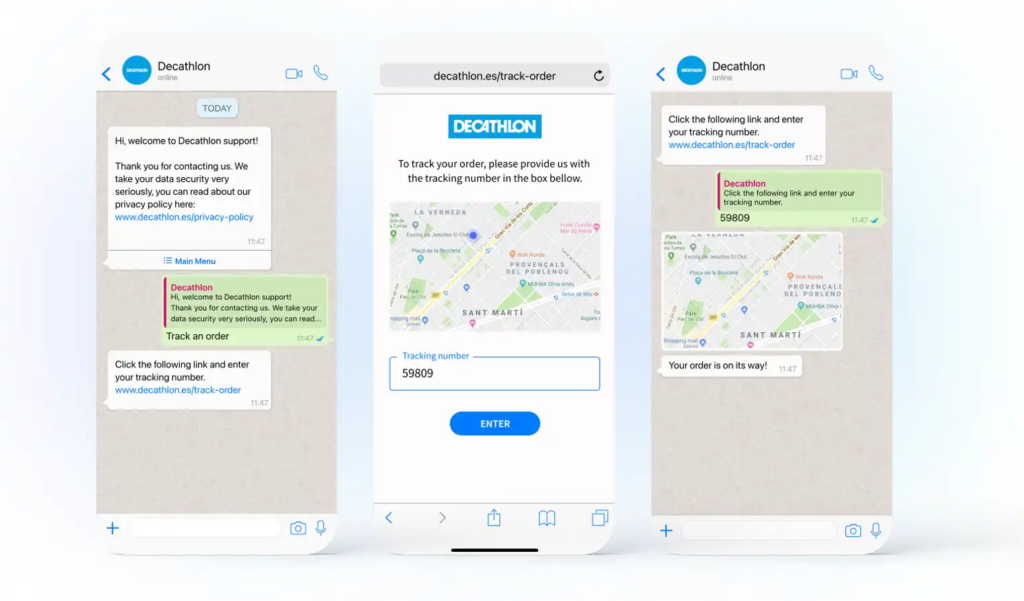 Fitbit
In 2019, Fitbit Health Solutions, which is the B2B side of the popular fitness tracking watch manufacturer, needed a tool that would make it easier for potential leads to connect with them. At the time, the prospects needed to fill out an online form to get in touch with the sales team. This approach was slowing down the engagement as well as their sales as a result. Therefore, they decided to implement a new communication medium that would drive engagement and easily connect their potential customers with support agents.
They launched COMM100 Live chat on their website where they offer 24/7 customer support, and right from the start they were able to see the difference. To put it in numbers, they were able to close $4 million in revenue through live chat in just one year.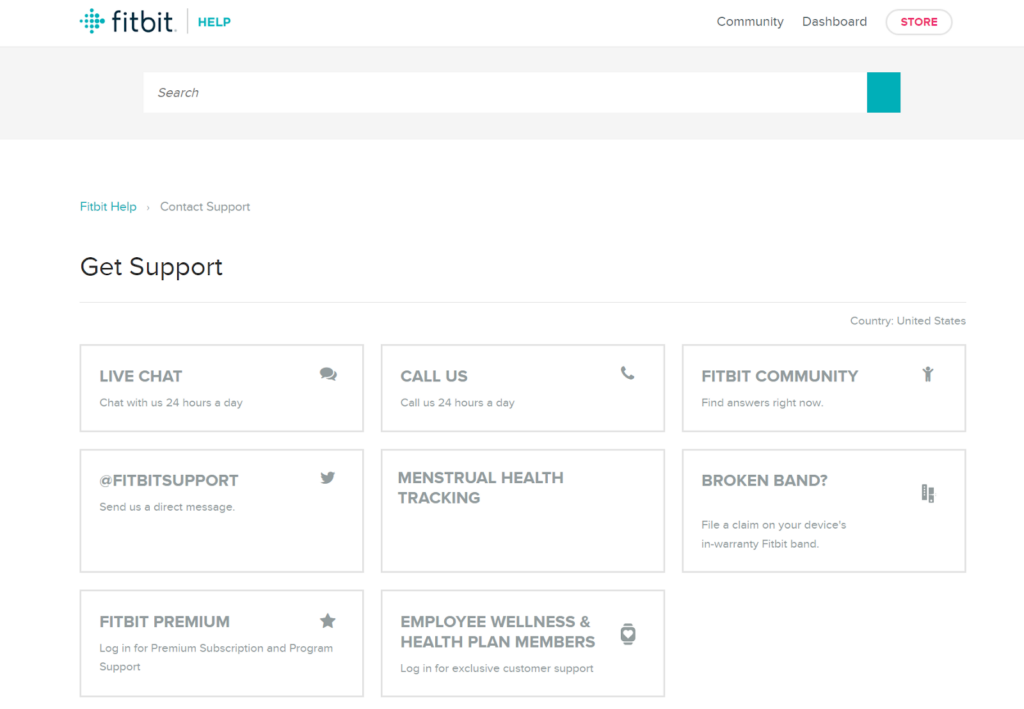 Dominos
Dominos is also one of the brands that started using live chat to improve the efficiency of the ordering process. They use artificial intelligence in the form of a chatbot to communicate with their customers through Messenger which means that their customers don't need to download any additional mobile apps to their mobile phones.
The customers can first choose if they want to create an order, track their order, or contact the customer support team. While making an order, you talk to the chatbot and specify what exactly you prefer and what your requirements are. It is a quick and easy process that is beneficial for both the customers and the business.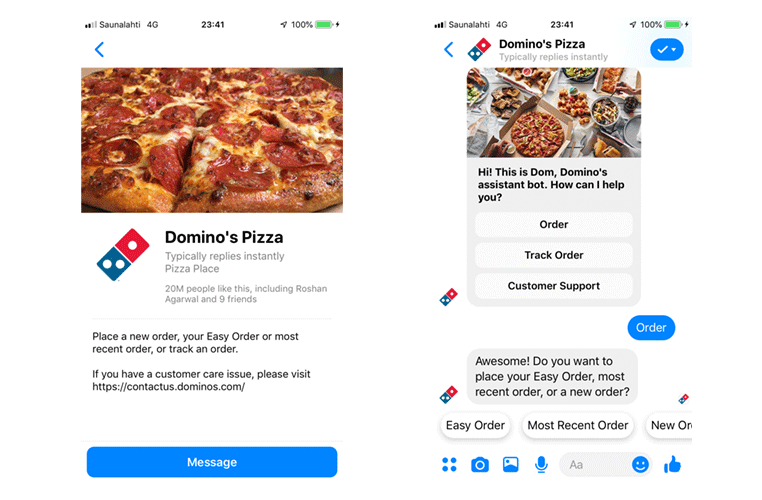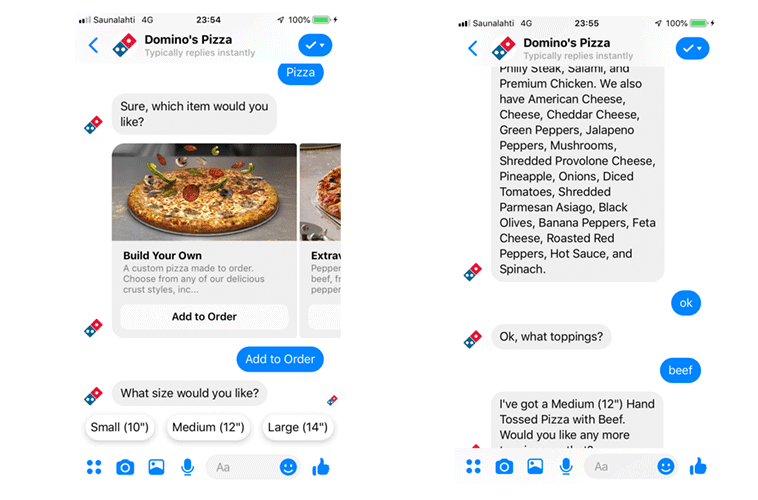 MyProtein
MyProtein, an online sports nutrition brand, provides a range of products including various supplements, proteins, vitamins, and activewear, all delivered directly to your doorstep. They also decided to start using a live chat platform as a part of their customer support strategy.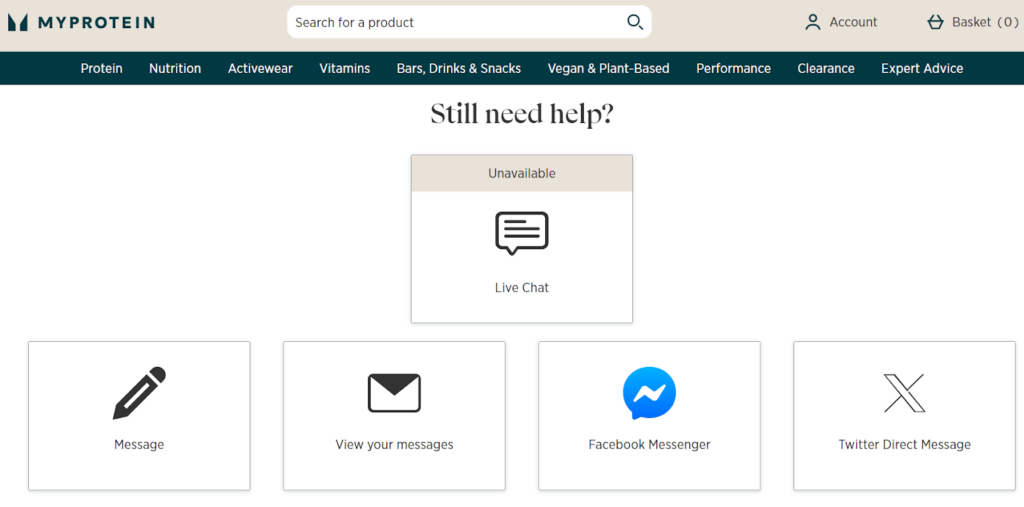 You can contact MyProtein's support team through various communication channels, such as online chat window, Messenger, Twitter direct messages, or just leave them a message through their website.
They offer assistance regarding product advice, returns and refunds, discounts, and delivery options, among others.
Their live chat is not available 24/7 but you can always leave them a message and they will get back to you as soon as possible.
Conclusion
Live chat support is a powerful tool that can revolutionize your customer service efforts. That's why it was important to cover the basics of live chat support, its definition and benefits, and why every business should consider implementing it into their strategy. While emphasizing its significance for businesses of all kinds, we delved into its operational aspects and highlighted the positive impact reflected in feedback from satisfied clients.
Following the best practices can help you provide exceptional support that will make a lasting impression on your visitors and customers, which can ultimately boost your business and increase your sales.
If you want to give it a try, LiveAgent offers an exceptional live chat solution. You can also sign up for a 30-day free trial and experience the benefits firsthand without any strings attached. Start engaging with your customers in real-time conversation, provide instant support, and build stronger relationships through live chat support.
Instant customer support with LiveAgent
Ready to provide real-time assistance and make a memorable impression on your customers? Try LiveAgent's live chat software today and experience the power of personalized support!
Frequently Asked Questions
What does live chat support mean?

Live chat support is the ability to conduct a text chat between the client and the support team over the Internet. By using a live chat tool for real-time communication, customers can send their questions about the products or services offered by the company and get answers very quickly. Live chat also automates and speeds up the work of the customer service team.

How do I use live chat for customer service?

Select a suitable chat service such as LiveAgent and integrate it onto your website by embedding the platform's code. Customize its appearance to align with your website's design, and ensure your agents are trained to handle inquiries effectively. Regularly monitor interactions, employ best practices like prompt responses and clear communication, and adjust strategies based on feedback for continuous improvement.

What are the elements of live chat support?

The most important part of a live chat platform is that it allows you to easily initiate real-time communication between customers and support agents. In addition, it allows customer interaction and handling via emoticons, video sharing as well as voice messages. The important thing is that the client can start a conversation at any time and get an almost immediate response.

Why is live chat support good for customer service?

Live chat is a customer service tool that provides real-time support, improves customer experience, and aids acquisition. It allows agents to establish personal connections and refer to past interactions, reducing repetitive information. Embedded on sites or apps, it aids usability, lets agents handle multiple concurrent chats at once, and ensures 24/7 availability. It boosts engagement, offers a competitive edge, and yields data for product improvements. In short, live chat streamlines service and drives business growth.

How does LiveAgent provide live chat support?

Live chat is a tool for communication that is available in LiveAgent. This tool allows customer service teams using LiveAgent to support customers in real time. It includes all the functionalities you need for effective and prompt communication with your customers.

What is the disadvantage of live chat support?

While live chat support offers numerous benefits, it does have a few potential disadvantages as well. One disadvantage is the need to be online to offer support which means you may need to hire enough people to be able to cover at least the peak hours.

How do I guarantee the safety of live chat support?

When it comes to safety, using a reputable and secure SaaS solution is highly recommended. SaaS providers like LiveAgent prioritize chat security measures, such as data encryption and secure cloud storage to protect customer information. Implementing strict access controls and regularly updating software also contribute to maintaining a secure environment.
Expert note
Live chat support enhances customer experience with real-time assistance and is a must-have for any modern business.

Andrej Saxon
Sales manager