What is online support?
Online support means delivering customer service digitally through multiple channels such as email, live chat, social media platforms, messaging apps, etc. Nowadays, many customers prefer this form of communication over a phone call or personal contact.
Customers or website visitors value if they can easily contact customer representatives 24/7 if they have an issue or a question. With more and more customer interactions happening online, companies must deliver exceptional customer experiences.
Why is online support important?
Through online support, customers and visitors can get assistance whenever and wherever they need it. Exceptional customer service can also help you grow your business, improve your brand image and increase sales.
Increased customer reach
Online customer support allows companies to reach a wider customer base. This is especially important for businesses that operate globally and have customers in locations around the world.
Social media platforms are a great way for customers to reach out to companies. Having an online presence on these platforms can help increase your reach.
Improved customer satisfaction
Your customer support has a significant impact on customer satisfaction. Customers usually reach out to the customer support team when they are experiencing a problem with their purchased product or service. How your support team handles complaints can affect the level of customer satisfaction. By providing quick and personalized service, companies can improve satisfaction and build customer loyalty.
Cost savings
Cost saving is another reason why businesses should implement online support. It allows companies to assist a large number of customers simultaneously which reduces the need to hire more employees.
Competitive advantage
Delivering exceptional and effective online customer support is one of the most significant factors that creates a competitive advantage.
The customer service department is a key player in retaining existing customers. When satisfied with your services, your clients will not swap you for your competitor. On top of that, happy customers make great marketers and brand advocates through word-of-mouth marketing which can help you widen your customer base.
Access to customer data
Gathering customer data can help you learn where to improve as a business. Your customer service department is a great way to get these insights about your customers. You can use this information to improve your marketing strategy and make necessary changes. Online support allows businesses to store and track customer data and study customer behavior to personalize communication and improve services.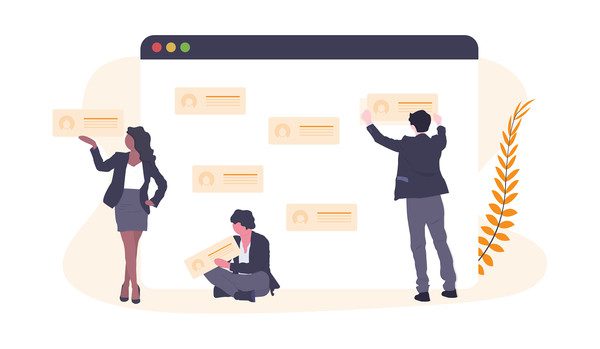 Better tracking and measurement
As mentioned before, online support allows companies to track customer interactions with your business, see their previous complaints and measure their satisfaction. You can use all this to identify areas you need to improve. One way of gathering these insights is to request that your web visitors complete a short survey where they express their opinion and experience with your services.
Adaptation to the digital age
Since we entered the digital age, how businesses handle customer service has changed drastically. More and more customers expect online interaction. Therefore, having online support becomes imperative to meet those expectations.
Meeting customers' expectations
With the fast development of technology and the rise of digital channels, customers' expectations are getting higher. Understanding the basic customer expectations can help you identify where to improve and build a loyal customer base.
Here are some basic customer expectations to keep in mind:
Offer self-service through knowledge bases and FAQs to customers to serve themselves and answer their own questions
Be empathetic during each interaction
Set expectations and make sure to keep them
Ask for customer feedback to show you care about their opinion
What are the advantages of online support?
Online support has become an essential aspect of customer service for all businesses. It allows your customers or web visitors to reach out to you via their preferred communication channels.
Countless advantages of online support impact customer satisfaction and affect your business's long-term success and profitability.
Convenience
Online support provides convenience because it allows customers to access help at any time of the day, from anywhere, using channels they prefer. This way, you can resolve customer queries quickly and effectively. When your company is easily accessible, it improves customer satisfaction and loyalty.
Multiple channels
It also provides multiple communication channels for your customers to reach out if they need any assistance, such as email, live chat, self-service portals, and others, including channels for social media customer care agents. With customer service software, all incoming inquiries are automatically turned into tickets and stored in one shared inbox, ensuring faster resolution.
Faster resolution time
With online support, customer service agents can respond to customer questions faster because they can handle multiple requests simultaneously.
Moreover, being able to chat with someone in real-time makes the whole problem-solving process faster compared to emails where the response can take up to several hours.
An online IT ticketing system allows you to make information accessible even beyond business hours by providing FAQs and knowledge base portals or by sending automatic replies to submitted requests.
Cost-effective
Implementing online support can be more cost-effective because it allows you to deal with a large volume of customer queries simultaneously or route them directly to appropriate departments or agents.
Better tracking and measurement
Online support enables businesses to track all customer interactions you can use to identify areas where the company needs improvement. It can help you better understand customers' behavior and keep track of their complaints which can help you eliminate recurring problems.
Increased customer satisfaction
Providing efficient and personalized customer support increases customer satisfaction and loyalty, ultimately increasing revenues. Therefore, the easier it is for your customers to contact your business, the more satisfied they will be.
How to improve online support?
Excellent customer service and positive customer experience are essential for every business. You need to keep your customers happy to build long-term relationships with them. However, customer service requires constant improvements. Technology is developing fast, and because of this, customers' expectations get higher and higher.
Based on the ACA Survey, around 96% of customers are willing to switch companies after a bad customer service experience, regardless of the quality of your product. And 62% of people are willing to pay more just to get better customer service.
So, let's look at some specific ways you can improve your online support:
Multiple channels for customer support
Reaching a company through a preferred channel is a huge plus in a customer's book. There is nothing more annoying for a client than struggling to contact customer service.
With omnichannel support, you can communicate with your customers through multiple channels and across all customer journeys. These channels may include:
email
social media platforms
live chat
web forms
call centers, etc.
However, the most effective way to contact customer service and get the fastest response is through live chat. Live chat will automatically connect customers to the available agent for a real-time conversation.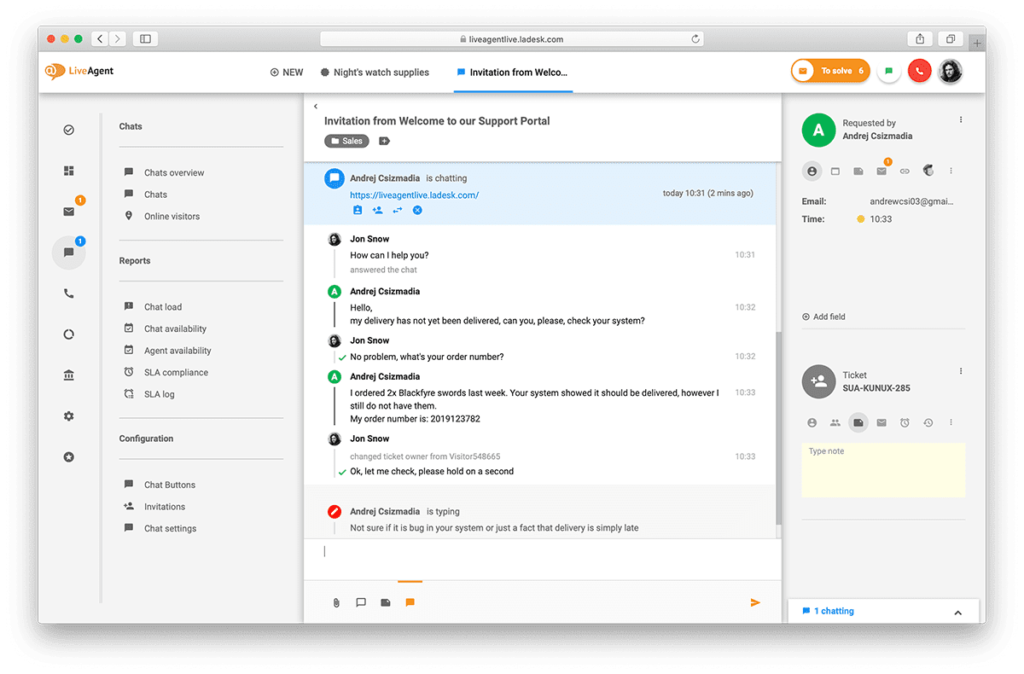 Another advantage of LiveAgent's live chat is that the agent can't close the request without solving it first. It ensures that the customer gets the help they need.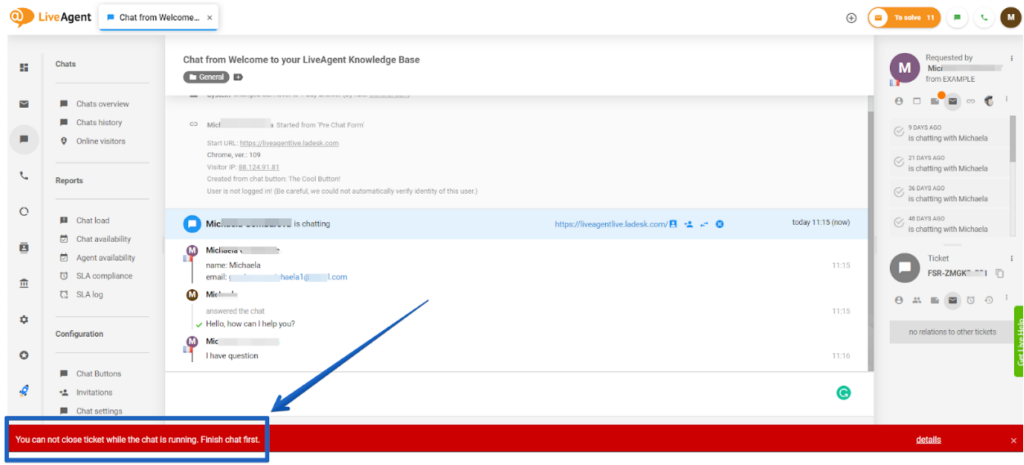 Improve response time
Customer service response time is the time between receiving an inquiry from a customer and sending a response back to them.
Use automation to your advantage and set automated email responses. These are confirmation emails that your customer receives after sending you an email. It will assure them that your team has received their inquiry and is currently working on it. To take it a step further, you can link your FAQs section and knowledge base to the email offer self-service options.
Another way to improve your response time is to use canned messages. They are short, pre-written responses that respond to common questions. Customer service agents or technical support teams use them to effortlessly respond to common questions and make their workflow more efficient.
Make sure to prioritize. Even though every ticket is important, customer support teams need to categorize tickets based on the issue's complexity, approximate resolution time, and impact.
In LiveAgent, customer support agents can categorize each ticket based on its importance.
LiveAgent works based on a combination of SLA Rules and SLA Levels. SLA stands for Service Level Agreement. It is agreed upon between the service provider and their business. SLAs' main function is to monitor service level performance and meet pre-set goals. It usually defines the time in which tickets need to be resolved.
SLAs are important because they define clear customer expectations and the service provider's responsibilities. If the service provider does not meet the terms of the service agreement, they are usually penalized.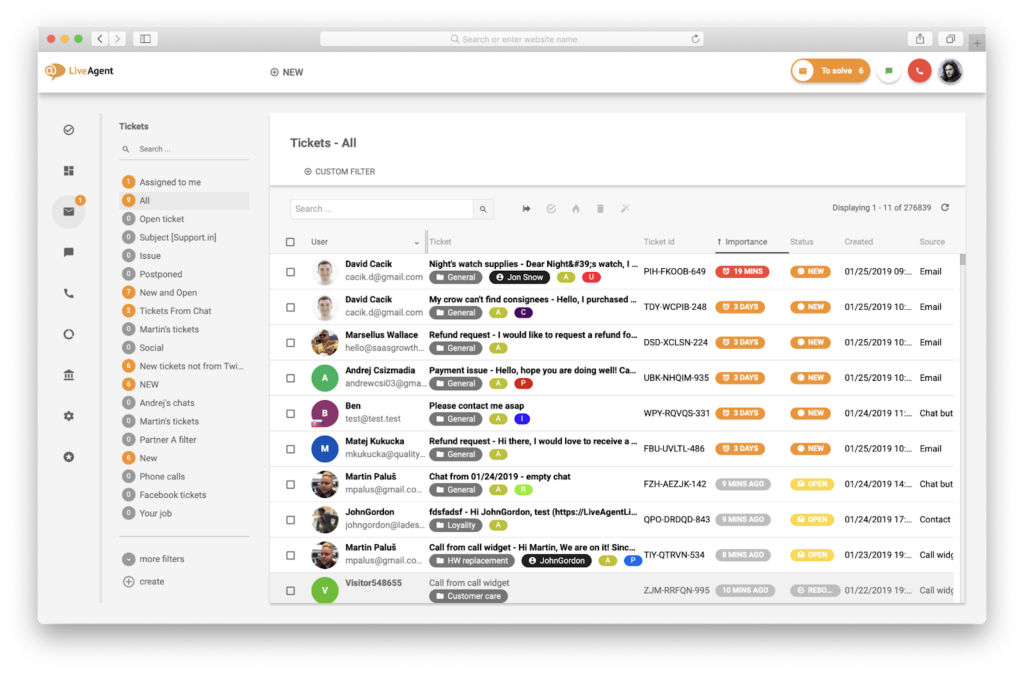 Personalize and empathize with customers
No two customers are the same. Personalized customer service provides a unique customer experience based on individual behavior, preferences, customer history, etc. It allows agents to offer relevant recommendations, communicate through preferred channels and offer relevant resolutions to customers' issues.
Another factor that influences customer satisfaction is empathy. Customer service is all about people and helping them resolve issues. To understand their problems, agents should put themselves in customers' shoes. Showing empathy can decrease customer frustration, prevent churn, and build strong relationships.
Train your customer service team
Customer service training is essential to improve customer satisfaction and create a successful customer-focused business. Good training includes exercises for improving communication skills, conflict resolution skills, product knowledge, and more.
Train all your employees to be good listeners, letting the customers talk before responding and ensuring they understand the problem correctly. It will make customers feel heard and will significantly improve their experiences.
Gather and use customer feedback
Gathering customer feedback is a crucial part of each customer interaction. It shows you where you need to improve to grow your profits and your overall business.
Proactively reach out to customers
Proactive customer service is when you actively reach out to customers before they contact you. Companies can proactively reach out to their customers for reasons such as introducing new products, requesting feedback, offering a discount, or resolving an issue. Proactive customer outreach is a more engaging approach compared to reactive customer outreach which is initiated after a business receives a customer complaint or inquiry.
Use technology to improve support
Nowadays, technology and customer service go hand in hand. The role of technology in customer service is not to replace human representatives but to help them be more efficient and give them more time to focus on more complex issues.
Help desk software is a great way to improve your customer service. It converts all the incoming customer requests into tickets and stores them in one shared inbox. Help desk solutions come with all kinds of advanced features which create a smoother and faster resolution process.
Live chat is another helpful tool to take customer engagement to the next level. It allows you to talk to your customers in real time and reduces their waiting times. You can easily place a live chat widget on your website. These widgets are usually customizable to create a more personalized experience and fit your branding.
CRM software stores and organizes customer data such as contact information, purchase history, and more. This system gives your employees easy access to all the necessary customer information that helps them provide quick and personalized service.
You can use knowledge base software to create a self-service portal where your customers and web visitors can find answers to common questions and troubleshoot their issues. A knowledge base with a self-service portal can lower the number of inquiries your customer care team receives and lets them focus on more demanding issues.
What to avoid when it comes to support online?
Long response times
When a customer reaches out for help, the last thing they want is to wait a long time to get a response. Taking too long to answer or not answering at all can lead to frustrated customers and create a bad reputation for the company.
Lack of personalization and empathy
The lack of empathy and personalization can make your customers feel like you don't value them and their time. This can result in negative experiences and, subsequently, customer churn.
Insufficient training for the customer service team
Lack of proper training can result in an insufficient skill set and a failure to meet customer needs. It can lead to poor customer service and bad customer experience, which, in turn, results in a loss of business.
Ignoring customer feedback
Customer feedback is the best way to identify your strengths and weaknesses to adjust and improve your business strategy. Ignoring what your customers think risks your brand reputation, which can lead to growing customer churn.
Lack of monitoring and measurement
The lack of monitoring and measurement can lead to multiple negative consequences. For example, it will be challenging to improve customer service processes and identify common customer issues, resulting in customer dissatisfaction and employee turnover.
Be always available!
With LiveAgent, you can always stay in touch with your clients to provide excellent customer service.
Conclusion
In conclusion, offering excellent customer support online can highly impact your business' success rate. Offering great products is no longer enough if your customer service is not up to today's standards.
Use technology to your advantage and implement help desk software, CRM, live chat software, and knowledge base builders to help your customer support representatives. It will help them to raise their work efficiency, handle more customer inquiries, use automation, and more.
Try to implement an omnichannel strategy to be more accessible to your customers and web visitors through their preferred platform, increase their satisfaction, and improve their experience with your company.
Don't forget to train your customer-facing employees so they are ready to handle all situations and provide the best support.
Last but not least, use positive and negative feedback customers provide to your advantage because it lets you improve and grow your business.
Frequently Asked Questions
What is online support?

Online support is a form of providing customer service online. Communication channels linked with online support include email, social media platforms, or live chat. Online customer support lets you stay in touch with your client base and build strong customer relationships.

Should you offer online support?

To be a strong competitor in the market, you need to provide online support. Nowadays, customers use online communication channels rather than telephone or personal communication. To meet their expectations, you should provide as many communication channels online as possible.

Can LiveAgent be used to provide online support?

Yes, of course. LiveAgent is a help desk software that encompasses all types of customer service. With LiveAgent, you can manage all communication channels in one place. They include email, social media, video chat, and live chat. You can also create a customer portal with knowledge base articles, FAQs, and more. LiveAgent also generates reports and allows you to study conversation and ticket histories to improve your strategy.

What does an online support specialist do?

Online support specialists assist customers and web visitors through online channels such as email, social media platforms, live chat, website forms, etc. Their responsibilities are answering customer questions, providing accurate and up-to-date information, maintaining records of customer interactions, receiving feedback, and reporting any recurring problems to the management.
Expert note
Online support is vital for businesses to meet customer expectations and provide convenient, multi-channel communication. Using technology and proactive outreach can improve customer satisfaction and loyalty.

Andrej Saxon
Sales manager