If you're looking for a way to boost customer satisfaction and overall experience, CRM software is a must-have tool for your business. In terms of sales, it will help you reach your wildest dreams.
If you're a business owner and you don't yet use CRM technology and would like to increase sales the CRM way, this article is for you. Apart from increasing sales, finding the best CRM software for your business will essentially help you connect and maintain good client relationships.
What is CRM software?
Acronym CRM stands for Customer Relationship Management and it is a set of strategies and programs used to manage customer relationships. CRM software is a type of customer data management tool that helps businesses collect, organize, and access customer communications and profiles.
With organized consumer details at your fingertips, you can efficiently provide an excellent experience for your clients.
Why use CRM software in your business
More and more businesses are mushrooming and competition is becoming more fierce by the day. That said, it's undeniable that your business needs a solid strategy to make the most sales and maintain contacts, right?
That's where CRM software comes in handy.
Here are some of the main advantages of using reliable CRM software:
1. Analyzes the collected information on products and services
Online database systems that cater specifically to customers are on the rise. In general, this increase illustrates how having access to customer insights is crucial to the growth and success of any business.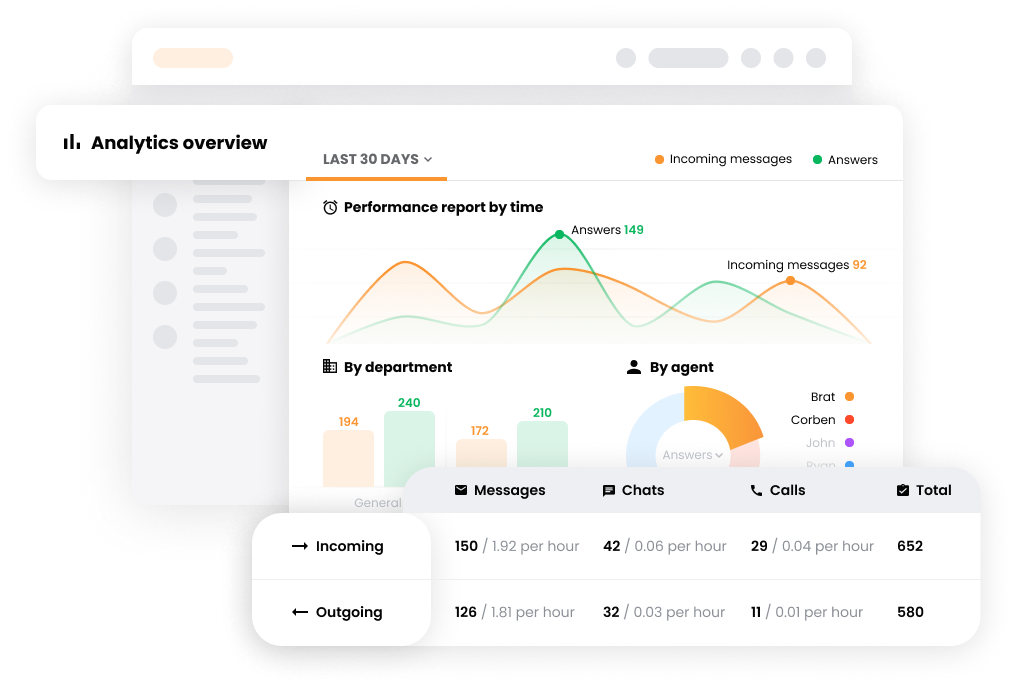 CRM software keeps detailed information on the entire customer journey and provides actionable insights for revamping your business strategy. It analyzes your organization's data on products and services collected from the clients.
Using the stored data, you can learn more about the needs and preferences of your customers towards a particular product or service. CRM software enables businesses to use customer insights to improve their products and services and encourages your sales team to embrace it as a helpful tool.
Through real-time analytics and detailed response rate data, CRM software gives actionable insights for improving business offerings and still keeps track of overall performance.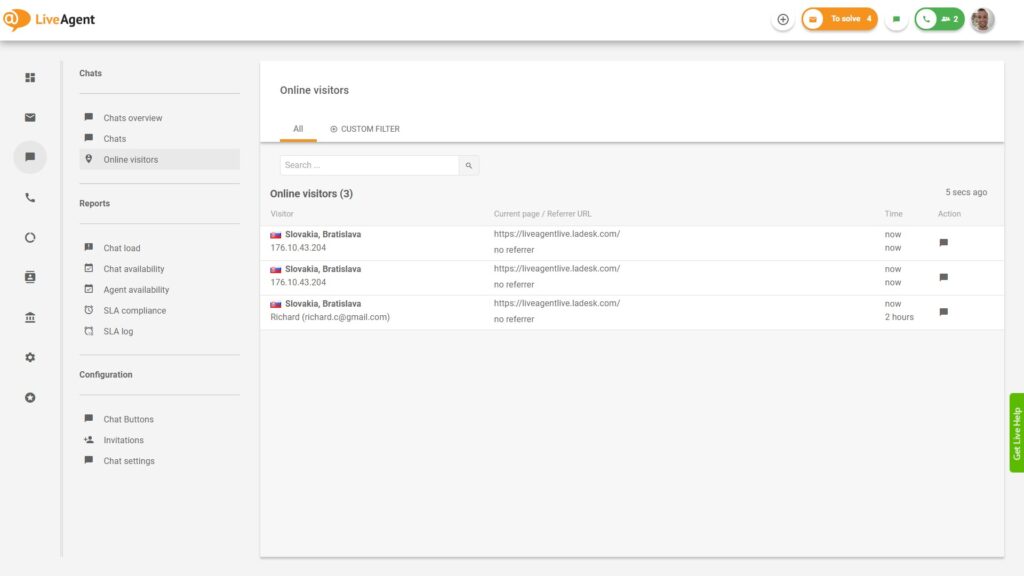 2. Makes it easier to create the best customer experience
The best customer management executives say that a positive customer experience is fundamental to any business or organization that aspires to succeed. The main focus of every business is to satisfy their customers so they can come back again. CRM smoothly ensures that!
With a complete view of your customer's profile, it's easier to personalize and improve customer interactions and enhance their experience. CRM's provide you with a unified platform for creating the best customer experience.
3. Allows you to measure customer satisfaction
CRM software uses customer satisfaction scores to measure how satisfied your customers are with a specific product or service.
Your clients have different needs, and the CRM software database helps you track them. Their requirements are solved faster and you are able to come up with optimal solutions for them. It gives you an overview and a chance to improve your processes. Customer satisfaction levels rise when customer needs are fulfilled.
4. Boosts customer retention
Consumer loyalty statistics indicate that acquiring new customers costs businesses five times more than nurturing the ones that they already have. The best part is that a 5 percent increase in your retention rates can boost your profit margins by at least 25 percent
Only 18 percent of businesses prioritize customer retention, meaning that you can take advantage of this and make your business flourish. As a relationship management tool, CRMs often provide users with all the necessary tools for improving customer engagement.
They additionally gather important data about their behavior and provide you with actionable insights for boosting customer experience. This way, you can ensure that your clients are highly satisfied and willing to continue doing business with you.
5. Helps improve your products and services
Based on the kind of customer-actionable insights that CRM software generally gives, you'll be able to know the sort of tastes and preferences that your customers are after.
Improve your services
LiveAgent helps you boost customer retention and measure their satisfaction, thus helping you to improve the customer service. Curious about all the opportunities?
What are the types of CRM software?
CRM software systems essentially provide basic functionalities such as a marketing and sales tools dashboard for tracking consumer journeys and a database of customer profiles.
Let's discuss the five most common types of CRM software systems.
Operational CRM
CRM is a system used for clarifying customer interactions. It also supports sales and marketing functions and service automation within your organization. In addition, it includes automating software tools a business can leverage to ensure the customer receives excellent customer service.
Operational CRM focuses on quality customer service and often provides necessary support tools for various business processes like sales and marketing to ensure that they all work towards improved customer-facing. One such support tool that can be integrated with operational CRM is IT help desk ticket software, which streamlines the process of addressing customer concerns and issues.
Collaborative CRM
Collaborative CRM, just as it sounds, cooperates between the many branches of a business organization. It facilitates communications within the various departments of your organization like the finance department, marketing department, sales, and customer care services.
Using collaborative CRM, the company can better understand its customers' purchase habits. In that way, you can easily share customer information between departments in a blink of an eye.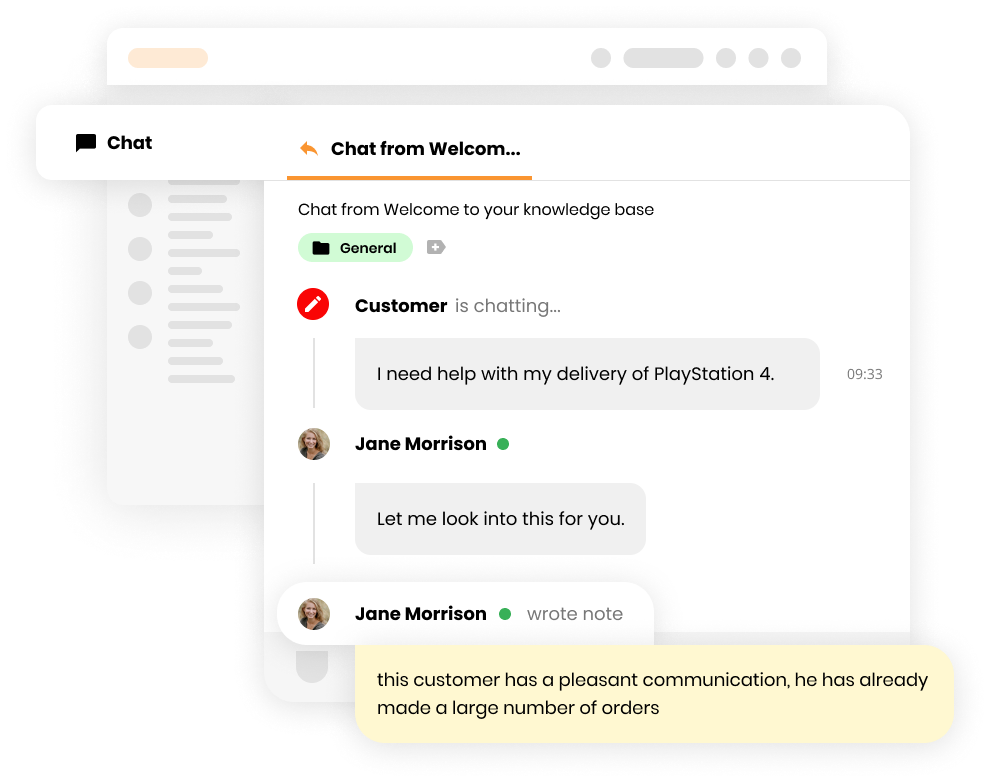 Collaborative CRM brings data, clients, and strategies together so that your business provides the best service to its clients and retains them more.
Collaborative CRM can further be subdivided into two aspects:
Interaction management – deals with designing the communication channels for customer interactions. Communication is done according to the client's preferences.
Channel management – enhances the power of the means through which the customers can reach the company and vice versa.
Still haven't decided which CRM software suits you best? What about LiveAgent?​
Analytical CRM
The primary purpose of analytical CRM is to examine valuable customer data. Data collection can be simple and easy, but the real challenge is how to use this information for your organization's benefit, and that's where CRM comes into play.
Analytical CRMs often provide organizations with a hands-on platform for data analytics and customer insights that influences sales rates. This type of CRM operates from an organization's back office and does not directly deal with the client. Analytical CRM uses features or tools such as data mining, optimization of marketing and sales activities, online analytical processing, and new sales opportunities.
Strategic CRM
Strategic CRM aims to gather and enhance knowledge about consumers. This type of CRM puts the consumers first. Strategic CRM involves almost all the departments of a business, like sales, marketing, and manufacturing. Therefore, it's crucial to get support and use their feedback for determining its strategies.
It constantly strives to know more about the clients to provide the best value and quality options per their preferences.
Campaign management CRM
Campaign management CRM is the heart of marketing strategy in a business. The customers' requirements are the main focus of the campaign management process.
This type of CRM ensures that clients consistently get relevant information that targets their specific needs. You can use its excellent advertisement provisions and channel it to consumers through digital outlets such as emails, telemarketing, posts, or even direct phone calls. It all depends on which channel is preferred by the consumer.
Campaign management CRM guarantees the boost of sales and encourages new prospects to your business.
How to choose the best CRM software?
With so many types of CRM options, how can one know which of them is the best and which ones to skip? Understandably, choosing from such vast information on the software can be hectic and overwhelming.
Don't worry. This article will help you choose a CRM solution that fits your business needs best.
Before making a choice on which CRM software to use, you have to consider the following. First, understand what CRM software does and how it can benefit your business. Next, double-check the tools and features of each type of CRM solution. As you evaluate your business needs, you will be able to determine which features are most beneficial.
Then check if its pricing matches your budget before making any long term commitments.
Some of the main features that a good CRM software should have include:
With everything digitized, customers eagerly share their experiences with a particular store, product, or service on social media platforms, otherwise known as unsolicited feedback.
Your most preferred CRM tool should provide key solutions for monitoring customer interactions and their online activities. It should also be able to engage the consumers through professional live chats. Emails and phone calls are also viable options.
CRM interfaces should be easy to use, and the platform should be able to store, track and organize contact information records and prospect profiles for easy contact management.
As a productivity tool, good CRM software should be capable of automating most of your repetitive tasks. This way, you can save on time and focus more on providing your customers with quality services.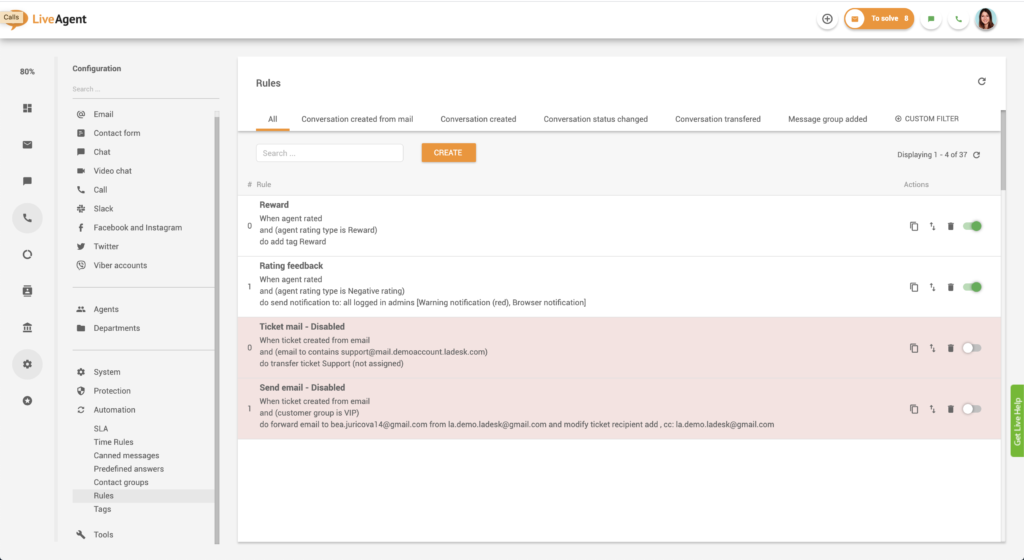 This means adding any necessary external data to an already existing project. Say, if you run an online store, you can add a WhatsApp platform where consumers can directly reach you.
This allows your team to save time for other crucial projects at hand.
The process involves acquiring existing information and presenting it in a friendly and easy-to-understand manner. Furthermore, the addition of value to data and the presentation makes it more compelling. A feature every CRM software should provide.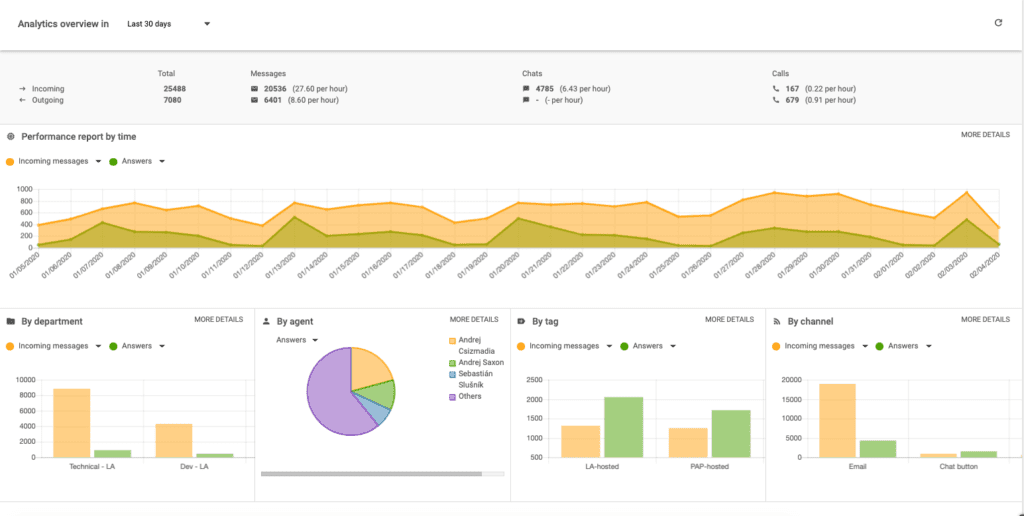 Since we all have different preferences, good CRM software should be fully customizable. Having this feature means that your most preferred CRM will adapt to your preferences with little effort.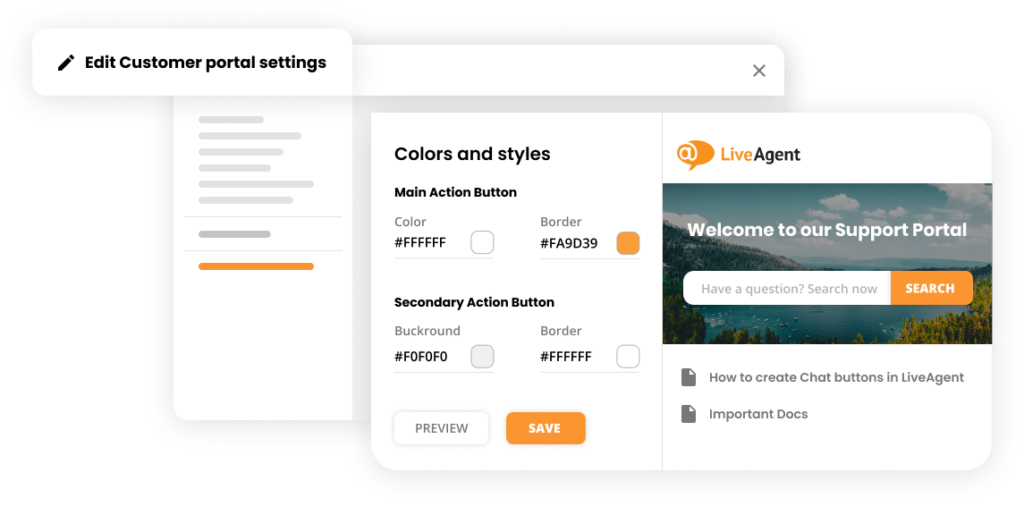 How much does CRM software cost on average?
CRM software provides a vast pool of features and tools to choose from. Depending on your business's size and budget, though, the price for the software you choose should be reflected by its price.
The main things that usually run through the mind based on this metric include pricing plans, pricing models, and the allowable number of users per month.
CRM software pricing averages from $12 to $50 per month per user, while the most expensive cost goes over $300. Before confusing expensive for the quality, we recommend that you pay keen attention to the different pricing plans and determine the most appropriate custom pricing models that work for you. Yes, there are many CRM systems, each with different packages, depending on the supplier.
There are outstanding suppliers out there who charge less yet provide some of the best CRM systems. Also, if you do not intend to invest in costly CRM software, and if you are satisfied with limited features there are free plans out there for you.
Simply remember to ensure that your favorite CRM can produce a great return on investment for your business, boost sales, and guarantee growth before making any lasting commitments.
Top 25 CRM Software
LiveAgent is a top ticketing software alternative with a built-in CRM software platform suited for small and medium-sized eCommerce businesses. On top of CRM, LiveAgent also offers comprehensive helpdesk features, such as ticketing, live chat, call center and social media monitoring that can be used separately or in combination. Its core CRM applications mainly include sales force and marketing automation tools that feature wide third-party integrations. The LiveAgent platform is fully customizable, and it provides small businesses with the perfect opportunity to upscale their customer base and grow their online service. Their ticketing management system is well streamlined, and you can easily store and view your contact list records from the right panel of the ticket. For more convenience, LiveAgent gives users the option of choosing between on-premises and web-based software installations.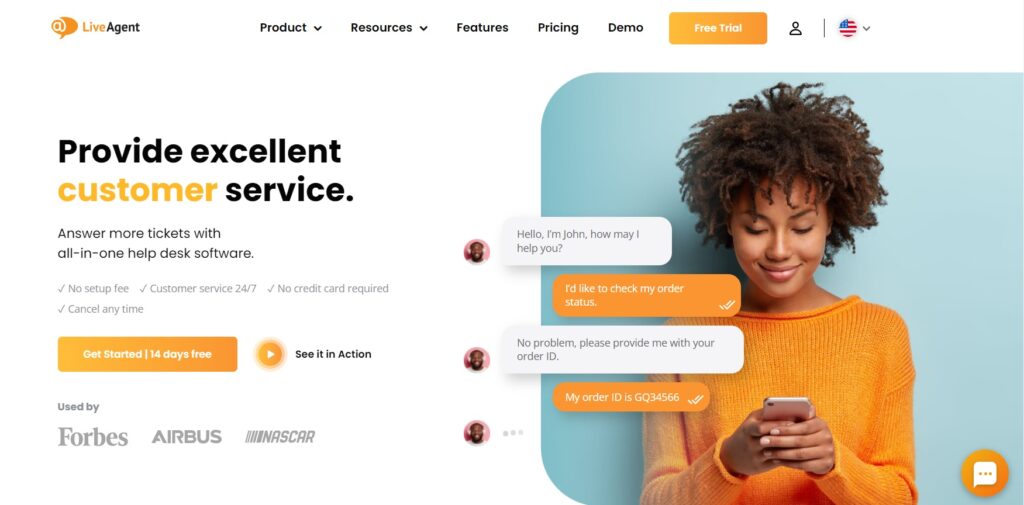 Who is it suitable for?
It is great for companies of any size wishing to connect with their customers and monitor their team's performance from the same platform.
Key features
Fully automated ticketing system with custom domains
Real-time live chat features
Inbound call center
Social media help desk integration
Customer service reporting system
Around the clock customer portal
Various apps for mobile help desk
Extensive help desk security
Pros
Stores client data as tickets
Integrates with multiple channels and software programs
Fully customizable features
Easy to configure to fit various departments for large companies
Multi language support
24/7/365 support
Flexible pricing
Cons
You have to customize it to your exact needs
Price
A free version with up to 30-day trial period and no credit card required. Their paid plans cost $15,$29, and $39 per user per month.
2. Hubspot
The Hubspot CRM is a cloud-based CRM system that promises to help all businesses to nurture leads and analyze different metrics for their business while automatically keeping track of their customer interactions across multiple platforms. It's widely suitable for B2B and B2C businesses, as it mainly offers a visual dashboard for you to view your entire sales funnel in real-time. Using it means that you can automatically keep track of your customer interactions through various communication channels and store the data in a lead-organized timeline. Overall, Hubspot CRM offers blended customer relationship management systems for contact management, lead generation, sales pipeline management, and email marketing automation.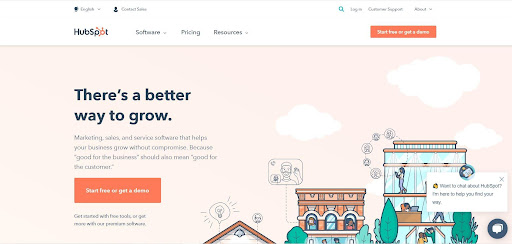 Who is it suitable for?
It is an excellent CRM software for small businesses in both B2B and B2C fronts.
Key features
Bulk emails
Document library
Live chat
User forums
Integration to Outlook, Gmail, and more than 300 other tools
Email tracking and notifications
Meeting scheduling
Automatic sales activity log
Deals, tasks, and contacts management features
Reporting dashboard
Pros
Very responsive and good user interface
Tracks a client's position in the pipeline as well as transactions
No need to change your workflow
Hubspot Academy, which helps with acquiring leads
Cons
The free version requires a lot of add-on features
Not an all-in-one tool for your business
Price
You can use Hubspot for free, but a paid version also exists. To get access to the paid version, which caters to different departments, you will pay $112.50 every month.
The sales, service, and marketing versions cost $50 a month. Hubspot also offers an enterprise version at a monthly cost of $1,200 and a marketing version for $3,200 each month.
3. Keap
Keap CRM doubles as a marketing and sales automation tool that promises to help small businesses boost sales and reduce business chaos. It's a cloud-based CRM solution that's best suited for companies keen on enhancing customer experience and streamlining sales. With it, you can easily segment your contact lists, track client interactions, automate emails, and run personalized marketing campaigns. It also features several ecommerce functionalities that generally enable users to manage inventories, track online storefront activities, and fulfil orders. You can conveniently run ROI data and analyze the performance of your emails and marketing campaigns using the Keap reporting and analytics system tools.
Who is it suitable for?
Perfect for SMBs and startup companies that want to increase sales.
Key features
Customers can pay by simply clicking a link.
Access to client information on various devices
Connected to Gmail and Outlook
Appointments scheduling
Email templates
Personalized communications
Dashboard to track sales campaign
Brilliant forms for collecting customer details
Pros
Intelligent forms to collect given information on a lead
Automatic emails
Great for assigning tasks and improving customer support
14 days free trial period
Has multi-language support
Cons
Users save work manually
Its many features may be challenging for beginners
Price
You will pay $79 each month for lite packages and $159 each month for pro versions. The Max package costs $ 199 every month.
4. Freshworks
Freshworks is a sales force automation CRM that personalizes customer engagements and shortens the overall sales process for rapid business growth. As a cloud-based CRM solution provider, Freshworks offers companies from various industry verticals a convenient and effective way to manage all of their customer interactions. Its top desirable features include sales lead tracking, one-click phone, event tracking, and the overall support for sending and monitoring bulk emails.
Freshworks segments contacts based on their general online behavior, ranks prospects based on their lead scores and automatically prioritizes leads with the highest scores. The 3600 customer view feature will also provide detailed information about any opportunity in your contact list.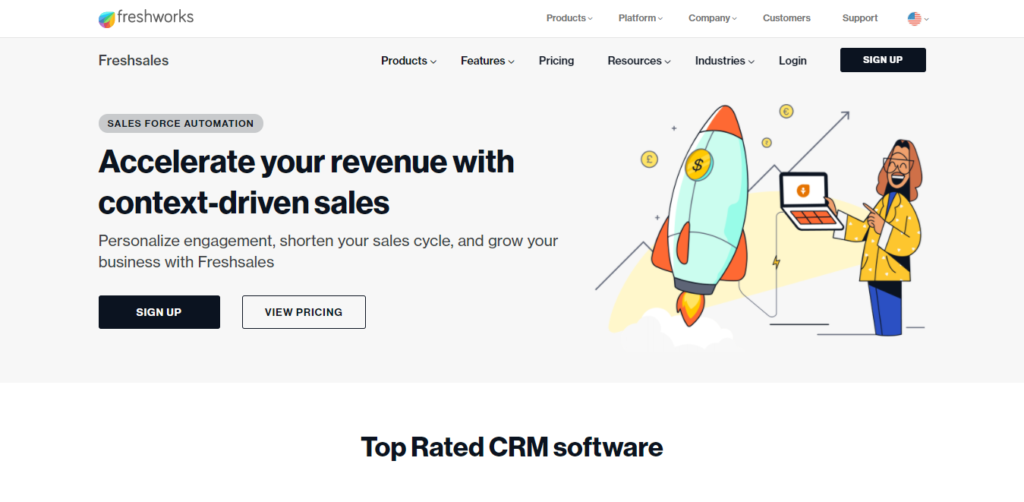 Who is it suitable for?
This CRM is great for businesses of various sizes, but it is beneficial to sales teams. Small and medium enterprises may prefer it since it is easy to set up and start using.
Key features
Lead scoring
360-Degree view
Automatic enrichment of profiles
Taking notes, making appointments, and planning for tasks
Live chat
24/7 support
Reporting dashboard
Goal setting
SMS integration
Deals and leads management
Document library
Pros
Make and receive phone calls with inbuilt phone
Customer support through FreshDesk
Management tools
Quite affordable
Can be used to grow sales teams
Smartest features for sales
Multi-language support
Cons
Its user interface is not as intuitive
It has a limited number of integrations
Price
You will pay $29 every month for each user. The Blossom version starts at $19 each month, while the Garden version costs $35. You will get the estate version at $ 65 a month, while the forest version is $79 each month.
5. Zoho
Zoho is a cloud-based customer relationship management software that focuses on helping businesses of all sizes to increase lead conversion, customer engagement, and revenue growth all under one roof. Its CRM solution platform mainly features marketing and sales automation systems and other important functionalities for helpdesk services, customer support, and analytics. In other words, Zoho specifically provides businesses with the chance to provide real-time customer assistance across multiple channels. With Zia (Zoho's AI-powered conversational CRM assistant), Zoho users can efficiently predict the best time to initiate contact with customers. The wide inclusion of artificial intelligence in its functionalities enables the platform to scan emails and display relevant statistics for quick action effectively.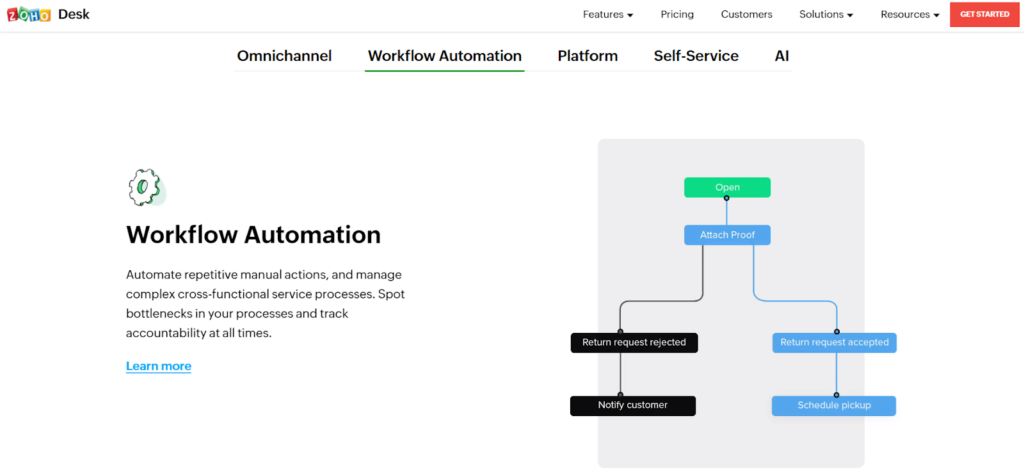 Who is it suitable for?
Zoho CRM is a good fit for small businesses that need to scale up their operations.
Key features
Advanced customization option for modules and buttons
Integrated to Google Ads
Inventory management
SalesIQ that tracks visitors and manages your sales
Fully customized dashboard
Allows you to carry out social media campaigns easily
Email integration which can help in email marketing
Lead scoring
Lead management
Email insights
Email routing
Real-time notifications
Integrated across various devices
Support for multiple currencies
24/7 user forums
Document library
Live chat
Multi-user portals
Pros
Interactive
Easy to use
Relatively cheap CRM but has many features
Can generate complex workflows
Free for three users
Easily integrate with compatible tools
Cons
It is not as intuitive as other CRM software, and it is not as easy to use
A lot of customization is required
Support is not very responsive
Price
A free version exists, but it has very few features. You can purchase the standard, professional, enterprise, or ultimate versions. The enterprise version costs $35 every month, while the standard version goes for $12 a month. If you want to buy the professional version, you will pay $20 each month. Finally, you can get the ultimate at $45 each month.
6. Agile
Agile is another cloud-based CRM tool that wants to help both small and medium-sized enterprises to automate sales, marketing, and customer services. It mainly offers telephony apps, contact management software, appointment scheduling features, landing page builder, project management tools, and knowledge base management functionalities. The module for contact management allows users to record, store, access, and manage essential customer data such as client information and their interaction records.
The Agile CRM software further helps businesses keep track of their website visitors, analyze their digital behavior, and automatically curate effective campaigns using the drag-and-drop marketing automation interface. It comes with a fully customizable task management functionality, supports social media integration, and lets users send auto-reminders based on time and client options.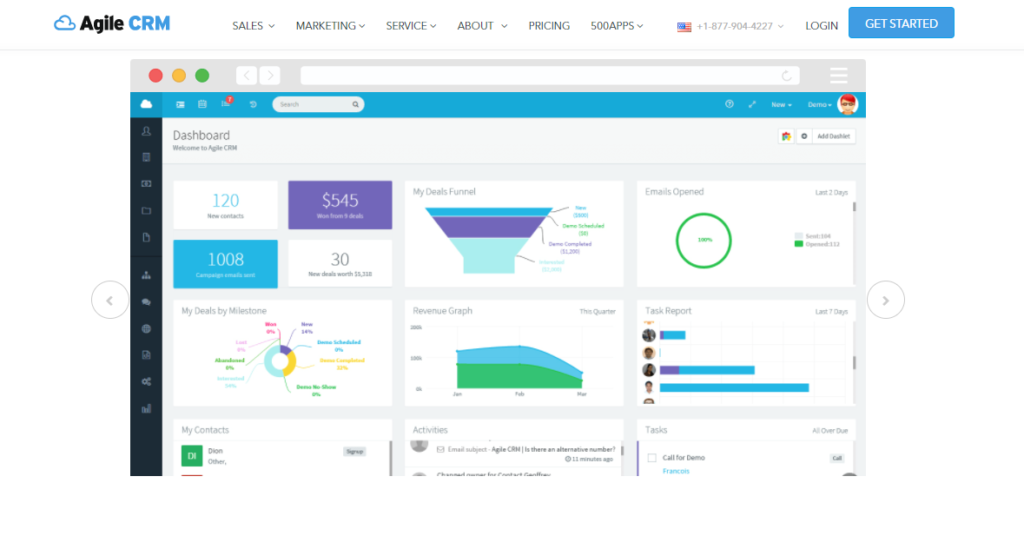 Who is it suitable for?
This platform is ideal for sales and marketing teams in small and medium-sized businesses.
Key features
Voicemail automation
Can attach documents
Provides a way to call multiple customers at once using one click
Advanced analytics and reports
Access to customer data from their notes, conversations, and calls
Analyses your lead's journey before making a purchase
Contact management
Appointment scheduling
Pros
Free for up to ten users
Marketing, service, and sales in one place
Sharing of your business's calendar online
Contact management
Highly scalable
Cloud-based so fast
Extensive integrations
Cons
Only English support
Support on weekdays only
The developers would have improved the user interface
Price
A free version exists while paid plans range from $8.99 (starters) to $47.99 (enterprise) each month.
7. Salesforce
Powered by customer 360, Salesforce is a growth-oriented CRM that provides tailored solutions for small businesses to speed up sales and speed up support services. As an on-demand CRM software, its capabilities mainly include marketing automation, lead management, and contact management. In simpler terms, Salesforce primarily allows you to manage client accounts, monitor your marketing campaigns, track sales leads, and provide post-sale services. Their upgraded version, Lightning Experience – widely termed as the future of CRM sales, offers an action-oriented environment for sales reps to streamline their sales processes. Despite being available only for SaaS deployment, the Salesforce CRM technology is particularly good for tracking performance and harvesting leads.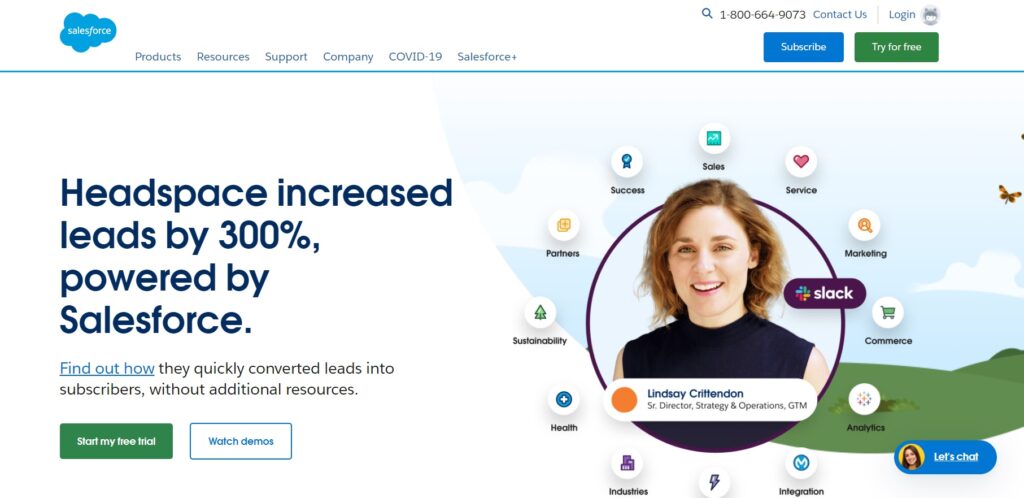 Who is it suitable for?
This system is for SMBs that want a CRM that offers more flexibility.
Key features
Contact management
Personalized feed
Visual workflow
Sales management
Opportunity management
Pros
Easy to customize
Compatible with Android, Windows, Linux, and Mac
Multi-currency and multi-language support
Inbuilt lead scoring
Mass emailing
24/7 support
Highly personalized and automated
Integrations with Zendesk, LeadExec, Zuora, and Ambassador
Supports sales, marketing, analytics, and marketing
Cons
Configuration is complex
Need to include add-ons
Price
The versions include the essentials plan, the cheapest ($25/month/user ), and Pardot Growth which is the most expensive ($1,250/month/user). The sales and professional versions each cost $75/user/month.
8. Pipedrive
Pipedrive is a sales CRM and pipeline management tool designed to keep you laser-focused on business growth instead of wasting time on repetitive manual tasks. Built with an activity-based selling approach, Pipedrive ultimately enables businesses to streamline each of their sales conversion actions. It's a cloud-based CRM platform that can be accessed anytime from any internet-enabled device.
Pipedrive mainly provides sales managers full visibility into their entire sales pipelines through a robust CRM interface that displays deal progress and actionable steps for the next items. For your convenience, you can use the Activity and Goal features to keep track of all pipeline activities that are still pending. Other desirable features worth noting include seamless mailing system integrations and custom sales reporting.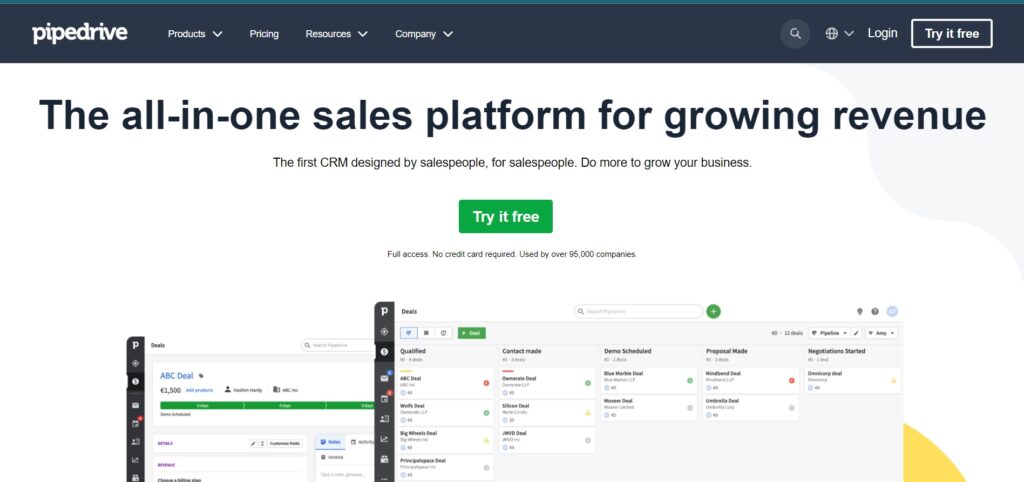 Who is it suitable for?
This CRM is excellent if you desire an easy-to-use platform. Sales teams would benefit from its automation.
Key features
Lead management
Communication tracking
Mobile phone integration
Sales pipelines
Pros
Custom reports which track revenue
Performance tips to boost sales
Reports on sources of new leads
Simple
Price
The essential payment plan costs $12.50 each month, while the enterprise plan costs $99. The other two methods are professional ( $49.90/month) and advanced ( $24.90)
9. Scoro
Scoro is a web-based professional CRM system that helps businesses coordinate sales processes and enhance team performance, using its complete set of productivity features for collaboration, sales pipeline management, billing, project management, and reporting. The good thing is that only those with permission can access and work on particular projects. Otherwise, the Scoro interface is a central hub that displays detailed account information, including key performance indicators and task changes, on a single screen. With such data, you can oversee the progress of your work by choosing the projects you may wish to prioritize and set deadlines so that there is no overlapping.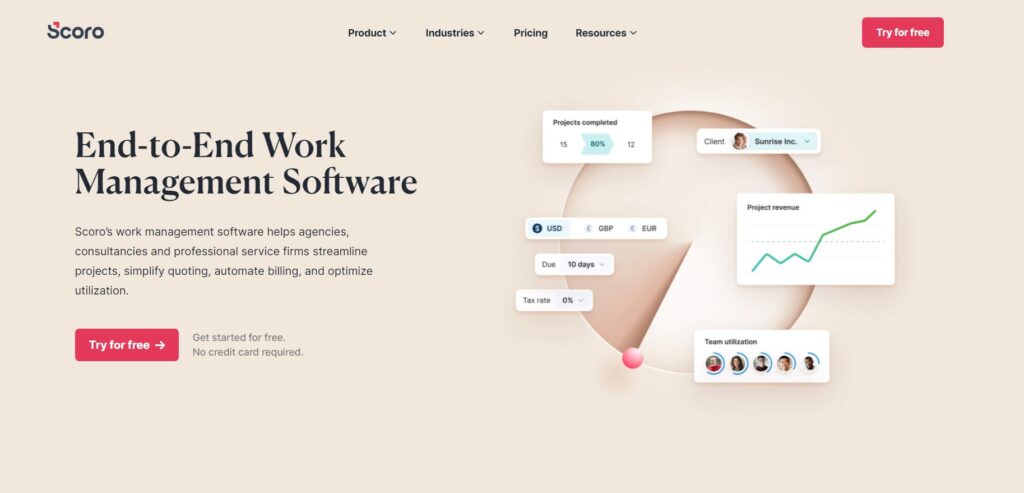 Who is it suitable for?
This is one-in-all customer relation management software that can serve businesses of all levels. If you have a huge corporation or a small one, Scoro has got you covered.
Key features
You can see each month's income levels and budgets for each of your projects.
You can manage your business performance right from the software dashboard.
It helps you know the number of invoices your business has.
You can also find out how many quotes have or have not been converted into invoices.
You can see the current budget and monitor the timeline for your projects.
Pros
It has an excellent user interface and user experience.
It has a compact platform
It is fast and informative
It has excellent invoicing and reminder systems
Cons
It takes much time to set up the sync using outlook
There is no free version.
Price
There is a 14-day free trial, and after that, you will be required to pay. The prices vary according to the plan that fits you and the cheapest you can subscribe to starts from $22 per user per month.
10. Microsoft Dynamic 365
If you want to delight your clients and seal your relationship, here is a tool you need to consider. Microsoft Dynamics 365 will help you provide virtual interaction by bringing together your clients, staff, and data management. It offers a fully independent web-based CRM ecosystem that focuses on sales, customer support, and field service while offering strong native integrations with other Office 365 applications. This way, it can provide seamless customer engagements if you're looking for a good project service automation or lead opportunity management tool. Both of its SaaS deployment and on-premises installation options come with interactive interfaces (for both mobile and desktop), tight database security, and offers strong API integrations.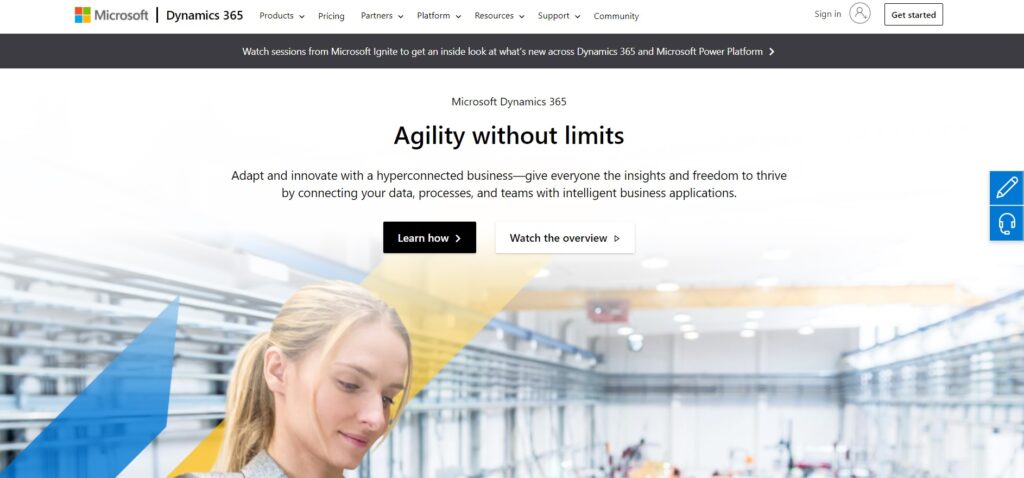 Who is it for?
No matter what level of business it is, Microsoft Dynamic will cater to your needs. It has plans that fit both starters and established businesses. Plus, you don't need to be a tech expert to use it.
Key features
It strengthens the digital sales pipeline and surfaces automated recommendations.
It works smoothly with many communication providers.
You can schedule calendars to run your business activities.
Due to its mobile responsiveness, you can log in and share information anytime.
Pros
It's easy to customize.
Microsoft Dynamics 365 integrates smoothly with other software like Microsoft products and outlook for email and calendar.
It has simple report management.
Cons
Managing permissions is difficult due to the availability of many customizations.
If you have no experience with Microsoft dynamics, it can be tedious and confusing.
The user interface can be hard to navigate for new users.
Price
There is specific pricing for every plan. The Business Central Essentials that costs $70 per user per month, Business Central Premium charges $100 per user per month, Customer Service Professional goes for $20 to $50 per user per month, and the Sales Professional costs $20 to $65 per user per month.
Tired of searching?
Are you still looking for software that will help you improve your customer service? LiveAgent may be the solution for you!
11. Salesmate
Salesmate primarily caters to the customer relationship management needs of small and midsize enterprises across most industries. It's a cloud-based CRM technology that mainly features automation tools for managing contacts, sales pipelines, email marketing campaigns, phone integrations, and internal chats. Its contact management module acts as a central repository for importing and storing contacts from third-party storage points such as Google Contacts, making it easier for you to assign and link lead contacts to specific sales representatives. Its sales pipeline view is great for managing, prioritizing, and automating various deal stages, which can all be done remotely using the Salesmate mobile application.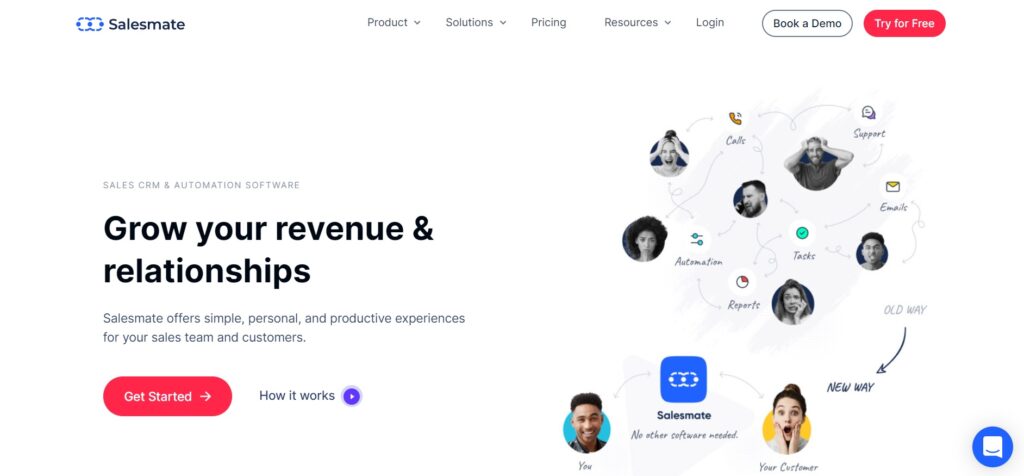 Who is it for?
Salesmate was built to serve businesses of different sizes. Its features are promising, and its results are fulfilling. Your plan will dictate your use. There are plans for every size of business.
Key features
It has integration features to enable you to import and capture contacts from, excel files, CSV and mobile.
You can filter your files based on your criteria to find them easily later.
The salesmate sales workflows automate sending of emails.
You can use bulk actions to manage your contacts, merge, delete or update any information.
Pros
Salesmate provides security by offering complete data backup and protection.
a fulfilling facilitation of better communication and coordination between teams and clients.
excellent customer service.
Cons
You need to be a bit skilled to set up automated workflows.
You cannot type a highlighted text on the search feature.
Price
Its Starter plan costs $12 per user per month, Growth plan prices start from $24 per user per month, and the Boost plan is priced at $40 per user per month
12. Spiro
Touted as one of the most proactive CRM software, Spiro is an AI-powered single solution CRM for improving customer relationships, enabling sales, and providing telephony support. It's natively built for sales teams at organizations with about 100-1,500 employees, as it's generally good for evaluating sales data and generating actionable recommendations. It works as a personal sales assistant, and it comes with built-in calling and texting features that sync with automated sales reminders and activity trackers for all scheduled client meetings.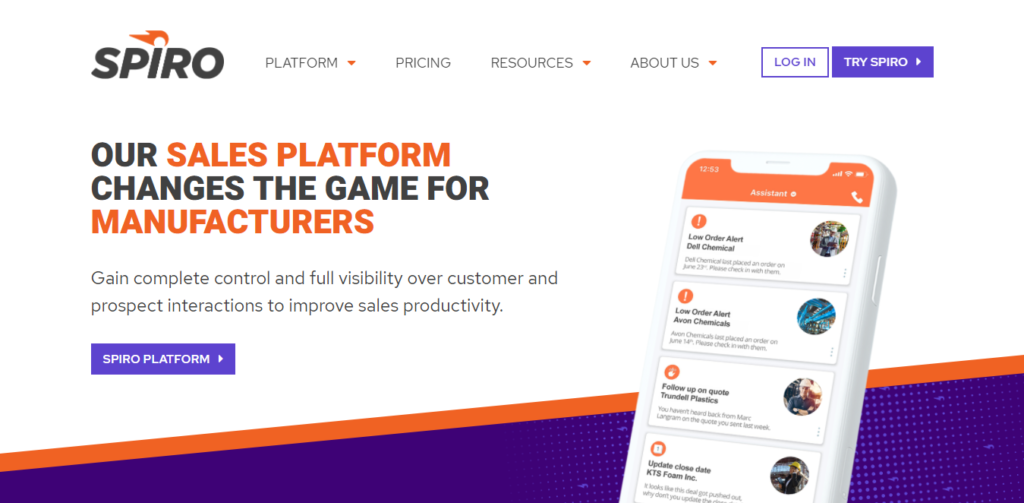 Who is it for?
For anyone who has a business and wants to improve it, it is wise to go for this tool. It can take your start-up business to a higher level. If you already have an established business, this is the right tool to skyrocket it.
Key features
It provides AI-generated reminders; therefore, there is no need for inputting data.
It will suggest to you what steps to take after recognizing anomalies in the pipeline.
It offers email, contact, and calendar management.
Pros
The Spiro customer support team is very responsive.
excellent user interface.
accessible on mobile phones.
Cons
The reporting section is too detailed, making it challenging to navigate through.
There is no automated email functionality.
Price
Spiro offers a subscription pricing model, but you'll have to contact them to size up your exact needs before getting a quote
13. Copper
Tired of the tedious and repetitive administrative tasks or the overly sophisticated CRM tools? Copper is widely praised as one of the easy-to-use CRM alternatives for businesses in dire need of management solutions for growing customer relationships and nurturing leads. It integrates well with all Google Apps, enabling users to manage all of their tasks and customer interactions seamlessly. To ensure that you build valuable and long-lasting relationships, Copper keeps reminding users to reach out to new contacts and follow up on pending deals.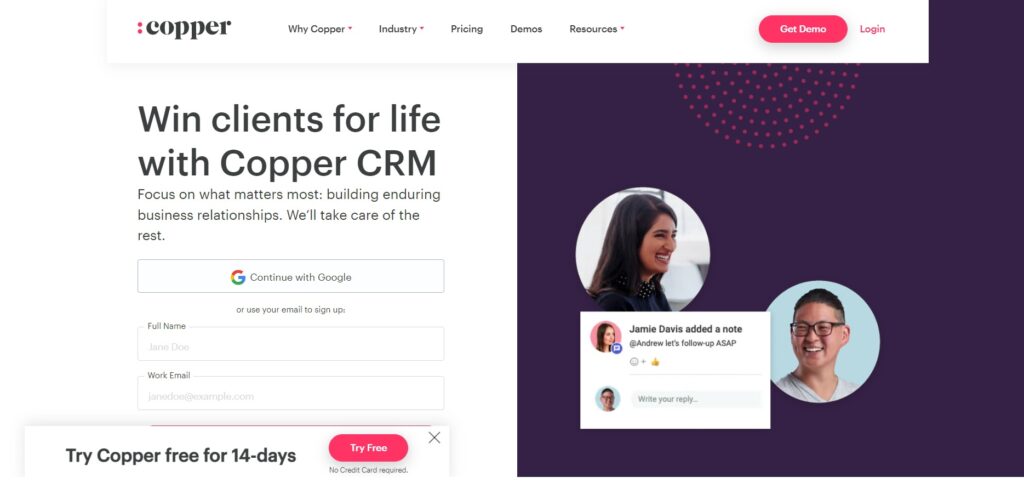 Who is it for?
If you want to build your relationship and increase revenue for your company, use Copper. Some plans cover all sizes of businesses.
Key features
It automates repetitive tasks and enables you to send emails automatically.
It helps to organize all your contacts and client information properly.
It backs up and verifies data to make sure that your information is safe.
It can track and capture conversations and leads right from the inbox.
It has a robust reporting feature that gives you a great view of your business records.
Pros
It has a good user interface.
It can integrate well with Google's workspace.
You can access it from your mobile phone.
The Copper support team is incredible.
Cons
You cannot create a calendar or email from within the CRM tool. It has to direct you to a Gmail window which could be embarrassing.
If you have no experience with it, creating reports could be confusing.
Price
Copper allows you to enjoy a 14-day trial before you buy or decide otherwise. There are different plans you can choose from i.e. the basic plan costs $25 per user per month, Professional plan costs $59 per user per month, and the Business plan goes for $119 per user per month
14. Nimble
Nimble is a multi-functional browser widget CRM solution that offers mobile-based sales force automation functionalities for SME businesses. It works to populate client profiles and interaction records from various contact lists, customer conversations, and social media activities. Its most popular features widely include deal tracking, pipeline management, task management, contact management, and integrated social listening for effective engagements with particular contacts during outreach and follow-ups.
Nimble's built-in Rules Engine is generally set to learn user behavior and generate actionable data based on social signals displayed on the Today Page as key priorities and engagement opportunities.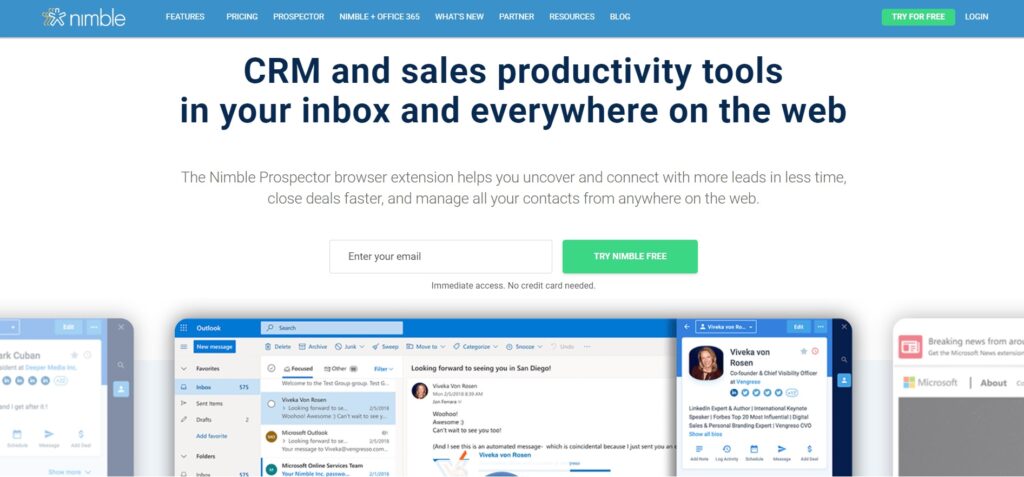 Who is it for?
Nimble is designed to make the business processes faster and give you more room to find and retain clients, no matter the size of your business.
Key features
You can filter contacts.
It can add social profile links for your contacts to enable you to find important information.
It enables the management of calendar events and tasks.
It can automatically sync your staff's email, calendars, Google Apps, office 365 contacts, and all interactions to give current and accurate information.
Pros
It keeps and organizes all clients` information in one place so that it is easily accessible.
With Nimble, you can create, edit and view your records anywhere on the internet.
It provides information automatically to help you stay organized with your marketing needs.
It has a friendly user interface.
Cons
You can only send 100 emails at once. It could be better if you could be allowed to send an unlimited number.
It could end up being slower if you work with several funnels at the same time.
Price
Nimble offers a 14 day free trial (without a credit card) before you can decide whether to pay for it. For the paid subscription model, its price ranges from $19 per user per month if you pay annually, and $25 when you pay per month
15. Creatio
Creatio CRM tool mainly works to eliminate the struggles of interacting with clients and at the same time organize work for your staff through a unified interface. In basic terms, Creatio intelligently uses a BPM system to automate sales, marketing, and service provisions for midsize and large businesses to provide ongoing customer support and manage the entire customer lifecycle. In other words, Creatio is a purely a single CRM bundle that provides quick solutions that enable users to view marketing performance, sales funnels, and service interactions.
The Creatio system is currently available for deployment as either cloud-based or on-premises installations and it's fully compatible with both Windows and iOS on both desktop and mobile devices.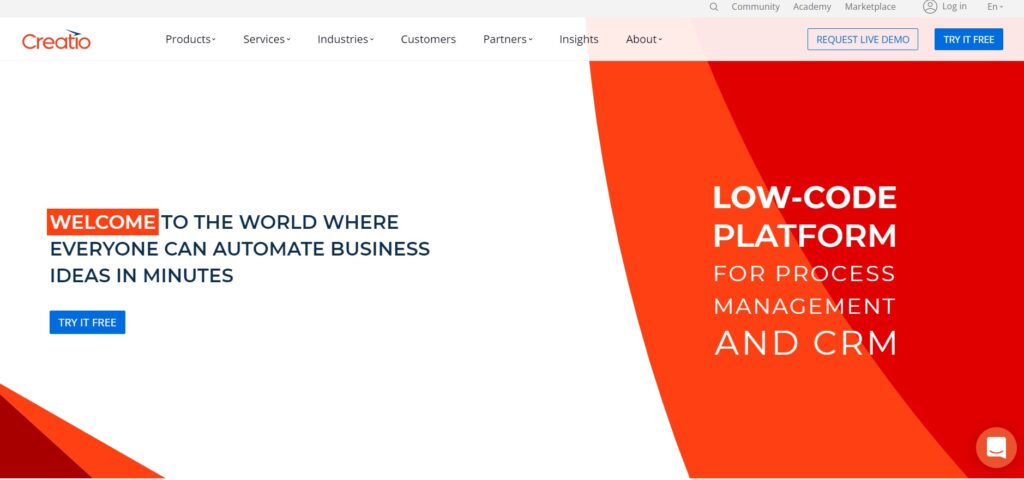 Who is it for?
There is no need to be skeptical. The affordability and performance in this tool give the best from every angle.
You don't need technical expertise with this tool. The price is favorable for every size of a company.
Key features
It manages your workflows and all sales processes automatically.
It has an end-to-end sales management platform that can help to accelerate both small and complex sales processes.
It speeds up companies' performances through the Creatio's predicting, goal setting, and analytics function to allow you to view the current sales metrics.
Pros
It makes it easy to generate statistical reports.
It's easy and fun to design a workspace.
It's reliable and easy to use.
Cons
It's confusing to set permissions because of the number of levels.
If you want to use a marketing unit, you will need a separate license.
Sometimes it takes time to save changes.
Price
Creatio tool offers a 14-day free trial and you can even request for a live demo. Quotes are normally given after initiating contact.
16. OnePageCRM
OnePageCRM is another excellent web-based sales CRM software designed for businesses that need to automate various processes like scheduling follow-ups with prospects, generating actionable sales dashboards for sales teams, and other administrative tasks. Its basic build features the Next Action Sales Method and the proprietary GTD (Getting Things Done) principle in its overall design.
OnePageCRM comprises highly efficient customer relationship and sales marketing tools that mainly reduce business clutter and repetitive admin tasks for salespeople. The system can easily be accessed through any available web browser and available in all native mobile app stores. Apart from its popular contact management features that allow users to make log calls and monitor contact interactions and activities from the same scrollable page, this CRM option also features an automated 1-click lead capturing tool and a comprehensive bulk email automation. Its reporting and analytics tool further provides users with widely actionable insights and API support for lead generation.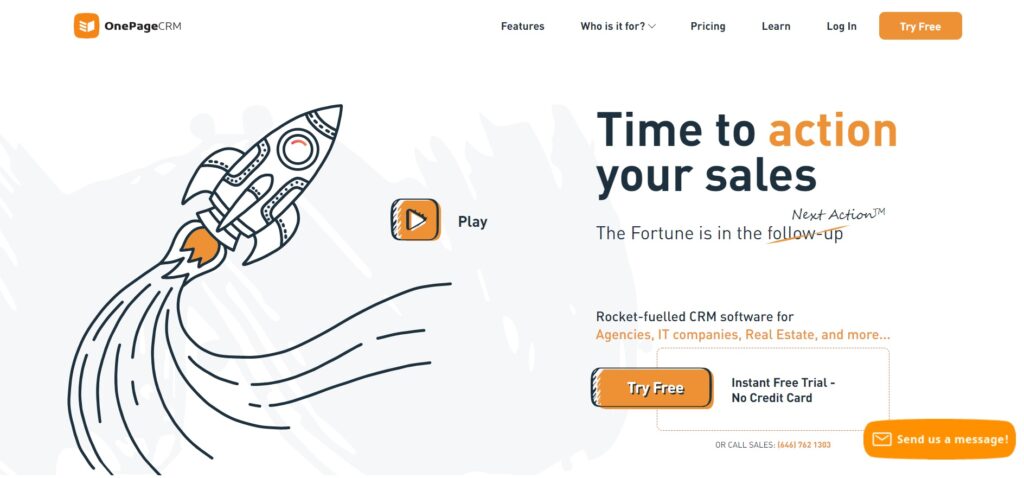 Who is it for?
Do you have the desire to take your business to the next level? I hope the answer is yes. If so, then don`t think twice. OnePageCRM does not view the size or technical skills of anybody or company.
It was created to serve and see businesses grow.
Key features
It can integrate with many sales Apps.
It enables you to access the tool from your mobile phone.
Custom reports are generated within the shortest time possible.
It enables sending of bulk personalized emails.
Pros
It's easy to track and access interactions in one place.
Predicting deals and making detailed information is easy with this tool.
It's easy to import leads.
Cons
There is no QuickBooks integration.
Email integration is not easy to use. You need to have the experience to be able to use it efficiently.
Price
OnePageCRM offers a 21-day free trial that doesn't require a credit card, and its payment plans cost 12 pounds per user per month, 21.50 pounds per user per month, and 54 pounds per user per month
17. Less Annoying CRM
As the name suggests, the Less Annoying CRM is a business productivity tool that accelerates business performance and gives you the freedom to manage contacts, track leads, and stay on top of follow-ups without annoying your contacts. It's a customer relationship management system that specifically caters to the needs of most small enterprises and startups.
The Less Annoying CRM system is widely available for cloud-based deployment, and it offers a wide array of configuration options to complement its easy-to-use and interactive dashboard. Its primary offers different automation features for managing sales forces and contact profiles by allowing users to consolidate contact records under one platform accessible to everyone in the sales team. All its configurations are fully customizable, making them good for aligning your defined sales processes and leads with specific business processes and operations.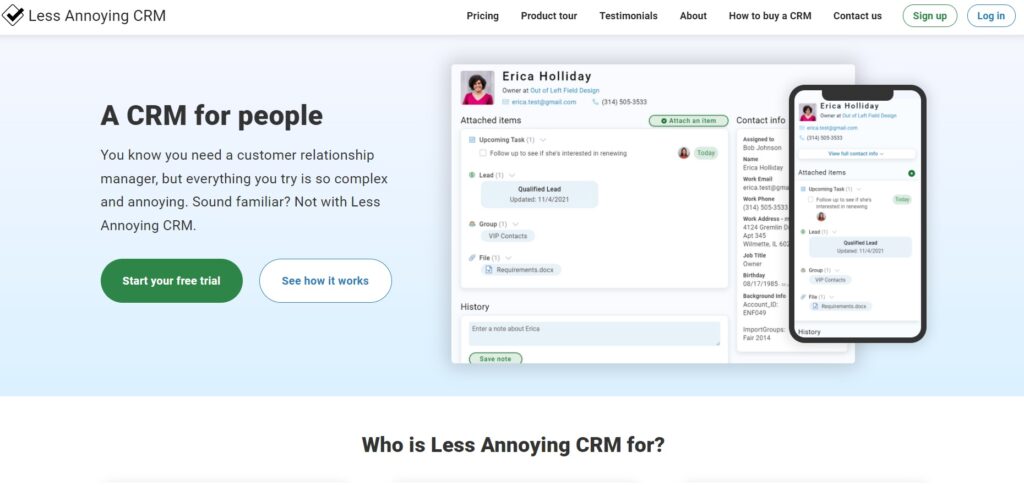 Who is it for?
Less Annoying CRM was designed to help small businesses to grow.
This software can bind your clients' relationships and eliminate the embarrassment of interaction that can cause you losses.
Key features
You can organize your tasks and events in one calendar.
It gives you the ability to store your contact information in one place
It has a simple lead report that shows an up-to-date account for each sale in your pipeline.
It has a powerful customization feature.
Pros
The contact and scheduling system is so easy to use.
Good for small businesses.
It's easy to customize and very beginner friendly
It can integrate with the most popular Apps.
Cons
It doesn't have an integration option for social media.
It has only the basic features.
Price
The Less Annoying CRM pricing is $15 per user per month, but those with teams of more than 10 users need to reach out to the Less Annoying team first before signing up.
18. Zendesk
Zendesk is another exceptional cloud-based help desk CRM software that helps business owners to keep track of their entire customer interactions in one platform while monitoring team progress. It offers users powerful customizable tools for building functional customer service portals, in-depth knowledge base sections, and online communities for your clients. Its key features include a customizable front-end portal, extensive third-party integrations, and interactive live chat features.
The Zendesk online customer portal interface mainly helps customer support agents effectively track and manage support tickets. Unlike most of its competitors, Zendesk additionally provides users with customizable branding tools for your support pages.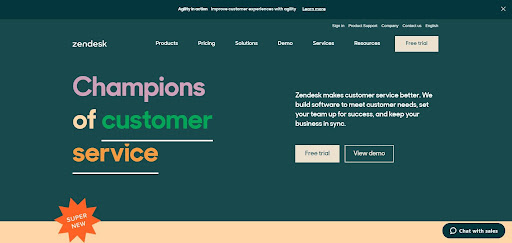 Who is it good for?
B2B sales reps leading teams of up to 250 employees.
Key features
A live chat feature
Automated outreach interface
Activity reporting system
Prospect list building feature
Auto-dialer
Pros
Easy-to-use
Interactive and intuitive interface
Perfect for sales automation
Has a free trial
Enables team tracking and prevents double booking
Cons
The free customer service is sometimes sluggish
Not newbie-friendly
Price
Zendesk pricing plan modules start at $19.00 per month, and they also offer a free trial.
19. EngageBay
EngageBay is an easy-to-use CRM and value-packed tool that comes with a comprehensive stack of sales, support service, and marketing automation features for growing your business. It's a unified platform that promises to help you capture, nurture, interact, convert, and maintain leads with exceptional customer experience.
EngageBay is a cloud-based CRM platform that allows businesses to use marketing tools to build long-lasting customer relationships efficiently. Its main highlights include a wide range of features that support email marketing, help desk services, landing pages marketing, telephony, contact management, and appointment scheduling. Its built-in CRM system primarily allows businesses to track and manage lead and sales activities within a specific sales pipeline. Other than that, EngageBay also offers marketing functionalities that you can use to generate more leads through social media engagements, automated email marketing templates, and customizable pop ups.
Who is it good for?
Both small and midsize businesses that are looking for an all-in-one CRM tool.
Key features
AB Testing
Account Alerts
Analytics/ROI Tracking
Appointment Management
Audience Targeting
Auto-Responders
Automated Routing
Call Center Management
Pros
Good for marketing and nurturing leads
Very responsive customer support
Offers extensive integrations
Helps in designing effective email campaigns
Cons
Limited template options
No SMS integration
Price
EngageBay has a variety of pricing plans that offers a blended option of free trial, free version, and paid plans starting at $99 per month.
20. Nutshell
Nutshell poses as an all-in-one sales CRM software that promises to boost your business intelligence by taking care of most of your administrative tasks, giving you more time to focus on growing your sales leads. Its wide third-party integration is particularly good for connecting to most software programs that many small businesses are already using, such as the G Suite programs, MailChimp, QuickBooks, etc. The good thing about Nutshell is that they provide unlimited resources for storing and managing your contact data and that their reporting tool is fully customizable.
The Nutshell CRM system is completely mobile-ready, and it features real-time synchronization, allowing for a smooth remote working experience for a global sales team. Besides creating beautiful emails directly from Nutshell, the Nutshell Marketing feature taps into the saved CRM data allowing users to create custom audiences automatically. As you can already tell, Nutshell is an all-in-one CRM tool for outreach marketing.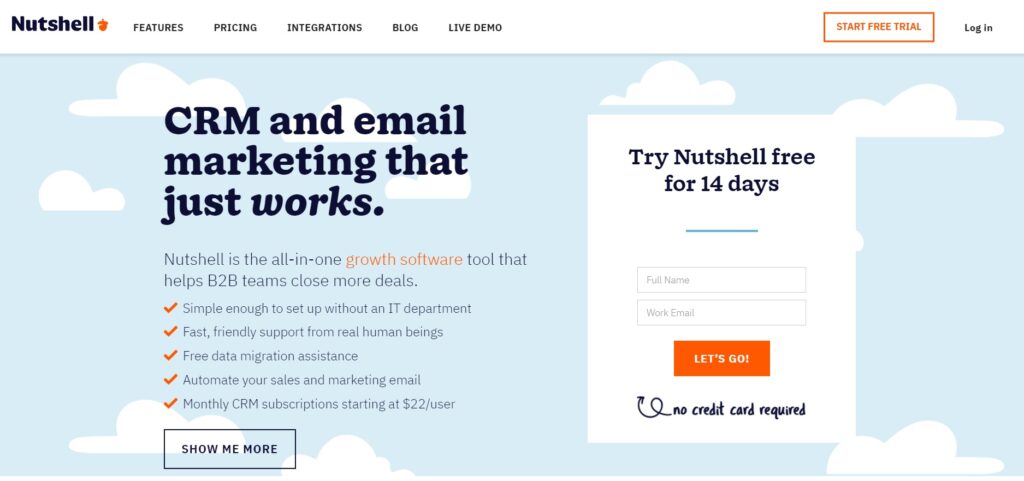 Who is it good for?
Small to medium businesses and sales leaders looking for a CRM that can help out with task management.
Key features
Salesforce automation features
Customer support features
Marketing automation features
CRM project management and reporting
Sales forecasting and analytics
Customization features
Social media integration
Pros
Great for prioritizing business tasks
Can be accessed from any internet-based devices
Beginner-friendly
Customizable
Cons
Not all features are available in the mobile app
Doesn't support multiple email attachments
Price
Nutshell has a 14-day free-trial period but the paid plans start from $19 per user per month (if billed yearly) or $22 per user per month (if billed per month).
21. Apptivo
Apptivo is a cloud-based customer relationship management system that features extensive third-party integrations for all business sizes. Some of its main native integration features include a set of powerful tools that range from sales automation to marketing tools and everything in between. This customer relationship management software mainly provides businesses with specific modules for managing customer contacts, leads, engagement opportunities, and tickets.
Apptivo delivers all essential tools for managing campaigns, segmenting leads, and maintaining loyalty on the marketing side. Other additional applications that you can opt to include in your Apptivo package include apps for generating expense reports, managing cash flow, and tracking your licenses and insurances.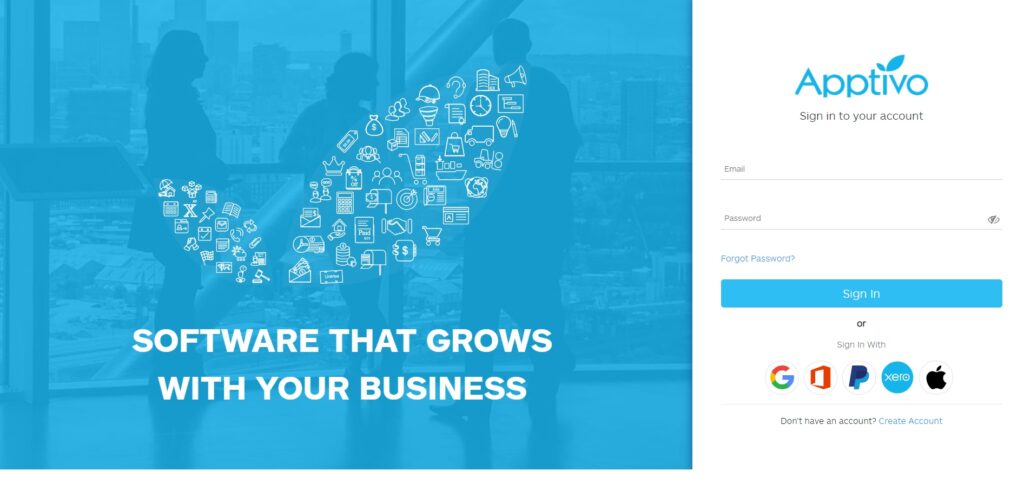 Who is it good for?
Any business that wants a multi-functional CRM software that's fully customizable and supports email marketing for growing leads.
Key features
A customizable layout
Customer data tracker throughout the customer life cycle
Customizable fields
PDF invoice generator
Native integration with G Suite.
Detection system for duplicate lead information
Pros
Easy to customize
Excellent mobile interface
Granular security features
Best for customer relationship lifecycle management
Cons
Overall performance slows with time
Has no extended APIs
Price
The Apptivo pricing plan model includes a free trial plan and a variety of paid plans that starts from $10 per month.
22. Capsule
Capsule CRM mainly enables small business owners to organize customer data and manage customer profiles. Unlike the rest of its competitors, Capsule throws in an additional round of collaboration innovations to ensure that your customer service teams are on the same page. Its CRM functionality is entirely cloud-based, and its ticket management module is great for solving support inquiries quickly within the sales pipeline. The assigned tasks and notifications generally help users stay on top of things, prioritizing what needs to be done first.
Capsule comes with fully customizable features, meaning that you can easily tailor the system as per your business needs and preferences. The CRM system further allows users to set configurable milestones for different projects within their pipeline and define the sales process to follow.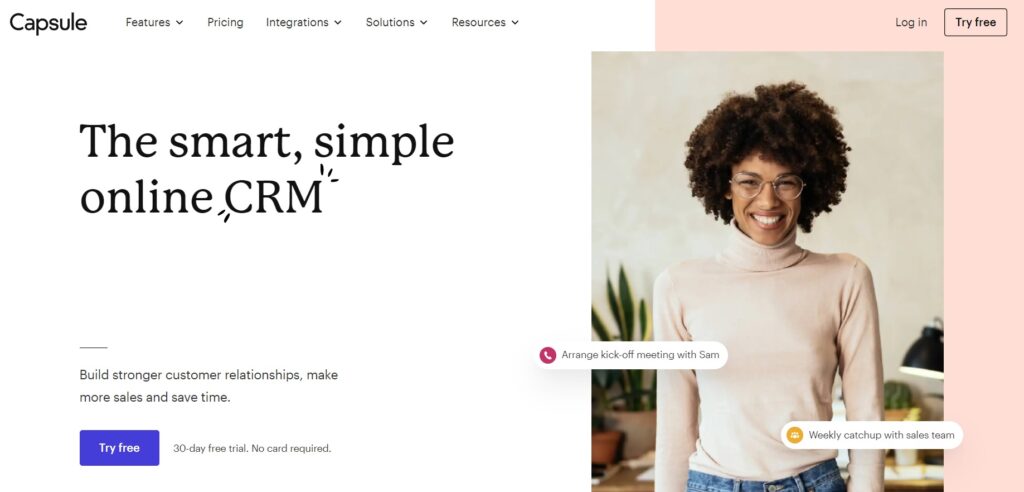 Who is it good for?
Small businesses and startups that are focused on building quality relationships with customers.
Key features
Easy-to-use contact management features
Audience segmentation feature
Extensive third-party integration
Sales summary reports
Advanced features for restricting users
Visual performance tracking
Pros
Reminds you to keep tabs on customers
Incredible note-taking features
Extensive integration for SMB growth
Cons
Limited features for bigger businesses
Price
The current Capsule pricing is quite generous. It includes a 30-day free trial for all plans, a free version for up to 2 users, and paid plans that start from $18 per user per month.
23. InfoFlo
InfoFlo lists it as one of the best CRM software for managing customer records and maintaining good customer relationships. It's an integrated CRM software that's currently available for online deployment and on-premises installations.
InfoFlo's main features include automation tools for email marketing, appointment scheduling, project management, native integrations, and real-time task management. Its CRM system broadly provides basic computer telephony integrations, a contact management interface, customer support functionality, and marketing/sales automation.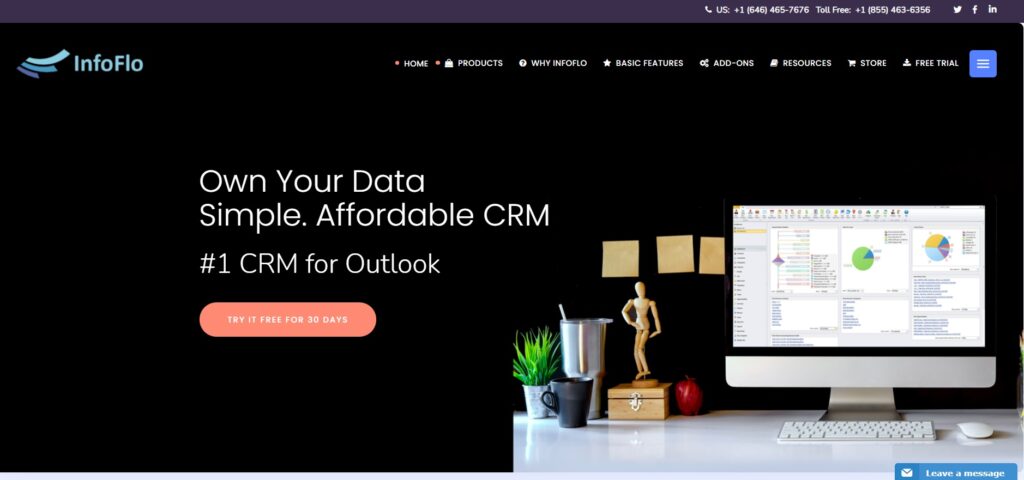 Who is it good for?
Both small and medium sized B2B businesses that are eager to find contact info management solutions for customers in a variety of industries including real estate, accounting, healthcare, etc.
Key features
Has custom fields
Email marketing and document sharing
A very fast search feature
Task management
Lifetime free upgrades
Mobile-friendly
Pros
Seamless third-party integrations
Improved data security
Simplifies task management
Completely mobile-ready
Cons
The basic package doesn't support reporting
Price
InfoFlo features a 30-day free trial package and two paid plans that start at $99 per user.
24. OroCRM
OroCRM is an open-source CRM helpdesk software that comes with robust tools for managing, analyzing, and reporting customer data, all aiming to inform you of your overall sales strategy. Its system is great for setting up a multi-channel eCommerce business, as it features various modules for account management, rule-based workflows, user authorization, and content management, among others. OroCRM generally provides users with a central admin panel that gives you absolute control over customer interactions.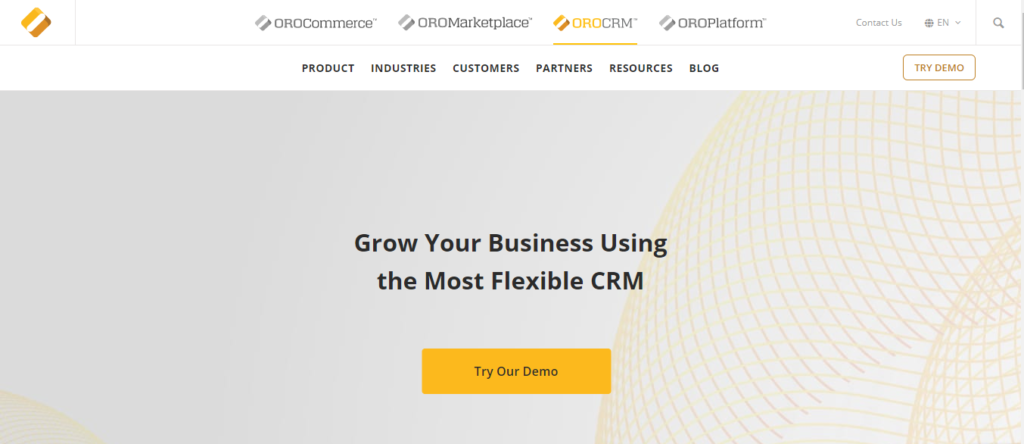 Who is it good for?
Businesses of all sizes with the capability of scaling anywhere from 5 to 1,001 employees.
Key features
Calendar system with reminder
Email marketing
Integration for internal chats
Marketing automation tools
Mobile-ready access
Audience segmentation
Social media integration
Territory management
Cons
Has a slight learning curve
Price
OroCRM doesn't have the usual custom pricing plans like the other CRM providers. Instead, they boldly offer users with a live demo of the service before you can decide to commit to a paid version.
25. Insightly
Insightly is another compact, unified CRM platform that promises to help businesses from varied industries grow by building lasting customer relationships throughout the customer journey. It offers SaaS-based customer relationship management solutions for midsize organizations that want to securely manage all customer information from a single platform while accelerating sales and making timely deliverables simultaneously.
Insightly automatically comes with plugins for Gmail and Outlook together with several functional integration tools for other systems. In a more practical sense, most businesses often use Insightly for contact management, relationship linking, email tracking, workflow automation, lead management, quote generation, advanced reporting, etc. It's a mobile-ready system that assures businesses with timely updates, especially when working with a remote sales team.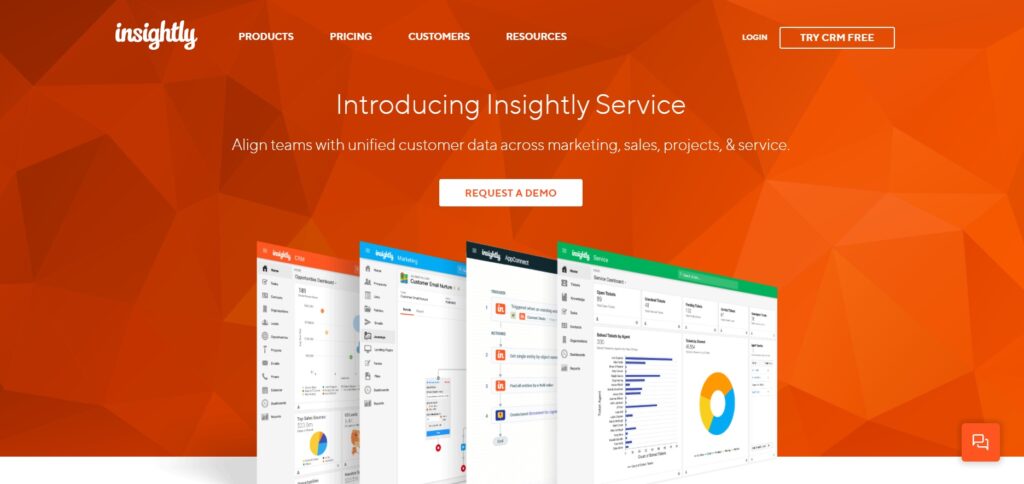 Who is it good for?
SMBs that want to model and automate their CRM business processes around a single customer information.
Key features
Sales force automation features
Marketing tools
CRM project management features
Sales pipeline visualization and reporting
Custom fields and objects
Role-based user permissions
3rd-party software integration
Pros
Plenty of additional features such as audit logs
The interface design is both fluid and dynamic
A powerful range of project management functionality
Offers multiple integration options
Cons
Has price concerns among SMBs
Price
Insightly has a free plan that supports up to 2 users only, and up to three paid plans with the most basic plan costing $29 per month per user.
Stand out from your competitors with a help from LiveAgent!​
Top 5 CRM software compared
1. LiveAgent
Popularly known as the best ticketing alternative in today's market, LiveAgent practically topples over its competitors by offering users with no hidden cost service, 24/7 customer support, unlimited storage, 190+ integrations, a 30-day free trial, and the option to cancel any time. It offers help desk CRM solutions that help businesses integrate personalization into their customer interactions. LiveAgent boasts of more than 170 help desk features, including one of the fastest live chat widgets on the marketIts built-in CRM presents businesses with a powerful omnichannel universal inbox, built-in call center, real-time live chat, and a robust customer service portal.
2. Hubspot
What makes Hubspot CRM unique is that it features a 100% freemium plan with an email tracker, prospect tracker, live chat, and meetings scheduler. Otherwise, its paid versions are very expensive for small businesses to afford. Overall, the Hubspot CRM is built to optimize customer relationships, unify sales team strategies, and drive conversions. It currently allows users to connect to more than 875 third-party integrations for more streamlined and customizable usage. Its CRM system features automation tools for sales engagement, sales analytics, and configuring-price-quote functionality for growing teams. Hubspot platform widely provides users with an expansive CRM ecosystem that promises to generate information-rich insights, sales enablement materials, and warmer leads for maximum business operations.
3. Keap
Similar to LiveAgent, Keap also offers a 14-day free trial demo plan. Still, their paid plans cost nearly five times more, yet its features are generally limited to email marketing and core CRM automation tools. Keap CRM mainly focuses on business growth, and it's usually perfect for enterprises that want less repetitive admin tasks, organized client database, easily implemented automation, and vast app integration while making the most of the normal working hours.
4. Freshworks
Freshworks CRM is undoubtedly one of the best selling CRM software today. Compared to the others, this CRM service provider features a set of excellent tools for generating leads, increasing sales, and growing your revenue. The best part is that you can personalize your user account to fit your specific needs, but they don't offer unlimited quantities as LiveAgent does. It's a full-fledged sales CRM tool that broadly comes with an intuitive user interface, auto-profile enrichment, 360-degree customer view, and contact activity tracking functionalities. Its AI-powered lead scoring feature further sets it apart from the crowded CRM market. It enables a sales rep to focus on high-scoring leads while engaging in contextual conversations that drive conversions and build lasting relationships with clients.
5. Zoho
Zoho is a highly adaptable CRM software for almost any business sales need. It primarily features a wide array of omnichannel capabilities, an integrated Canvas design studio, and custom automation for team collaborations and remote work. The downside is that most of its plans comprise limited features, and the only way out is to upgrade to a higher plan. On the upside, Zoho offers integrated customer relationship management solutions simultaneously with AI-based sales assistance. The Zoho CRM comes with a unique set of features that include built-in gamification, real-time notifications, workflow automation, and lead scoring tools to complement customer experience, sales processes, and even inventory management.
Conclusion
The CRM software above will help you generate more leads and nurture them until they become long-time clients. Each CRM software can serve a specific type of business or worker. Freshworks, for instance, is best suited for sales teams. Hubspot is the best overall CRM in terms of cost and functionality. LiveAgent is great for omnichannel help desk ticketing, while software with Pipedrive is the easiest to use.
Looking for the right CRM software?
LiveAgent offers wide range of features and integrations so everyone can find what they need. Wanna see it for yourself?