It was four years ago when 63% of customers surveyed in the Forrester study indicated that they would like to be able to change the communication channel with a brand without describing their issue again (Forrester). 
We can only guess that in 2020 this number is even higher. Your customers expect you to be available on various channels and want to shift between them, still experiencing comprehensive customer service. And, if you want to keep them satisfied, you need to adjust to their expectations. 
They only way to do it is to offer them omnichannel customer support.
What is omnichannel?
Omnichannel is a cross channel business model used by companies to improve their customer experience and sales efficiency. It makes it possible to interact with clients through different channels, preferably in real-time.
It can include websites and mobile applications, phone calls, emails, social interactions, and search tools. In some cases, it can also comprises face-to-face meetings.
Omnichannel customer service aims to integrate all mentioned communication channels into a single system, no matter what your company type is. In this way, customer service agents have a complete view of a customer's interactions, allowing them to respond to inquiries more efficiently and effectively.
In other words, if a customer sends an email on Monday, he expects Tuesday's phone call to pick up exactly where he left off. Context is preserved across all medium to create a seamless experience.
What is the difference between multichannel and omnichannel customer service?
For now, the multichannel experience is fairly well established. Even "traditional" organizations now have at least one website, blog, and social networking page, and use these platforms to interact with their respective target groups. For this reason, it is important to understand what makes the multichannel experience different.
Although both approaches involve selling in a wide variety of physical and virtual places, the main difference lies in the degree of integration.
In multichannel customer service, the channels function as independent entities.
In an omnichannel approach, the points of contact are linked, so that the customer perceives the brand as a perfect unit, regardless of the medium chosen.
Unified customer service
While there is no doubt that the multichannel approach still has potential primarily as an intermediate step towards an effective omnichannel strategy, customers increasingly interact with a business through different points of contact, making it necessary for organizations to adapt accordingly.
In addition, the trend towards omnichannel customer service has raised consumer expectations and forces smaller businesses to keep up, as it now allows clients to contact them instantly via social media chat, live chat, and SMS, in addition to traditional telephone and email.
Why is omnichannel customer service so important?
Omnichannel customer service is trending, because today's consumer wants to design their own experience through an organization's points of contact. Forcing a customer to follow only one route, or going back to the beginning every time they change communication channels, negatively affects their experience and may even cause them to never reach the point of purchase or resolve their query.
Let's take an example of a traditional multichannel store, which will probably sell its products through a website (online channel) as well as in physical stores (offline channel). Usually, these two channels have very little to do with each other. Both have their own stock and sell directly to customers, and it is often the case that items purchased online cannot be returned to the store. The two places function as completely independent entities; indeed, they may be separate businesses.
The problem is that modern consumers do not perceive brands as separate entities.
They live in real-time and are used to receiving instant responses in their personal communications. In the case of business interactions, they expect the same thing: they want to be able to instantly interact with a brand online, both on mobile devices and in the physical store. The context should be maintained with each interaction so that the experience is very similar across all channels.
This has led to concepts such as unified commerce, which seamlessly links a company's online and offline segments.
So, how to provide your customers with the best omnichannel support?
1. Have a strategy in place
Before you make your support agents hop on multiple channels, plan everything properly. Document all processes and best practices and make sure that everyone involved in the customer journey knows precisely what they should do.
Without set guidelines that vary from channel to channel, lines can blur, and while the customer service of your organization as a whole might be successful, a particular channel may be relatively ignored or under-served.
Invest the same amount of time and resources in all channels, use consistent tone, and introduce the same KPIs. 
2. Improve response time on social media
Brands aim to stand out from the noise by producing engaging content  they publish on social media – they use photo editors to make unique photos and videos and invest time to write catchy captions. But social media is not only about that.  It can be an excellent customer service tool, resulting in high customer satisfaction rates. However, many businesses do not meet customers' expectations when answering their questions submitted through SM channels because their agents focus more on handling  chat queries or answering the phone. 
It's hard to understand, especially that when companies engage and respond to customer service requests over social media, those clients end up spending 20% to 40% more with the company. (source) 
What's more, according to a survey by NM Incite, slow responses are more negative for customers than when a company does not respond at all. Therefore, reducing response times and empowering employees to provide quick and effective solutions on Facebook, Instagram, Twitter, and other medium can significantly improve customer relationships.
Your customer support agents won't be able to answer messages from clients on social media fast enough without proper tools. That's why your customer support management software must include options to integrate all interactions in one place. With LiveAgent, all communication in social channels is logged into social customer service software.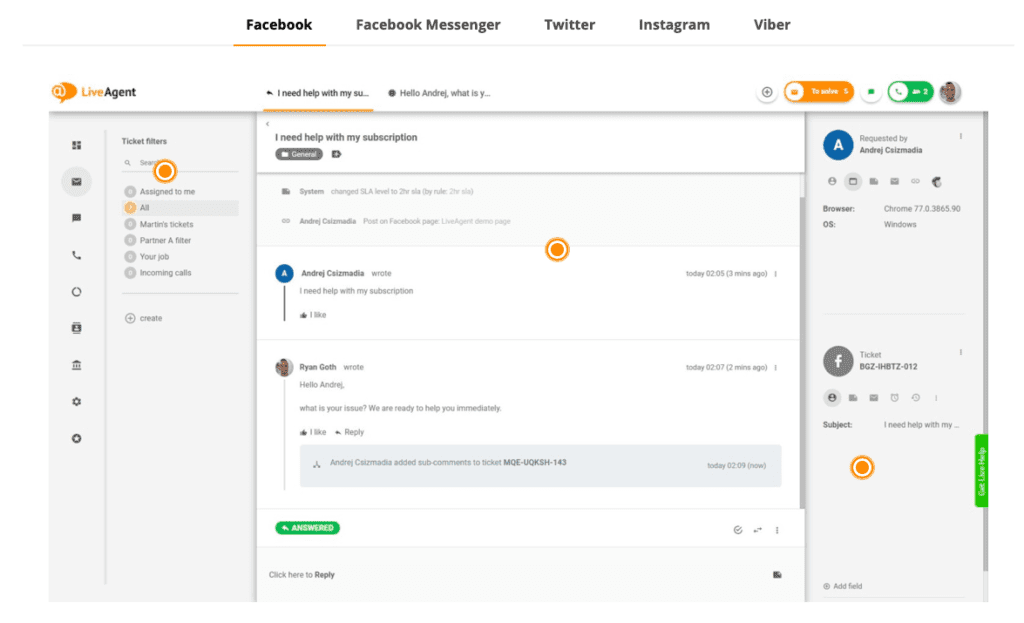 Connect Facebook business page (or pages), Facebook Messenger, Instagram, and Twitter with LiveAgent and forget about managing multiple profiles on different social networks, using multiple devices, switching tabs, and sharing login credentials. Each interaction will be turned into a ticket, your agents will be notified about it in seconds and will be able to manage all interactions from one help desk dashboard called universal inbox.  
You can categorize and search Facebook posts and comments, monitor tweets that match your filters, and answer all queries directly from the LiveAgent all-in-one dashboard. The answer will be automatically posted in each channel. The software enables you to define access to social profiles and define the roles of your agents.
3. Promote self-service
Almost three-quarters of consumers prefer to use a company's website to find a solution as opposed to other service channels (source). There are many ways to help customers find solutions, for example, with an FAQ page, which is the most widely implemented self-service channel. This reduces the amount of time it takes the agent to solve the problem and the number of times a customer needs to contact customer service. 
For more complex products and solutions, you can also create a comprehensive knowledge base. Include support documentation, technical and product details, embed video tutorials or create step-by-step guides with screenshots to present all information that will help clients resolve their issues faster. The result: increased customer satisfaction and lower overall costs for the company.
Invest time to prepare the knowledge base right. Although customers are willing to look for information on their own, if a knowledge base is not easy to navigate, they won't search very long before giving up and contacting the company directly. In 67% of the cases, they won't spend more than 15 minutes searching for an answer online.
LiveAgent enables you to build a complex knowledge base for both your customers and your support agents (an internal knowledge base). You can do it in four simple steps: create a knowledge base, configure it, customize it, and fill it out with content. This content can include: different categories, tutorials, articles, feedback boards, or forums. Some articles may just be accessible to your agents to encourage knowledge-sharing environment within your team.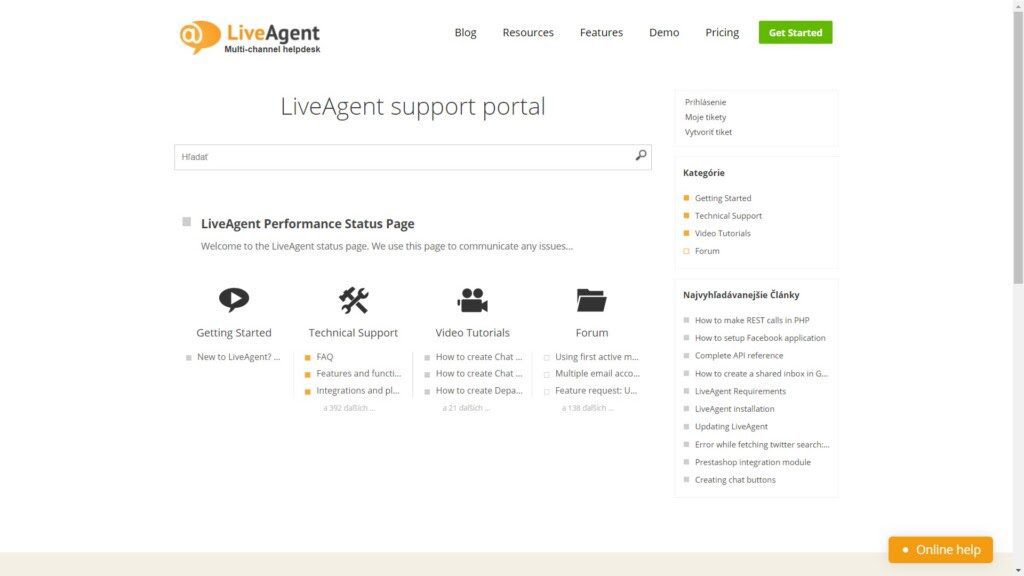 LiveAgent's knowledge base comprises search widgets feature that enables your customers to browse through the articles, suggestion boards and forums directly from your website so your clients can save precious time and get all important information in just a few clicks.
If you offer many products or services, you can create multiple knowledge bases and adjust them using predefined themes or build entirely new ones using custom CSS and HTML to make them match your branding. You can add your logo, title, tracking codes, header, and footer and also edit and style the content of your articles with WYSIWYG editor. 
4. Improve support through live chat
Live chat is a very popular form of customer service, as the ability to access help quickly and conveniently relieves customer frustration. Data shows that 63% of visitors are more likely to revisit a site that offers a chat (source). Therefore, a  chat window is a must-have for every company that aims to offer omnichannel support. 
In addition to being an effective channel for customer service, live chat can improve sales. As customer service agents guide customers through a particular problem, they may be able to identify products or services that are useful to them.
LiveAgent offers live chat software as a part of their omnichannel customer support platform. As mentioned above, this tool  is one of the best solutions to provide your clients with immediate support. All chat conversations are turned into tickets and logged into a universal inbox. Support agents can answer them from this unified dashboard, having all queries at their fingertips. If a customer used your chat in the past, their message is assigned to an agent who handled their query before to ensure cohesive customer support solution. 
Automated Ticket Distribution feature distributes inquiries among all employees based on various criteria, e.g., their availability to make sure everyone has their optimal workload. This option supports the faster resolution of queries as all employees have enough time to react quickly.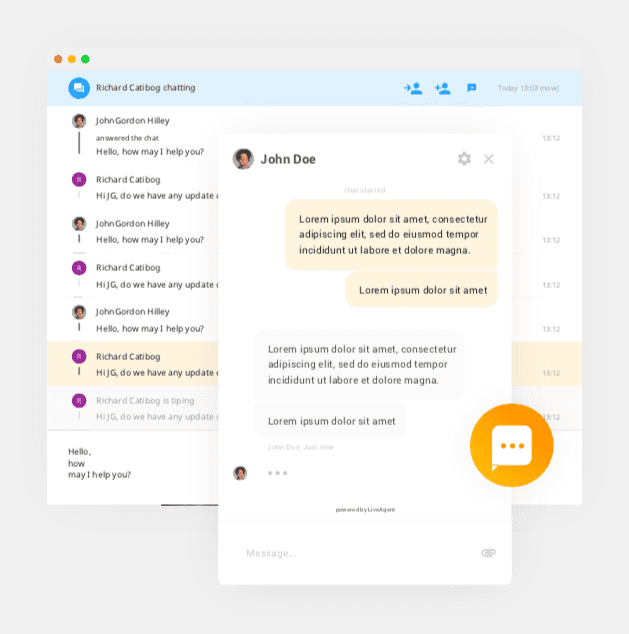 Proactive invitations feature enables your agents to invite customers to chat on custom URLs (a pricing page, checkout page). All online visitors of your website can be displayed on one screen, so that your agents can monitor their activity and act accordingly, providing a seamless customer experience.  
5. Offer a responsive website
Data shows that 63% of U.S. adults use mobile devices at least several times per month to seek customer support (source).
However, almost 90% of clients say that their experience when contacting customer service via mobile devices has been negative (source). The main complaint of users in this aspect is the incorrect display and difficult navigation. This is compounded by the slow loading time of certain websites.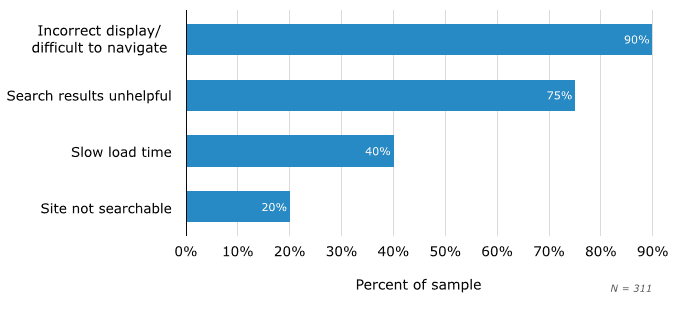 Therefore, companies that want to offer all-round customer service must have their websites optimized for mobile use.
6. Don't neglect traditional forms of customer interaction
90% of customers expect to find a consistent interaction across all support channels, and all clients have a preference for a particular channel.
While the innovation of mobile applications may appeal to some, many still value the more "traditional" customer experience or prefers to discuss some topics (e.g., related to finances) via more familiar medium. For this reason, it is essential to ensure that you maintain a quality human-to-human customer service experience over the phone, which will help to build trust in your customers and therefore increase their loyalty.
Sending emails still works, and it works very well. In fact, email wins as the most effective digital marketing strategy for customer retention with 56% effectiveness (source). In addition, 38% of consumers prefer to communicate online or by email about simple customer service issues. 
The most important thing in this customer service is to always respond to users when they raise a question or problem through an email, sticking to specific response time.
LiveAgent offers both email and phone communication services as a part of their omnichannel contact center. Emails are stored in a universal inbox and can be managed in one place by anyone who has access to the all-in-one dashboard.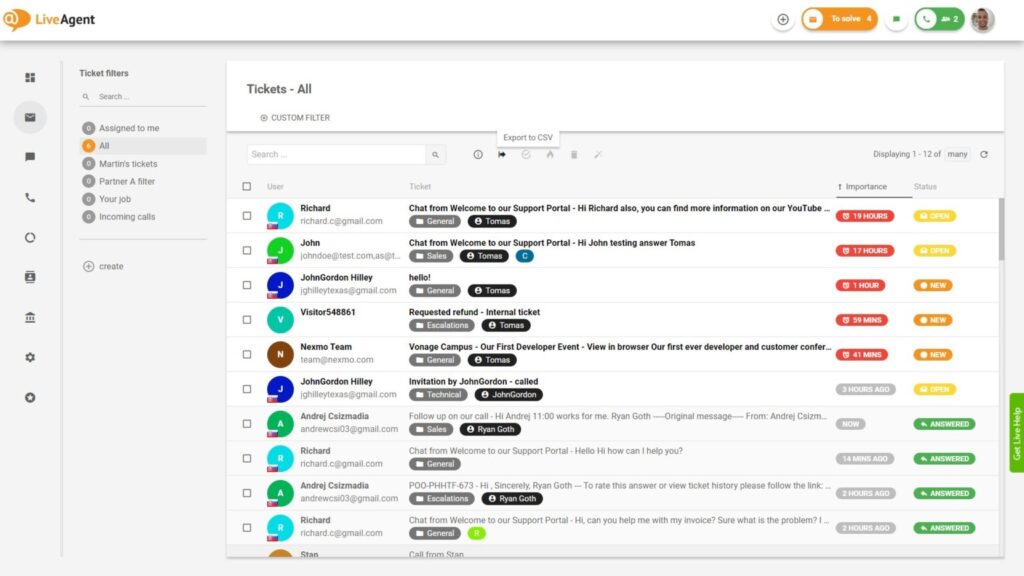 Cluttered inboxes from various email providers, misleading labels, sequences of forwarded emails, doubled answers are a thing of the past. Merge Tickets feature enables your agents to combine multiple conversations (multiple tickets) about the same issue, so one person handles the query in the channel most suitable for your customers. Email templates speed up requests resolution as your employees don't have to write each and every answer to recurring inquiries. Templates can be either chosen manually by your agents or triggered by certain events.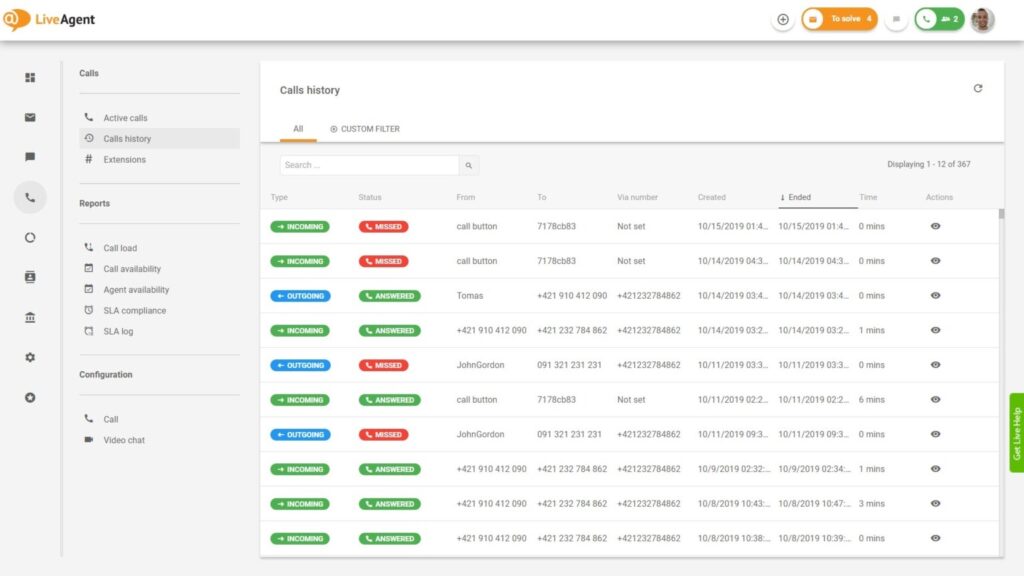 LiveAgent's Call Center software centralizes all landline, website, or mobile calls into one place. All inbound and outbound calls are logged into a dashboard, so everyone responsible for handling phone communication can access them. Make use of Unlimited Voice Recording features to store all your conversations and leverage them to improve your customer service in the future. Get back to customer feedback and improve your products or use it for training purposes. You won't need call recorder software anymore. To organize the virtual call center, so it fits all your needs choose your VoIP provider, phone number, connect multiple local numbers, and SIP trunks. 
Create an Interactive Voice Response tree, so the calls are automatically routed to the right departments or agents. Instead of waiting on hold, customers enter a few key or voice commands, and they are redirected to the chosen team right away. This feature increases the  first contact resolution. 
7. Understand the relevance of customer behavioral data and use it
Customer behavioral data should form the basis of the design and use of all your customer care mediums. In order to use it, you need to collect up-to-date information from your customer base regularly. 
For example, studies show that 60% of adults online in the UK use at least two devices every day (source). This information can help companies start thinking about strategies to reach their customers through multiple devices.
Final thoughts
An omnichannel strategy does not mean that the company must be in all channels, but that it must apply a plan where the points of contact with the brand are active and coordinated with defined objectives.
The different medium is incorporated progressively, in phases. Users assume that a brand will respond in the same way on any channel.
In any case, although it may seem complicated to implement for a small company, it is worth aspiring to an omnichannel strategy with the available resources.
Brands need to be present in multiple channels to generate engaging customer experiences, but that's no longer enough. A modern and successful brand must adopt an omnichannel strategy to build customer loyalty and send relevant messages wherever they are, not where the brand wants them to be. Brands that lack an all-channel approach will lose out to brands that adopt this strategy, as more and more consumers want a personalized experience.
Start providing omnichannel support today
Stay connected with your customers across all communication channels with LiveAgent, your one-stop-shop for all things customer service.