What are automations?
Automations or automation rules are features and processes that have risen in popularity over the years thanks to their effectiveness and time-saving. In the world of customer service, automation is a part of most agents' day-to-day activities. It has become a common practice to automate mundane tasks so customer service representatives can focus on more demanding tasks and provide quick and effective support to your client base.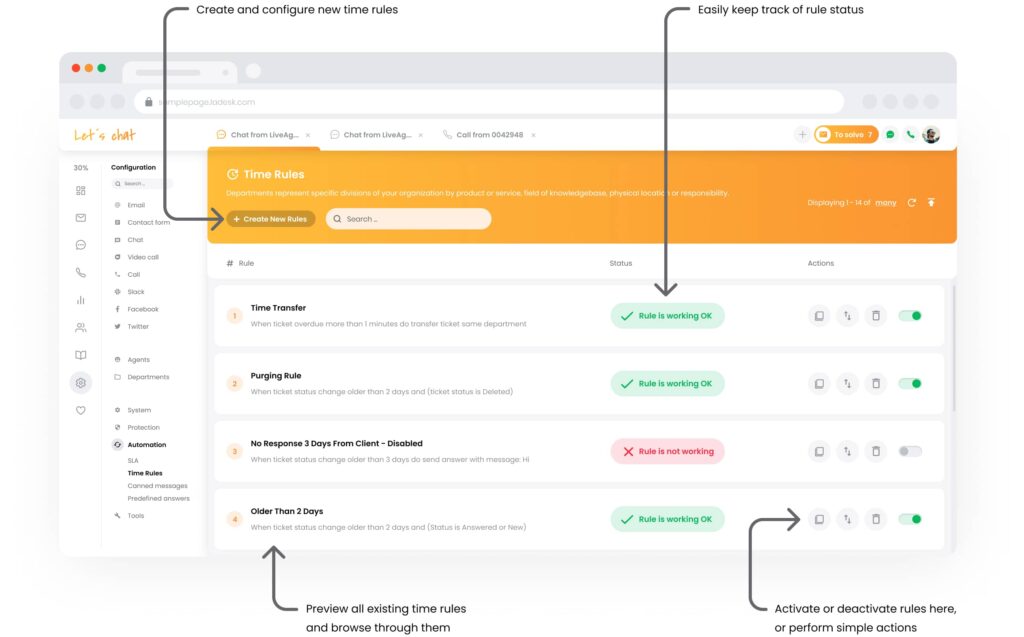 When it comes to automation, it's safe to say that the sky is the limit if you're thinking about what can be automated. Almost anything that can be scripted can become an automatic process.
Most modern businesses automate sales to streamline their processes and get the most out of the available resources.
In the field of customer support, if you're not using this innovative approach, you're missing out. Here are some of the key benefits automation can bring to your customer-centric business.
Increased customer satisfaction – Automations allow your agents to provide quick and efficient customer service which directly improves the overall customer experience and satisfaction rates.
Enhanced agent productivity – When agents don't have to deal with menial tasks all the time, they can better allocate their time to work on more demanding tasks.
Improved response rates – Canned responses, automatic replies, and other tools help you provide quick support.
Better consistency – Automated processes don't get overwhelmed by the volume of incoming tickets across many channels or their complexity. That's why they keep the service consistent no matter the workload.
Reduced human error – Although not perfect, automation greatly reduces errors usually caused by human agents.
Customer empowerment – Options like self-service make customers feel more engaged and empowered to resolve their own queries.
Increases sales – Even the features considered automation basics can reduce cart abandonment rates by filling in contact details, leveraging audience insights, and helping clients along their customer journey.
Different help desk software solutions offer different automation options. Some of the most common automation capabilities you can find include self-service, IVR, chatbots, automated call systems, conversation tracking, canned responses, auto dialer software, automatically assigned tickets, gathering e-commerce data, reporting, customer journey tracking, automation workflows, and different AI features.
Impress customers with quick & knowledgeable responses
Give your team the right tool to increase their productivity with LiveAgent's automations feature.
Frequently

asked questions
What does the term automations mean?
Automation is a process that aims to increase the efficiency and effectiveness of work. If there are some repetitive tasks, most often than not, they can be automated. You can create scripts that execute every defined action in a particular order. This saves you time that can be spent on other activities that will improve your customer service.
What automations does LiveAgent offer?
LiveAgent lets you set up various automation rules. Some of the automation examples include IVR, canned responses, tagging tickets, predefined answers, time rules, and more.