What are automation rules?
Automation rules are system actions that are automatically executed if predefined conditions are met. They are most commonly used for transferring tickets to certain departments, adding tags, marking tickets as spam, or resolving tickets. Automation rules are generally available in all advanced help desk software and can be action-triggered, time-triggered, or SLA-based.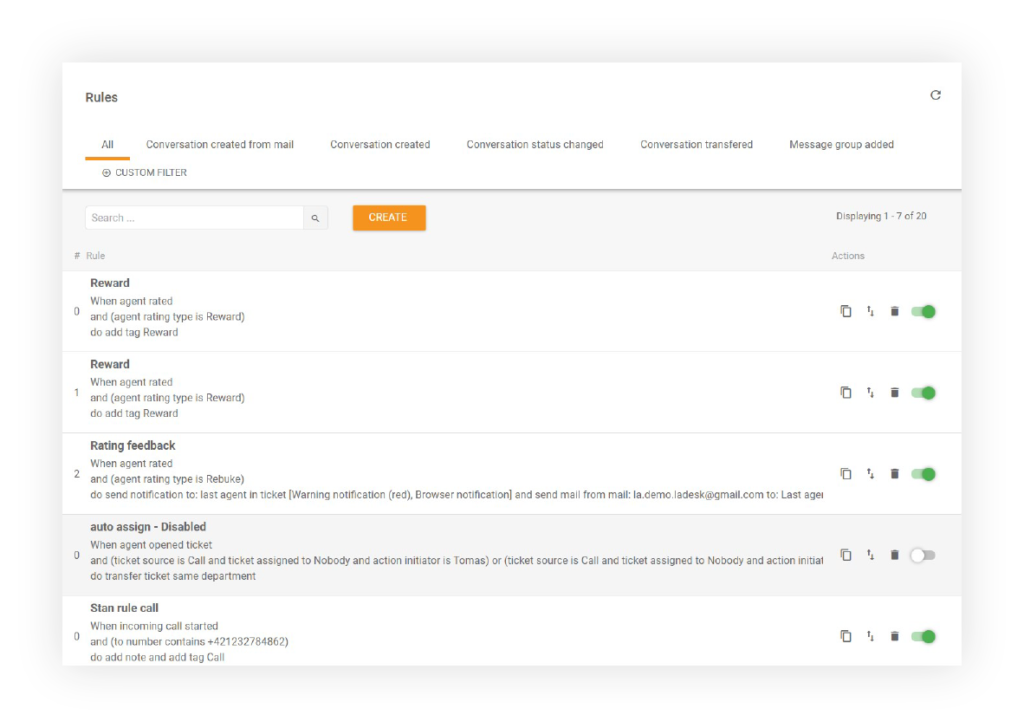 How do automation rules work?
Customer ticketing software that contains automation rules performs periodic background self-checks. If the system finds that the conditions of a certain rule are met, the rule is automatically executed. 
Why are automatic rules important?
A help desk that is equipped with automation rules can be extremely beneficial for any business with high ticket volumes. By automating mundane and repetitive tasks, agents can focus on more complex customer queries. Additionally, utilizing automation rules within your help desk ticketing tool can minimize the chances of human error and save valuable time.
Improved efficiency/agent workflow
Improved response times
Less room for human error
Reduced support costs and saved time
What types of automation rules are there in LiveAgent?
Action rules
Action rules are basic action-triggered rules. LiveAgent users can set up a trigger and an action, and when the trigger conditions are met, the action is executed. For example, you can set up a rule that will automatically assign any ticket containing the words "billing" or "payment" to the billing department.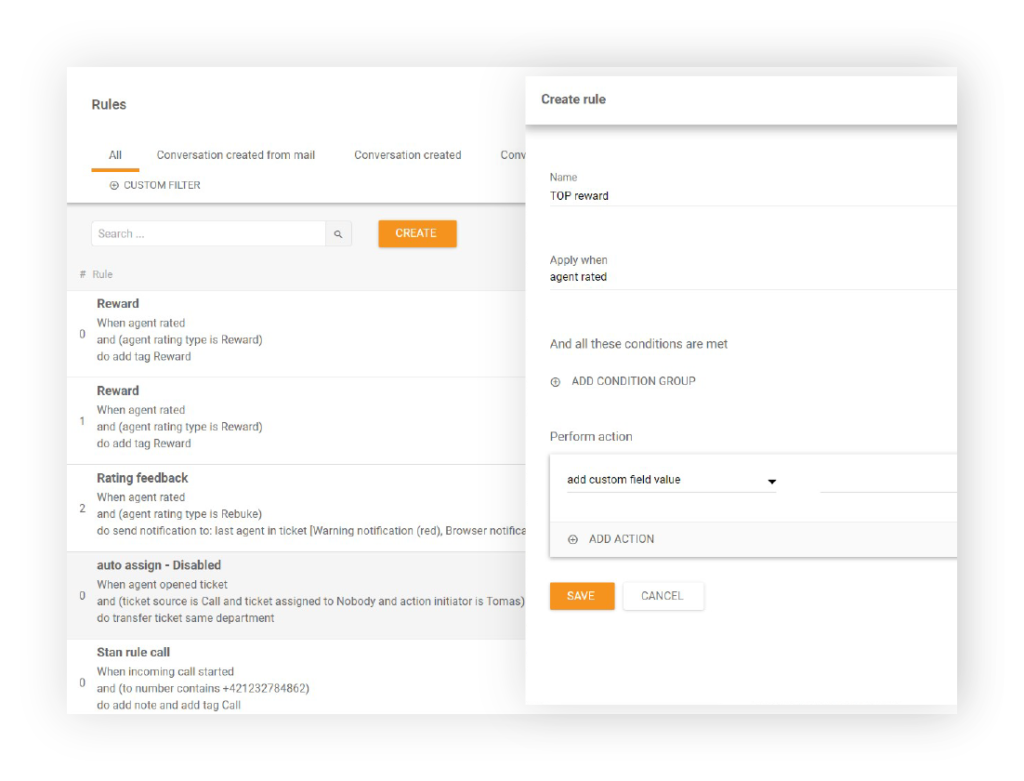 Time rules
Time rules are time conditional and thus are only executed when the time conditions of the rule are met. For example, you can set up a rule that will prompt the system to automatically follow up with a customer if they haven't responded to your message within a certain period of time, such as 48 hours. 
SLA rules
SLA rules can only be applied to the SLA setup and are bound to SLA levels. An example of an SLA rule could be to change the SLA level of a ticket or to stop other rules from being executed.
Put an end to repetitive tasks
Discover endless automation opportunities with our free-30 day trial. No credit card required.
What can you do with automation rules in LiveAgent?
Rules can be applied when:
A ticket is created from an email
A ticket is created
A ticket's status changes
A ticket is transferred
An offline message group is added
An agent receives a rating
A ticket's tags change
Conditions that can be applied to rules
Subject
From
Carbon copy
Blind carbon copy
To
Body
Ticket status
Ticket created (date)
Ticket changed (date)
Ticket deleted
Ticket start referrer URL
Ticket priority
Last message
Assigned agent status
Custom field
Ticket department
Ticket assigned to
Customer group
Created from invitation
Ticket tags
Actions that can be executed by rules
Transfer ticket
Resolve ticket
Delete ticket
Change ticket priority
Change SLA level
Mark as spam
Mark as not spam
Purge ticket
Send answer
Change ticket subject
Call URL
Add tag
Remove tag
Send mail to
Stop other rules
HTTP request
What do automation rules look like in practice?
If a rule is applied to a ticket, the change will be displayed in the detailed ticket view (to ensure clear responsibility for ticket handling.) Both admins and agents can see the changes to the ticket made with active rules.

How to set up rules in LiveAgent
Log in to LiveAgent.
Click on Configuration (cogwheel icon in the left-hand menu bar).
Click on Automation.
Click on Rules, Time Rules, or SLA (depending on what type of rule you want to create). In this setup guide, we will continue as if you selected Rules.
Click Create.
Check the Status Active checkbox.
Create a name for your rule.
You can leave the Notes section blank, or you can describe the rule in more detail. This field is simply for your convenience.
Select a variable.
Click Add condition group.
Select the conditions according to your liking.
Select the perform action fields according to your liking.
Click Save.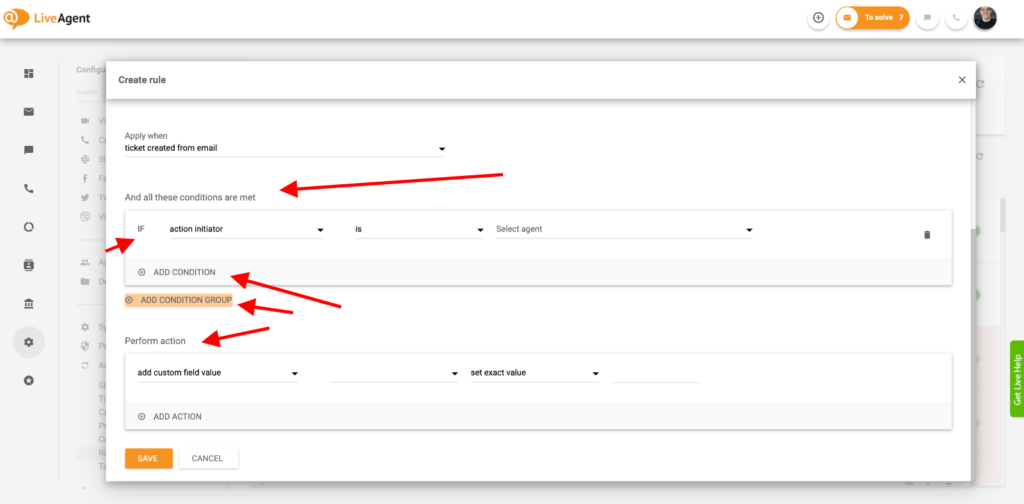 Benefits of automatic rules
Less room for human error
Automation is precise — humans are not. Eliminate any mistakes that could cost you your customers, revenue, or reputation by cutting out human intervention. The more precise your support is the more satisfied your customers are. 
Improved customer satisfaction
Satisfied customers are the cornerstone of every business, as they affect recommendations, online reviews, word-of-mouth, and sales. As such, every business should strive to keep their customers happy with excellent service, fast response times, and a personalized approach.
Roman Bosch

Partly

Christine Preusler

HostingAdvice

LiveAgent empowers our agents to provide better, faster, and more accurate support.

Karl Dieterich

Covomo

Hendrik Henze

HEWO Internetmarketing

We have been using LiveAgent since August and we are really satisfied with it.

Razvan Sava

Webmaster Deals

Since we are using LiveAgent our response time improved by 60%.

Taras Baca

XperienceHR

Our paid customer conversion rate went up 325% the first month we've set up and actively started using LiveAgent.

Andrej Ftomin

TAZAR Group

I have to say, I have never experienced such a professional customer approach.

Matt Janaway

The Workplace Depot

We find LiveAgent to be the best live chat solution by far.

Viviane Carter

CSI Products

We use LiveAgent on all of our ecommerce websites. The tool is easy to use and improves our productivity.

Christian Lange

Lucky-Bike

With LiveAgent we're able to give our customers support wherever they are.

Jens Malmqvist

Projure

I can recommend LiveAgent to anyone interested in making their customer service better and more effective.

Catana Alexandru

Websignal

I'm sure we would spend 90% of our day sorting through emails if we didn't have LiveAgent.

Jan Wienk

All British Casino

With LiveAgent we are able to keep our players happy by offering more efficient support resulting in higher return rates.

Allan Bjerkan

Norske Automaten

LiveAgent is reliable, reasonably priced, and simply a great choice for any fast-paced online business!

Sissy Böttcher

Study Portals

We like it because it is easy to use and offers great functionality, such as useful reporting features.

Peter Koning

TypoAssassin

We love LiveAgent - it makes supporting our customers easy.

Aranzazu F

Factorchic

We like to offer our customers the best support experience. That's why we chose LiveAgent.

Rick Nuske

MyFutureBusiness

From setup to ongoing support and everything else in between, the team at LiveAgent continues to impress.

Vojtech Kelecsenyi

123-Nakup

LiveAgent saves us hundreds of precious minutes every day by making customer service clear and in order.

Rafael Kobalyan

Betconstruct

Unlimited agents, email, social media, and phone integration. All that for less than we were paying with our previous provider.

Martin Drugaj

Atomer

We've been using LiveAgent since 2013. We can't imagine working without it.

Ivan Golubović

AVMarket

It's a cost-effective solution that can help you with a large amount of support requests via different channels.

Rustem Gimaev

Antalya Consulting Language Center

Answering emails from Outlook was so hard to manage. With LiveAgent we're sure every email is answered in time.

Randy Bryan

tekRESCUE

LiveAgent is so awesome. With very little time and effort I had it up and running smoothly in a few...

Timothy G. Keys

Marietta Corporation

I highly recommend the LiveAgent product, not only as a Kayako alternative but a much better solution with added value.

Mihaela Teodorescu

eFortuna

The support team always responded promptly with quick to implement solutions.

Hilda Andrejkovičová

TrustPay

It helps us categorize the nature of the tickets and statistically track what our clients need most.

Alexandra Danišová

Nay

We see LiveAgent as a great tool for communicating with customers.

Samuel Smahel

m:zone

LiveAgent sped up our communication with our customers and gave us an option to chat with them as well.

David Chandler

Volterman

Simply put - LiveAgent beats everything out there at this, or even higher, price-points.
Automation rules save time and money
Can you imagine having to follow up on each unanswered ticket manually? Not only would this be an extremely time-consuming task, but it would also be very expensive, and stressful. Thankfully, help desk software like LiveAgent can execute countless automation rules that will save your agents tons of time. Leave the logistics to us, so your agents can focus on what's important — nurturing customer relationships.
Knowledge base resources
To learn more about automation rules, check out our knowledge base resources:
LiveAgent Webinar 2: Email, Automation, SLA | Live Agent56:52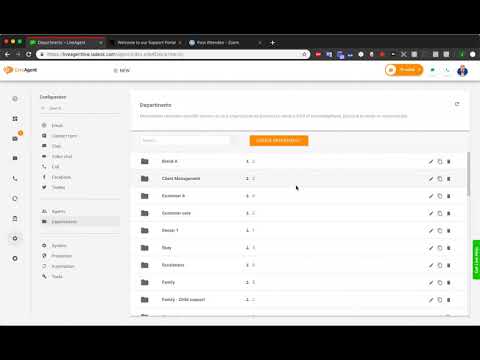 Live Agent
Ready to create automation rules?
Discover endless automation opportunities with our free 30-day trial. No credit card required. Start your free trial today.
Looking for a way to automate and streamline your support process?
LiveAgent's Rules feature is your solution! Create custom rules to automatically assign tickets, prioritize inquiries, and ensure prompt resolution.