What is an assign ticket function?
Individual tickets are created without any ownership. Therefore, they need to be assigned to a customer care rep that will handle that particular ticket, contact the customer, and perform any further actions that are needed to solve the issue. Assignees are responsible for handling or escalating the ticket.
Tickets represent various customer interactions through different channels that are logged into your ticketing tool. When a customer contacts your business, a ticket is created for your customer service representatives to solve. With some efficient tools, agents can easily track the status and history of each of their assigned tickets, ensuring timely resolution and consistent support quality.
Types of tickets you will receive most often include
Incoming emails
Live chat tickets
Social media messages or mentions
Customer calls
Request forms
Feedback from customers on various forums
How to streamline ticket management process?
Once the tickets come in, they are stored in the universal inbox regardless of the channel they're coming from. This way, your agents don't have to check each communication channel separately and they can provide a seamless omnichannel customer experience. Not only does this make the entire process easier and more manageable, but it also boosts the efficiency of your contact center.
In LiveAgent help desk software, there are various ways to assign tickets to agents. It can be done manually with each ticket coming in, or with an auto-assignment feature (in LiveAgent using automated ticket distribution). You can route tickets to agents based on agent workload, agent skills, ticket type, agent availability status, and more.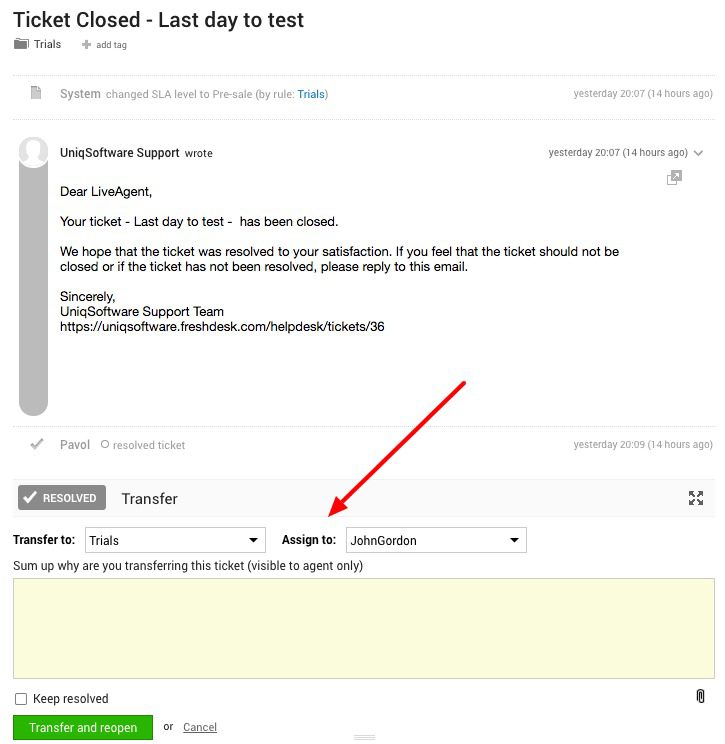 After an agent becomes an assignee to the ticket, they are responsible for handling it and making sure that it is resolved quickly, efficiently, and to the utmost customer satisfaction.
Frequently asked questions
What does it mean to assign a ticket?

Assigning a ticket means that the ticket must be routed to the appropriate agent or department to be able to act on it. Once the ticket is assigned to an agent, they are responsible for either resolving it or escalating it further if needed.

How can you assign tickets using LiveAgent?

In LiveAgent, you can assign tickets to agents using the "Assign to" function on the top of the ticket. Tickets can also be assigned automatically after the agent starts working on them. There is also the possibility to change the current assignee of a ticket if it is forwarded to a different agent. With this change, the new assignee becomes also the new ticket owner.

Is assigning tickets automated?

LiveAgent has the option to assign tickets automatically. You can also customize your own criteria, rules, and conditions in the configuration.
Expert note
<p>Assigning tickets in a streamlined and efficient manner is crucial for providing prompt and high-quality customer support.</p>

Andrej Saxon
Sales manager