What are time rules?
Time rules are automation rules that aren't action-triggered, but instead, time conditional. They are most commonly used for help desk clean-up tasks, email reminders or follow-ups, resolving tickets that haven't had any activity in a while or adding tags. The possibilities are endless.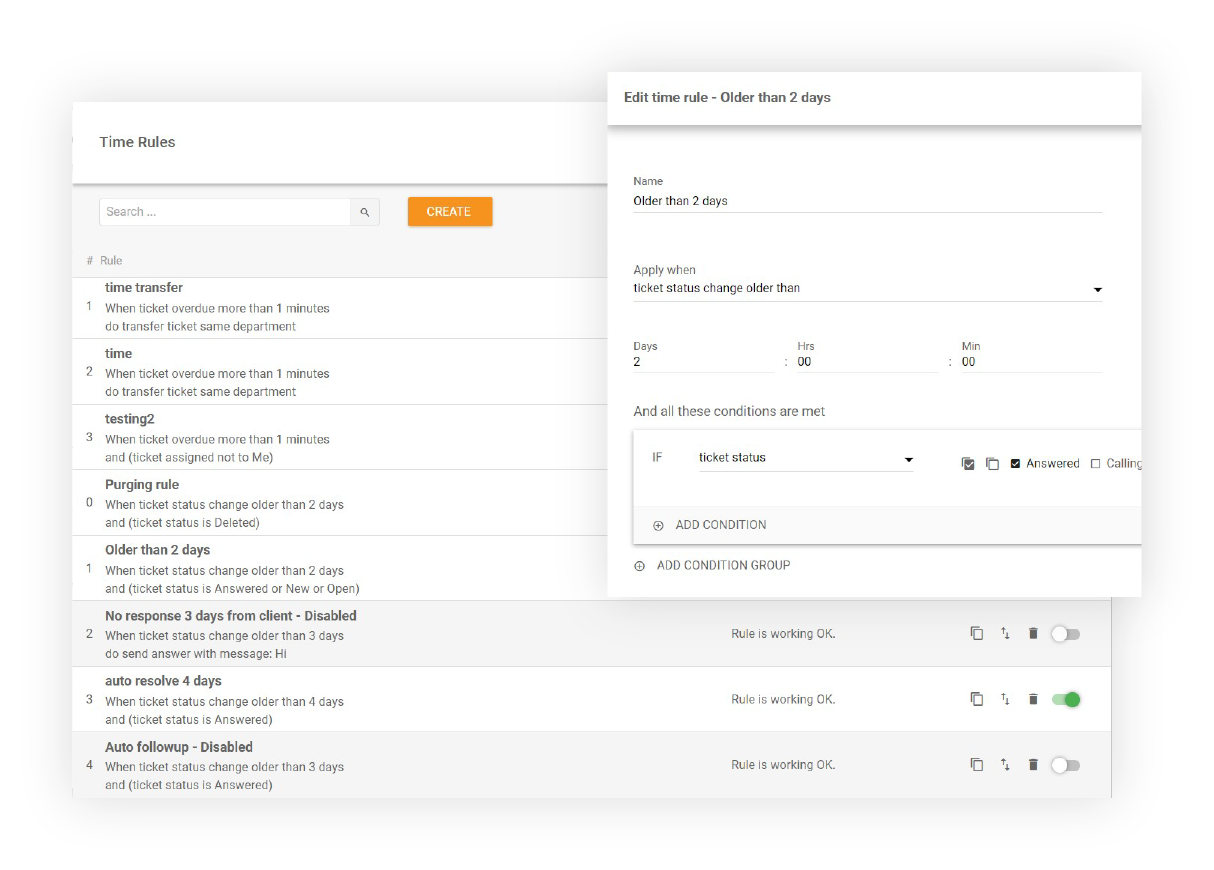 Examples of time rules
Example #1
As a LiveAgent user, you can set up a time rule that will automatically send out a follow-up email 24 hours after your last interaction with a customer.
Example #2
You can also set up a time rule that will automatically mark all tickets that haven't been responded to in 10 days as resolved.
Example #3
LiveAgent will automatically delete tickets marked as SPAM that are older than 90 days.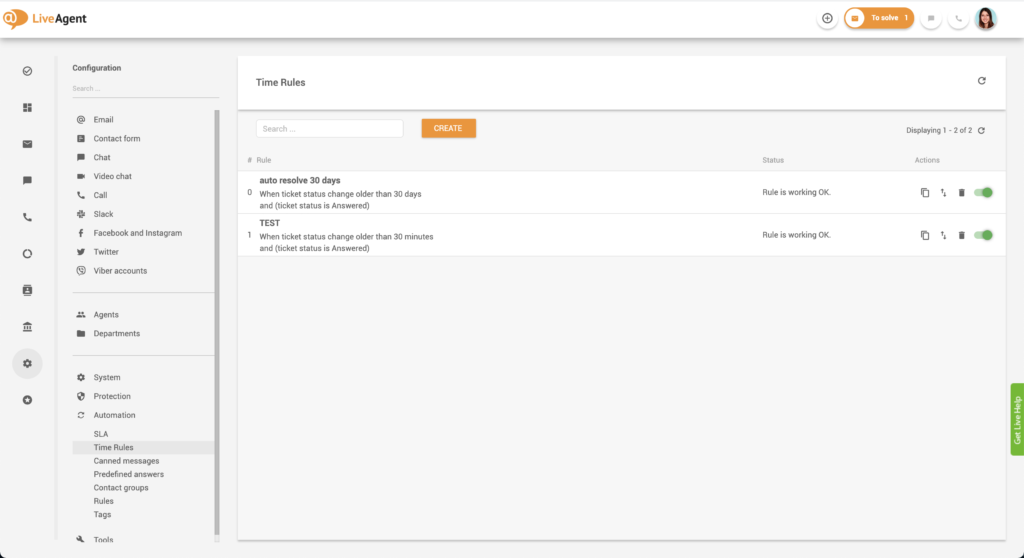 How do time rules work?
Once a time rule is set up, the system will automatically run periodic background checks in short intervals (usually one minute) and check if the conditions of the time rule are met. If they are, the rule is automatically executed.
Why are time rules important?
Time rules can be extremely beneficial for any business that has high ticket volumes because they can relieve agent stress and execute mundane and repetitive tasks in a short amount of time. 
The main benefits of time rules are:
Improved efficiency/agent workflow
Improved response times
Less room for human error
Less stress/reduced chance of burnout
Reduced support costs and saved time
What other types of rules are there in LiveAgent?
Apart from time rules, LiveAgent users can take advantage of trigger-based automation rules and SLA (service level agreement) rules. You can pre-set these rules to best fit your business and make your service ticket management software efficient.
Action rules
Action rules are basic action-triggered rules. LiveAgent users can set up a trigger and an action, and when the trigger conditions are met, the action is executed. For example, you can set up a rule that will automatically assign any ticket containing the words "billing" or "payment" to the billing department.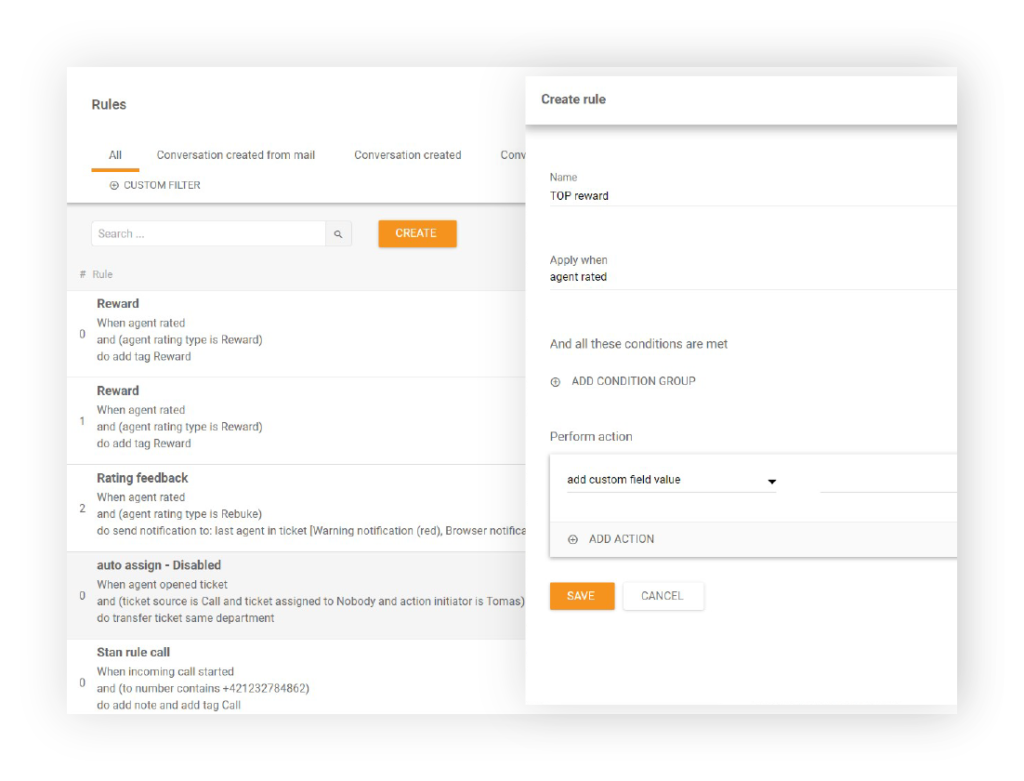 SLA rules
SLA rules can only be applied to the SLA setup and are bound to SLA levels. An example of an SLA rule could be to change the SLA level of a ticket or to stop other rules from being executed.
Automate tasks with time-triggered rules
Save up to 15 hours of work each week with custom automation rules. The possibilities are endless. Try them today. No credit card required.
What can you do with time rules in LiveAgent?
Time rules can be applied when:
A ticket is older than a specific number of days, hours, or minutes
A ticket's status hasn't changed in a specific number of days, hours, or minutes
A Ticket is due in less than a specific number of days, hours, or minutes
A Ticket is overdue for more than a specific number of days, hours, or minutes
Conditions that can be applied to time rules
Ticket status
Ticket created (date)
Ticket changed (date)
Ticket deleted
Ticket start referrer URL
Ticket department
Ticket assigned to
Customer group
Ticket tags
Actions that can be executed by time rules
Transfer ticket
Resolve ticket
Delete ticket
Change ticket priority
Change SLA level
Mark as spam
Mark as not spam
Purge ticket
Send answer
Change ticket subject
Call URL
Add tag
Remove tag
Send mail to
Stop other rules
HTTP request
What do time rules look like in practice?
If a rule is applied to a ticket, the change will be displayed in the detailed ticket view (to ensure clear responsibility for ticket handling.) Both admins and agents can see the changes to the ticket made with active time rules.

How to set up time rules in LiveAgent
Log in to LiveAgent.
Click on Configuration (cogwheel icon in the left-hand menu bar).
Click on Automation.
Click on Time Rules.
Click on Create.
Check the Status Active checkbox
Create a name for your rule.
You can leave the Notes section blank, or you can describe the rule in more detail. This field is simply for your convenience.
Select an 'Apply when' variable.
Select the time conditions — after how long should your rule be executed?
Optional: Click Add condition group.
Select the conditions according to your liking.
Select the perform action fields according to your liking
Click Save.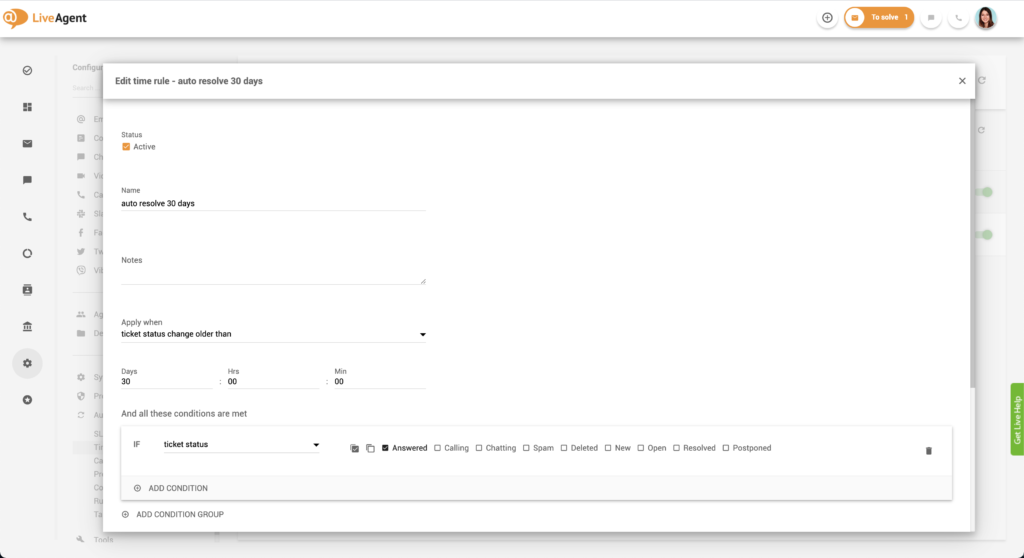 Benefits of time rules
Less room for human error and a reduced chance of agent burn out
Automation is precise– humans are not. Can you imagine if your agents had to memorize which tickets they didn't receive a response for and have to follow up on?
Of course, it would be impossible which could create some awkward situations that could be detrimental to your business. In addition to that, having to remember when is a good time to follow up on each customer request can lead to quick agent burnout.
Having automation rules in place that take care of these administrative tasks will free up your agents' times and minds, enabling them to focus on more pressing tasks at hand. It will also ensure they're not stressed and can be productive for longer periods of time.
Improved customer satisfaction
Satisfied customers are the cornerstone of every business, as they affect recommendations, online reviews, word-of-mouth, and sales. As such, every business should strive to keep their customers happy with excellent service, fast response times, and a personalized approach.
Keeping your customers satisfied with time rules is easy, let the system follow up on each query, and your customers will feel valued and appreciated. It's that easy!

Happy customers are the best customers
We offer concierge migration services from most of the popular help desk solutions.
Automation rules save time and money
Can you imagine having to follow up on each unanswered ticket manually? Not only would this be an extremely time-consuming task, but it would also be very expensive.
Thankfully, help desk software like LiveAgent can execute countless time rules that will save your agents tons of time in the long run. Leave the logistics to us, so your agents can focus on what's important — nurturing customer relationships.
Knowledgebase resources
To learn more about time rules, check out our knowledge base resources:
LiveAgent Webinar 2: Email, Automation, SLA | Live Agent56:52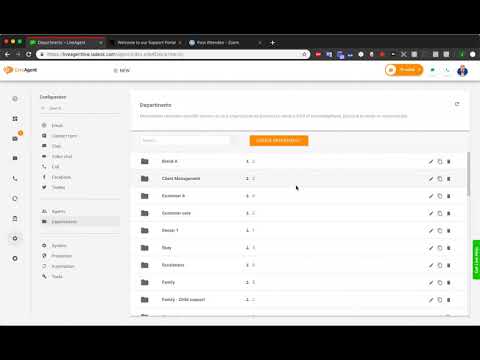 Live Agent
Ready to create your own time rules?
Save up to 15 hours of work each week with custom time rules. The possibilities are endless. Try them today. No credit card required. Start your free 30-day trial.
Want to optimize your customer support workflows and improve response times?
With LiveAgent's time rules, you can easily set up rules and criteria to automatically prioritize and escalate support tickets based on their age or urgency.