What is ticket priority?
Ticket priority is the level of urgency assigned to a customer support ticket. Each ticket is automatically assigned a priority level based on preset SLAs. The higher the priority, the faster the resolution times are required according to SLAs.
If you haven't set up SLA levels, LiveAgent gives priority automatically on a "first come first served" basis. Different priority levels show up in reports, and you can select them as filters when searching for tickets. Furthermore, ticket priority is a significant component of automation as triggers, rules, and automatic actions often include the ticket priority parameter.
When a customer submits a support request, they can typically choose a priority level, such as low, medium, or high. The priority level will depend on the severity of the issue and its impact on the customer's business. For example, a high-priority ticket can be a software malfunction that interrupts a company's manufacturing process. On the other hand, they can assign a low priority to some common problems customers face regularly and are not business-threatening.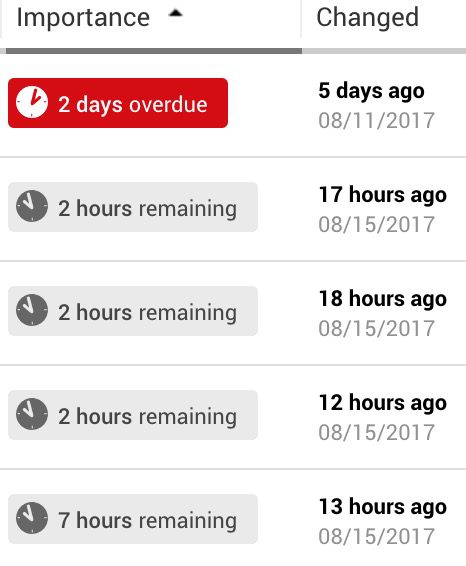 Once the customer submits their ticket, either a team of agents or predefined automation rules route it based on various factors, including its priority level. In some cases, the software may also use the priority level to determine the order in which tickets are addressed.
Ticket priority is a crucial aspect of every reliable ticketing software. Companies that are developing these types of software should also provide their customers with different ticketing tools and features to help customers manage their support tickets and prioritize them effectively. This may include automated workflows, SLAs, priority lists, and escalation paths to ensure that urgent issues are resolved quickly and efficiently.
By setting up ticket priority levels, you can avoid a high volume of customer support tickets coming in all at once. Sorting through and routing support tickets to either different departments or highly experienced agents based on their priorities also avoids interactions with exasperated customers.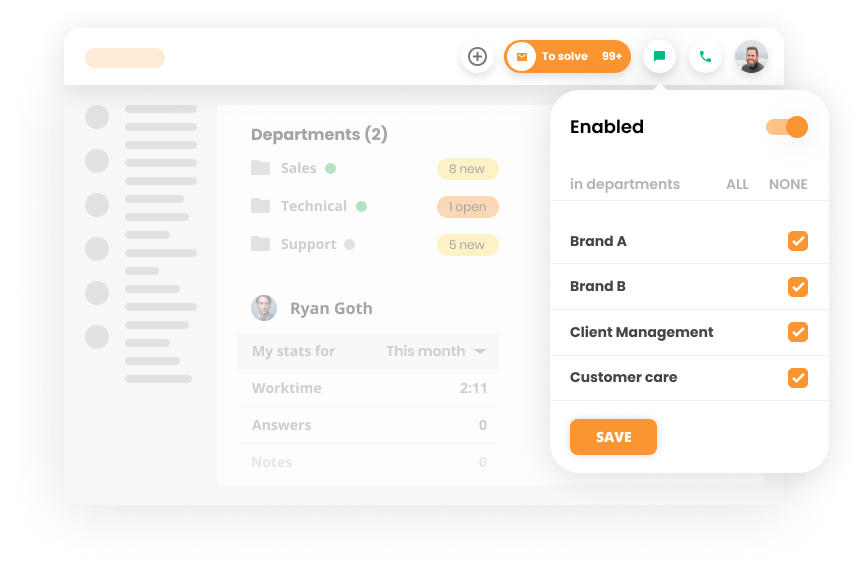 Why is ticket priority important?
Setting ticket priority levels helps the customer service team manage and prioritize issues and customer concerns effectively. When customers submit support requests, they expect a short average resolution time. By assigning a priority level to each ticket, customer service reps can ensure they meet all customer expectations while achieving company goals and standards.
Furthermore, using ticket priority levels helps effectively allocate resources. High-priority customer support issues may require more attention from senior or specialized support staff, while lower-priority tickets can be handled by junior staff members. On top of keeping the contact center running smoothly, newcomers can also learn in the field how to resolve some common issues and complaints.
In addition, prioritizing tickets helps to improve customer satisfaction rates. When you resolve clients' critical issues quickly and efficiently, they are likely to recommend your services in their social and business circles. This can lead to increased customer loyalty and positive word-of-mouth recommendations, and you can even acquire new business customers.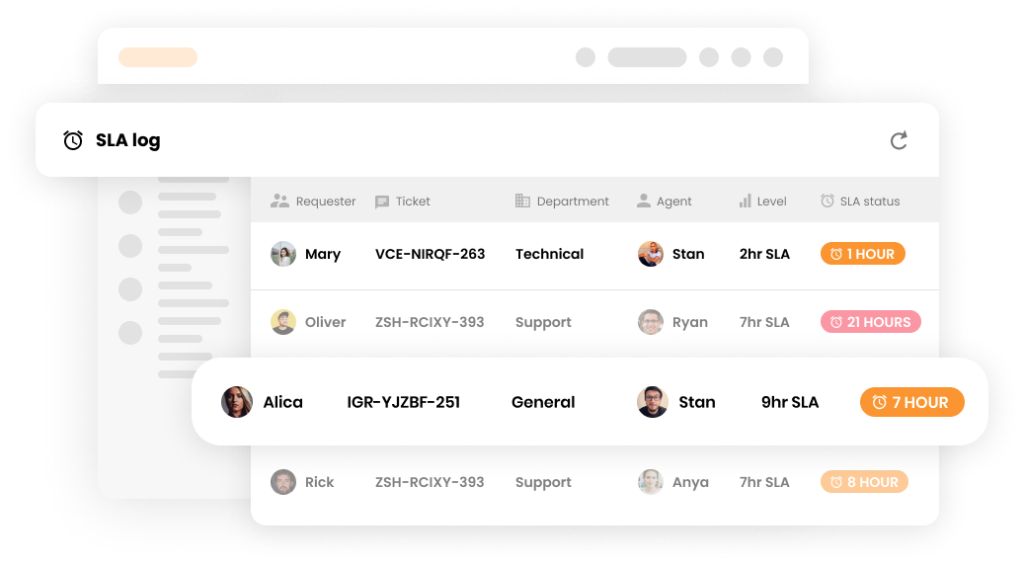 Overall, ticket priority is a critical component in delivering exceptional customer service. By using priority levels companies can improve their response times, allocate resources more effectively, avoid unhappy customers, and ultimately enhance customer satisfaction and loyalty.
If you're looking for robust customer help desk software that uses ticket priority levels to deliver excellent omnichannel customer support, LiveAgent is a solution worth considering. Besides setting priorities for incoming customer queries, you can also utilize internal helpdesk ticket priority levels to ensure that all your employees work within a transparent and efficient environment.
Ticket Priority Levels
Although different systems let you choose from slightly varying priority levels, here are some of the most common support ticket priority levels:
High priority
This is used for critical issues that require immediate attention and resolution, such as a website outage or security breach. This option sometimes isn't available for free trial users or in cheaper subscription tiers. In LiveAgent, you can set up SLAs and configure ticket priority when using a free trial account.
Medium priority
Issues with this priority ticket level are important but not necessarily critical, such as a bug in the software that is affecting some users.
Low priority
This is used for minor issues or feature requests that can wait, such as a typo on a webpage or a request for a feature improvement.
Some customer support ticket systems allow clients to set custom ticket priority levels, which can be useful for specific types of issues. For example, a customer may want to set a "refund request" priority status for issues related to returns and refunds.
In LiveAgent, you can add tags to tickets to indicate their priority. For example, tags like "Urgent" need to be handled promptly as they might threaten a business' smooth operation. Depending on your particular use case, you can create new tags that you can assign to tickets. This is a useful feature because it can perfectly align with your business requirements.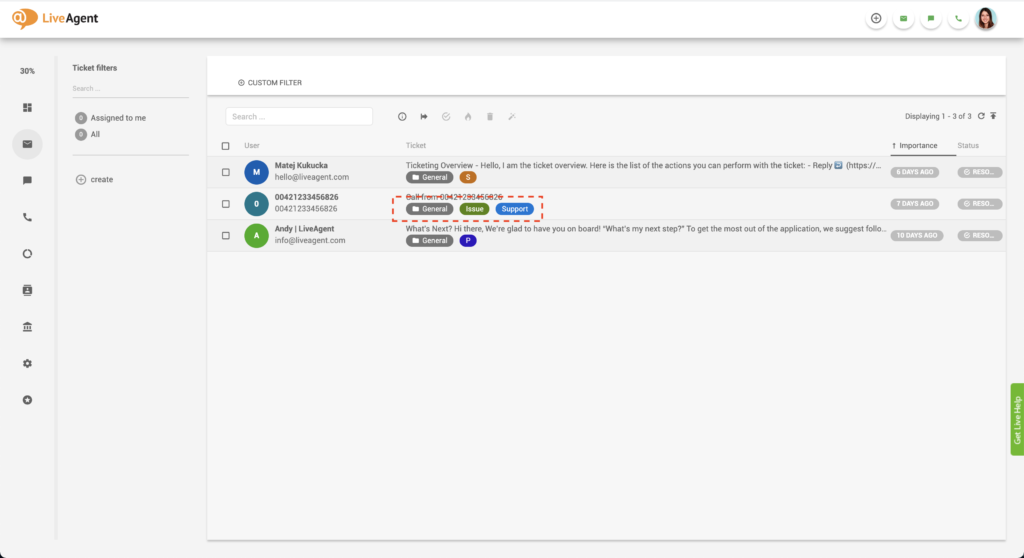 What is ticket priority used for?
Ticket priority levels help companies manage and prioritize incoming ticket volumes. Support teams include prioritization in their customer success strategy to:
Prioritize support requests
Customer service departments can use ticket priority to ensure that the most critical issues are addressed first and resolved as quickly as possible to avoid creating bad customer service experiences.
Allocate resources
High-priority issues require more attention from senior or specialized support staff, while junior staff members can handle low-priority issues. It allows the support team to allocate resources more efficiently and takes the pressure off agents to solve a whole load of customer queries at once.
Set service level agreements (SLAs)
SLAs define the expected response and ticket resolution times for support requests based on their priority level. High-priority issues usually have a shorter SLA, while resolving low-priority issues can take agents longer without being penalized.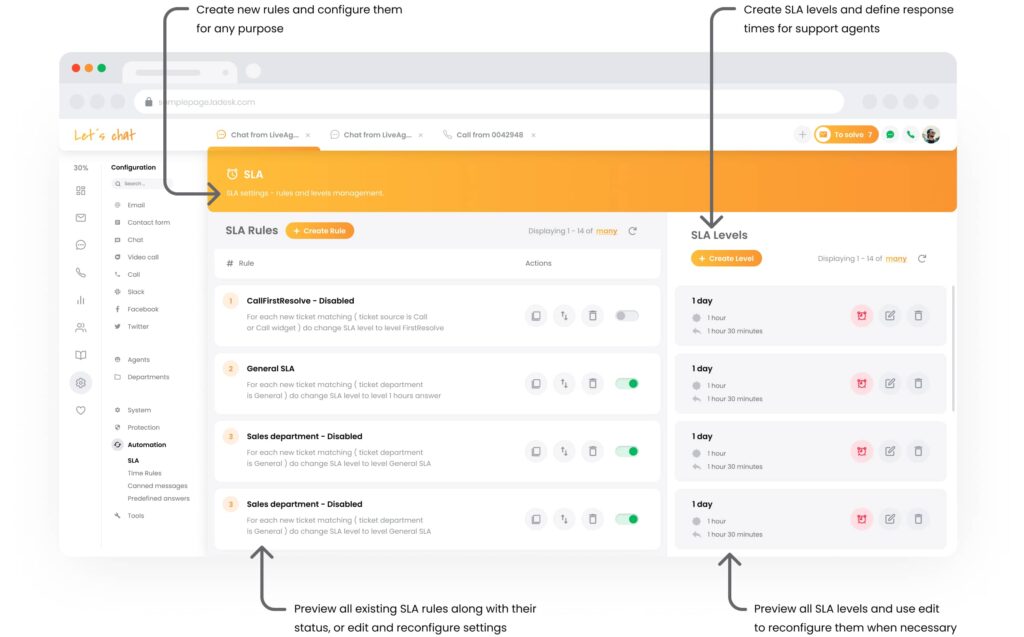 Escalate issues
If a primary responder can't resolve a high-priority issue within a certain time frame, it may be escalated to a senior staff member or a higher level of management. Escalation paths are usually defined in SLAs.
By using ticket priority levels effectively, companies that receive hundreds of customer support tickets daily can stay organized and efficient. On top of that, they can continuously provide outstanding customer service, leading to higher customer satisfaction and retention rates.
What are the advantages of using ticket priority?
Using ticket priority in customer support can provide several advantages, including:
Improved response times
When companies prioritize incoming tickets by their severity they can first address critical issues and resolve them as quickly as possible. This approach naturally leads to faster ticket response times and more efficient support for the entire user base.
Increased customer satisfaction
Customers appreciate businesses taking action quickly. When you continuously resolve high-priority issues on time, customer satisfaction and overall loyalty will rise. On top of that, customers who receive prompt and efficient support will likely continue doing business with you and even become brand ambassadors.
Efficient resource allocation
We have touched upon this point previously, but we can't stress enough how significant ticket priority levels are for businesses to allocate their resources properly. Routing issues based on their priority liberates senior experienced customer service reps to deal with demanding issues, while junior support agents can learn while resolving common issues and non-business-threatening tickets.
Let's look at an example of a particular use case some tech companies encounter – 24/7 on-call services. Ticket priority is crucial for deciding which incidents need to be resolved right away, and which ones can wait until the usual business hours. Low-priority tickets don't have to be resolved in the middle of the night. However, serious problems need to be addressed no matter the time of day.
Shorten your resolution times with LiveAgent
LiveAgent's ticketing system can help you with faster, efficient, and professional answers to any customer ticket. Get started with our free trial today.
Service level agreement (SLA) management
Service level agreements are a crucial part of delivering support in compliance with both customer demands and your business goals. Setting up SLAs based on ticket priority is the industry standard and arguably, the most reliable way of delivering outstanding customer service while not overworking your staff and staying within your financial means.
Effective issue escalation
Having clearly defined escalation paths is not only a sign of a well-organized business but also ensures that your staff always knows where to turn if they can't resolve a ticket themselves.
Conclusion
Ticket priority is a critical component of customer support for SaaS companies. By allowing customers to categorize their support requests based on the urgency level, customer service departments can prioritize and manage tickets effectively, allocate resources more efficiently, and create tailored SLAs in their help desk software.
By using a help desk ticketing tool with ticket priority features, businesses can reap the benefits that contribute to a customer-centric approach. This not only enables faster response times and ensures that critical issues are addressed promptly but also leads to improved customer satisfaction and higher customer retention rates as their urgent needs are prioritized and resolved in a timely manner.
Frequently asked questions
What is a ticket priority?

Ticket priority indicates the order in which tickets should be processed. High-priority tickets require faster resolution, while low-priority ones can wait a little. The scales can vary based on the customer service software you use, but the most common ticket priorities are Urgent, High, Medium, and Low, or on a scale of 1-5, with 1 being the most severe and 5 the least.

What is the ticket priority used for?

Ticket priority is usually the most crucial component when developing Service Level Agreements with your business customers. It also plays a role in designing an escalation process in case the SLA is breached.

What are the advantages of using a ticket priority?

It makes the ticket-handling process more transparent and keeps the whole customer service team on the same page when it comes to escalation. Besides that, using ticket priority can improve response times, increase customer satisfaction and retention, and help better allocate resources.

How does ticket priority impact customer satisfaction?

Customers appreciate quick and efficient service. Therefore, when you set a process for resolving customer issues based on priority, you can quickly address pressing problems and fix customer issues. When you continuously provide high-quality service, your customers will notice. A bad customer experience can deter clients from coming back and doing business with you.

How does ticket priority impact service level agreements (SLAs)?

SLAs are usually based on ticket prioritization. Businesses formally promise customers to solve tickets with a certain priority level in a given period. Otherwise, they will be penalized. SLAs help to keep up with customer expectations as well as reach business goals.
Expert note
<p>Ticket priority is crucial in delivering excellent customer service. It ensures that critical issues are addressed promptly and efficiently, leading to higher customer satisfaction.</p>

Andrej Saxon
Sales manager