Do you want to take your customer support to the next level? There is a simple solution – live chat. This powerful tool allows businesses to connect with their customers in real time, providing instant support and building stronger customer relationships.
But it's not just about installing a live chat widget on your website and calling it a day. In this blog, we're diving into the world of live chat and uncover 15 best practices that will help you provide exceptional customer service. Whether you're a seasoned pro or new to the game, these tips and tricks will help you deliver exceptional customer service. So, let's transform your customer service game from average to extraordinary!
Why do you need to follow live chat best practices?
Running a successful business is like riding a bike. You need balance, agility, and the ability to adapt to many unexpected bumps in the road. And live chat has become the training wheels that keep your customer interactions steady. But in order to excel, you need to implement the best practices that will take your customer service to new heights.
Boost customer satisfaction: You can significantly boost customer satisfaction by providing quick and convenient support through live chat. By offering real-time assistance, quick issue resolution, and personalized interactions, live chat creates a positive customer experience. Based on our research, due to its speed, convenience, and high-resolution rates, live chat users report an 81.2% satisfaction rate. In addition, most customers rate their live chat experience a 9 out of 10.
Reduce response time: By following several key strategies, you can respond to customer queries with lightning speed. Our research shows that live chat is relatively faster than other communication channels. The response time for live chat is usually just a few seconds if there are available agents. In comparison, social media and email are generally slower, with customers receiving replies within 3 hours and sometimes even after 24 hours.
Increase sales and conversions: Live chat is not only about solving problems. Customers who engage through live chat are more likely to make a purchase and convert. Proactive engagement with customers, recommending relevant products or services, and providing personalized experiences will allow you to see your sales skyrocket.
15 live chat best practices for great customer service and employee satisfaction
Without further ado, let's dive into the 15 live chat best practices that will make your customers feel like VIPs and your employees feel like customer service champions. The following live chat tips and tricks will help you create exceptional customer experiences and a more motivated team. So, let's get started improving your customer support, one chat at a time!
1. Train your agents to adopt live chat etiquette
Training your agents in the art of live chat etiquette is key to providing exceptional customer service. Make sure that every interaction feels human and leaves a positive impression, even in the digital realm. To make the whole training process easier and clearer, you can follow our customer service agents training checklist, or you can create your own.
Just imagine this scenario: you walk into a shop and you are instantly greeted by a friendly and knowledgeable salesperson who makes you feel valued. It's the type of experience that leaves a lasting impression on you. And the same applies to live chat interactions. When your agents are well-trained, they understand the importance of being friendly, empathetic, and professional while they talk to the customers. They also understand the power that active listening, prompt responding, tone of voice, and using clear language can have on the customer experience.
2. Provide swift responses and don't leave customers hanging
In the world of live chat, time is of the essence. Customers expect real-time responses and don't want to feel like they're left hanging. Imagine you're chatting with an agent about a certain issue. You briefly explain your problem and send the message, anxiously waiting for a response. Minutes go by, then hours. Finally, the customer support agent replies with a generic apology and asks for more detailed information. Frustrating, right? This delay not only causes customer frustration but also leaves a negative impression on them.
However, when your agents respond promptly, it shows customers that their time and concerns are valued. They can see that their issues are being addressed and that help is on the way. This level of responsiveness builds trust and enhances their overall experience.
3. Implement SLA and keep your promises
By implementing Service Level Agreements (SLAs) and keeping your promises, you not only build trust with your customers but also ensure that their needs are met in a timely manner.
Imagine you're trying to resolve an urgent issue with a product you purchased. You reach out to customer support through live chat, hoping to receive a quick response and resolution. The assigned agent acknowledges your problem but fails to provide a timeframe for resolution or follow-up. As a result, you're left uncertain about when and if your issue will be resolved. But, if your agents are trained to implement and follow SLAs, it demonstrates reliability and professionalism.
Just take a look at how easy it is to set SLA rules in LiveAgent: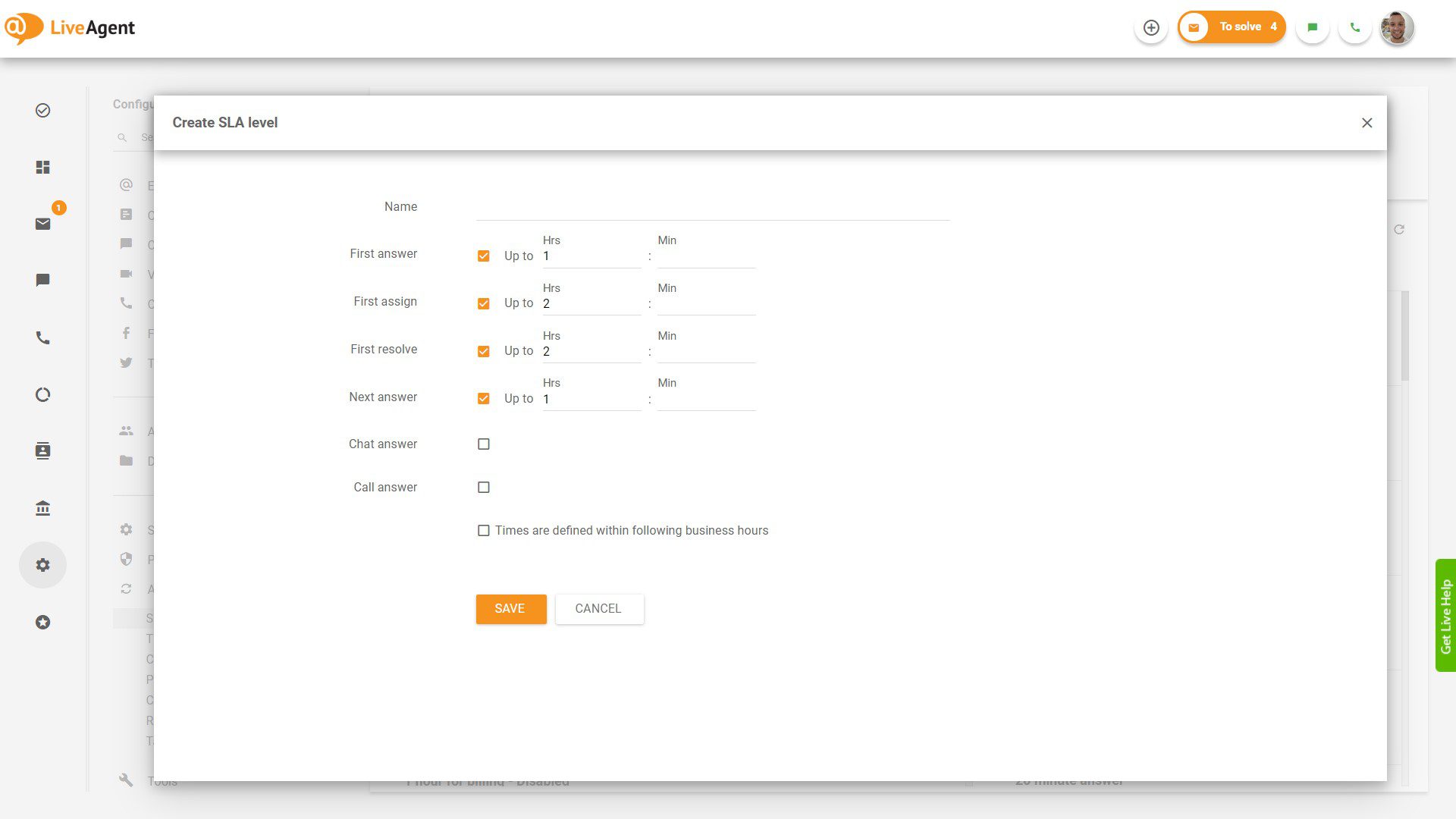 4. Use co-browsing sessions
Some issues are just a bit too tricky to explain only with words. That's where co-browsing sessions come to the rescue to simplify issue resolution and provide visual real-time support.
Just imagine that you're struggling to navigate a website and can't find the information you are looking for. You decide to hop on a live chat and the assigned agent offers you to initiate a co-browsing session. The agent is able to share their screen which allows them to guide you through the website step-by-step, and in real-time. It's like having a personal guide, making the whole experience seamless and efficient.
5. Optimize chat window placement
Optimize the placement of the chat window and make it accessible and visible, allowing customers to reach out for assistance effortlessly. Above all, customers want convenience and ease of access.
For example, a customer is browsing a website and comes up with a question about a certain product. Suddenly, they notice the chat window conveniently placed on the bottom right corner of the screen, not obstructing their view, waiting to be used. They click on it, initiate a chat, and receive quick and helpful responses to their query. The seamless experience leaves them impressed and satisfied with the company's customer service.
6. Choose chat support locations wisely
Choosing the right locations for chat support is crucial. You want to ensure that it's accessible, convenient, and strategically placed. By selecting the right locations, you can maximize your team's efficiency and deliver exceptional customer service.
To give you an idea, imagine a customer who is browsing a website and seeking assistance through live chat. However, they can't find the chat button. They dig through the website and after some time, find out that the chat support is only available on the contact page. This can be quite frustrating for the customer because it's causing unnecessary hassle which leaves a negative impression.
When you are deciding where to place chat support, consider the customer journey and the areas of the website where assistance may be needed the most. For example, placing it in high-traffic pages such as the homepage, product pages, or the shopping cart can provide immediate access to help when customers need it most.
LiveAgent places a chat button on the pricing page to provide support during the purchasing process or answer any questions that the potential customer may have about the pricing plans without the need to leave the page. This can contribute to an improved user experience and increase conversions.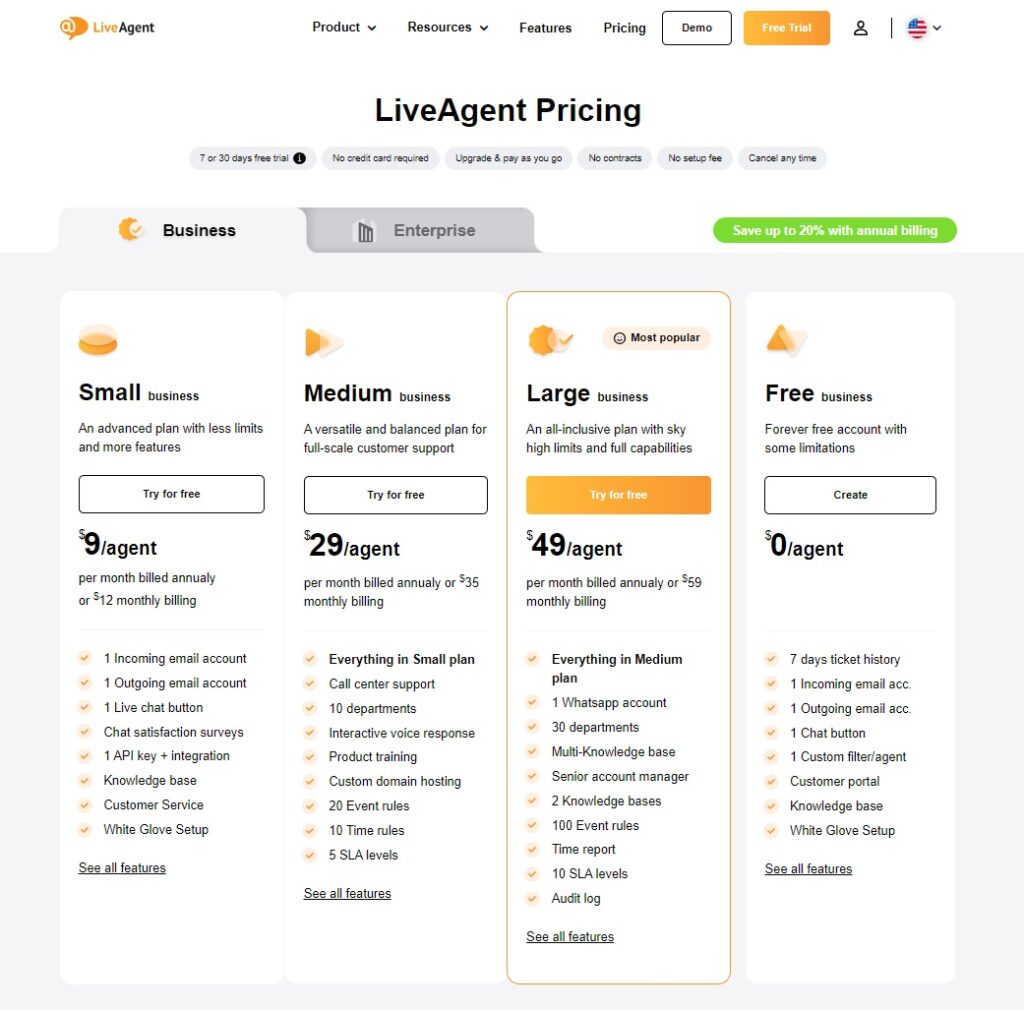 7. Speed up replies with canned responses and FAQs
Every day, customers are reaching out through live chat with a multitude of common questions. Imagine that instead of typing out the same response from scratch, you could simply select a pre-written response that addresses the question. But wait! All this is possible by implementing canned chat responses and FAQs.
By taking advantage of canned messages and FAQs, your agents will be able to respond promptly and ensure consistency in their replies. This not only saves time but also allows agents to handle a higher volume of inquiries effectively without sacrificing the quality.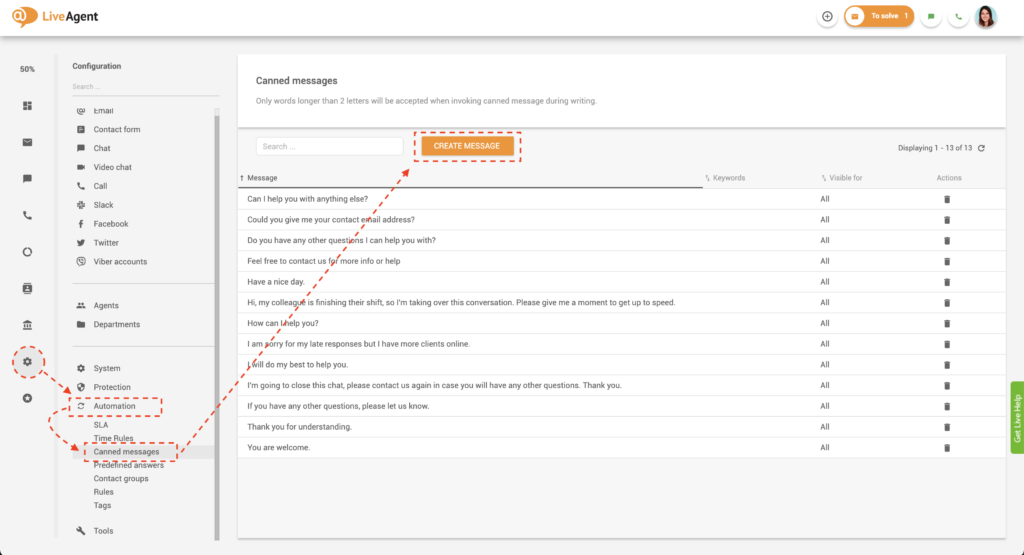 8. Deploy chatbots sensibly
Having a chatbot is like having a reliable sidekick who is there to assist agents with delivering exceptional customer service to all customers. Just like how Batman has Robin by his side, agents can rely on chatbots to handle high volumes of inquiries, provide instant responses, and free up their time so they can focus on more complex issues, while still delivering top-notch customer experiences.
For example, a customer is browsing through your website and decides to initiate a chat. However, all your agents are currently busy. So, instead of waiting for an available agent, they are greeted by a friendly chatbot. The chatbot swiftly engages in conversation, understands the customer's query, provides them with relevant information, and directs them to the appropriate resources. Thanks to the advanced chatbot features your customer received immediate assistance, and the workload for your agents was significantly reduced.
But remember, chatbots are not meant to entirely replace human agents. It's important to strike the right balance between automation and the human touch to enhance the customer experience and streamline support processes.
9. Be sure that you are mobile-friendly
With more and more customers using their phones to browse websites and seek assistance, it's important to ensure that your live chat is well-optimized for mobile use.
When there is a customer on the go, they are expecting to be able to still have access to live chat support through their smartphone. If the chat interface is not mobile-friendly, with tiny text and buttons that are hard to tap, frustration sets in. This can lead to customers abandoning the chat, causing a missed opportunity for engagement.
But what does it mean to be mobile-friendly? Simply put, it means designing your live chat interface to adapt seamlessly to different screen sizes and resolutions. For example, the chat window should be easily readable, and buttons and options should be easily clickable. By doing this, you can open the doors to a whole new level of accessibility and convenience. Allowing customers to connect with your support team anytime and from anywhere.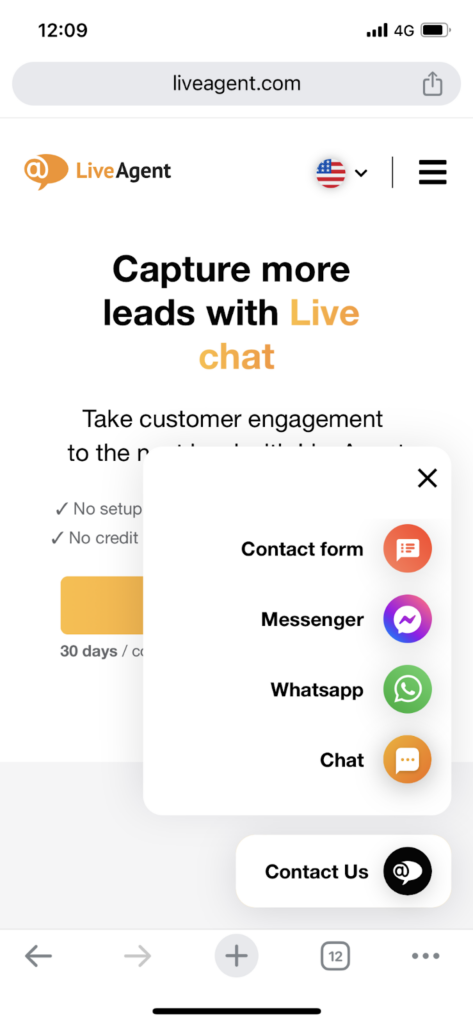 10. Consider using a ticketing system with your live chat software
Using a ticketing system alongside your live chat software is a smart way to manage customer inquiries, keep track of conversations, and provide efficient follow-up.
Handling concurrent chat conversations is like juggling with too many balls in the air. You risk missing tasks which can lead to frustrated, dissatisfied, and unhappy customers. By introducing a ticketing system, customer support representatives can create a ticket for each chat conversation, assigning them a unique ID, which allows easy tracking and prioritization.
But how does a ticketing system work? It's actually quite simple. When a customer initiates a chat, a ticket is automatically generated, capturing important details such as the customer's information, inquiry type, and conversation history. This information can be shared across your support team, ensuring that all agents have a complete overview of the customer's journey. Agents can also add internal notes or set reminders within the ticket. This enables effective collaboration and ensures that no customer inquiry falls through the cracks.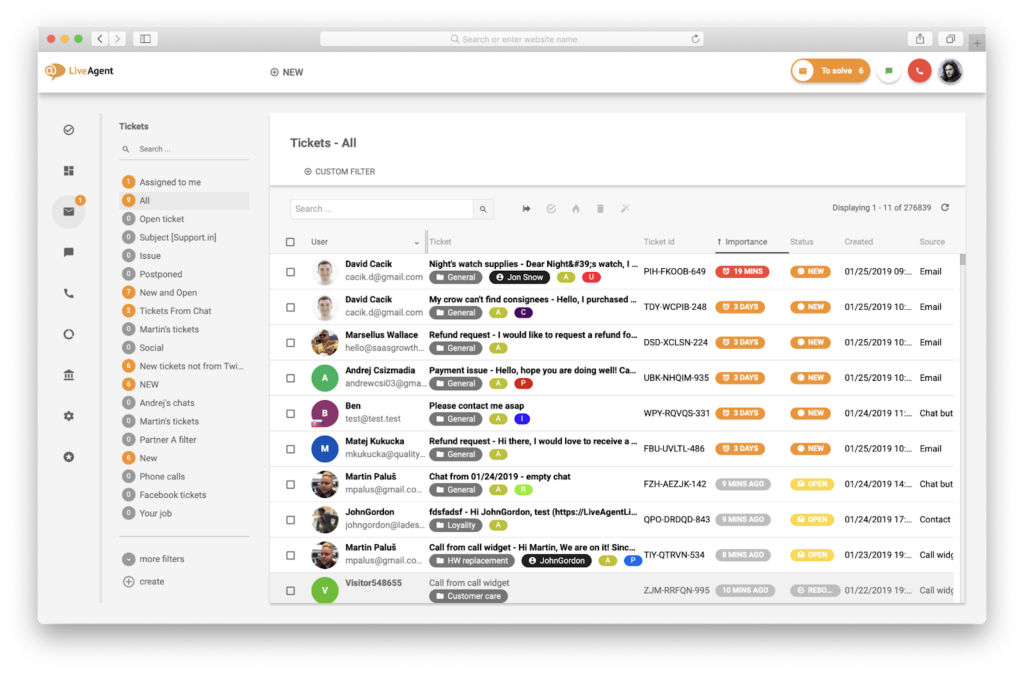 11. Elevate customer experience and sales CRM integration
Another thing that can elevate the customer experience is integrating your live chat with a CRM system. By doing so, you can provide more personalized assistance, identify potential customers, and ultimately boost your sales.
Picture this: a customer reaches out to you through a live chat conversation. While assisting them with their inquiry, the customer service agent notices an opportunity for upselling or cross-selling based on the customer's preferences and past purchases. This information is available to the agent thanks to the CRM integration. Armed with this knowledge, they can make tailored recommendations and turn the chat into a successful sales opportunity.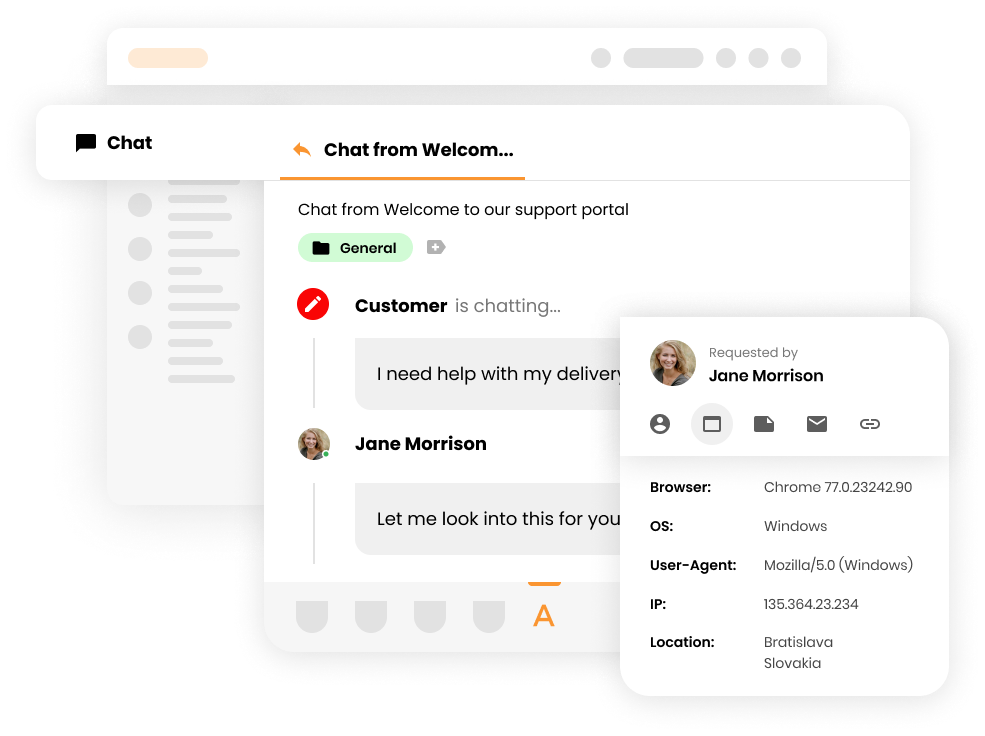 So why would you need a crystal ball to anticipate customer needs when you can simply integrate your CRM system with your live chat?
12. Gather insights with post-chat surveys
Gathering insights with post-chat surveys can help you uncover valuable feedback, identify areas for improvement, and build stronger connections with your customers. These surveys allow you to gather insights on various aspects. You can ask about the agent's helpfulness, response time, and overall satisfaction with the support received. You can also dive deeper into specific areas of concern or gather suggestions for enhancing your service.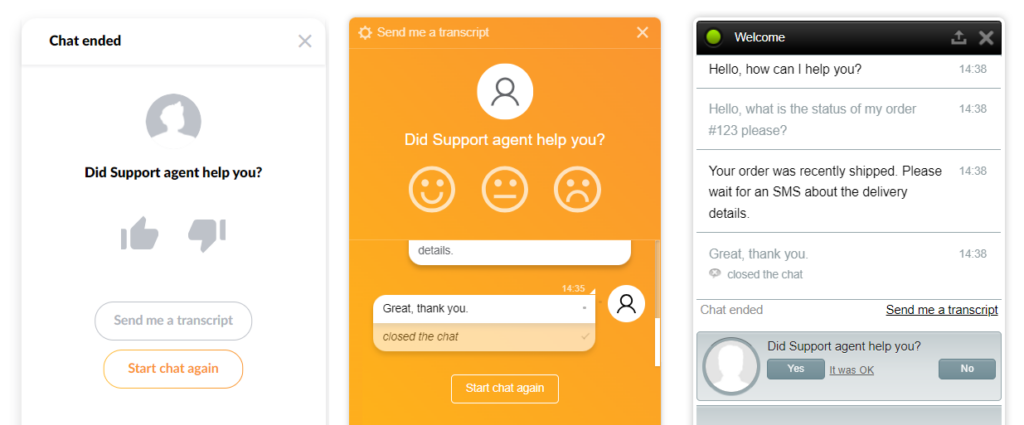 When designing your survey, keep it short and straightforward to ensure a high response rate. Use open-ended questions and rating scales for gathering qualitative as well as quantitative data. Remember, the more insights you gather, the more opportunities you have to improve your customer service and create a positive impact on your bottom line.
13. Encourage your agents to share their expertise
Each of your agents probably has a unique set of skills and expertise. Some may excel in technical troubleshooting, while others may have a knack for great product recommendations. Allowing them to shine in their areas of expertise, you can transform your live chat into a dynamic place of knowledge. It gives your agents the opportunity to showcase their skills and foster a sense of confidence in their work which can motivate them to engage more, ultimately leading to higher customer satisfaction.
To encourage knowledge sharing, you can implement initiatives such as regular training sessions to enhance their skills, or you can also create a collaborative environment where agents can seek advice and share insights with each other.
14. Measure SLAs with the right live chat metrics
Measuring SLAs help set clear expectations for your support team as well as your customers. Metrics like average response time and average resolution time give you insights into the efficiency of your live chat support. By keeping an eye on the right metrics, you can identify bottlenecks in your support process, evaluate team performance, and make data-driven decisions.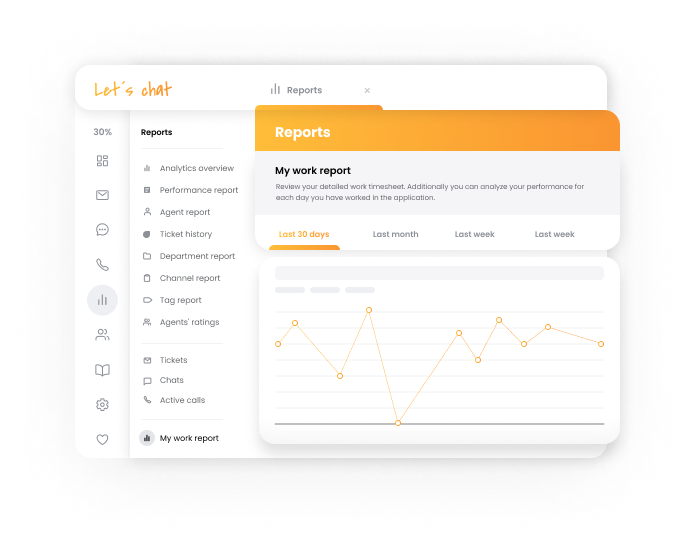 However, it's not just about meeting targets. SLAs are also important for building trust with your customers. When you manage to consistently meet or exceed SLA targets, it shows your customers that you are reliable and that you care about them.
15. Regularly review and update best practices
The world of customer service is constantly evolving, and customer expectations change. If you want to ensure that your live chat remains relevant and effective, you need to stay proactive and adaptable. It's like driving a car with outdated navigation. You might end up taking the wrong turns or missing out on new shortcuts. The same goes for live chat. If you stick to the same old practices without keeping up with industry trends and customer preferences, you might find yourself lost and lose your customers.
Take the time to update your best practices and stay in sync with the needs and expectations of your customers. You can do so by evaluating the effectiveness of your current practices, identifying areas for improvement, and incorporating new strategies that enhance the overall experience.
Conduct regular assessments of your live chat performance and look at key metrics such as average response time, customer satisfaction rates, resolution rates, or customer feedback. Based on your findings, make necessary updates and stay ahead of the game.
Live chat best practices in action: Business success stories
Bank of America
Thanks to live chat and their virtual assistant Erika, Bank of America was able to complete over 75 million requests and help over 5 million users in 2020. On average, the bank reports that Erika engages with customers around 400,000 times per day. Introducing live chat together with the virtual assistant had a huge impact on reducing the load on their human agents who were able to devote their time and focus on more complex issues.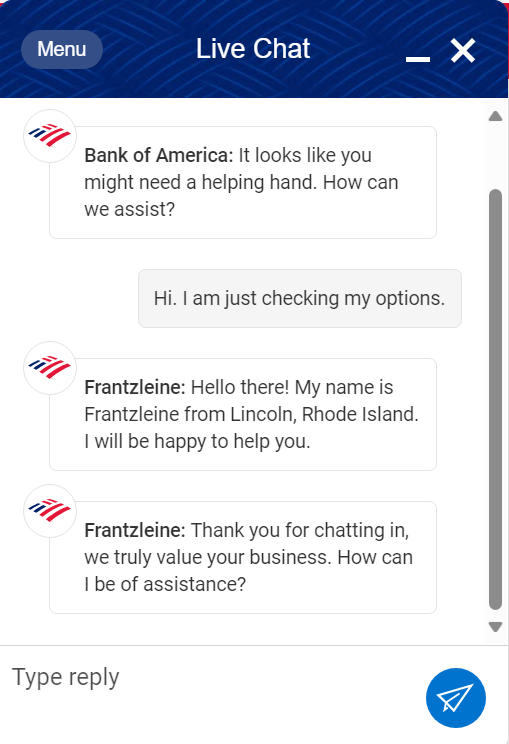 Estee Lauder
The competition in the cosmetics industry is increasing each year which means that beauty brands need to focus on delivering exceptional customer experience and focus on personalizing it based on the needs of each individual.
As strange as it sounds, it also includes live chat. Estee Lauder is a highly successful brand that figured out how to use the live chat tool to their advantage and offer valuable beauty advice to their customers.
They aim to help customers online find the best product based on their skin type, skin texture and other requirements, as well as gently nudge them towards buying the recommended products.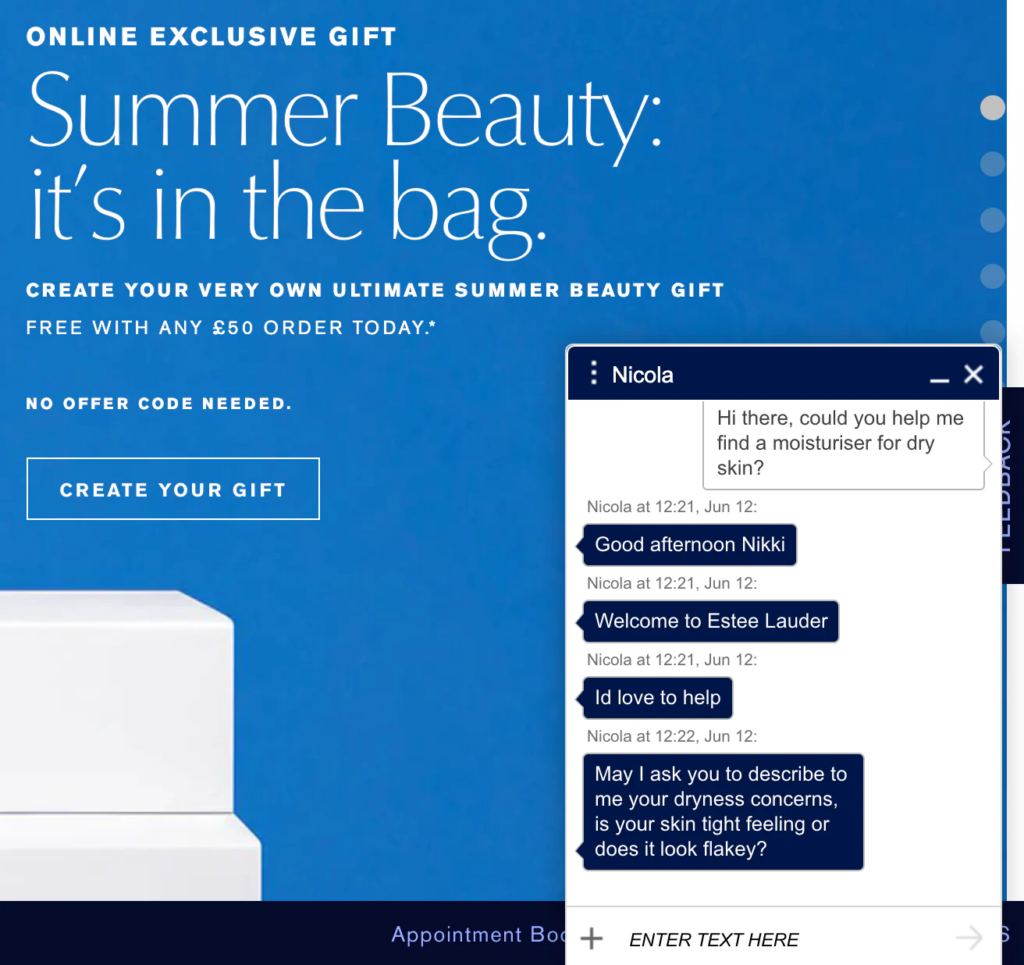 Škoda
These days, there are more and more people who are browsing and buying cars online. Therefore, Škoda's approach is to start interactions with customers early on in their decision-making journey. Therefore, they decided to introduce the Škoda Live Tour on their website. It appears on the website asking the customer if they would like to see the car live, book a test drive, or talk to a professional in a specific store. As a result, Whisbi reported a 95% positive customer satisfaction score. On top of that, Live Tour visits to test drive requests have been 38% and from a test drive, Škoda reported that 10% of the interested party proceeds with the purchase.

Škoda also introduced an AI-powered chatbot called IVA that provides advice and assistance for external as well as internal users. The advantages that it brings include 24/7 support and being able to serve multiple customers at the same time which enables the human support team to focus on more complex issues.
How to Implement live chat best practices easily with LiveAgent?
Implementing all the live chat customer service best practices can seem difficult. However, with the help of LiveAgent, it will be a piece of cake! LiveAgent's comprehensive live chat software offers a wide range of features designed to enhance your customer service with ease. Here are some key features and how to use them:
Chat button
The chat button is a great tool that enables clients to request a chat with customer support representatives in a few seconds. LiveAgent also offers you many customizable designs of buttons, or you can create your own as well.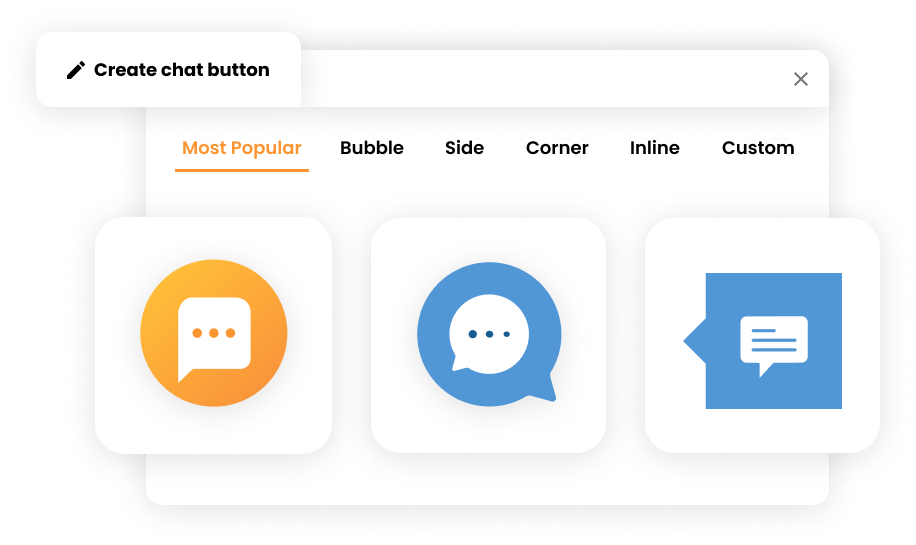 Do you have a business that operates in multiple countries? Don't worry! LiveAgents language function lets you choose from 43 languages that can be used for your chat widget.
Moreover, you can direct customer inquiries to the correct department by enabling pre-chat forms that are shown after the customer clicks on the live chat button. This pre-chat form can be also customized. But what happens when the customer service is not available? You can simply give customers an option to leave a message and the agents will be able to look into it as soon as they are back online.
Internal chat
The internal chat feature allows your employees to connect with each other without the need of any third-party application. You can send instant messages and add attachments if necessary. Also, if you need help with resolving a ticket, LiveAgent gives you the option to copy and paste the ticket's unique ID number that instantly creates a clickable link. After clicking on that link, it will redirect the other agent to the ticket and they will be able to see the whole chat history.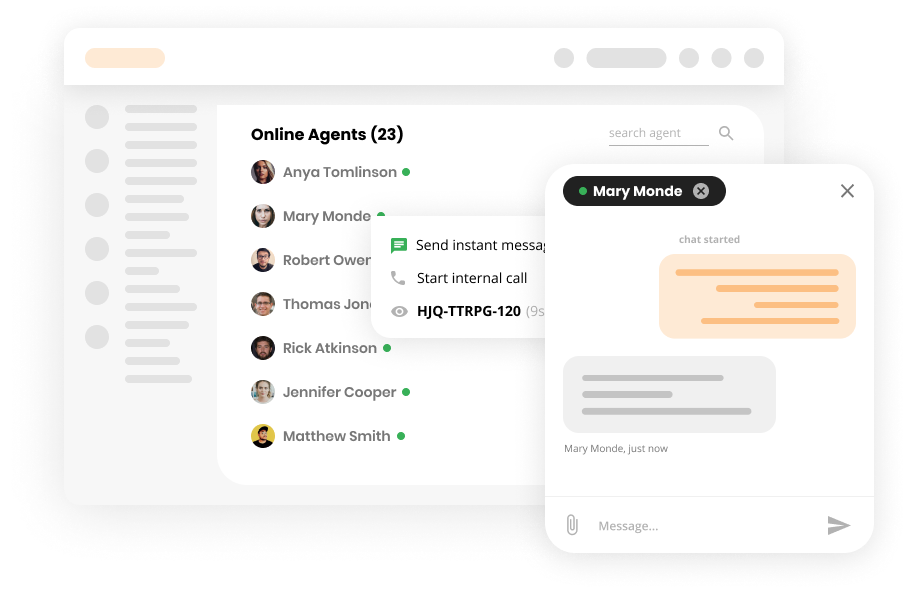 Real-time typing view
This feature allows your agents to see and preview the message the customer is typing at the moment before they hit "send". How cool is that? It gives your agents the time to analyze the issue and provide accurate answers faster. Who doesn't love quick and precise answers?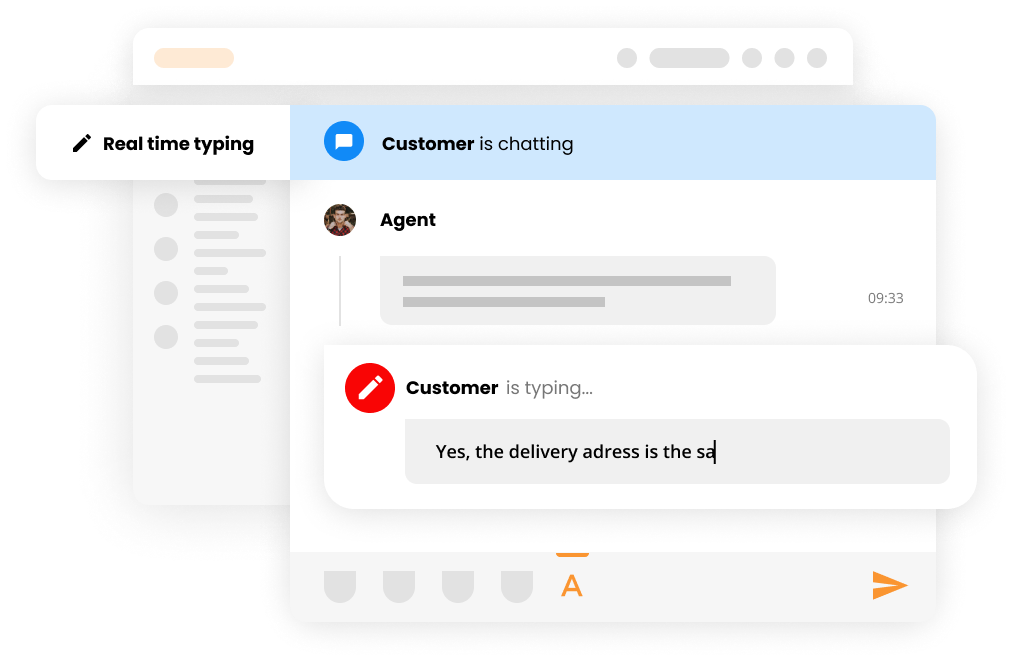 Ticketing system integration
LiveAgent allows you to seamlessly integrate the ticketing system with live chat. This means that each chat conversation automatically creates a ticket, allowing you to track and manage customer inquiries effectively.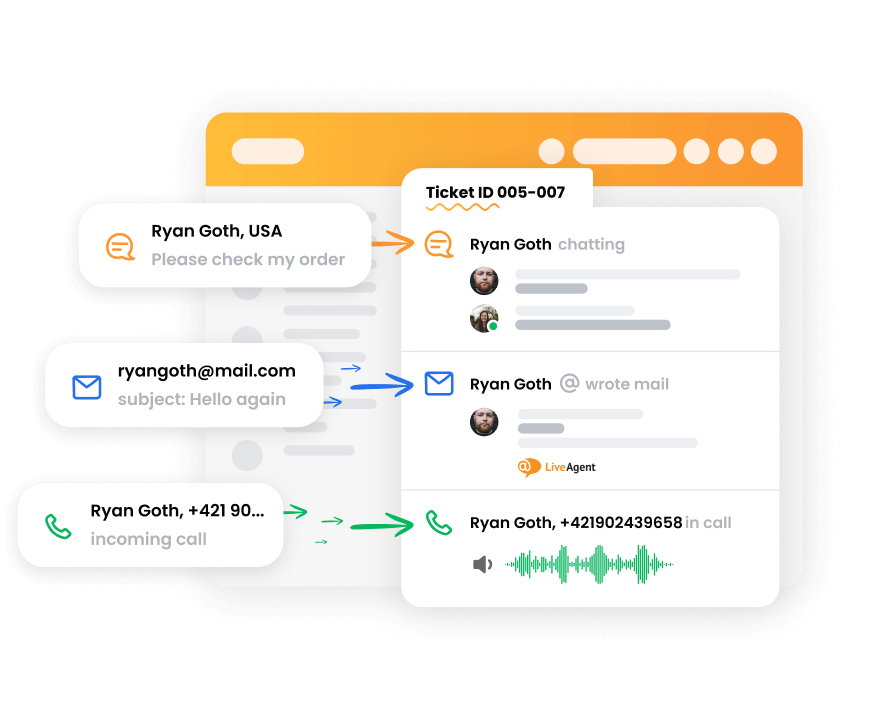 CRM integration
To access important customer information, purchase history and their preferences, you can take advantage of the CRM integration functionality. You can integrate it with your existing CRM system, or simply use the built-in CRM offered by LiveAgent that is directly in your universal inbox. All the important customer data (name, email address, phone number, etc.) is located in the customer ticket. Having this data allows you to personalize the conversation and create better customer experience.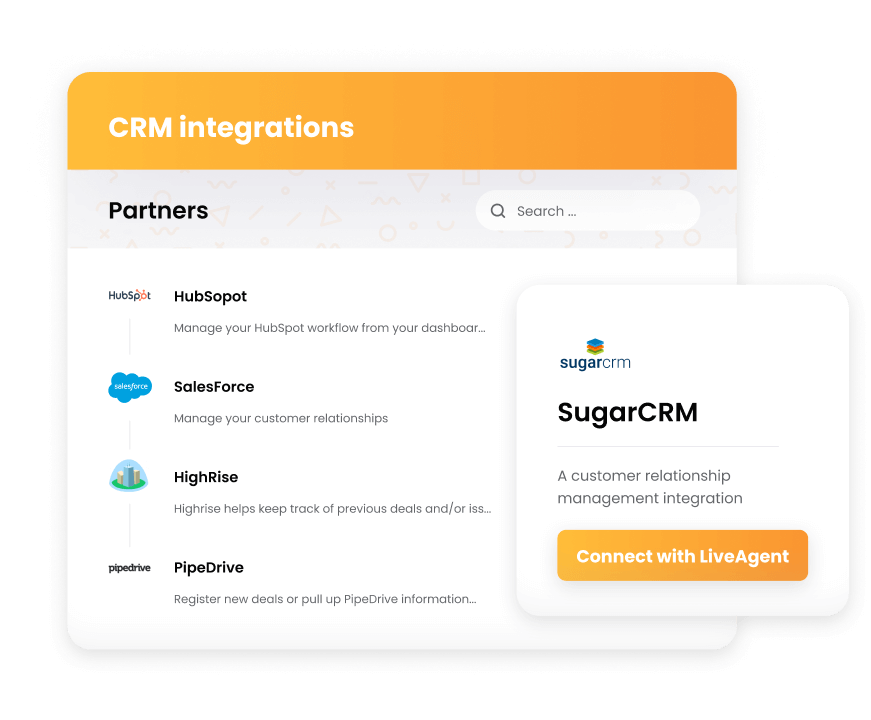 Proactive chat invitations
Being proactive is a great approach to improving customer engagement. Initiate the online chat conversation, offer assistance, and uncover potential sales opportunities. This proactive message is based on predefined triggers, such as time spent on the page, or it can be set for specific website pages. You can set a specific time in which the chat invitation appears. It's usually about 30 seconds to give your website visitor some time to browse your website.
Are you operating from various countries? Or do you have customers from all over the world? No problem! LiveAgent also allows you to customize the proactive chat button for each language. You can also create different invitations for different kinds of customers to give them a more personalized feel. For example, create one invitation button for new customers and another for returning customers. Greet them with a unique message and boost their experience.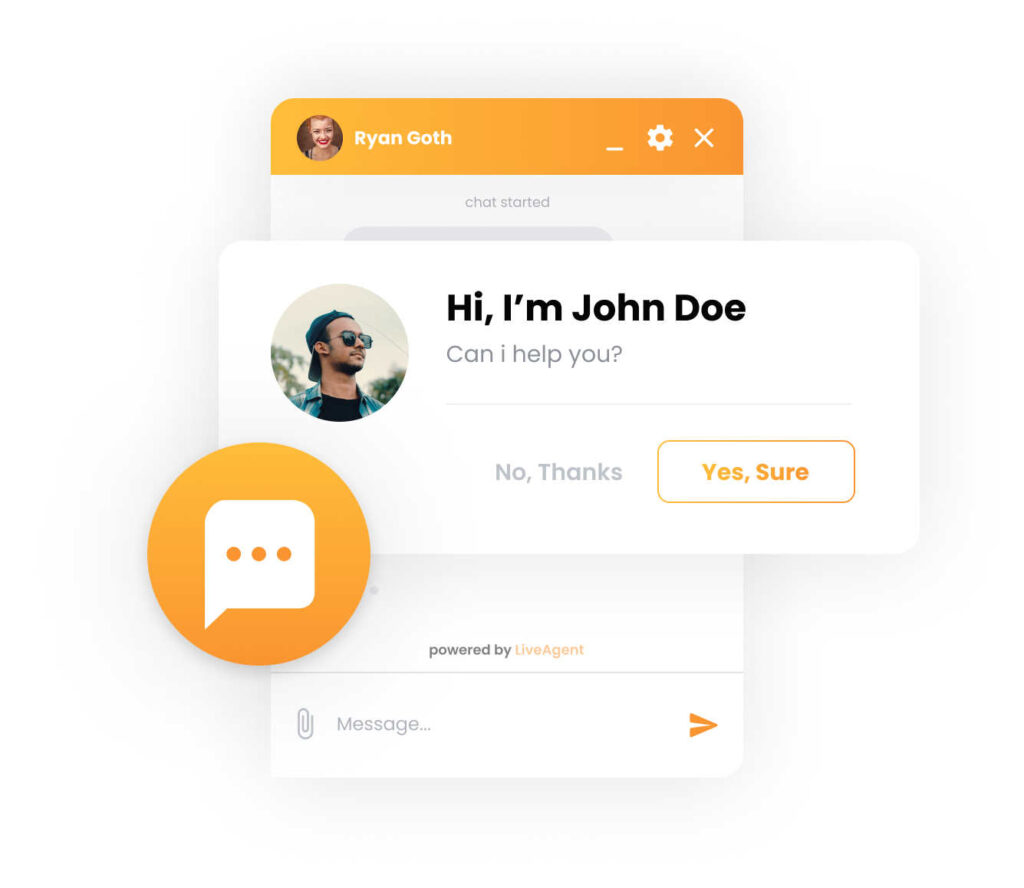 Website visitor tracking
This feature allows you to see what URL the customer comes from, or what page they are currently on while you chat with them. LiveAgent also lets you know when the customer switches to a different page during the conversation. It is a convenient feature to be able to provide your customers with the best possible information, or if you want to direct them to a specific page.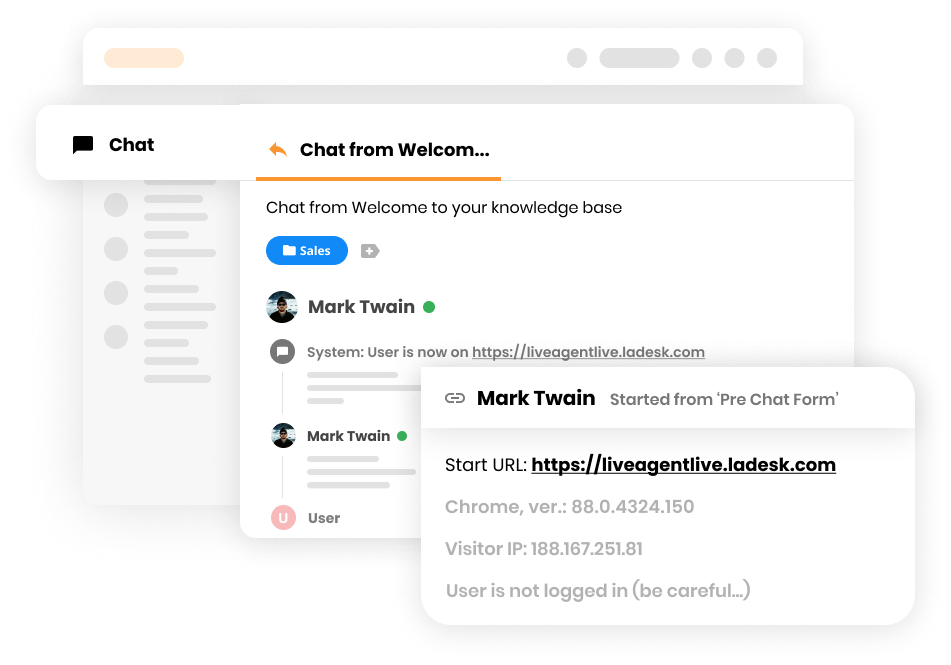 Reporting and analytics
LiveAgent offers comprehensive reporting and analytics features, allowing you to track key metrics such as chat volume, response time, customer satisfaction, and agent performance. These insights help you evaluate and improve your live chat implementation, and customer support, and increase sales. You can filter metrics by time, department, customer service agent, tag, or channel to identify the areas that need improvement and those that work well.
Some of the live chat metrics include
Created tickets
Resolved tickets
Chats
Missed chats
Average chat duration
Chat pick-up average time and more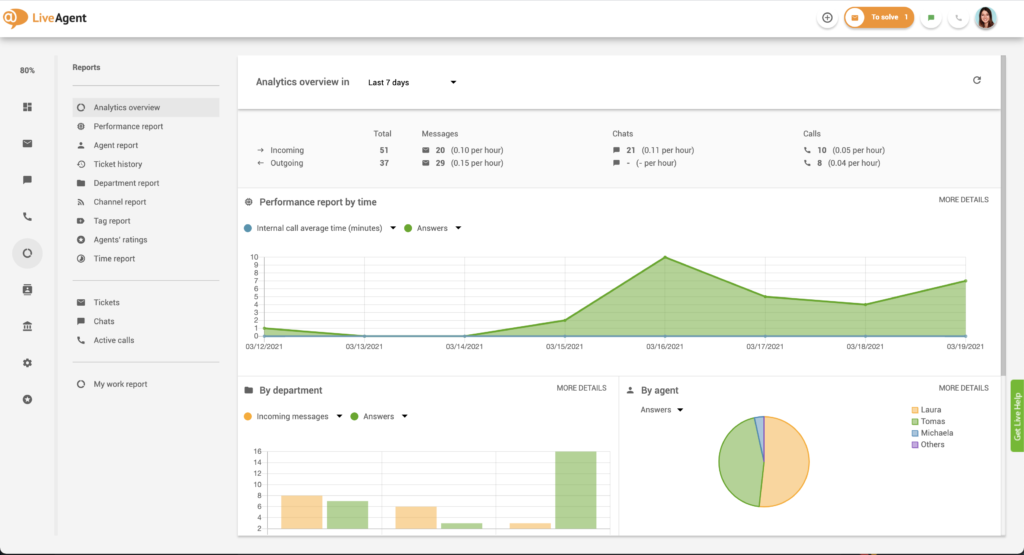 But there is much more to explore! LiveAgent offers many other features and functionalities that can help you boost your customer service and make your customers happy. If you want to give it a try before committing, you can take advantage of LiveAgent's 30-day free trial and see for yourself how easy it is to transform your support efforts.
Conclusion
To sum it up, implementing live chat best practices is crucial for delivering amazing customer service. With the right solution, such as LiveAgent, it can be incredibly easy to integrate live chat into your website and provide a seamless and efficient support channel for your customers.
However, technology alone is not enough. Training your customer support team in effective communication is equally important. By equipping them with the necessary skills you ensure that every live chat interaction leaves a positive and lasting impression.
So, remember that when it comes to live chat, combining the right tools with well-trained agents is the winning formula for customer satisfaction and the success of your business.
Unlock the power of live chat
Provide extraordinary customer service with LiveAgent's live chat software. Start your free trial now and see why it's the ultimate sidekick for customer support excellence!