Every day a huge number of businesses, both large and small, in nearly any industry rely on help desk software to track and solve customer issues. The way the help desk is implemented and managed ultimately determines whether an organization is able to;
Implementing IT help desk software can streamline the support process, making it more efficient for both agents and customers. Below are IT help desk best practices that will improve your performance and the overall quality of your customer support/service.
15 Help desk software best practices
1. Use the right help desk software
The first step is to select the right help desk software based on your required parameters. This is to ensure the tool will bring value to your business. A reliable IT help desk ticket system should be one of the features to look for when choosing the right software.
Some critical factors to consider;
Help desk type
The feature set and available customizations
Automation options
Security
Ease of implementation and use
Channel integrations
Self-service capabilities
Affordable pricing that fits your budget
Software scalability
Responsive customer support 
2. Enable a single point of contact
Consumers feel frustrated when having to repeat themselves several times to different agents about the same issue. Make sure your help desk is the single point of contact (SPOC). It helps to reduce the confusion among end-users, brings consistency to the support process, and provides quicker response times.
3. Automate help desk processes
With a powerful help desk system, you can automate a number of processes and workflows. The key is automating as many low-value tasks as possible. Thus, enabling support agents to focus on more important issues. For example, Automated ticket distribution ensures that tickets are routed to the right agents. This results in faster resolution and increased customer satisfaction.
4. Incorporate Service Level Agreements (SLAs) 
Service Level Agreements (SLAs) are essential for managing your help desk tool performance. It ensures customer requests are handled in a timely manner. Resolving tickets with SLAs allows you to set specific performance targets for your support agents. How? For instance, by defining response time, thus helping your team stay accountable. 
5. Create dedicated help desk groups
Dedicated help desk groups are segmented teams of support agents that specialize in a specific product or service. They are the reps who are best equipped and skilled to resolve support cases around products/services quickly and efficiently. Leveraging them ensures customers receive quick and competent support each and every time.
6. Implement a multi-tier architecture
Dividing customer support into multiple tiers (levels) is among the most efficient help desk best practices for IT support departments. The structure could include 3 tiers of support. Tier 1 dealing with common issues, while higher level (more complex) issues are escalated to Tier 2, and possibly to Tier 3 support agents, if necessary. 
7. Make use of canned responses
Canned responses, or macros, are predetermined answers to common questions that allow support agents to respond quickly to customer issues. Creating an extensive catalog of canned messages can increase the agents' efficiency. Therefore, enabling them to speed up their responses, while also saving them the hassle of drafting the same responses over and over again.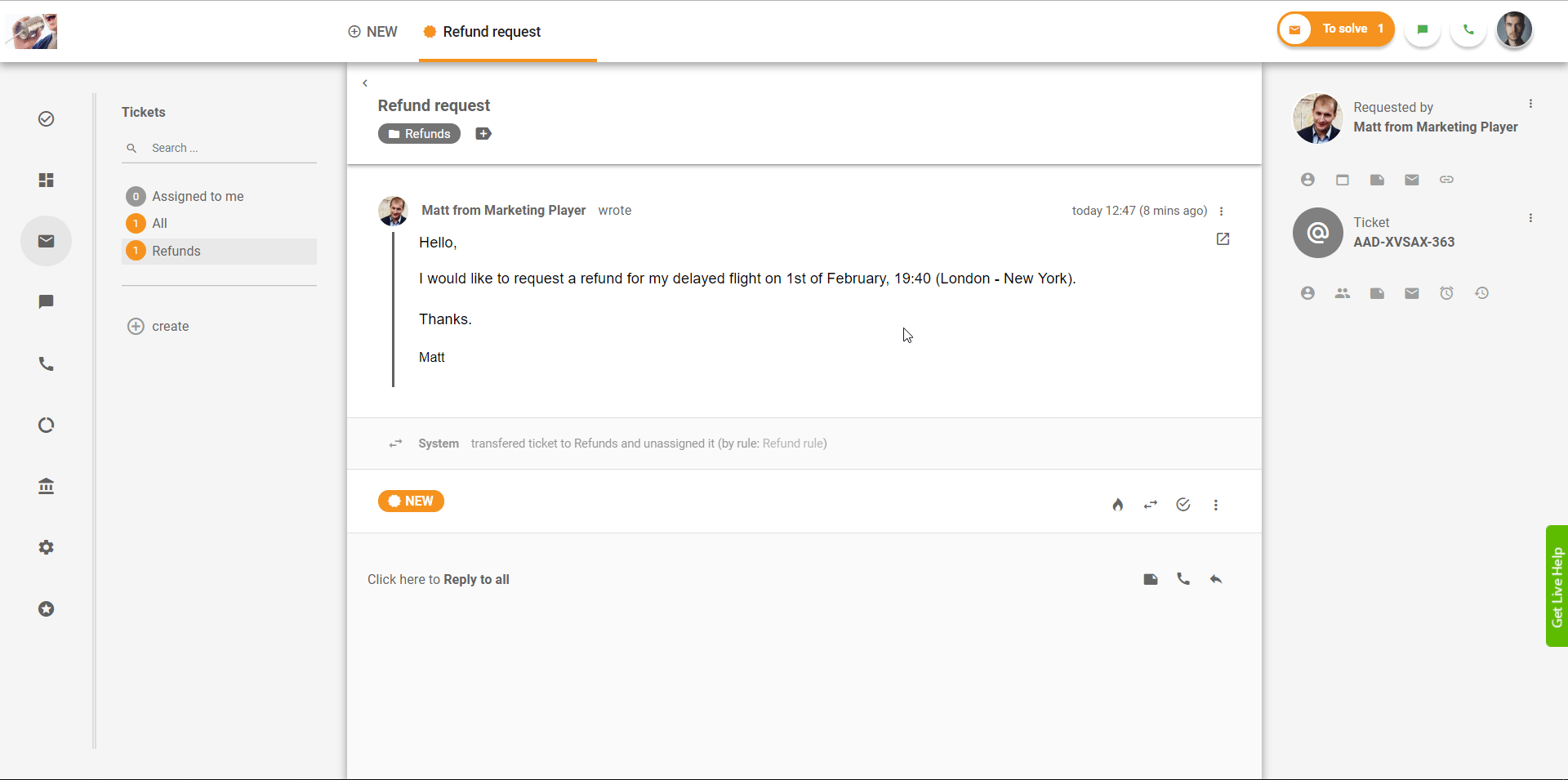 8. Ensure enough employee capacity
If you run an international business, ensure your help desk has enough capacity to support your global customers. It means having enough help desk agents to effectively support ticket volumes without being overloaded, as well as the ability to timely respond to customers in different time zones around the world or during off-hours and holidays. 
9. Offer a customer self-service portal
Microsoft's survey found that 90% of global consumers expect brands to offer an online portal for self-service. Enabling a customer self-service portal, a feature that is offered by the majority of help desk systems, allows end-users to submit their own tickets. In fact, this empowers them to resolve issues on their own. In addition, helping to reduce agent workload letting them focus on more critical tasks.
10. Build an extensive knowledge base and FAQs
The Gladly's survey revealed that more than half of consumers who used FAQs (51%) rated their experience at the lowest end on the scale because the answers were;
Too generic
Lacked detail
Poorly organized
When creating knowledge base articles and FAQs, make sure to provide accurate, complete, and comprehensive information that is well-structured and organized in a logical manner.
11. Leverage help desk analytics
Make sure you track your performance across the key help desk metrics. The best help desk software you can use is the one that allows you to study your performance, so you can improve.
Worthy help desk metrics to track;
Ticket resolution rates
Time to solve tickets
Average pick up/Ticket response time
First contact resolution rates 
Detailed reports will give you a comprehensive view of your help desk metrics (KPIs) enabling you to identify weak points in your processes. Therefore, being able to measure the efforts of your help desk team to make improvements where needed.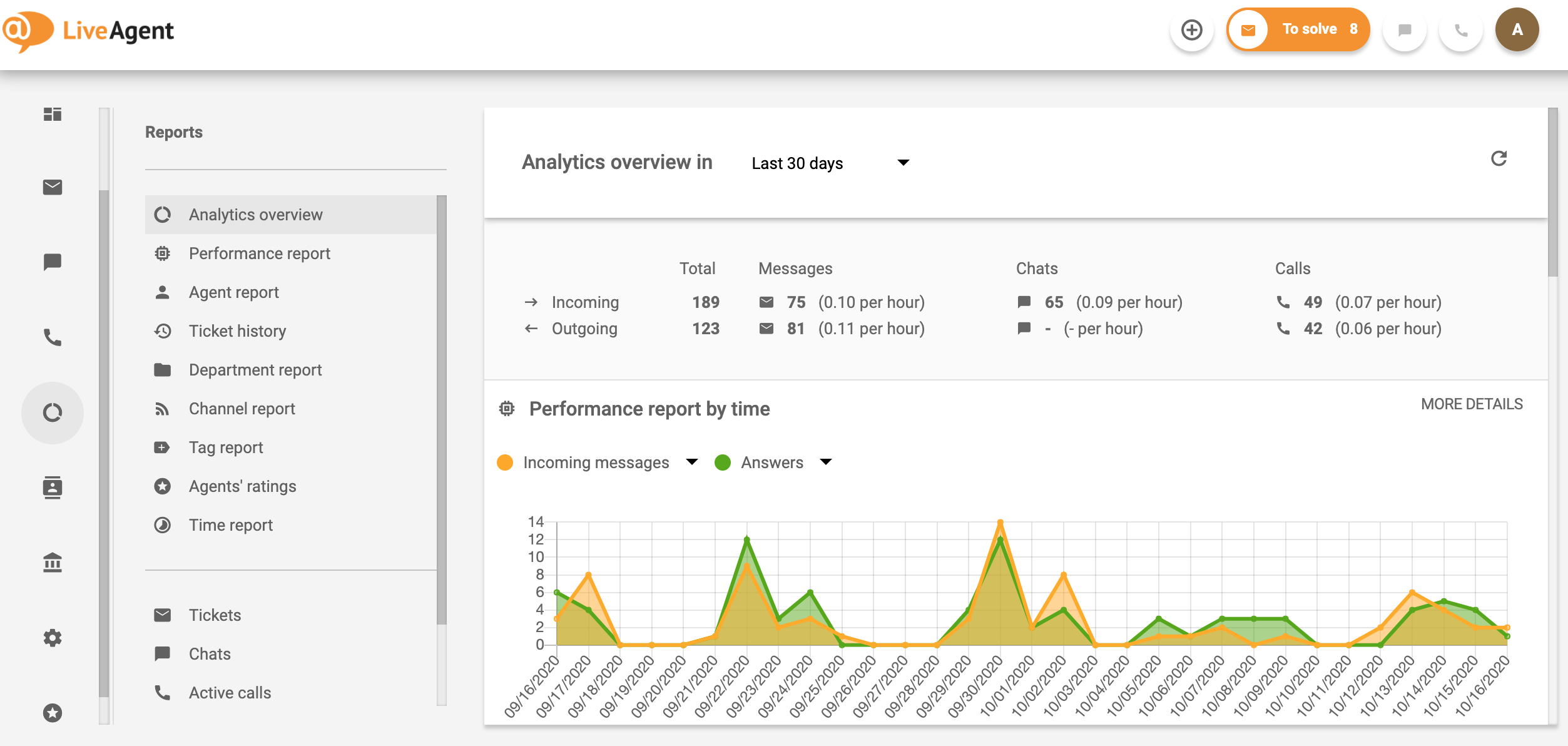 12. Set up third-party integrations
If you are using a help desk software solution that supports integration with third-party plugins and applications, you can expand the capabilities of your help desk tool and scale it up into a bigger and more advanced system. To maximize the value of your help desk, the best practice is to set up available integrations offered by your help desk vendor.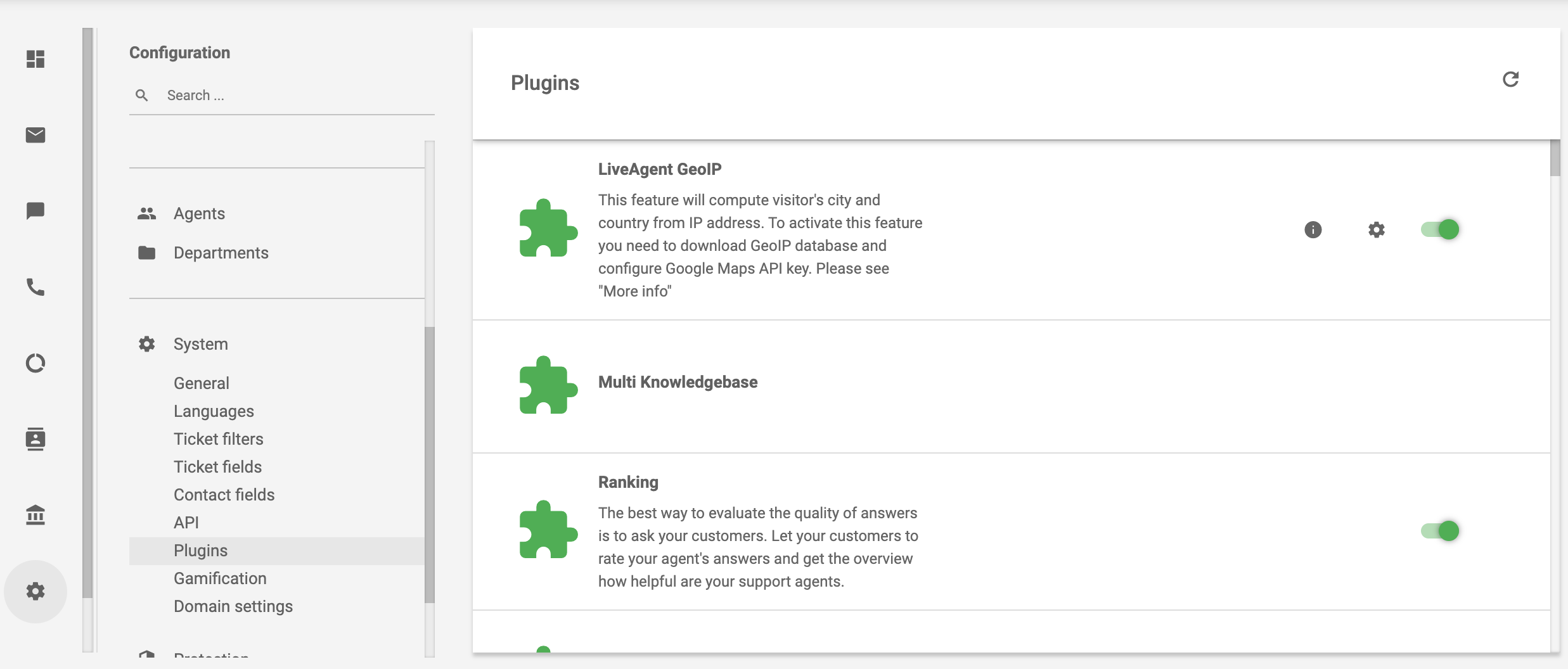 13. Provide help desk employee training
The success of your help desk service largely depends on the competence and skills of the agents operating the tool. Provide extensive help desk training for all the support reps to ensure they are able to use the help desk to its maximum efficiency. Learning all the aspects of effective communication and customer service soft skills should also be an integral part of any help desk training. 
14. Perform regular customer satisfaction surveys
Collecting end-user feedback is critically important for improving your customer support process and increasing customer satisfaction. Regularly follow up on resolved tickets with a survey or a feedback form to collect valuable information. Thus, you can understand your customer support pain points and find out how your help desk is actually performing. 
15. Take care of your help desk team 
Your help desk agents are the frontline employees and are very often the first and the only point of contact for customers. Treating them right is crucial to ensure they deliver great service and a satisfying help desk experience for your customers consistently. That includes keeping them engaged and motivated, using realistic performance targets, providing a reward system, taking their feedback seriously, and adopting measures to prevent burnout.
Discover on your own
Knowledge is important, but only when it's put into practice. Test out everything you learn in our academy right inside of LiveAgent.
LiveAgent 2021 | Better Customer Service Starts Today | Live Agent01:12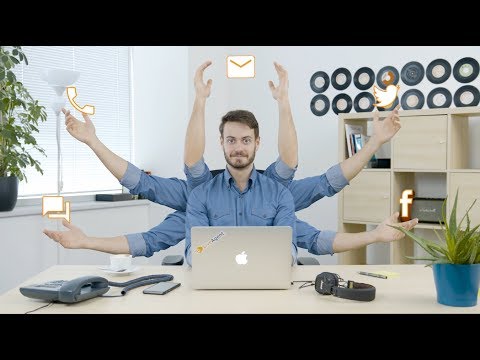 Live Agent
Try out LiveAgent for FREE
Handle all customer inquiries from one interface. Start improving your customer service with a 14-day free trial right away!
Frequently

asked questions
How should you choose the right help desk for your company?
Before purchasing, consider the following factors: help desk type, feature set, automation options, security, channel integrations, and self-service options.
Why should you automate help desk processes?
With powerful IT help desk software, you can automate several processes and workflows. The key is automating as many low-value tasks as possible. Thus, enabling support agents to focus on more important issues.
What help desk metrics should you track?
Worthy help desk metrics to track are ticket resolution rates, time to solve tickets, average pick up/ticket response time, and first contact resolution rates.