What is Everhour?
Everhour is a free time tracking application that can also handle billing and budgeting, task management, visual planning, expense management, and invoicing. It's used for time tracking automation, and it offers a large number of integrations with other popular applications. Everhour can be also downloaded as a browser extension, or as an iPhone application. However, there's much more that Everhour can handle. Take a look at the Everhour features page and see what else it can do for you and your business.
How can you use the Everhour integration with LiveAgent?
Everhour's time tracking capabilities can be used to measure the time you spent on tickets in LiveAgent. You can easily download the Everhour browser extension that's available for all popular browsers, including Chrome, Safari, Firefox, and Microsoft Edge. The integration is completely free to use. You can register a free Everhour account and start tracking your time for all your tickets without switching tabs.
What are the benefits of using the Everhour integration?
Accurate time tracking
Free browser extension
Easy to download and implement
How can you integrate Everhour with LiveAgent?
The integration process is very simple. All you have to do is download the Everhour browser extension, and give it access to LiveAgent. Take a look at the guide below to see step-by-step instructions.
The first step you need to make is to sign up.
After you complete the registration with all the steps, you will get invited to download the browser extension. The extension is available for Chrome, Safari, Firefox, and Edge. Once you click on the link, you will be taken to your browser's extension or add-on store.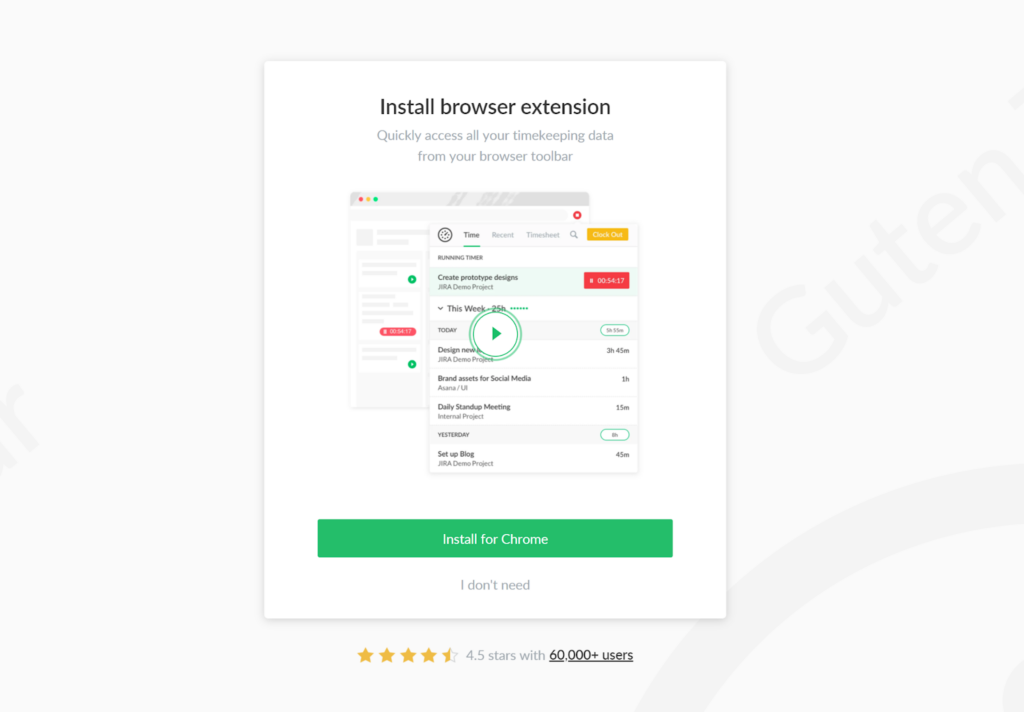 If you didn't use Google login, you now have to log into your account in the extension. If you used Google login, you should be already logged in. You can also use the pin icon to make sure the extension will be always visible.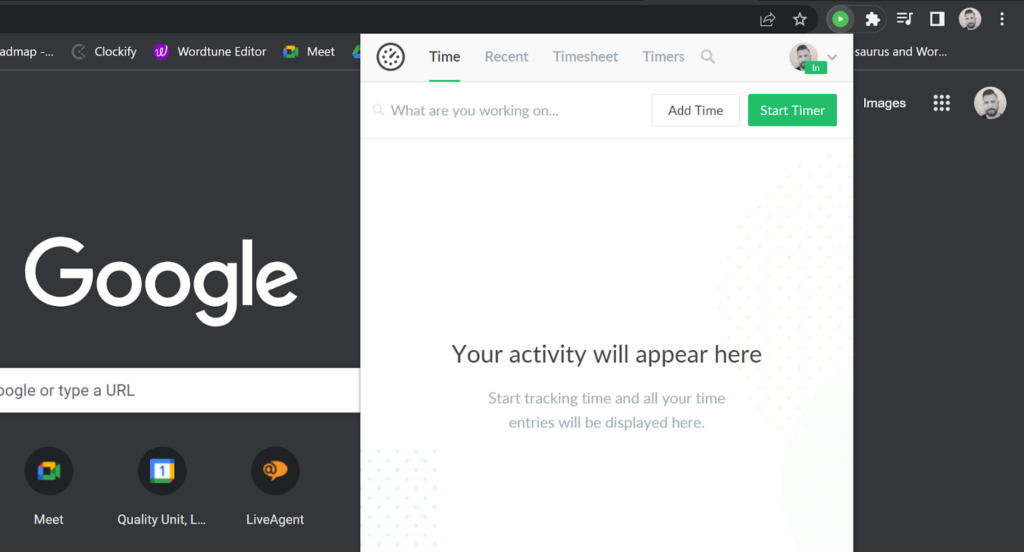 The next step is to give Everhour permission to track time in the LiveAgent web application. Click on the Everhour icon in your browser and then click on your profile. Open Integrations, find LiveAgent, and enable the permission.
That's it. Now you can start tracking your time on tasks in LiveAgent. You can always see the tracking status by the changing icon, as well as time tracked once you click on it.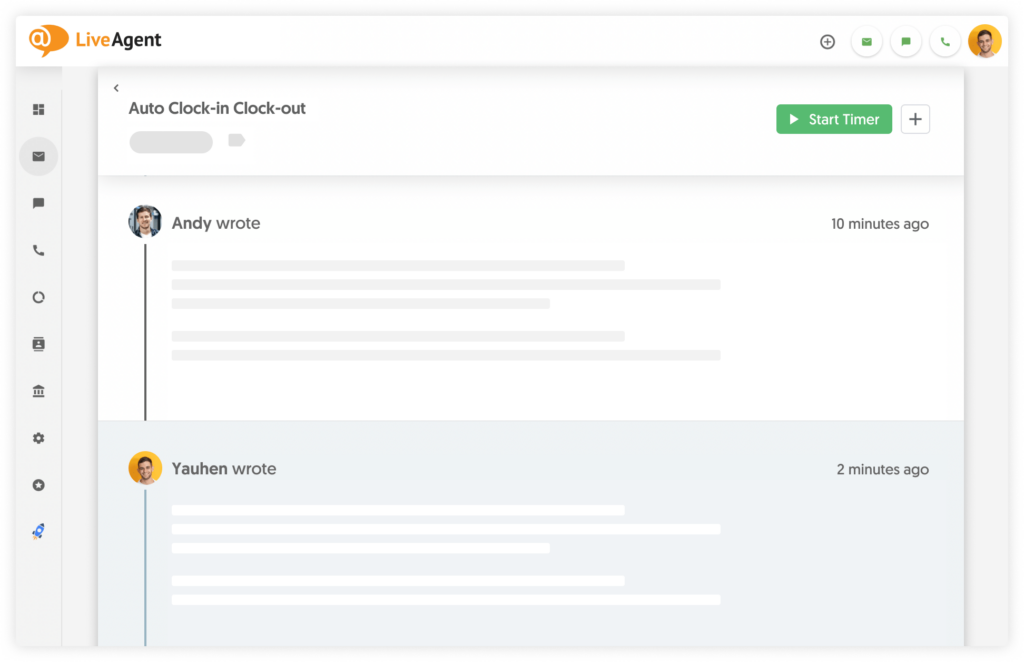 You can access all of the time entries at the link app.everhour.com and see all of the time entries. Everhour automatically copies the LiveAgent ticket titles and links to all time entries for easy access.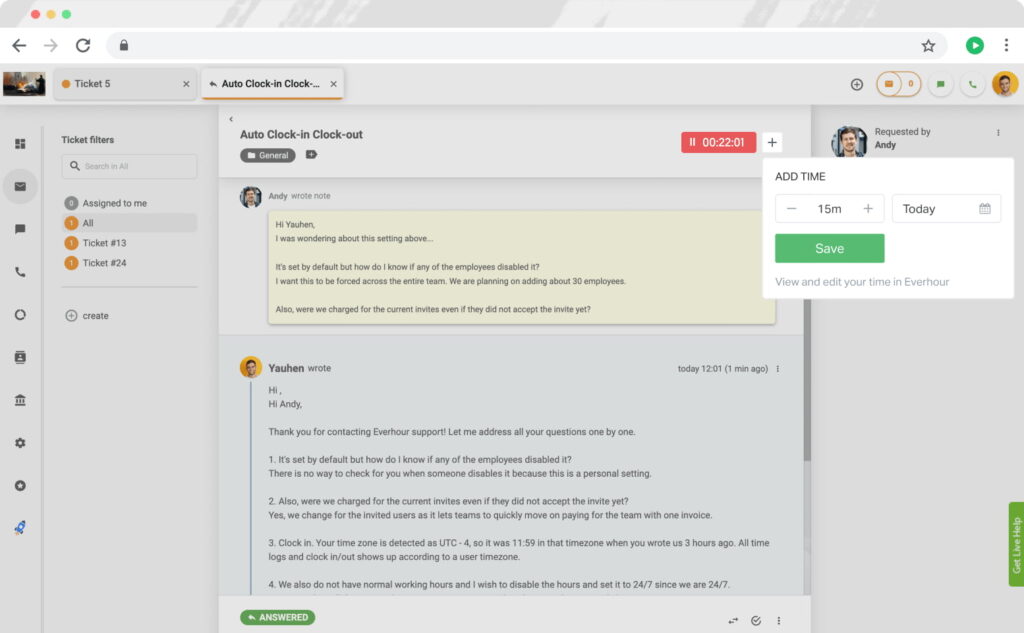 Integrate your site with other applications to expand your business.
Choose from LiveAgent's wide range of apps, tools and plugins.