Partner
Partner website
Partner Privacy Policy
What is Blogger?
Blogger is a free online content management system that is used for creating user blogs. Users can utilize their own custom subdomains. All blog posts are time-stamped and can be edited. Besides standard blog features, Blogger is compatible with other products made by Google.
Blogger is known for its ease of use even for beginners, who can create and set up a functioning blog in less than 10 minutes. That's what makes it one of the most popular choices when it comes to blogging CMS.
How can you use Blogger?
Would you like to create a personal or a business blog? Blogger can easily help you with that. Decide if you want to create a personal, business, niche, or affiliate blog. Choose a name and start writing articles, reviews, and much more. 
Creating a custom blog can be a very effective way to promote your business, regardless of the industry. Blog posts and reviews can be used to spread knowledge about your products and services. You can also add affiliate links, or get sponsored by other businesses to earn something extra. 
A purpose-driven blog knows its target audience while also knowing exactly what they expect from a product or service. A golden rule is to write content that is helpful and to the point instead of writing just for the sake of it. Furthermore, blogs can be connected with other communication channels, such as social media, eCommerce websites, and customer support. 
LiveAgent can help you expand your customer support with a live chat widget that can be simply placed on your Blogger blog. Live chat is the perfect tool for providing efficient and reliable customer support to customers who browse your blog. A simple code placed on your blog site will make sure that any customer inquiries will be solved fast and to full satisfaction of the customer.
LiveAgent offers one of the fastest live chat widgets on the market, with chat displayed speeds at 2.5 seconds. The speed alone will ensure you can get through customer inquiries faster than usual. Additionally, it's fully connected to LiveAgent's multi-channel ticketing system and filled with useful productivity features that make communication a breeze.
Take advantage of custom chat buttons that complement your blog design, or create and upload your own to get a unique look. Reply faster with a real-time typing view that lets you see what your customers type before they hit send. Proactive chat invitations will make sure your live chat will be noticeable and can increase engagement with calls to action.
LiveAgent Live Chat Demo | Live Agent02:16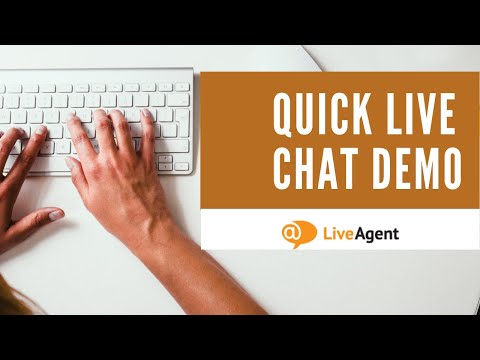 Live Agent
What are the benefits of Blogger integration?
Increased customer engagement
Calls to action with proactive chat invitations
Super fast live chat widget
Custom chat designs to match your blog
Looking to chat more with your audience?
Get a fully features live chat widget on your website. Increase engagement with LiveAgent's lightning fast live chat today.
How to integrate Blogger with LiveAgent live chat
Integrating LiveAgent live chat into Blogger is just as easy as setting up your new blog. All you have to do is create your chat button in LiveAgent and place it in your blog code. Follow the guide below to find out how to do it.
Open your LiveAgent account and go to Configuration > Chat > Chat Buttons and click on the orange Create button at the top to begin creating your live chat button. A Chat button creation window will open up.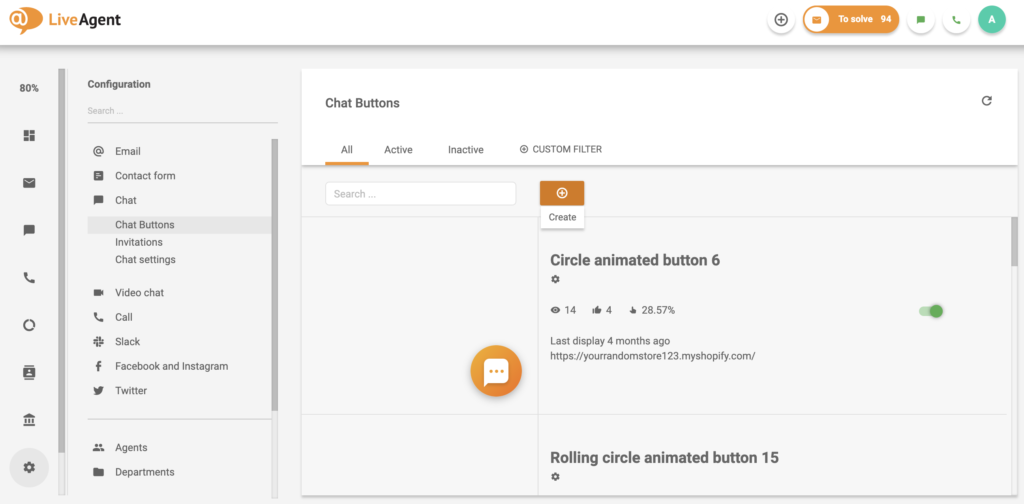 Now you can select a chat button design you prefer. Take a pick from multiple chat button styles – Bubble, Side, Corner, Inline or skip the selection and upload your custom design. You can do so by clicking on the Custom tab. You can upload a design from an image, or you can write your own HTML code. When you decide, select a chat button and you will be redirected to button configuration.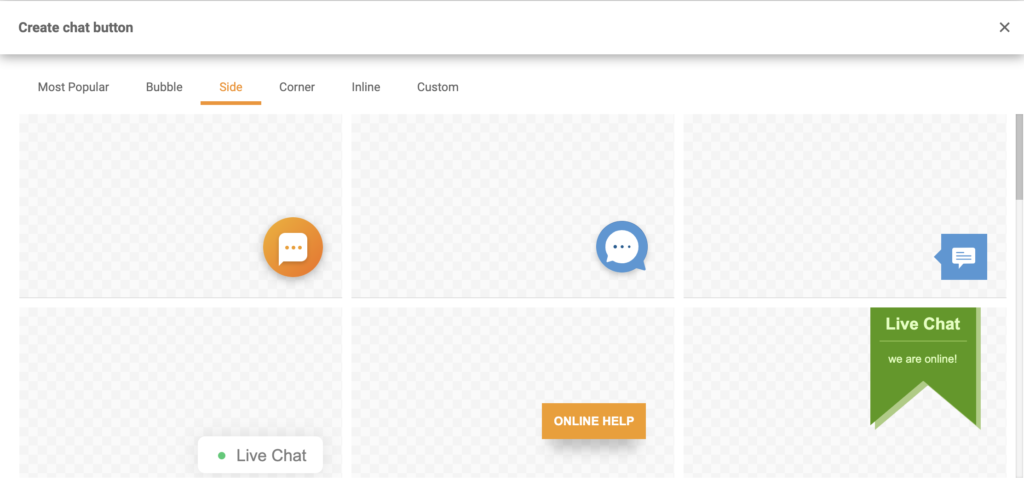 Once in the configuration section, you can name the button and select the department responsible for incoming customer chats. You can also select the language of the chat window, request information from customers by filling out a form, select maximum length of the chat queue and other options.

Everything is properly explained in the configuration. When you're done, you can do a Preview and Test to try it out first, or Save the button to finish the creation process.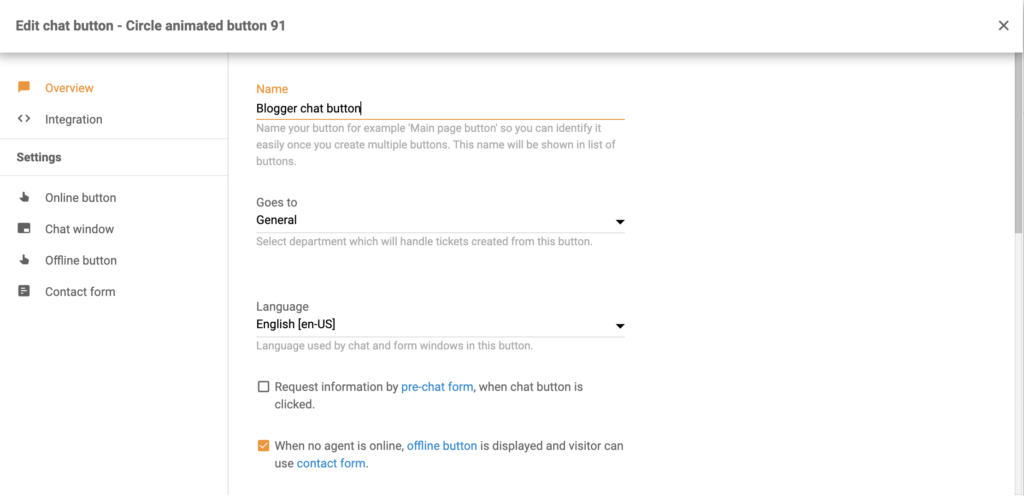 Now with your chat button finished and Saved, click on the Integration tab at the left panel in the window. You will find a generated integration code. Copy the code and paste it into your Blogger blog code. If you're not sure where to find the blog code, follow the next steps.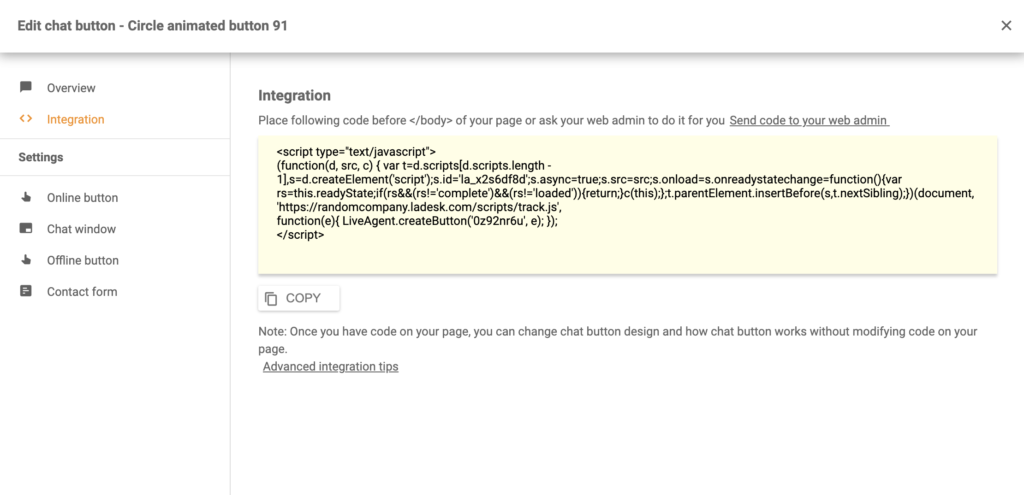 Go to Blogger and choose the blog you wish to update with a live chat button. Then select Theme in the left panel and click on the Arrow next to the Customize button. Select Edit HTML and you will get access to the blog code.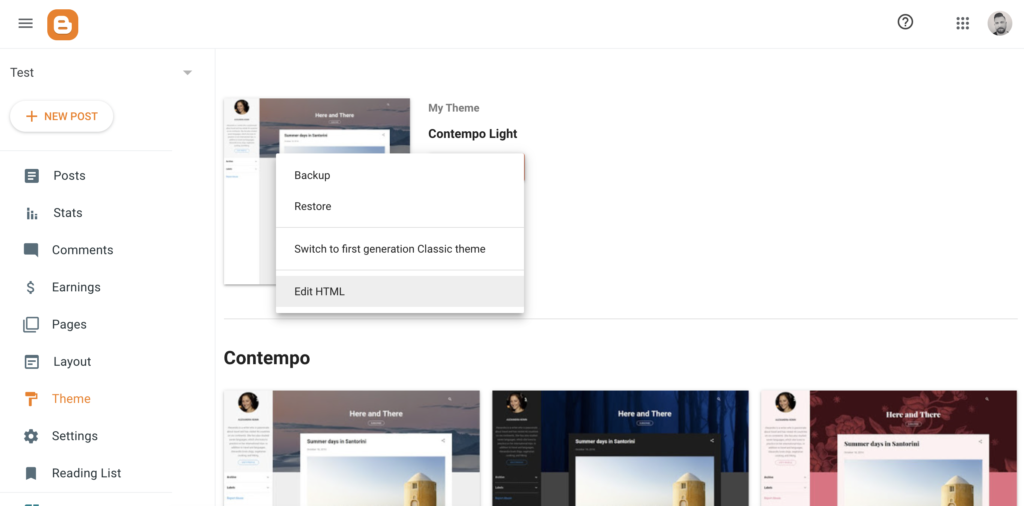 Now simply copy and paste the code into the blog code. Scroll down to the bottom and paste it above </body>. Then click on the Save button at the top right corner.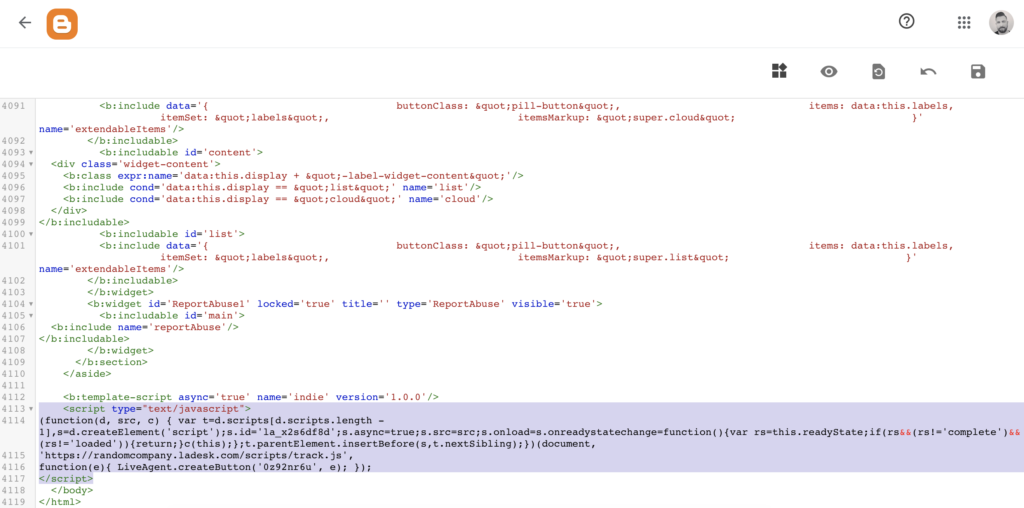 That's it, your chat button is ready on your Blogger website. Now you can tackle any customer questions easily. If you want to look at other chat button placement options, have a look here.
Looking to find out more about LiveAgent live chat or other features? Have a look at our live chat features page or our live chat page to see what else it can do and how you can use it to your advantage.
LiveAgent Product Tour | Live Agent02:25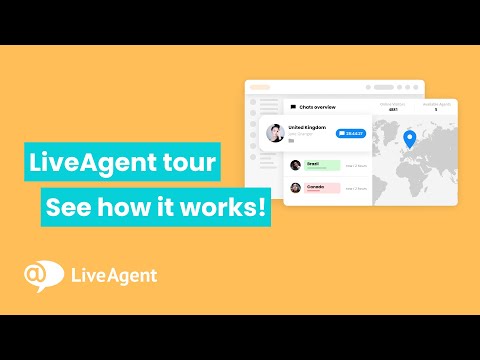 Live Agent
Simplify your workflow and deliver exceptional customer service with ease
Provide prompt and efficient responses, improve engagement with your readers, and elevate your blogging experience with the LiveAgent's Blogger integration.
Frequently Asked Questions
What is Blogger?

Blogger is a free and popular blogging and CMS (content management system platform). It's known for its ease of use. It takes less than 10 minutes for new users to start writing their first blog posts with Blogger.

Can you add a live chat button to Blogger?

Yes, you can easily place a custom live chat button on your Blogger website. All you have to do is set up a LiveAgent account and create a new chat button. It takes just a few minutes. Find out more about the process in this article

Can you integrate Blogger with LiveAgent?

You can integrate LiveAgent's fast live chat widget on your blog and start answering questions from customers and readers alike. It takes just a few minutes to do it.