What is integration?
Integration - the process of combining two or more things into one.
Companies use different apps and tools every day. These tools and apps were created to support the company's daily tasks. As much as these are helpful, there can be a lot of time spent switching between interfaces. LiveAgent is a customer service software, which helps your customer service work in one interface. However, even though the staff receives all customer inquiries in one software, they still need to utilize other apps. This is why LiveAgent incorporated integrations and also works with other companies to expand LiveAgent's capabilities. With integrations, your customer staff can work from one software with all the necessary tools available. 
Benefits of integrations:
Spending less on resources -such as more customer representatives
Automated work processes 
Creating a better customer experience
Satisfied customer agents
Customer loyalty
Ability to share data
How can you use integrations in LiveAgent?
Integrations improve LiveAgent's performance. They can link different tools together. Overall to improve your daily work activities, contact center software integrations enable you to expand your business by integrating your site with other applications.
After registering and getting through the get started guide, you can start using LiveAgent. LiveAgent integrations can be found in many forms. It could be an already integrated LiveAgent feature or it could be simple activation of a plugin. Most of the time LiveAgent integrations are already built-in or found in Configurations – System. Other integrations are listed in LiveAgent integrations with installation guides.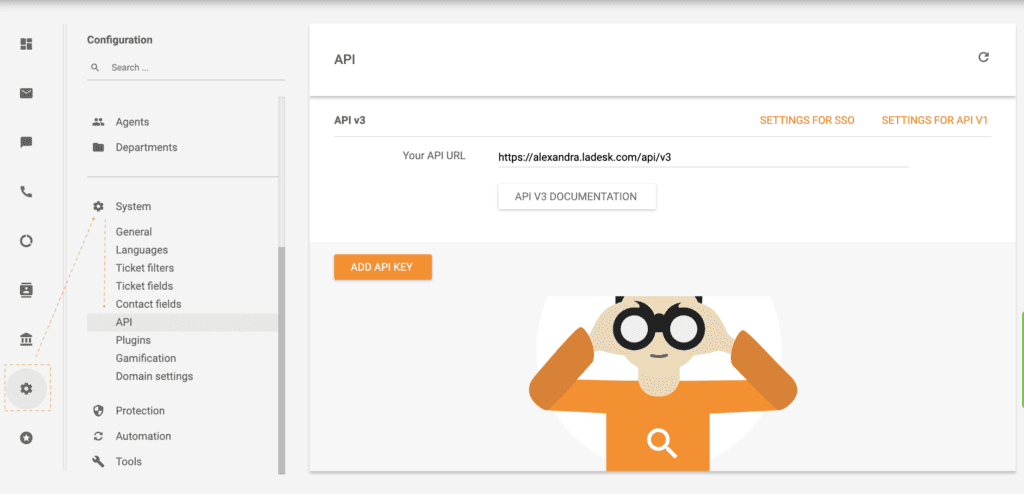 To learn more about specific integrations, read more in the LiveAgent Integrations overview.
What are the Integration costs in LiveAgent?
LiveAgent's support system software offers 3 subscriptions. All of them provide many features, and some of them are for additional fees. However, API and integrations are included in each subscription without any additional costs. 
Small subscription for $9 per agent.
Medium subscription for $29 per agent.
Large for $49 per agent.
LiveAgent provides a 30-day free trial for each subscription. If you are still unsure after that time, we also provide a free account with limitations.
If you would like to learn about additional features included in each subscription, read Pricing.
LiveAgent Integrations overview
Slack notifications
Slack is a well-known platform, usually used in companies for internal conversations. LiveAgent offers integration of Slack notifications to make sure your agents are always on the top of their customer inquiries. LiveAgent enables your agents to work from one interface. But whenever your employees multitask, they can easily forget about certain tickets.
Having this integration can prevent your agent from Slacking. The agents simply get notified and can answer from Slack anytime. If you have a Slack app on your smartphone, you can also answer LiveAgent customer inquiries from the phone. Although if you would like to answer tickets on your smartphone, you can do that from our LiveAgent app. 
If you would like to learn more about this feature, read LiveAgent – Slack notifications.
API
API (Application Programming Interface) integration helps 2 applications to "communicate" between each other. This way you can connect your tools, programs, and more!
If you would like to learn about more possible API actions, read LiveAgent – API.
Zapier
Zapier is an online automation tool that helps you connect apps. For instance to move data around in a simple and time-efficient manner. LiveAgent works with Zapier. Therefore if you already have a Zapier account, you can easily integrate LiveAgent through there. Want to transfer some contacts to your Trello board? No problem, just integrate and start using! Check out the integration, to see all the possibilities.
If you would like to learn more about this feature, read LiveAgent – Zapier.
Email marketing
Email marketing is a crucial part of many businesses. It can help you in many ways. For example: generate more leads, create community and connection with your customers, and many more. With possible email marketing integrations in your LiveAgent, you can stay in touch with your customers, offer them great deals, or simply get feedback to improve. All of these marketing integrations can be activated via Plugins in LiveAgent.
If you would like to learn more about this feature, read LiveAgent – Email marketing.
Billing management
Customer service software, such as LiveAgent is very useful in many ways. You can answer tickets from all kinds of platforms in one software. LiveAgent's team wanted to create the best customer experience, therefore offers integrations for Billing management. Helping customers can often be difficult. You are trying to help in a time-efficient manner.
Therefore, having billing management integrations can help you for example; refund the customer, create new charges, see customer's payments, and many more from one interface. All of the billing management integrations are available via Plugins in LiveAgent.
If you would like to learn more about this feature, read LiveAgent – Billing management.
eCommerce
Does your company sell/buy goods or services? LiveAgent enables you to integrate some tools for your eCommerce shop. eCommerce acquires a lot of customers daily. Therefore, they need to have effective customer support. With LiveAgent's eCommerce integrations you can simply make your business more profitable. For example, you can influence customers' decisions by integrating the Live Chat button when the customers are in the purchasing process.
If you would like to learn more about this feature, read LiveAgent – eCommerce.
CRM
CRM is a strategy that every business should take advantage of. It creates customer retention, customer satisfaction, and overall better customer relationships. LiveAgent provides great Customer Relationship Management. You can easily organize and store data about your customers in LiveAgent. If you would like to increase LiveAgent's capabilities, we also offer a great deal of other CRM related integrations.
If you would like to learn more about this feature, read LiveAgent – CRM.
CMS
CMS (Content Management system) is an integration that supports your content creation. LiveAgent provides a user-friendly editor called WYSIWYG (What You See Is What You Get). Yes, it is simple as that! Anyone in your company would be able to utilize this editor to create content. LiveAgent also provides a vast variety of email templates so you can keep in touch with your customers. Moreover, you can expand on LiveAgent CMS by adding Live chat buttons in any supporting CMS system.
If you would like to learn more about this feature, read LiveAgent CMS.
Project management
Each company has its goals, but without proper project management, it can be a chaotic way to achieve them. Therefore, having proper project management can create a clear work structure for employees. This leads them to successfully achieve set business goals. LiveAgent provides this integration to help you structurally achieve these goals.
If you would like to learn more about this feature, read LiveAgent – Project management.
Collaboration tools
Collaboration tools are necessary for any business. With these tools, your team can communicate more effectively without any necessary interruptions throughout the day. Having such a tool can create an effective environment that helps your employees stay in touch but at the same time does not interrupt their workflow. Therefore, connecting LiveAgent with such tools makes your employees' workflow effective and efficient at the same time, while staying on the top of any shared updates/news/tasks.
If you would like to learn more about this feature, read LiveAgent – Collaboration tools.
Migration plugins
If you are not sure whether to switch to LiveAgent from another helpdesk software due to all data you've gathered there, do not worry. LiveAgent created Migration plugins specifically for data transfer. Migration plugins help you transfer all the important data from your previous customer service software to LiveAgent. All migration plugins are available through Plugins in LiveAgent.
If you would like to learn about data that you can transfer, read LiveAgent – Migration plugins.
Try out LiveAgent for FREE
Handle all customer inquiries from one interface. Start improving your customer service with a 30-day free trial right away!