Partner
Partner website
Lorem ipsum
What is Salesforce?
Salesforce is a customer relationship management (CRM) software. Its services let companies and businesses to work with Cloud. This gives them the option to provide better services for companies who want to support their clients and customers. It can save time and improve your customer relationships and customer experience. 
How can you use it?
You can use the Salesforce and LiveAgent integration to create cases in your Salesforce account via LiveAgent tickets. You don't have to leave customer chat hanging, just report cases immediately and provide better customer satisfaction. 
Whenever a customer conversation ticket request comes up, you can click on the Salesforce button at the right panel and create a case with customer email as the identifier and a chat transcript uploaded to the Salesforce case.
Salesforce integration for LiveAgent via Zapier lets you keep track of important information, such as new customers, contacts, events, objects, object types, campaigns, and closed opportunities.
You can also manually create new accounts, campaigns, comments, cases, contacts, and attachments. Feel free to add contacts to campaigns, create and update objects from your LiveAgent dashboard. These integrations can be created separately and you can choose which ones you want to utilize. 
Benefits
Keep track of your customer relationships from LiveAgent
Manage tasks easily from LiveAgent's dashboard
Create new cases or add leads
How to integrate Salesforce with LiveAgent
LiveAgent has a Salesforce integration plugin available for customers. It can help you keep track of your customers, manage cases or add new leads. 
To activate your plugin, open your LiveAgent and go to Configuration > System > Plugins. You can find your plugin in the list of plugins. When you do, click on the Activate switch on the right side.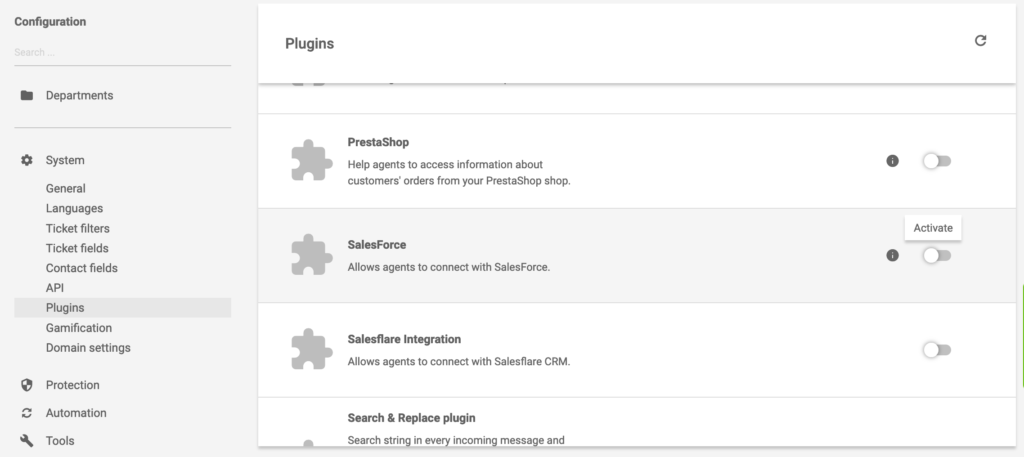 LiveAgent will restart and after that, you can find the active plugin at the top of the list. Click on the configuration button (cogwheel icon) next to the activate switch and a new option window will open up.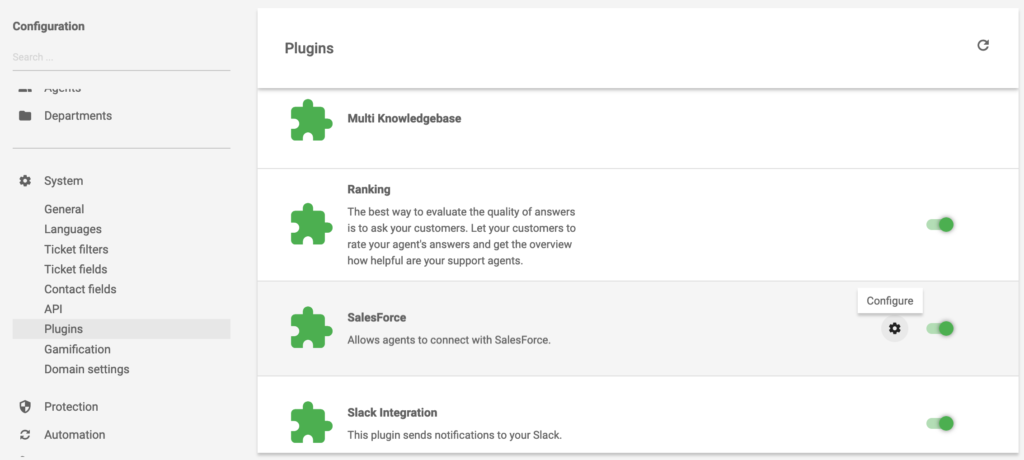 Click on the Salesforce logo and log into your Salesforce account to finish the integration process.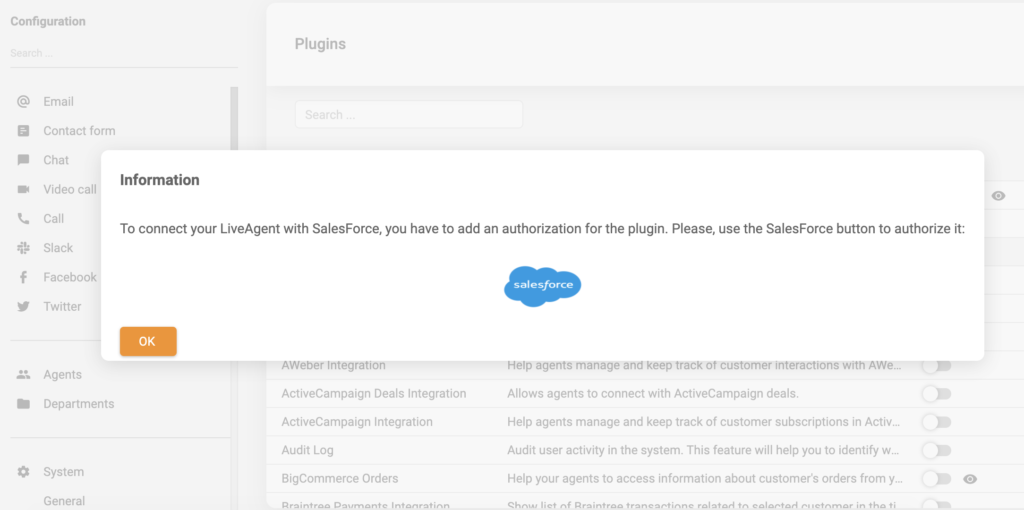 You're done and your integration is active. Go ahead and try it out.
How to integrate Salesforce with LiveAgent via Zapier
If you want to unlock more workflow capabilities of LiveAgent and Salesforce, you can try using the Zapier service. Zapier is a company that focuses on connecting any two apps with various integration results depending on their capabilities.
This system work with triggers and actions that you can choose and create a custom integration on your own. It's a simple process that takes just a few minutes to complete.
First, log in to your Zapier account or create one here if you don't have one. It's free of charge. Then proceed to the LiveAgent + Salesforce integrations page. 

Scroll down and choose which app will perform the trigger and what will that trigger be. There are multiple options such as calendar integration, prewritten messages, and others that can be combined with the second app. Consider what you want your integration to do and choose. When you're done selecting, continue with the blue button. 

The next steps may vary depending on your choice of trigger and action but they are generally easy to handle. In most cases, it's as simple as logging in to your accounts and providing permissions to Salesforce. Each trigger setup also includes a trigger test to find out if Zapier successfully connected to the app. 

The second part usually requires to also configure the action. We chose the LiveAgent action Create Conversation from the range of integration options at the beginning which means that we had to set up the email. This included inputting the sender and recipient email addresses, message subject, and body among some non-required options. 

When you're done with the previous part, do one final test of the integration on Zapier and see if it works. And that's the entire process of Zapier integrations in a nutshell. 
Frequently

asked questions
What is Salesforce?
Salesforce is a CRM software that helps you improve your business relationships since 1996. Moreover, it can boost the company's profitability and overall processes.  
What are the benefits of integrating Salesforce with LiveAgent?
The benefits include: improved productivity, no need for switching interfaces, easily update campaigns from the LiveAgent, add new contacts from LiveAgent.