Partner
Partner website
Partner Privacy Policy
Viber is a free cross-platform calling and messaging app available on Android, iOS, Microsoft Windows, macOS, and Linux that offers instant messaging, calling, video calling, and broadcasting messages.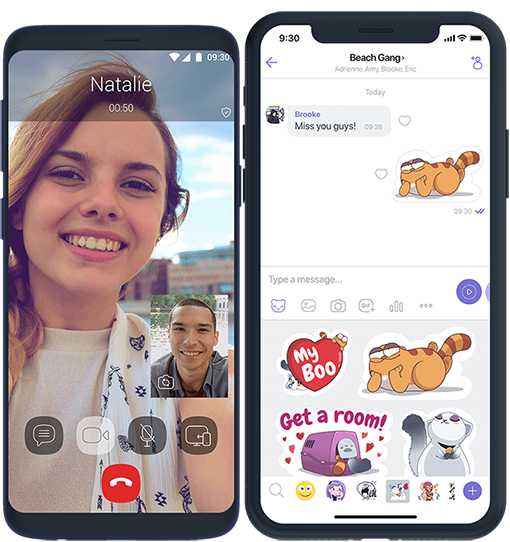 Why is Viber customer support important?
Modern-day support interactions come with high customer expectations. Seamless support experiences and the possibility to communicate with businesses across multiple platforms, including social media and text messaging apps like Viber, is an absolute necessity.
Why?
For many customers, it's simply easier to reach out via text in comparison to Googling the business' contact information or accessing their website in hopes of finding a live chat button or a contact form. With customer expectations and needs growing, businesses need to be ready to accommodate them each time.
How does it work?
Providing prompt, personalized, and knowledgeable customer service on Viber is easy with the right help desk tools, such as LiveAgent.
Integrating Viber into our help desk ticketing solution ensures you get notified every time you receive a new Viber message. Each message is automatically converted into a ticket that will appear in LiveAgent's Universal inbox.
Having such convenient, yet powerful technology in your arsenal frees you from constant device monitoring, and ensures all messages are neatly organized and accessible by all your customer support agents.
What can you do with the Viber integration?
LiveAgent's new Viber integration opens the door to many possibilities. Let's look at some of its capabilities:
You can receive Viber text messages and automatically convert them into tickets without needing to constantly monitor your smartphone or desktop app.
You are able to respond to Viber messages through the LiveAgent dashboard. All the customer inquiries will be available in your LiveAgent dashboard, and they will receive the response on their Viber app. It's that simple!
This integration allows you to archive and organize all the previous Viber tickets. Thanks to LiveAgent, you can easily access past conversations and assign tags instead of having to search through your phone.
What does it look like/how does it work in practice?
If you're wondering whether your customers will be able to tell that you're using an external tool to answer their Viber messages, the answer is no. Check out how it works in this detailed video tutorial.
Viber Integration Demo | LiveAgent | Live Agent01:55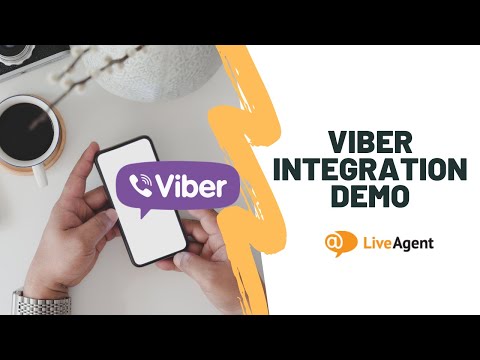 Live Agent
How to integrate Viber with LiveAgent
Integrating Viber into LiveAgent is a simple way to let your customers reach you via Viber. The only thing you need is to set up a Viber account on your phone and then create an Active Bot. We are going to show you how to do that step by step.
Create an Active Bot → go to Viber's admin panel and enter the phone number that's associated with your Viber account.
You will receive a Viber text message with a code → enter the code into the website and log in.
After logging in, click on "Create bot account"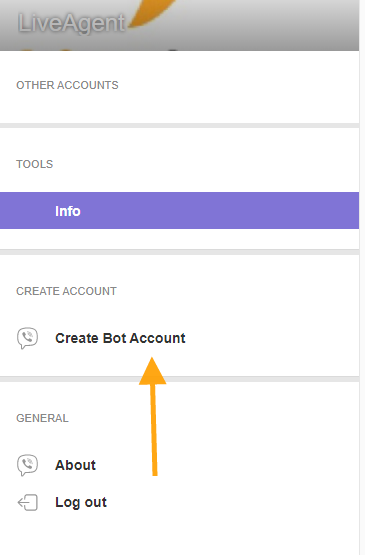 A new window will pop up → enter all the required info → click Save.
Once you click save, the system will automatically generate a token → copy the token as you will need it later.
Open LiveAgent → go to Configuration → System → Plugins → find Viber and enable the plugin by toggling it on.
After activating the Viber plugin, go back to Configuration → click on Viber accounts → click Connect. A new window will pop up.
Paste the token into the "Token" column → choose the department to which incoming Viber messages should be routed
Click on Connect, and that's it! Your Viber account should be up and running!
Note: You can make it easier for your customers to reach you on Viber by placing the QR code from your Viber Active Bot account on your website. To learn more about how your customers can use the QR code to contact you, check out the end of this integration guide.
Why is this integration so valuable?
With Viber integration, your agents will spend less time monitoring devices, allowing them to focus more on providing excellent customer service.
You will be able to provide faster customer support thanks to advanced tools like canned messages.
You can use LiveAgent's CRM when answering Viber messages. By having CRM data readily available in the right ticket panel, you can provide more personalized responses and deliver exceptional service to your customers.
The integration can improve your customer support and satisfaction by providing real-time data insights. For example, if you want to know how many Viber queries have been solved at first contact in the past month, simply generate a report. With LiveAgent's reporting feature, you can easily segment your data by performance over time, by agent, department, or channel.
Answering Viber messages through LiveAgent is more secure because all your Viber tickets are stored in a shared Universal inbox that can be accessed by every support agent. This means that you don't have to worry about:

Sharing your Viber login credentials with multiple employees
Staying logged in on public devices
Losing devices that are logged into your Viber account

Gaining competitive advantage. LiveAgent is one of the few helpdesk software that offers Viber integration.
Ready to try our integration?
Let us take care of the logistics so you can focus on providing smooth and reliable support for all of your customers. Start your free 30-day trial today. No credit card is required.
Frequently Asked Questions
What is Viber?

Viber is a free messaging and calling app with over 1 billion users globally. It is a popular platform for communication, both for personal and business purposes, offering features such as voice and video calls, messaging, and file sharing.

How can you provide prompt customer service on Viber?

Thanks to the integration, you can centralize all your Viber messages and inquiries in the LiveAgent dashboard, allowing agents to quickly and efficiently respond to customer inquiries without switching platforms. Additionally, features such as real-time notifications and automation tools ensure that agents can promptly address and prioritize messages, leading to improved response times and enhanced customer satisfaction.

How can the Viber integration benefit my business?

It allows you to expand your customer reach and engage with a wider audience on a popular messaging platform. The integration also streamlines your customer support process by centralizing messages and inquiries in one dashboard, enabling efficient management and prompt responses, ultimately enhancing customer satisfaction and loyalty.