Partner
Partner website
Please follow the instructions below to integrate LiveAgent with Opencart.
Unzip the downloaded file and upload admin+catalog files to the Opencart folder in your server/hosting.
Navigate to the Modules section in your Opencart admin panel and click on LiveAgent integration (green button).
Change its status to enabled.
New module: LiveAgent integration->Configuration was added in the Modules section, now click the blue button.
If you already have a LiveAgent account click on >SKIP THIS STEP, I ALREADY HAVE AN ACCOUNT and fill in the URL, email and API key of your account. If you don't have an account, feel free to create a new one in this window.
Where's the API key?
In your LiveAgent account navigate to Configuration>System>API and copy your API key from here.
You're done. The default live chat button is shown on your website. If you want to change the default button, add new buttons in your LiveAgent account and then click on Use this button in the Opencart LiveAgent module.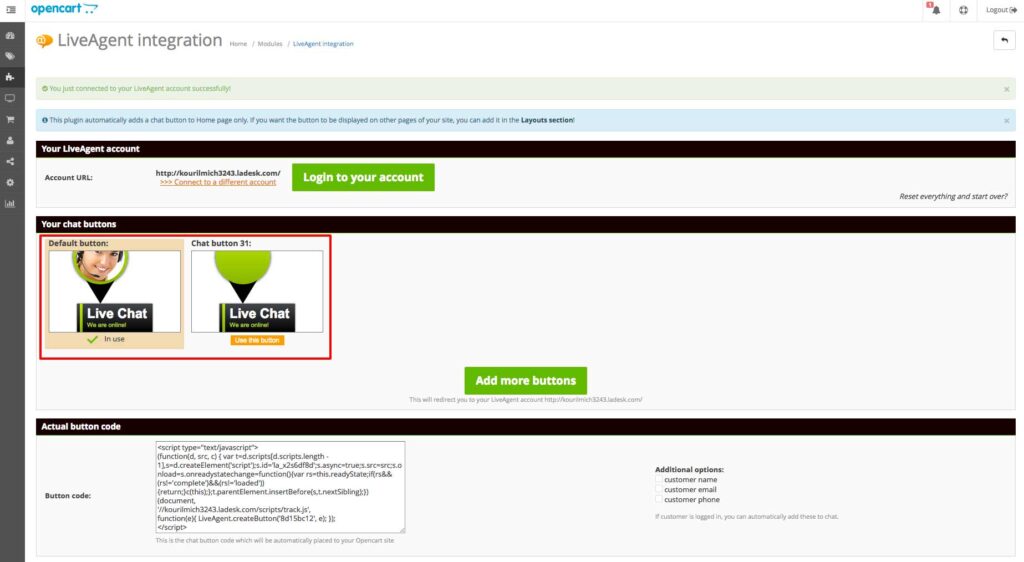 What is Opencart?
OpenCart is a turn-key ready "out of the box" shopping cart solution. You simply install, select your template, add products and you're ready to start accepting orders. It has order management and multiple payment gateways already built-in and we provide lifetime free support and free software updates. 
How can you use it?
LiveAgent's Opencart integration enables you to place a live chat button on your Opencart store.
Frequently asked questions
What is OpenCart?

OpenCart is a shopping cart system since 2005, with over 900 000 websites. 

What are the benefits of integrating OpenCart with LiveAgent?

LiveAgent provides OpenCart integration, which allows customers to implement a live chat button on their website. Here are some benefits of implementing a live chat button: cost-efficient, improves sales, boosts customer satisfaction.