Partner
Partner website
Partner Privacy Policy
What is WooCommerce?
WooCommerce is a free e-commerce plugin for WordPress. It can help you turn your website into an e-commerce site through which you can sell your products or services. If you want to start using WooCommerce, all you need is a WordPress site and you're good to go.
WooCommerce has all the important features you need to create a great e-shop. It has great blogging features, embedded products, checkout systems, custom categories, tags, product ratings and reviews, and unlimited image galleries amongst others. 
The possibilities are endless– you can start selling both digital and physical goods, sell affiliate products, provide shipping options, payment gateways, tax options, and even geolocation support. WooCommerce can also help you with better order management and store optimization so more people will find your products online. 
How can you use it?
The WooCommerce plugin can be used to keep track of new customers, coupons, orders, products, line items in an order, or to see subscriptions from LiveAgent. You can also use it to create and update coupons, customers, orders, products, and subscriptions all from your help desk software. 
Customer support remains a crucial part of any physical or online store. Use WooCommerce to sell your physical or digital products, while providing the best customer service. The connection between LiveAgent and WooCommerce can ensure your customer support team will always know about your customer's orders and needs. 
Benefits of implementing the WooCommerce plugin
An all-in-one e-commerce and customer service tool
Notifications about your e-commerce orders directly inside your help desk software
Enables you to create and update custom CRM fields from one solution
How to integrate WooCommerce with LiveAgent
You can connect LiveAgent with WooCommerce via our native integration. You can find it in the LiveAgent configuration panel. Go to your account and open Configuration > System > Plugins and find the WooCommerce Orders plugin in the list. Click on the activate switch and LiveAgent will restart.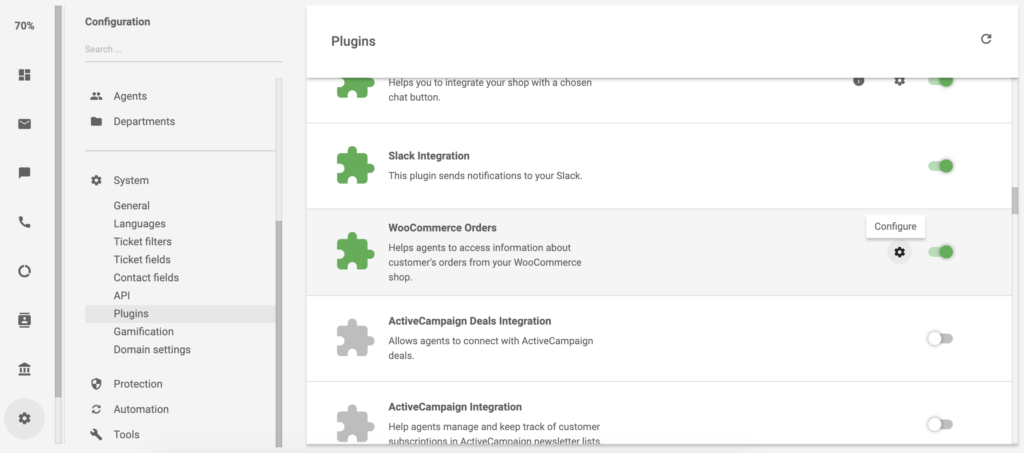 After the restart, find the WooCommerce Orders plugin active at the top of the list and click on the cogwheel configuration button. Put in your Store URL, Admin Slug, Consumer Key, and Consumer Secret, and click on Save.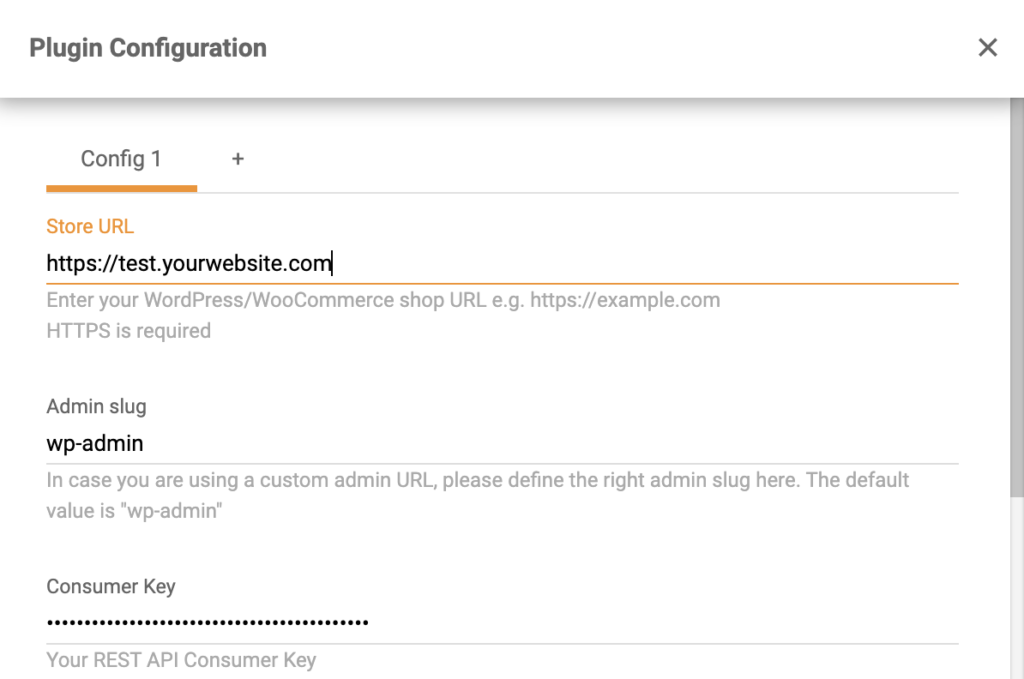 You're done and the plugin is active. You should be able to see your WooCommerce Orders in your ticketing view and create new payments. Click on Edit to redirect to WordPress and edit the order information.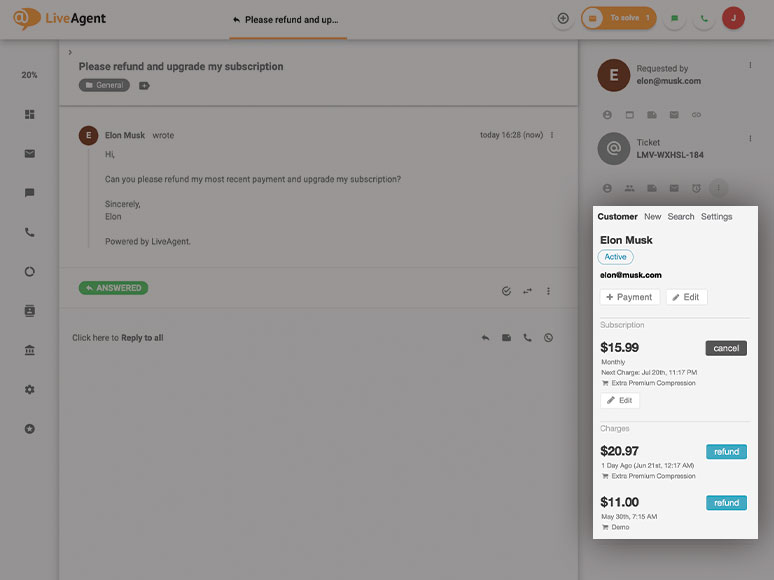 How to integrate WooCommerce with LiveAgent via Zapier
If you want to create a custom-tailored integration, you can try doing so with Zapier. If you don't have a Zapier account, create one here. After that continue to the LiveAgent + WooCommerce integrations page. 
You can select your own triggers and actions to create a custom integration between the two apps. A trigger in one app will activate the action in the second app, creating an integration between the two. 

Scroll down to the Connect LiveAgent + WooCommerce in Minutes section. Here's where you can choose what will happen within your custom integration.

There are multiple options to choose from, so consider what kind of workflow would you like. When you selected the trigger and action, click on the blue continue button. 

The following step is easy enough, although it can vary depending on the trigger and the action options you choose. In our case, we had to log in to the trigger app with our WordPress log-in details and provide access to Zapier. There is also a trigger test that will check the connection to the trigger app.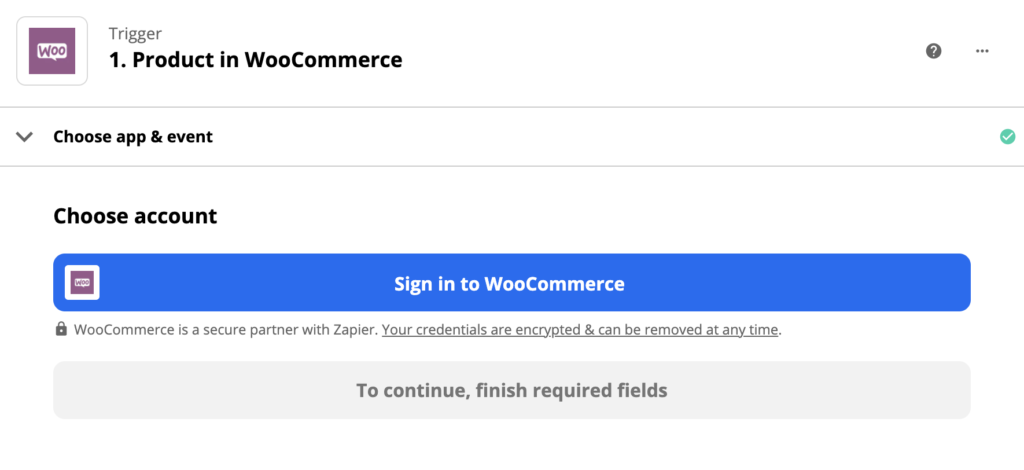 The next step is the action configuration. We selected the action Create Conversation which means an email will be sent to our ticketing system each time a new product is added in WooCommerce.

We had to select a respective LiveAgent department, fill out email addresses, the message subject, and text, and fill out non-required fields such as names, email copies, and message ID.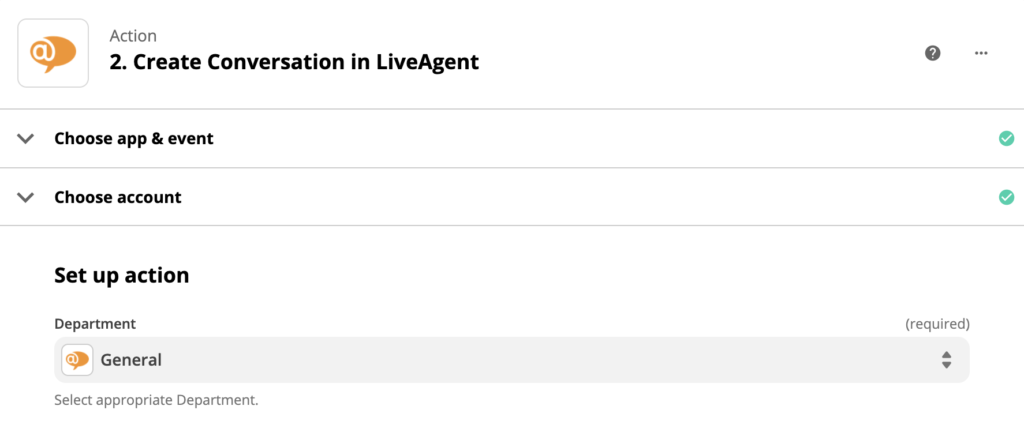 The final step is the integration test, so go ahead and test your workflow. You can also check your LiveAgent dashboard to see if you received any email notifications.
Looking to enhance your customer support capabilities on your WooCommerce store?
Consolidate customer inquiries, manage orders, and deliver personalized support and elevate the shopping experience with LiveAgent's WooCommerce Integration.
Frequently Asked Questions
What is WooCommerce?

WooCommerce is an eCommerce plugin for WordPress websites, allowing small and medium-sized businesses to build the online store they want.

What are the benefits of using WooCommerce with LiveAgent?

You get information about your orders in LiveAgent, keep track of order ID, status, and value from one solution.