Partner
Partner website
Partner Privacy Policy
What is Ucraft?
The Ucraft website builder is all about turning your web ideas into an online reality. It aims to make the process of developing websites easier, faster, as well as keeping a focus on quality. If you would like to create a website for yourself, for your business, or for an event, Ucraft is a great option. With Ucraft, you can create online pages easily and quickly by dragging and dropping. Get more visitors by creating a beautiful website.
How can you use Ucraft?
Ucraft is suitable for anyone who wants to build a personal or a business website. It's viable for creating landing pages, blogging platforms, and online stores. You can use Ucraft to create your own business website and promote your business, or establish an online store and sell more of your products or services online. 
Every great online store needs great customer support. Luckily, you can easily make that happen with LiveAgent by adding a chat button to your website and connecting your web support email with our ticketing system.
Live chat is an amazing customer support tool and a convenient communication tool for customer-agent communication. What makes it great is its simplicity. You can create a custom chat button in LiveAgent configuration – choose a design, set up forms and other details, and copy and paste the code into your website. 
Website visitors can see the button immediately and they can just click on it to get connected with customer support. The communication is instant and your customers can continue with shopping without frustration from unresolved questions regarding your products or services.
The best part is that the live chat is connected to the entire LiveAgent ticketing system that can also handle emails, call center calls, customer portals, and social media – Facebook, Twitter, Instagram, WhatsApp and Viber. It's also fully packed with features to help you get the job done smoother and faster.
Take advantage of real-time typing to see what your customers want to ask before they hit send. You can prepare answers to common questions faster with canned messages, while proactive chat invitations will ensure that your chat button will get noticed. 
Did we mention that our live chat is amongst the fastest live chat widgets out there? It comes with chat displayed speeds at 2.5 seconds. Have a look at the comparison at this link.
LiveAgent Live Chat Demo | Live Agent02:16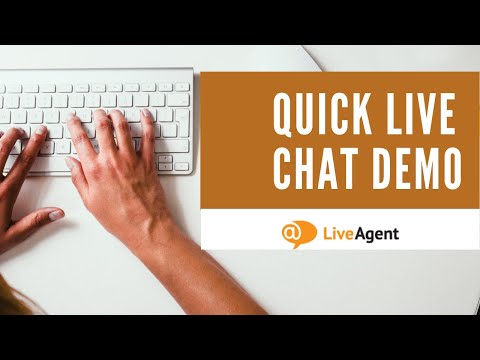 Live Agent
What are the benefits of Ucraft?
An effective and simple website builder
Comes with a logo maker
Fast communication thanks to live chat
Unified fully featured ticketing system
Looking to provide faster support?
Add a LiveAgent live chat to your website and handle customer requests quickly and efficiently
How to integrate LiveAgent live chat on your Ucraft page?
Curious about how to include a live chat widget on your website? Follow the integration guide below to learn how to create your Ucraft website and how to integrate your LiveAgent live chat widget to your homepage. If you haven't created your Ucraft website yet, follow the first steps. In case you already have it done and published, skip the first steps and go straight to the live chat widget setup.
Go to the Ucraft website and click on the Get Started button at the top right corner. You will be taken to the website creation page right away.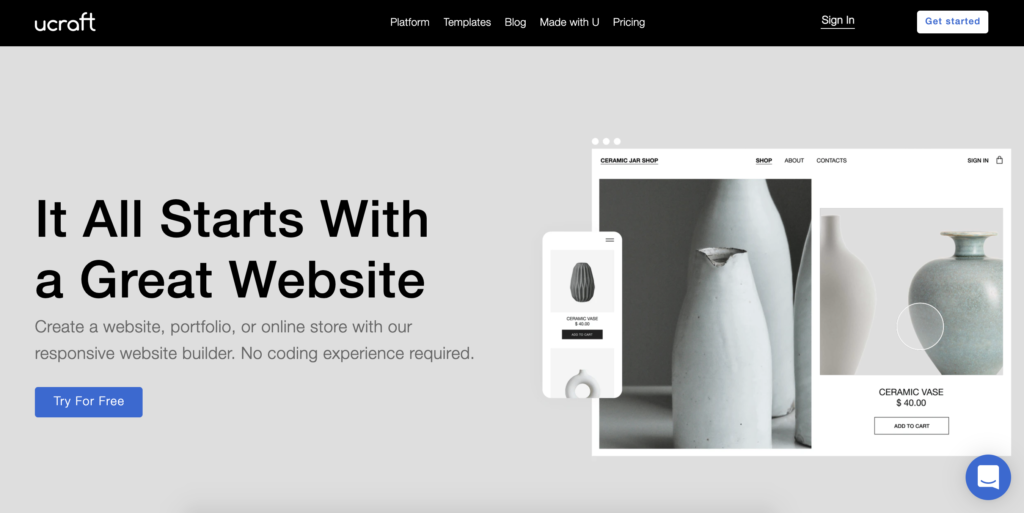 Now you can choose from over 120 templates. The categories include business, ecommerce, personal, blog, event and much more. Take a good look at them and choose the one that suits your needs the best. Then choose a name for your Ucraft subdomain and click on get started.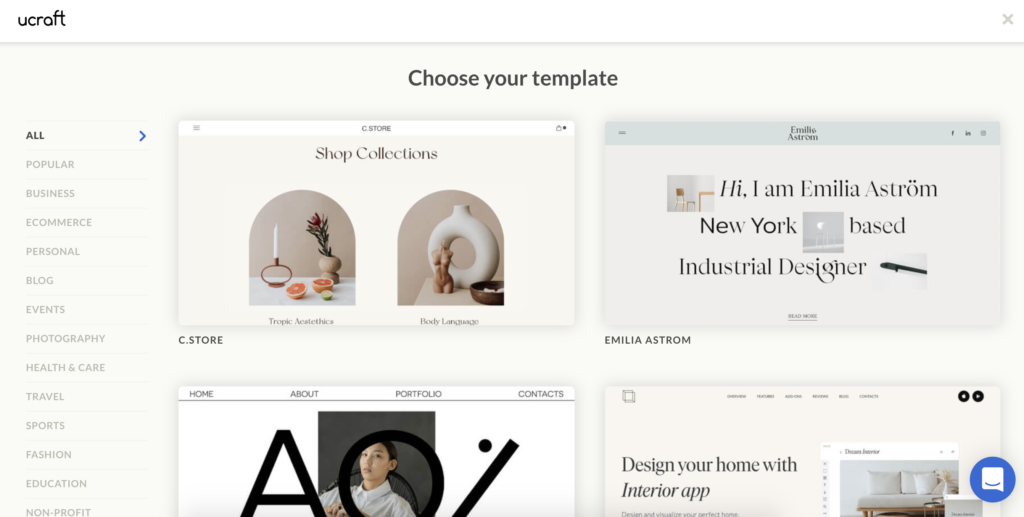 The next steps let you pick payment options as well as the chance to start your free 30-day trial. After you do so, you will be taken to the website editor and you can start customizing your website. The editor is very user friendly to help you avoid any trouble with customizing your website.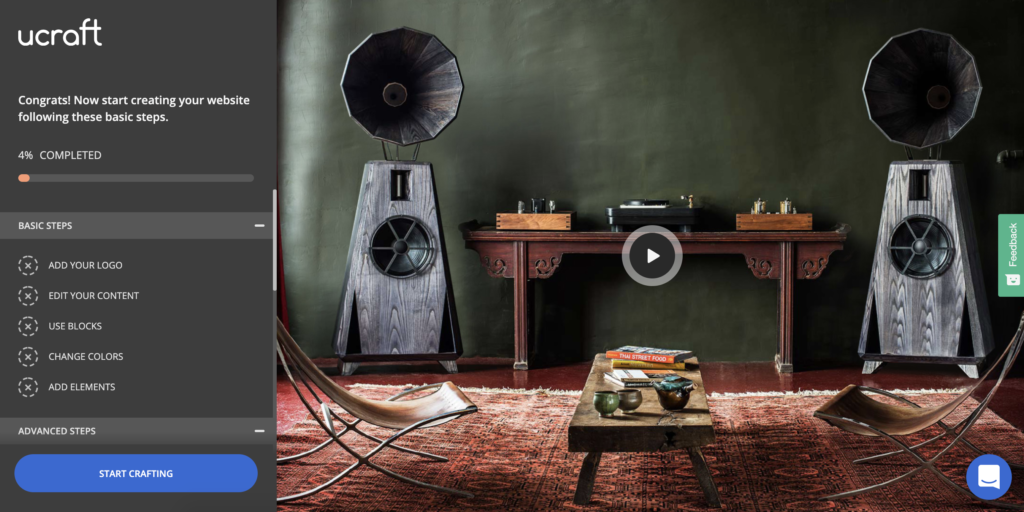 If you're done and want to add the LiveAgent live chat button, click on the Dashboard at the left and go to Integrations. Now select LiveAgent from the list and provide your details – LiveAgent company name and Chat button ID. Click on Connect.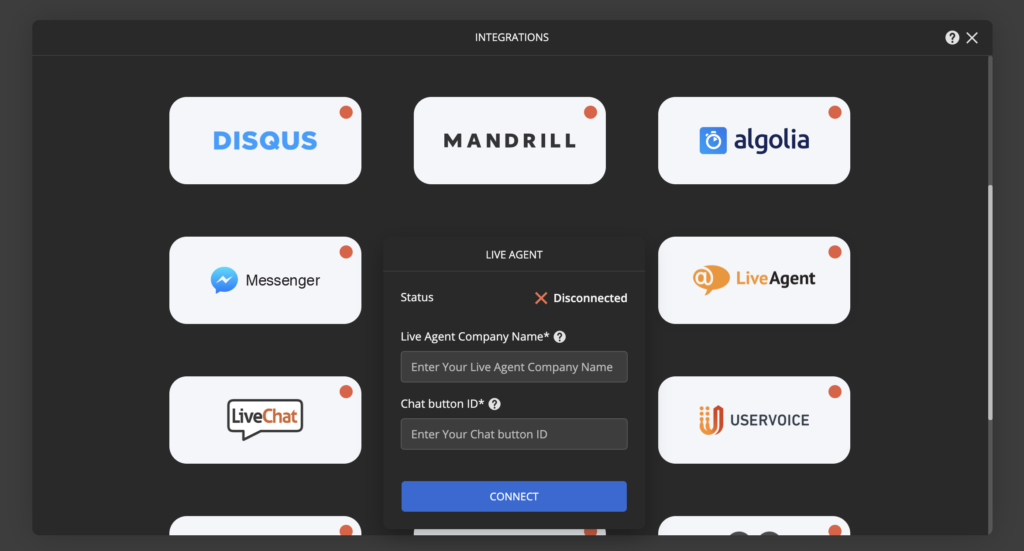 That's it, your integration is finished and your LiveAgent live chat is ready to tackle customer questions and requests. Have a look at the LiveAgent academy to learn how to communicate properly with live chat, or browse through live chat features to see what it's capable of.
LiveAgent Product Tour | Live Agent02:25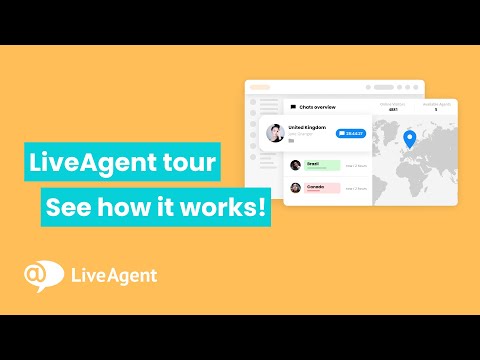 Live Agent
Take your website support to the next level and deliver seamless customer experiences
Easily manage customer inquiries, support requests, and engage with visitors in real-time, all within the LiveAgent platform with Ucraft integration.
Frequently Asked Questions
What is Ucraft?

Ucraft is an intuitive website builder that can be used by both newbies and professionals. It simplifies the process of building websites and speeds up the process while keeping quality in mind. A website built on Ucraft is a great option if you are interested in creating one for your company or event. 

How can you use Ucraft with LiveAgent?

Customer service is imperative to the success of any online store and business website. The good news is that LiveAgent makes this process simple by adding a chat button to your website and by getting a ticketing system that links your support email with your chat button.

How can you integrate Ucraft with LiveAgent?

It's simple! Once you get your website and start editing, go to Dashboard > Integrations and select LiveAgent. After that, you only have to provide your help desk link and chat button ID. Once you click Connect, the integration is finished.