What is live chat etiquette?
We can define live chat etiquette as a manual of how to be polite in an online conversation. The desired effect is manifested by following basic chat rules, emphasizing customer service manners, and agents' grammar. The so-called friendly chatting is an essential part of a satisfactory customer experience as long as the agents adhere to rules of conversation etiquette.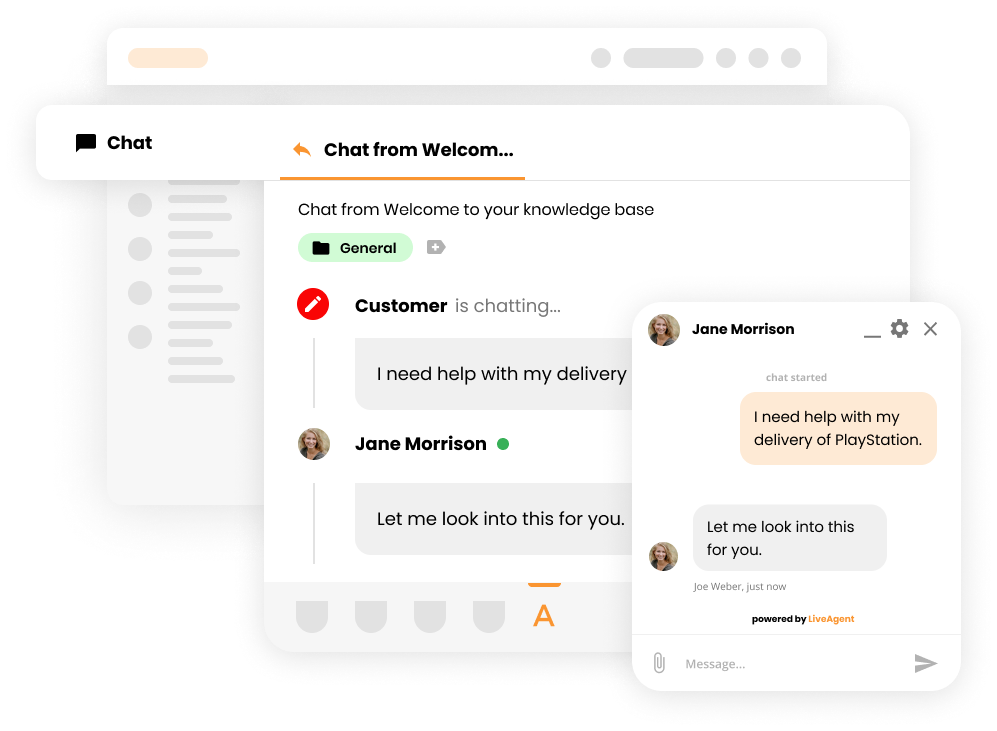 Live chat etiquette examples
Positive live chat etiquette 
"I can certainly help you with that."
"Let me find out for you.
"Is there anything else I can help you with?"
"Thank you."
"You are a valued customer." 
Negative live chat etiquette 
"I don't know."
"I'm not sure."
"We never do that."
"Have you checked our website?"
"It's company policy".
Live chat software as a communication tool is not a new technology. It has been around for decades, but it grew in popularity during recent years due to technological advancements and practical use in customer support. More than half of the under 40 demographic use live chat regularly to answer basic customer support questions. Nowadays, it is considered a valuable addition to phone and email service.
Why is live chat etiquette important?
Every chat for website visitors must have proper etiquette to not only appear professional but also to get the point across effectively. If you're looking to improve your customer relationships, it would be detrimental to omit live chat as part of your service. The benefits of live chat software are unmistakable. 
Instant rapport with an actual person, instead of a chatbot  
The almost instantaneous resolve of any inquiry
Time saver
Reduced cost in comparison to a phone call
Benefits of Live Chat and How to Use It | Live Agent05:52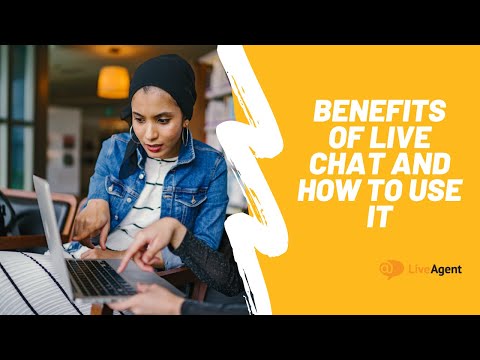 Live Agent
Not all agents automatically possess the necessary qualities of proper customer service chat etiquette. Many of the new employees might not have worked with chat software before. Even though live chat has become a preferred way of B2B or B2C communication for many businesses, numerous still use call and email as their main communication channels. Of course, you might be thinking that the same set of rules that apply to call and email communication are suitable for live chat as well. The answer lies somewhere in the middle.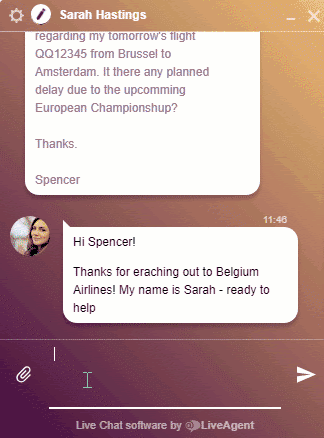 The actual value of live chat is its speed. In comparison with a call or email support, live chat decreases the time it takes to respond to customer's inquiries. On top of it, it lessens the need for customers to abandon the page or use a different device to reach out. All of that makes an uninterrupted line of communication possible, as well as improved assistance in decision making. 
All of the benefits can come to nothing if the rules of conversation etiquette fail to be followed to a tee. Customers will express their disappointment and frustration loudly online, which can have a terrible effect on the business.
The essential qualities of a customer service support agent
A choice of proficient staff assigned to maintain the live chat communications is a crucial part of its success. There are different types of customer service, but the main point they all share is that to be positive and add to a fantastic customer experience, they should follow a specific set of rules.
It isn't about the number of customer service agents you employ. It is about the approach that they should all possess to deliver the outstanding results of customer service. Excellent customer service is an inherent part of a superb customer experience.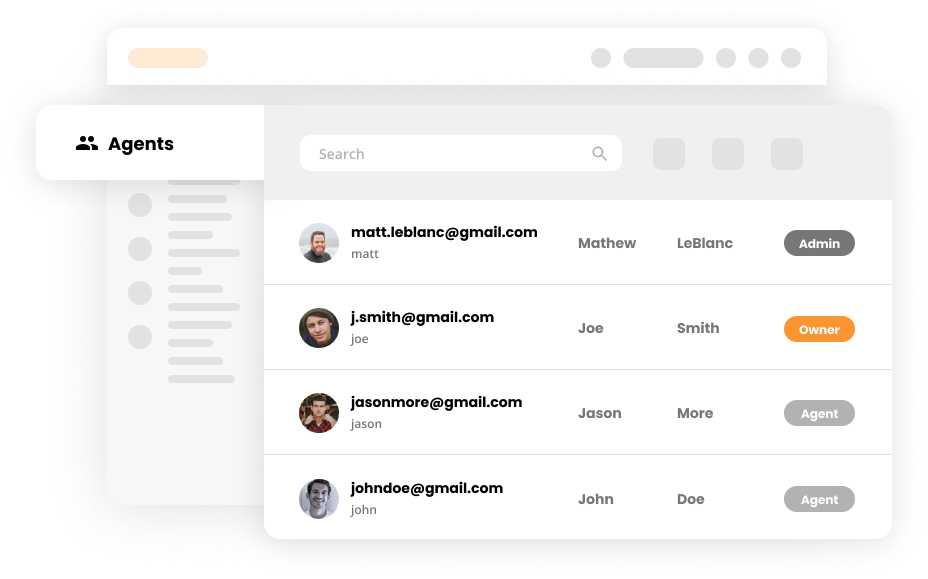 The following characteristics form the skill-set of an ideal customer service representative.
Professional and friendly approach
Patience 
Empathy
Customer-centric mindset
Knowledgeable
It is essential to produce and impose recurring customer service etiquette training to address any negative cases or refresh etiquette's basic rules.
Etiquette rules
Live chat is a fantastic way to communicate with your customers, but it has a flaw that agents can exploit. You don't come face to face with your customers. People tend to relax their attention or start acting recklessly when not facing a customer in person. 
In standard brick and mortar shops, retail assistants interact with customers directly. Their level of engagement has to be active. There is nowhere to hide. The same should be applied to live chat. Just because people cannot see you does not mean that they're not there or that they should receive lesser attention because of that.
For precisely those reasons, agents should act politely and keep their etiquette in check twice as hard as if they would be in front of a customer. Otherwise, they risk falling into a nasty habit that is extremely difficult to shake off. But what exactly constitutes a good customer service live chat etiquette, and what are the basic rules?
Read the following eight etiquette tips and learn how to master the art of conversation.
1. Preparation is the key 
A movie director cannot make a motion picture masterpiece without a well-crafted script. Developing a script based on the previous chat transcripts aids agent's preparation for various scenarios. It acts as a template for customized interactions and responses and keeps the flow of conversation seamless. 
Agents can find and set up the tone of chat by following the script points, which boosts their confidence in return. During times of overwhelming workload, support staff can access reliable information on how to act under urgent circumstances, which results in quicker response time. 
Personalized script for departments other than customer services results in the consistency of the used language. The outcome positively affects brand reputation that adds value to customer experience, leaving customers with a lasting positive impression, no matter who they're addressing.   
2. Greetings and invitations
The opening greeting line is what sets the chat outcome towards success or failure. The first impression is everything, and it's no different in this case. It gives customers a sense of direction it will take to have their inquiry or request processed. 
Bad greeting styles to avoid:
For example, Hey, you! Need help? 
For example, Greetings, this is "agent's name," and I will be your advisor today. Welcome to the "company name." We are glad you have taken the time to chat with us today. We hope you will not be disappointed. What may I help you with today? 
Both show lack of respect and care for the customer. Upbeat greeting consists of a friendly word of welcome and the introduction of the agent's company name or both. The trick is to sound professional but maintain a warm tone. 
Greeting example:  
"Hello, and welcome to "business name"! My name is "agent's name." Any questions? You are at the right place!
All the messages should be consistent with the brand's mission statement and style. Agents are brand representatives, so they should sound like their brand. Not only that, but they should sound like humans instead of a lifeless chatbot. Otherwise, it defeats the whole purpose of chatting with customers.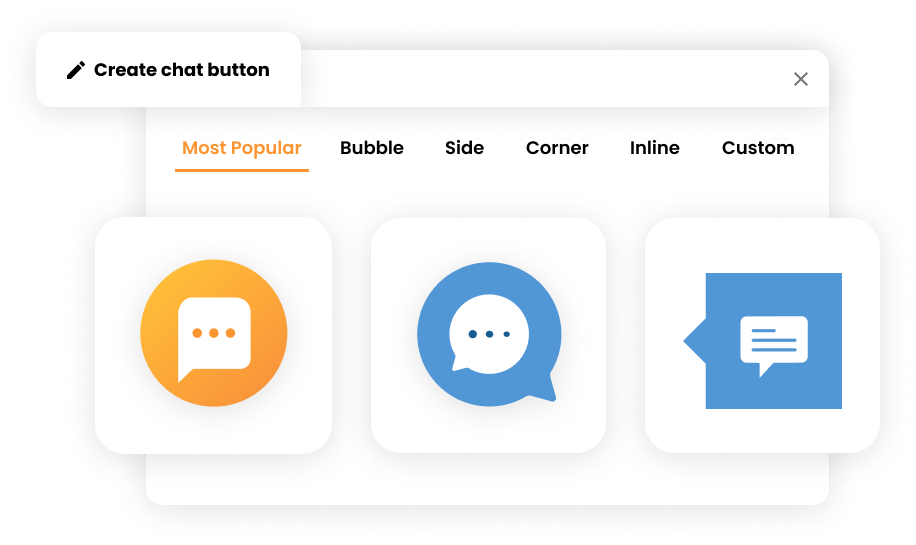 Suppose the customer has not provided their name, no harm done in asking. It shows genuine interest and makes the conversation more personalized. Careful when typing the customer's name. The misspelling of their name would ruin the experience.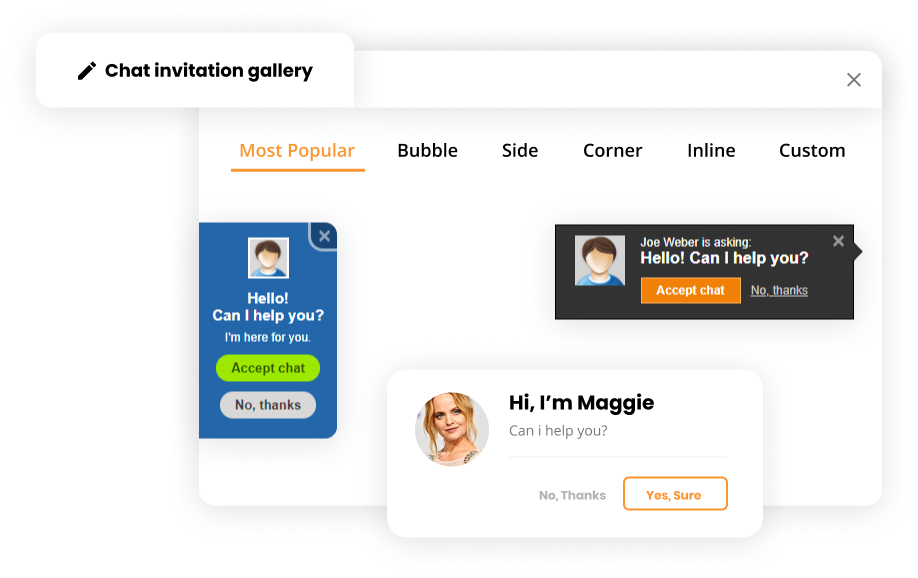 The proactive approach is to implement time-triggered chat invitations. It acts as an equivalent to a staff member offering help to an undecided customer in a typical shop. Chat invitation can also function as a promotional tool. 
Examples of chat invitations:
Hello! "Agent's name" here. May I help you with anything? 
Hello! "Agent's name" here. Would you like to see our latest offer?  
3. Apply canned responses and predefined answers
The cost of time spent on endless replies to the same questions is familiar to any business owner. The multitasking agents have to perform during the busiest days can lead to burnout. The solution to this is canned responses and predefined answers. Although they are quite similar, they have one distinctive feature.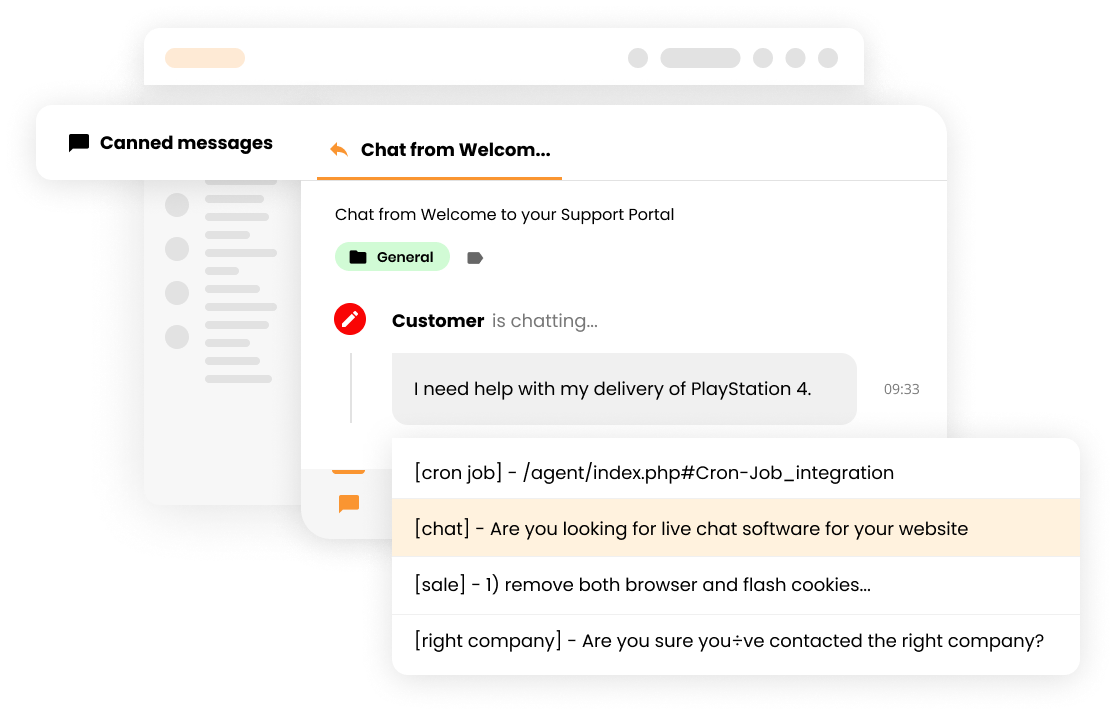 Canned responses are stored, short, pre-set text templates that enable agents to reply to common issues or inquiries quickly. On the other hand, with predefined answers, you can define the ticket's subject or add attachments. 
Example of a canned response: 
"Customer": Hello, I would like to request a refund for the unauthorized payment, please. 
"Agents": Dear Sir/Madam, please note that we have successfully refunded your account. 
Example of a predefined answer: 
Email subject: Return 
"Customer": Hello, one of the parts delivered is broken. I would like to return it. Could you please advise what I should do? 
"Agent": Hello, please see the attached label for the courier that has to be placed on the product box. Please deliver the package to the nearest collection point. 
4. What to do with problem chats? 
A single negative customer experience can have a significant impact on company churn and profits. In the age of social sharing, customers will not hesitate to share their experiences publicly online or in their innermost circle of friends and family. 
Lack of appropriate etiquette is one of the reasons that contribute to chat ending up badly. Dealing with customers who are already frustrated, to begin with, can be difficult, but it's not impossible to turn what can start as a dreadful chat into a pleasant conversation.    
Unhappy customers and complaints
It is important not to get carried by one's own emotions. Of course, that doesn't mean to allow verbal abuse, but it is always a better option to find a different way to sway the customer on a more positive side. 
Sympathy and understanding are the two best methods that a customer support agent can utilize to diffuse the situation and acknowledge customers' feelings. 
For example: 
"I'm sorry you are not happy with our product/service. Let's see what we can do to make things right." 
Staying courteous while expressing willingness to help find a solution takes the chat on the right track towards a positive resolution.
More information required 
Failing to ask customers for the essential information is more common than it should be. Understanding the situation before advising is crucial. 
Example of information request: 
"This is what I understand the situation is. Correct?"
Wrong chat – wrong company 
From time to time, customers of different brands will end up on your end, especially in the same niche market. Be prepared to have a friendly response ready even in this scenario. They might not be your customers, but that doesn't mean it cannot change, or they might not harm your brand reputation.
Example of wrong chat response: 
"I'm sorry we are not the right company to help with this request. 
5. Words and chat structure
Words carry a meaning, and their use forms the complete outcome of online communication. Polite words can enhance the experience, whereas impolite words do the opposite. 
Ten examples of polite words: 
Certainly 
Quickly 
Fantastic 
Great 
Excellent 
Enjoy 
Definitely 
Feel
Ideal
Recommend 
The use of polite words is sometimes tricky. The psychology of different customers might produce an undesired negative effect if overused. Instead of sounding positive, they end up sounding ironic or exaggerated. 
Ten examples of impolite words:
Never 
Nothing 
Argument 
End 
None 
Horrible 
Wrong 
No one 
Bad 
No way  
Avoid forming incomplete, long, scattered, and inconsistent sentences. The critical point is to keep online communication seem natural, concise, and respectful. 
Saying "no." 
No is one of those words that hang in the middle. Considered to be a negative word by nature, it is, in general, a word to avoid. On the occasion that, for any reason, the support representative must use it in a sentence, it should be followed by a positive phrase. 
Example of "no":
"No, we cannot do that, but let me find out what we can do instead."
6. How to put on hold and transfer 
Being put on hold or transferred is a nightmare scenario for the majority of customers. It prolongs the time that they have to spend dealing with their inquiry and is, in general, infuriating. The unpopular truth is that in some instances, it is unavoidable. 
The general rule of thumb is not to keep customers waiting or on hold period. In case it is necessary, for example, to investigate a topic in more detail, politely notifying the customer beforehand is imperative.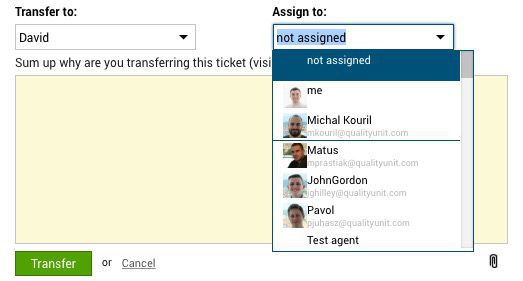 "I would need a moment to look into your request. Can I put you on hold? 
The same applies when transferring, but the receiving staff member should be notified and informed about the situation beforehand.  
Example of transfer request:
"I am sorry, but I do not have the necessary information to resolve your case. However, if it is ok with you, I will transfer you to our senior representative".  
If the customer refuses either request, it is best to ask for email or contact details and follow up within 24 hours. If it takes longer, it is still important to at least provide a progress update.
7. Follow up
Sales and live chat sales etiquette have a lot in common. The former is responsible for acquiring and converting leads, while the latter generally comes into the picture after the conversion. However, they do meet halfway quite frequently. One of them is follow up communication. 
Follow up service is a process that adds to the trustworthiness of a brand and cultivates a relationship between a prospect or enhances the already loyal consumer. Through follow up incentives, companies can gain valuable insight into customers' satisfaction, requirements, and suggestions.
The standard follow up method is in the form of feedback, implemented at the end of a live chat session, when the request is fulfilled or as part of an offer.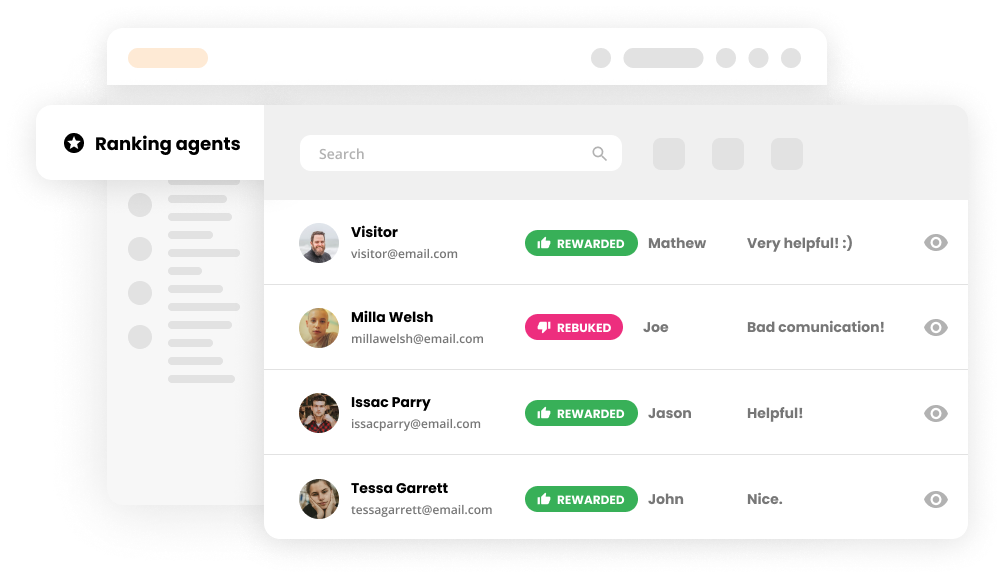 Example of follow up feedback request: 
"How satisfied were you with your live chat experience today on a scale of 1 to 3?"
8. Wrap up chat 
It is said that the span of human attention is strongest at the beginning and the end of any task. The final moments of the chat are as important as its initial phase. 
Before moving to a closing phrase, ask if any further assistance is required, and wait for the response. A respondent should always be the one who will indicate that the chat is over. The only thing left to do is thank them for their time, wish them a good day, and close the chat. Well, until next time, at least.   
Example of a closing phrase: 
"Thank you for using our chat services today. Have a great day, and we hope to hear from you soon."
Discover on your own
Knowledge is important, but only when it's put into practice.
Test out the best live chat within the LiveAgent help desk.
LiveAgent Product Tour | Live Agent02:25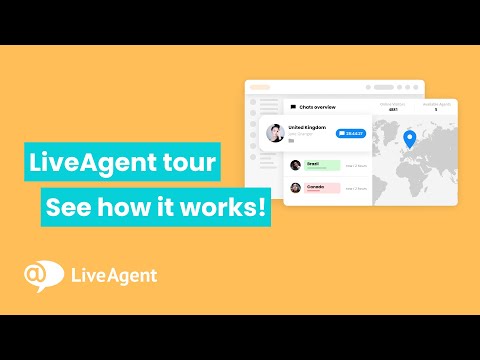 Live Agent
Try out LiveAgent for FREE
Handle all customer inquiries from one interface. Start improving your customer service with a 14-day free trial right away!
Frequently

asked questions
Why is live chat etiquette important?
If you're looking to improve your customer relationships, it would be detrimental to omit live chat as part of your service. The benefits of live chat software are unmistakable. Live chat provides an instant rapport with an actual person instead of a chatbot. Moreover, it saves time and reduces cost.
What is the skill-set of an ideal customer service representative?
What is a live chat etiquette example?
A positive example of live chat etiquette can be a question like: Is there anything else I can help you with?