What is a customer portal?
The customer portal is a way for your business to operate 24/7. To provide the best customer service, you need to give the best information to all customers. But how can you do that when your customer service is not available? Well, having a LiveAgent Customer portal can help you by providing the needed content.
This way your customers can find the answers to their questions or important guides. Thus, you are operating nonstop and the business is not losing customers. Having a Knowledge Base can help your customers.
But, you can easily create a different Knowledge Base for your employees too. For example; it can help with onboarding to provide information to new employees. Or simply broaden agents' knowledge; if an agent finds a new trick or tip -this could be shared as an Internal Forum.
To enhance the efficiency and effectiveness of your customer support and internal knowledge sharing, investing in the best knowledge base platforms is crucial. Extensive research and comparison of various platforms can help you choose the right one that perfectly meets your business needs.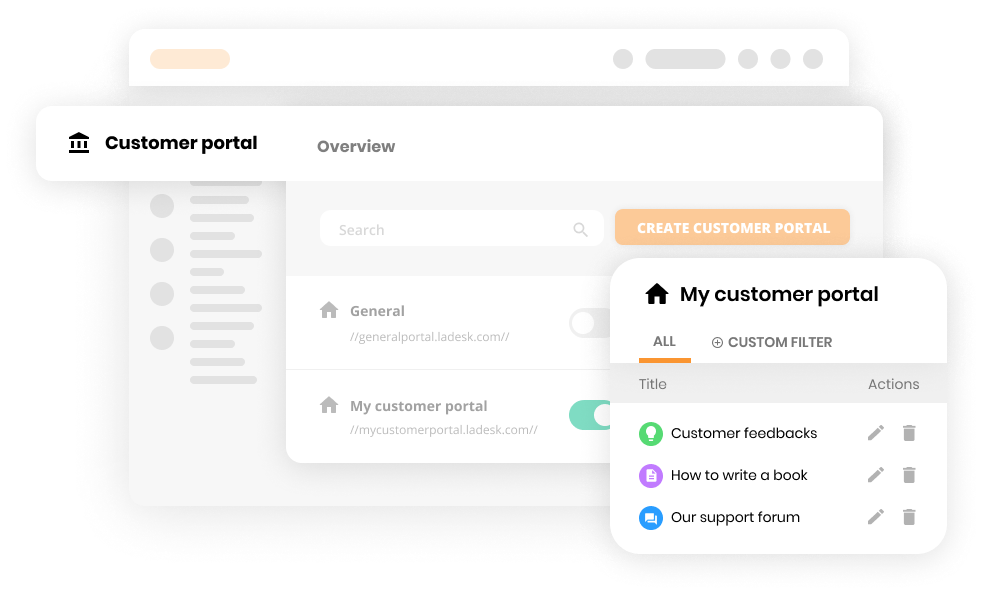 How does the Customer portal work in LiveAgent?
The customer portal is built in LiveAgent. It is fairly easy to use. If it's your first time using LiveAgent, simply create a free account or try a free trial. After you create your account, follow and complete the getting started guide. This helps you get familiar with the customer support portal software fast. 
After that, you can just click on Knowledgebase and start creating. Either category, article, forum, or a suggestion category. LiveAgent also provides a plus button on the top right. From there you can easily create Knowledge Base articles and more. The plus button is always in the right top corner. For example, you can create an article from your Dashboard.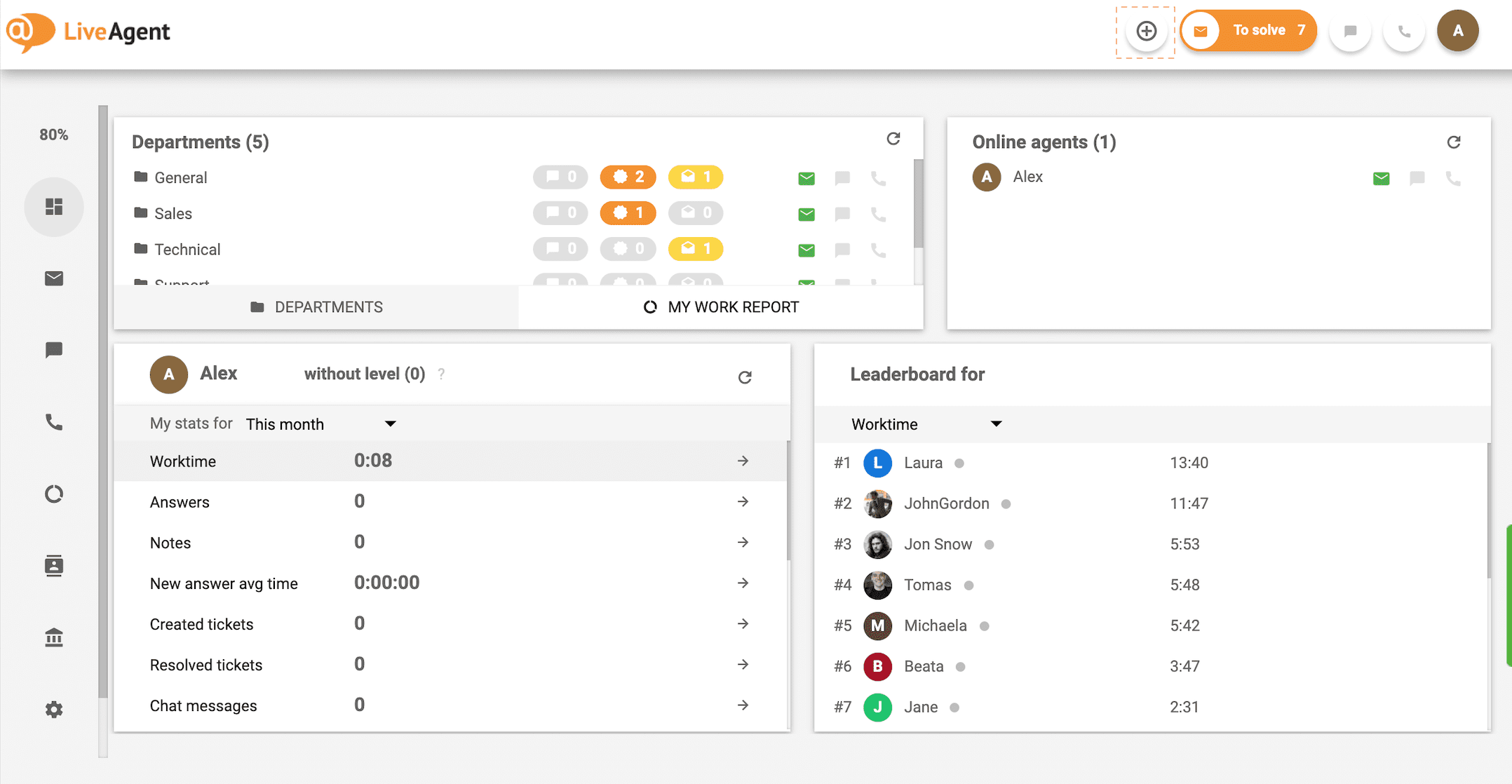 After creating your self-service content, you can add a Search widget and Feedback buttons. Thus, if your customer agents are not available, your customers can click the buttons and search for the needed information or give feedback.
How to set up the Customer portal in LiveAgent.
Knowledge Base / Customer Portal Demo | LiveAgent | Live Agent05:07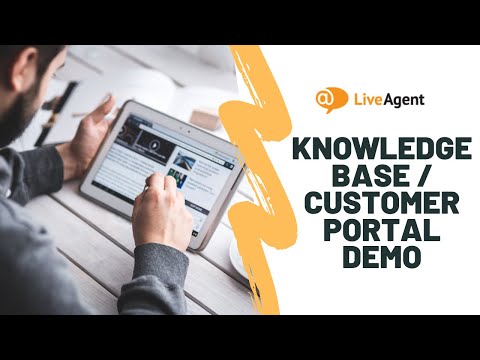 Live Agent
Costs of Customer portal in Live Agent:
LiveAgent provides a few alternatives for subscriptions. Since each business has different needs, LiveAgent created 3 types of subscriptions. There is a Small, Medium, and Large. The general difference is in the list of features enabled. If you would like to learn more about them, read Pricing.
Please allow me to save you some time in regards to the customer service portal. There are no additional fees for the customer portal, customer forum, and knowledge base. In contrast, if your business is interested in multiple knowledge bases, you will pay $19 each month.
So, you might ask why would I need Multiple Knowledge bases? 
Well, here is an example; you might want different Knowledge Base for each brand. Yet, if you are not interested in more, you will just get one. If you would ever be interested in Multiple ones, you would have to first activate a plugin in LiveAgent. Then you simply create one. Unless you do that, you are not going to be charged.
There is one more option we have not mentioned yet. We understand that subscribing to something that you are unfamiliar with can be often a risk. Thus, LiveAgent offers a 30-day free trial for each subscription or a free account.
Try out LiveAgent for FREE
Handle all customer inquiries from one interface. Start improving your customer service with a 30-day free trial right away!
Why should your business consider getting a Customer portal? 
· 24/7 customer support
Not every Helpdesk can say that they provide 24/7 customer support. Having thorough Knowledge Base articles can provide essential information the customers seek. Even when it's outside your business hours.
· Decreases your customer inquiries 
Customer representatives are usually dealing with similar inquiries every day. With the customer portal, they can decrease the most asked questions/issues. 
· Customer retention
If the customers can find the needed information fast there is a higher chance for them to come back. But usually the smoother the process, the higher the chance the customer comes back. The important factor is not only how fast they can reach the information, but also how valuable it is.
· Boosts traffic on the website
Proper Knowledge Base articles can attract a lot of attention. Thus, if a lot of people find your articles valuable, they will share it with others. This means you can get more traffic to the website, which means more potential customers. Plus, you strengthen your website authority.
Customer portal overview
Customer portal:
We've talked about the customer portal overall, but here are some extra features that the LiveAgent Customer portal provides. The customer portal allows you and your agents to view the ticket history of a customer. The customer can just log in and view the whole ticket history in the portal. The agent can see the ticket history in the LiveAgent. The customer portal also includes Knowledge Base articles, Forums, Suggestion Boards, and more.
Knowledge Base:
The Knowledge Base is where your company can create an endless number of information-based articles. A great aspect is that you can easily assign a Knowledge Base article as a ticket to the agent. The content can be created either for internal or external purposes. So, you can create information-based articles both for your employees and customers too. The content varies from business to business.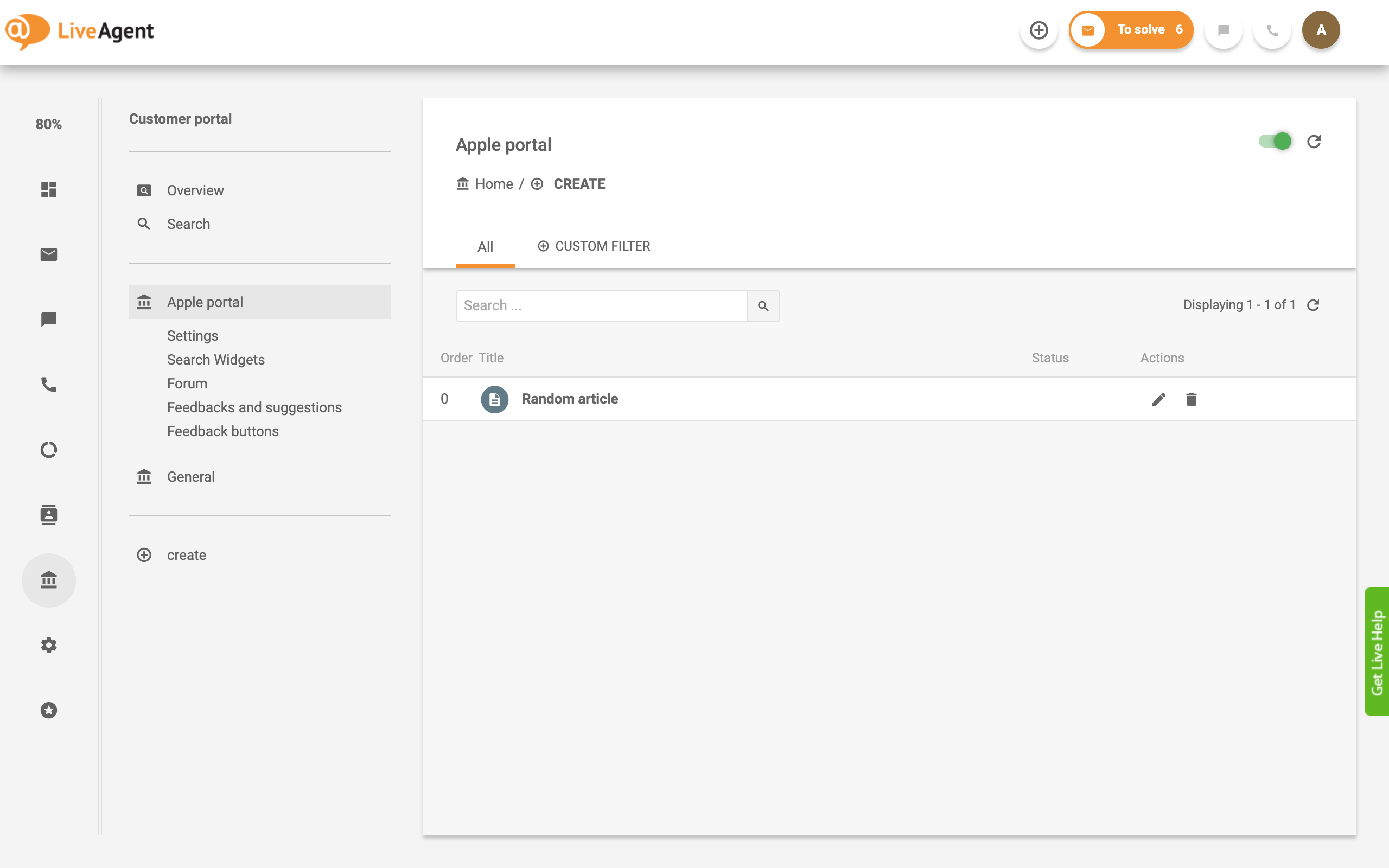 Internally created Knowledge Base articles can help you with the onboarding process/training. Having structured articles with attachments can make this process smooth and organized. The internally used articles can also be a way for your employees to provide accurate information to your customers at all times. Thus, it can act as some sort of knowledge database for your business. For example, you can write company news, updates, or just general knowledge.
On the other hand, External/Public Knowledge Base articles focus is on customers to find the information they are seeking. These days, the customer wants to have the information right away. If the customer cannot find it, there is a high chance that he/she would contact the customer service or worse go to your competitor. Writing in-depth organized articles can prevent these situations.
Here are a few ideas for External/Public articles:
Guides
Information about products/services
FAQs
Visual step by step -screenshots or videos
Learn more about LiveAgent Knowledge Base.
Try out Knowledge Base for FREE
Handle all customer inquiries outside the business hours. Start your self-service with a 30-day free trial right away!
Multi knowledge base:
Having Knowledge Base articles that are not organized can be frustrating. Thus, Multi Knowledge Base can prevent this issue from happening. 
As we have previously mentioned you can create as many Knowledge bases as your company desires. This usually applies to companies that might have a few brands or someone who prefers to differentiate the content. However, if you would just like to categorize your content you can simply do that with just one Knowledge Base that's given with any subscription. But if you would like to create content for multiple brands this would be an advantage to activate. In LiveAgent you just simply go to Plugins and activate. After that, you can create as many as you want.
Learn more about the LiveAgent Multi knowledge base.
WYSIWYG editor for articles:
Creating an article used to involve a lot more than good writing skills and proper knowledge. These days, creating an article could not be easier. Using this editor can help you visualize the content before publishing. Knowledge Base articles or Forums in LiveAgent are so easy to create with WYSIWYG (What You See Is What You Get) editor. It is a user-friendly editor. Thus, even an inexperienced person can easily create a piece of article. 
Learn more about LiveAgent WYSIWYG editor for articles.
Attachments in articles:
LiveAgent provides a feature that allows you to attach files to your Knowledge Base articles. So, if you would like to create an internal or a public Knowledge Base article, you can do that with WYSIWYG editor and also attach a file at the same time.
Learn more about LiveAgent Attachments in articles.
Forum:
Another great feature in the Customer Portal is the ability to create a Forum. Creating the Forum can help you create a community. This feature allows a customer to post for instance; a question. 
So, what happens after that? Other customers can answer. Therefore, they are effectively able to help each other out. On the other hand, the customer representative also receives a ticket, where he/she can engage with the customers too.
In this way, you can increase collaboration, improve communication, and engage with the customers. These factors all help when creating a loyal community for your brand.
Learn more about LiveAgent Forum.
Feedback & Suggestions:
Feedback provides many benefits to your business. It is important to understand that it is inevitable to receive feedback. Giving an opportunity to provide feedback can show your customers that you are actively listening.
In other words, you want to know their opinions because you value them. Getting to know your customers is an important business aspect. This feature can show you your strengths and weaknesses from the customer's perspective. Being aware of your weaknesses allows you to improve where you are lacking. On the other hand, it can act as a motivation for your customer staff. The list is endless. 
Creating the Feedback forum in LiveAgent is fairly easy. The customers simply just sign up. For them to do that you can choose a customizable Feedback button or create your HTML one and submit it in LiveAgent. The customer can then create a Feedback or Suggestion. After creating one, the customer representative receives a ticket, where he/she can respond to the ticket immediately. 
Another plus is that it allows other customers to vote/like. Therefore, if you would like to know what the majority of your customers agree/disagree with, you can find out easily with this feature.
Learn more about LiveAgent Feedback & Suggestions.
Search widgets:
Have you ever been frustrated because you could not find what you were looking for on the website? The search widget in LiveAgent helps your customers find the relevant pieces of information quickly. Imagine having amazing Knowledge Base articles, only to find out your customers are not able to find it.
So how does it work in the real environment? Well, after you create/customize your Search widget, your admin integrates it to your website. One of the options, while customizing is that you can choose a category where you would like the customer to see the widget. You can create multiple ones for specific categories. 
After you set your widget, the customer will just type what he/she is searching for and the most relevant articles will pop up. This widget navigates your customers to the information they are seeking.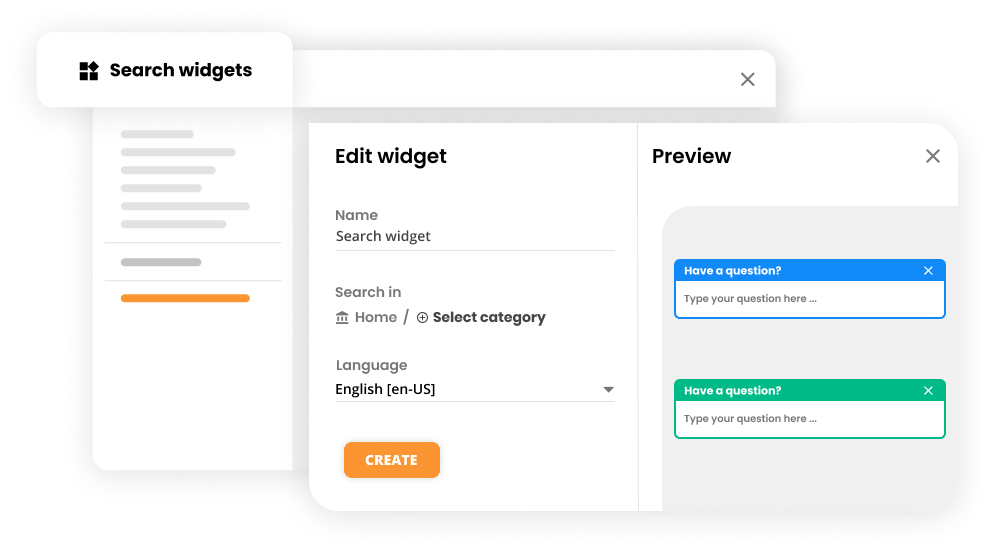 Learn more about LiveAgent Search Widgets.
LiveAgent Settings:
Configuration:
LiveAgent offers customers different templates to choose from for their customer portal. We offer Classic, Minimalistic, and Montana. Thus, based on your business preferences you can choose design, logos, colors, and more! Although, if you would like to have your HTML header and footer, you can simply do that too by submitting it in Customer portal settings.
Submit ticket:
This setting option allows your customers to submit a new ticket. Your company can choose the preferred department to handle those kinds of inquiries. Moreover, you can customize the contact form fields. For instance; Title, description, name, confirm message, and more.
Start chat:
In the Start chat settings, you can easily create and customize a chat window. This includes the style, location, and colors of the button. Moreover, you can write a welcome message that will pop up whenever your customer starts a chat with your representative. This automation will save time both for your agent and customers. An interesting function is enabling hiding messages. It means that if the customer approached you previously via the pre-chat form/chat window, the welcome message will be hidden. There are other smart functions like this, such as; enable leaving offline messages, hide the start chat again button, and more!
These settings allow you to customize your Customer Portal for a better customer experience. Besides, they help your agents manage Knowledge Base articles, Forums, Suggestions Boards.
Try out LiveAgent for FREE
Handle all customer inquiries from one interface. Start improving your customer service with a 30-day free trial right away!