What is social media?
Social media are websites and applications that allow users to create unique content and share it with other online users. Social media is interactive and promotes self-expression in the form of photos, videos, text posts, and GIFs.
Why is social media customer service important?
Social media customer service is a must because it's an 'always on' channel that's used by the majority of the world. As such, customers expect replies to their social media queries much faster than on traditional channels such as email. 
In fact, most customers expect answers to queries they've made on social media within 60 minutes!
What social media integrations does LiveAgent offer?
As of September 2020, we have working integrations with:
Facebook
Facebook Messenger
Twitter
Instagram
Viber
WhatsApp
Our main goal for creating these social media help desk integrations was to improve agent productivity. We wanted to save agents time (less clicking, opening new tabs, logging in and out of different platforms, fewer notifications guesswork) by streamlining all customer interactions into a single unified inbox.
Here's how each integration works:
Facebook
Integrating your LiveAgent account with Facebook will allow you to monitor multiple Facebook pages through your LiveAgent dashboard. When connected, all Facebook comments on your business page will be automatically converted into tickets and fetched into your LiveAgent dashboard.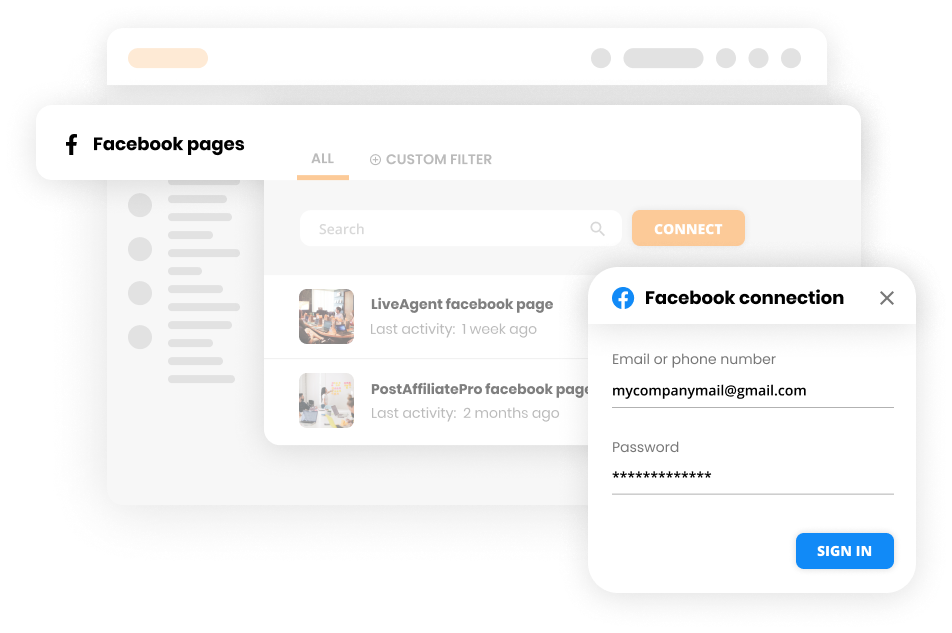 From there, you can easily reply to the comments, give them likes, and even attach photos and GIFs. LiveAgent gives you the same response options as you would have on Facebook.
Want to see it in action? Check out our video.
Facebook Messenger
Our Facebook Messenger integration fetches all direct messages from your Facebook business page to your LiveAgent dashboard. From there, you can reply to DM's, send attachments, photos, GIFs, and even like messages from other users. 
The best part? Your customers won't know the difference. 
Learn more about our Facebook and Facebook Messenger integrations.
Twitter
LiveAgent offers a Twitter integration that can double down as a powerful social listening tool. The integration allows users to connect multiple Twitter accounts and monitor brand mentions in real-time.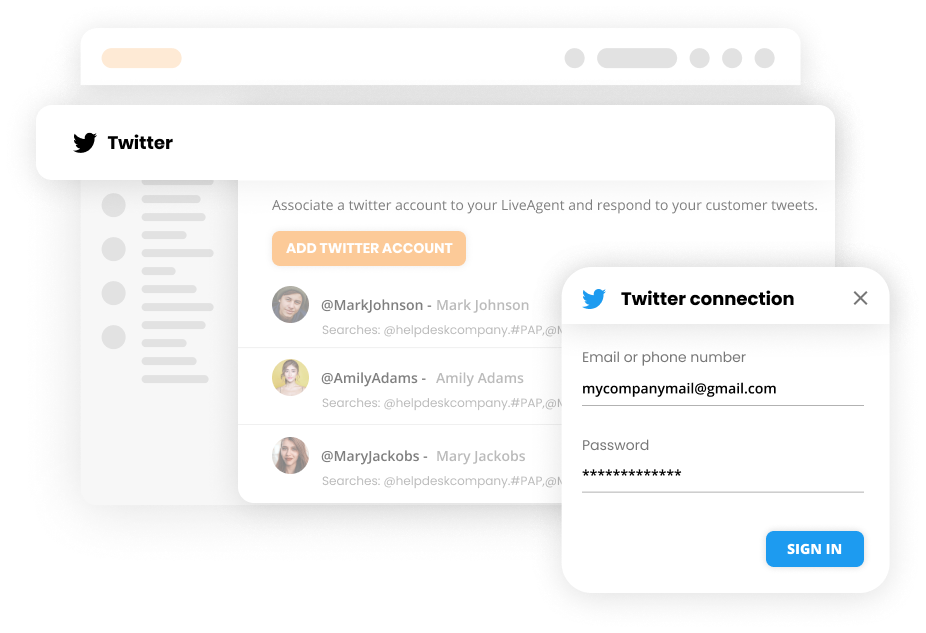 Here's an example: Every time "LiveAgent" is mentioned in a Tweet like this "@LiveAgent", the Tweet will be automatically converted into a ticket and pushed into your LiveAgent dashboard. From there you can respond to the Tweet inside a comment, by making your own Tweet response, or by re-tweeting.
However, LiveAgent also offers a feature that allows you to pick specific keywords (and keyword sets) and allows you to track their use across Twitter. What does it mean? Imagine someone mentions "LiveAgent" in a Tweet, but doesn't explicitly use the @ tag.
LiveAgent will convert the Tweet containing this keyword into a ticket. Now, why is this so great? Because it allows you to track what's being Tweeted about you. Did you know that only 1 in 26 unhappy customers will complain directly to you? Most unhappy customers simply turn to the Internet and share their experiences with others.
LiveAgent's social monitoring tool allows you to pick up on these indirect Tweets, and make them right before they go viral and tarnish your business reputation. The tool is also useful for picking up on positive Tweets and engaging with your customers. Furthermore, it can also help you see what the competition is saying about you.
Because LiveAgent notifies you about new Tweets in real-time, you can stay ahead of the game. Try our Twitter integration today.
Instagram
Instagram is one of the most popular social media platforms, raking in more than one billion active users each month. To make customer service on Instagram more manageable, we've created an integration that lets you monitor multiple Instagram accounts.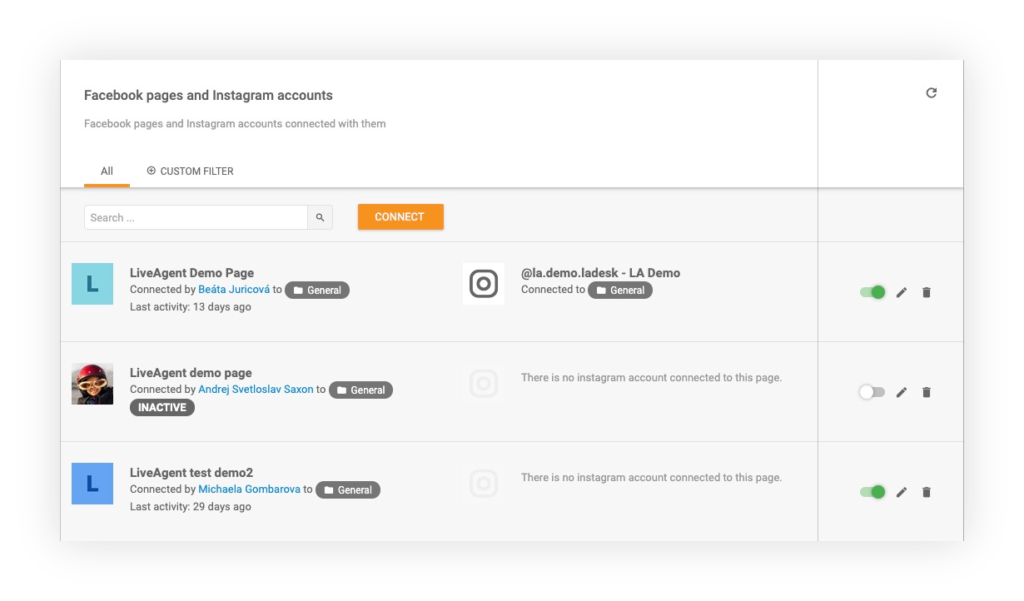 The integration fetches all comments on your posts and all mentions of your page into your LiveAgent dashboard. Each Instagram comment and mention is stored in the form of a ticket, and even gives you a preview of what the actual post looks like so you don't have to exit the LiveAgent application.
Want to see how it works in real-time? Check out our video. To learn more about our Instagram integration, check out our Instagram feature page.
Viber
Our Viber integration allows users to receive and respond to Viber messages. But that's not all! With LiveAgent's Viber integration you'll be able to broadcast messages to a maximum of 300 recipients. 
This feature is great for those who run multiple segmentation marketing campaigns. For example, your VIP clientele can receive a message about a pop-up sale and a different audience segment (for example those with an appointment for a given day) ca broadcast last-minute change in business hours.
WhatsApp
With WhatsApp, you can stay in touch with your customers at any time of the day. All messages sent to your WhatsApp account will appear as tickets in your LiveAgent dashboard. You can even set up separate SLAs for WhatsApp to ensure your agents' response times are spot on.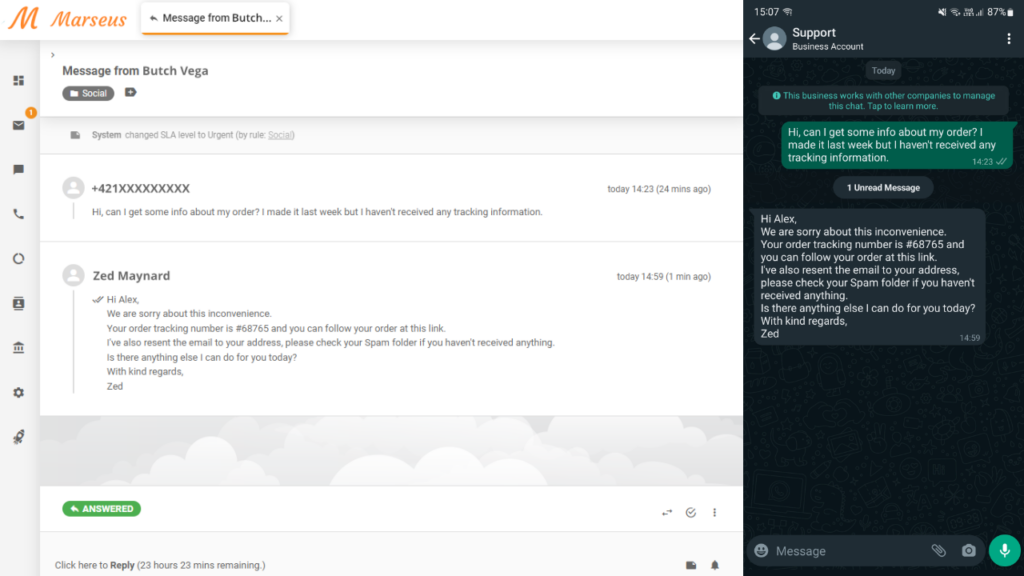 Speaking about hitting the mark with speedy responses, you can even create multiple WhatsApp numbers for different departments. This way, you can stay on top of all interactions and keep customer communication organized. WhatsApp's ease of integration is another notable benefit. You can connect your WhatsApp account with many platforms and incorporate them into your sales, marketing, and customer service efforts.
Considering WhatsApp is the top messaging app in more than 100 countries worldwide, you simply can't ignore it when discussing omnichannel customer care. Check out our WhatsApp Integration to learn more.
Additional features that'll complement your social media help desk integrations
LiveAgent is a one-stop-shop for all things customer service. Our features complement each other and work best together. To provide your customers with the best service possible, take advantage of everything LiveAgent has to offer.
The following integrations will help you maximize your social media help desk efficiency:
Universal inbox
LiveAgent offers a shared, centralized, universal inbox that integrates with all communication channels (live chat, email, social media, phone, knowledge base, customer portal).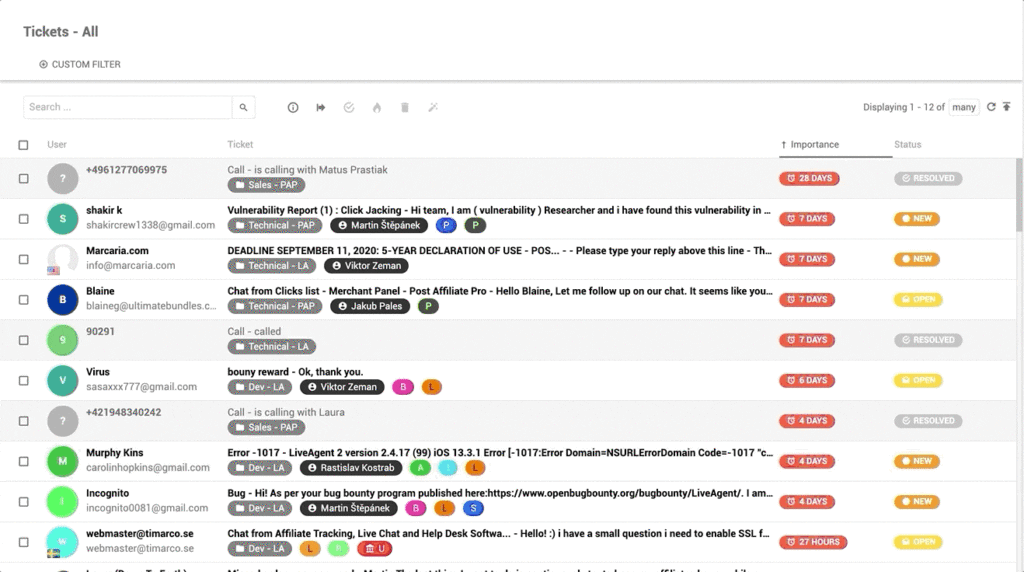 The inbox stores all tickets in one place and can be accessed by all support agents. It ensures that no ticket goes unanswered, gets forgotten, or is lost.
Hybrid ticket stream
LiveAgent's hybrid ticket stream allows you to follow your customer's contact/problem resolution journey through different channels while staying in the same ticket thread. In essence, a hybrid ticket stream takes the guesswork out of what's been said, where, and when.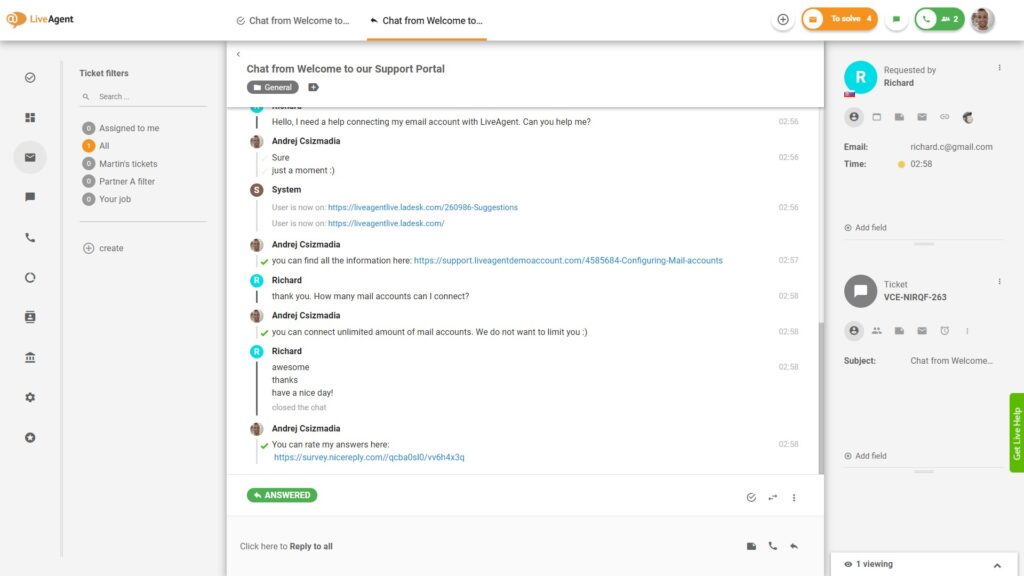 For example, if a customer initially calls you, and you follow up with an email, and then they decide to chat with you on live chat, each conversation will be saved under one ticket thread. In it, you'll be able to listen to the full call recording, read the email exchange, and see the live chat transcript history.
CRM 
A built-in CRM allows you to store, view, and edit the information that you've gathered about your customers directly inside your LiveAgent dashboard. As an example, imagine that a prospective customer opens up live chat and starts chatting with you in Spanish. As you're chatting with the customer, you can open up your ticket field CRM, and add a note that the customer is a Spanish speaker.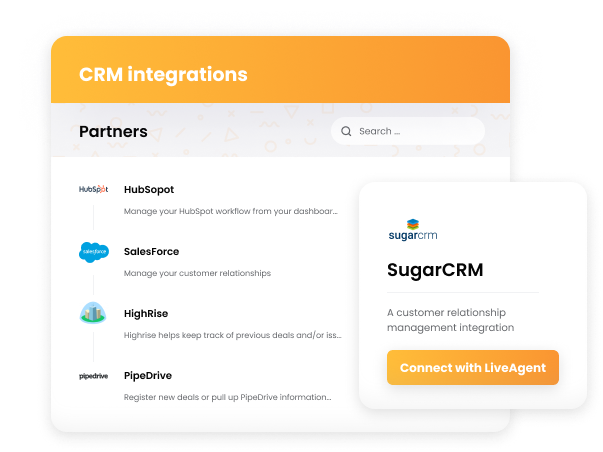 This can aid you in your marketing, sales, and support efforts, as you can offer a more personalized service experience the next time they contact you (by speaking to them in Spanish immediately)
Tags 
Tags allow you to get a quick overview of each ticket's contents. This makes it easy to filter through tickets and find exactly what you're looking for. As an example, each ticket that comes from Instagram and is regarding a Black Friday Promotion can be assigned a "Black Friday Promo IG" tag.
Automation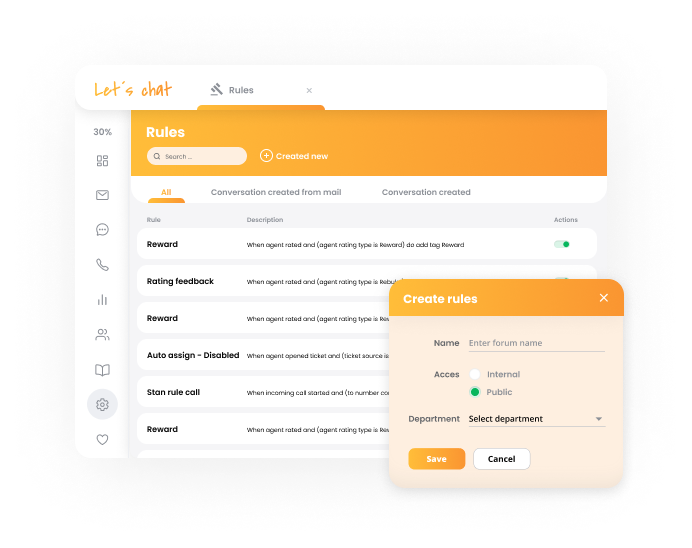 Automation rules are a lifesaver when it comes to customer support. They speed up tasks and automate mundane, repetitive assignments. How?
Canned messages
Canned messages allow you to create pre-defined responses to your most frequently asked questions. Moreover, you can use them in live chat conversations, emails, knowledge base, and even social media responses.
Using them saves your agents time, and prevents burn out!
Time rules
Time rules run background checks on specific tickets to determine if they can execute certain actions. For example, you can set up a time rule that automatically generates and sends a feedback email 24 hours after the customer receives a response to their query.
Time rules help your agents save time, and allow them to focus on more complex tasks.
SLA rules
SLA rules run background checks on tickets that come from users that you have a service level agreement with. If they submit a ticket, the system will automatically notify you that you have to priortize their ticket above others.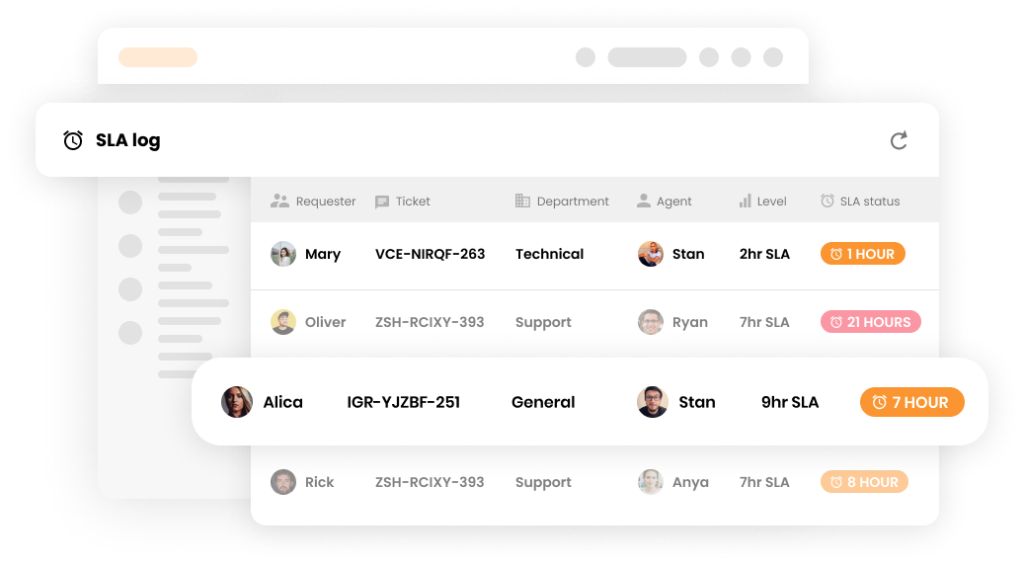 Business hours
LiveAgent allows you to set up different business hours to ensure you comply with SLA standards. As an example, you can configure your SLA Levels to take action only during specified time periods with a possibility to exclude holidays.
If your helpdesk operates on standard office hours 9AM to 5PM, Mon – Fri., and you receive a ticket at 4PM on a Friday, the ticket will be only 1 business hour old by 9AM on Monday.
Departments 
Departments help keep your universal inbox organized. All tickets can be assigned to different departments (IT, Sales, Marketing, General Support) both manually, and automatically. By assigning tickets to different departments, everyone is on the same page and has accountability for different tickets.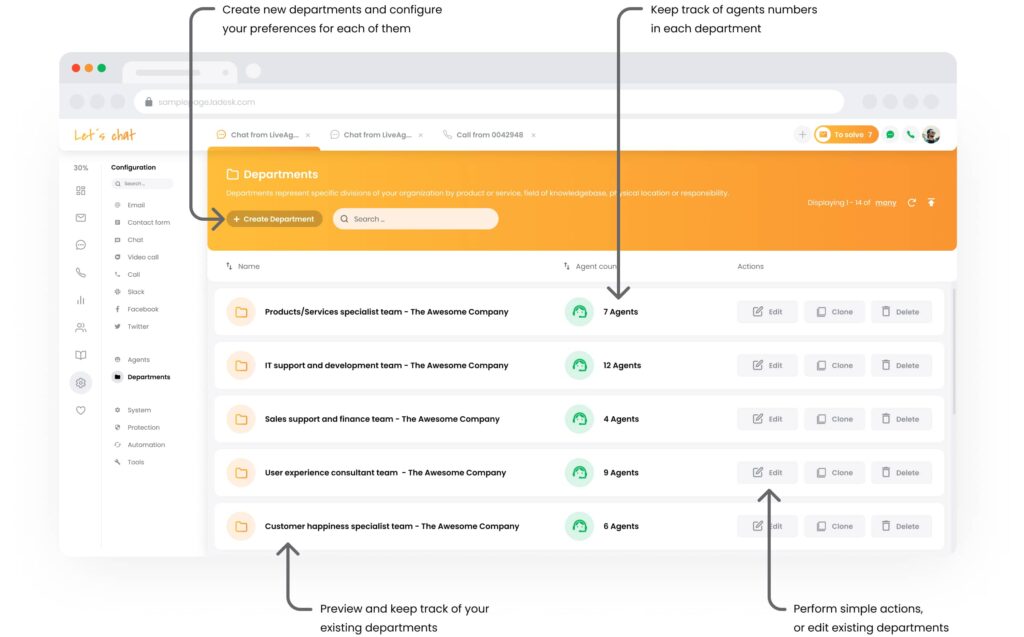 Third-party integrations
LiveAgent integrates with over 40 third-party applications to make your customer support even more convenient.
Here's an example: Imagine that a customer Tweets you about upgrading their subscription. As you respond to their Tweet inside your helpdesk, you can click the PipeDrive integration button, and add a new deal directly from LiveAgent.
Summary of benefits
So, what can a social media help desk system do for you, apart from providing social media help desk integrations?
Save precious time
It can save your agents tons of time. There's less clicking, less monitoring (accounts, devices) and everything can be done from one single dashboard.
Keep things secure
LiveAgent can keep your data secure. By doing everything from one dashboard, you won't have to share your social media login credentials with multiple support agents. This decreases the risk of hacking, data leakage, or the chance of leaving unattended computers logged in to your business's social media accounts.
Improve efficiency and productivity 
Using a system like LiveAgent improves agent productivity and efficiency. Being logged into one platform from which you can do everything decreases the chance of getting caught up in social media feeds.
Ready to give it a try?
LiveAgent is the most reviewed and #1 rated help desk solution for small to medium-sized businesses. Our free 30-day trial offers full functionality and all social media integrations. Try it today. No credit card required.