Partner
Partner website
Partner Privacy Policy
What is Zoho Mail?
Zoho Mail is an email service provider that's primarily used by businesses to handle customer emails. It's used for sending and receiving emails, managing them, and connecting with other Zoho apps. It also supports automation options.
How can you use it?
You can connect Zoho Mail, Gmail, Outlook, or inboxes from other providers into one place. Having agent email accounts in one ticketing system can do wonders for agent productivity. It can improve customer interactions and increase customer satisfaction. 
Know about everything that's happening from your dashboard. You can also create drafts or send messages, create tags, and tasks, and more. Your agents can handle mails from multiple accounts in your ticketing system. That way you don't have to switch between multiple tabs with different providers to keep track of events and customer tickets. This is one of the best ways to utilize helpdesk ticketing software. 
You can also utilize and take advantage of more integrations and features to improve your workflow. Have a look at the list of all available LiveAgent integrations or check out the capabilities of our tools such as live chat, knowledge base, or call center. 
LiveAgent Product Tour | Live Agent02:25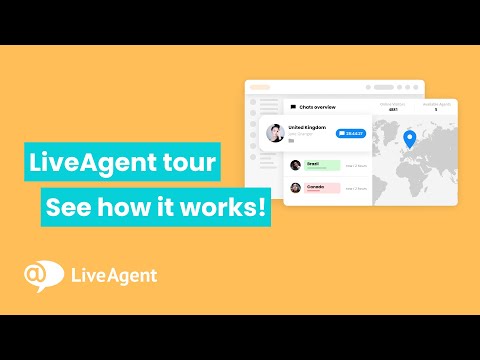 Live Agent
What are the benefits of integrating your email with LiveAgent?
Send and receive customer support tickets in LiveAgent 
No need to switch between apps
Chat software, automation tools, and popular integrations in your dashboard
All email accounts in one place
How to integrate Zoho Mail with LiveAgent
The simplest way to fetch emails from Zoho is to integrate your shared Zoho Mail email address with LiveAgent. Here's how you can do it:
Log in to LiveAgent and go to Configuration > Email > Mail Accounts. Click on the orange Add email account button at the top.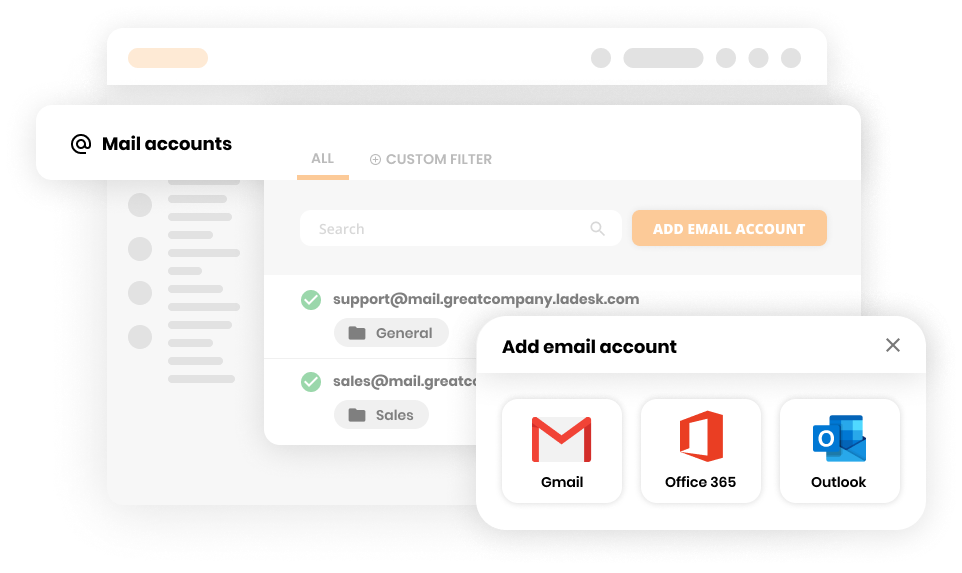 Select an email provider that you use for your Zoho Mail. If you don't see your provider, select Other. Select the department into which you want to route all incoming Zoho emails. If you selected other email providers, you have the option to choose between Forwarding and IMAP or POP3. Complete the process and don't forget to click Save.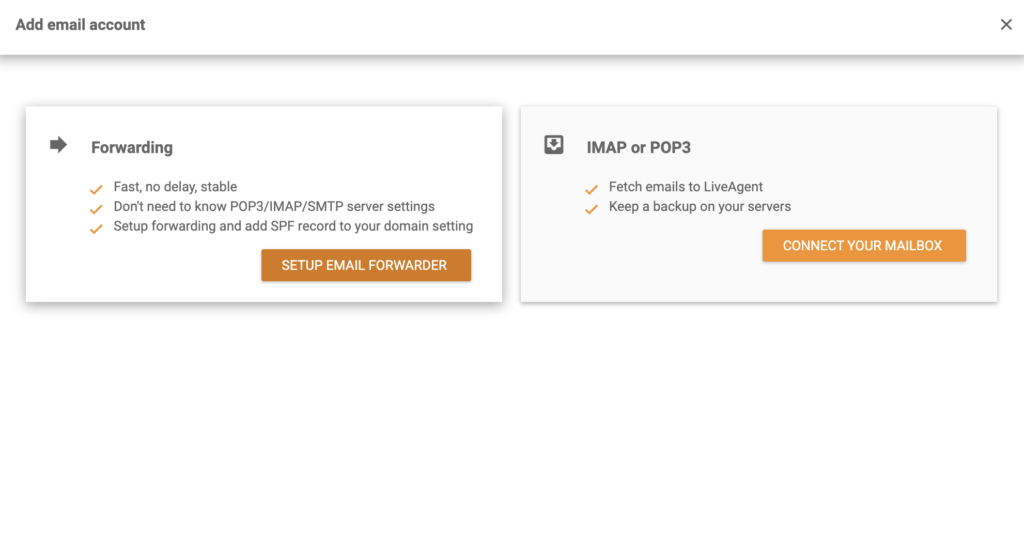 That's it! Your Zoho Mail account should be connected with LiveAgent and you should start receiving your emails into your ticketing system.
How to integrate Zoho Mail with LiveAgent via Zapier
You can use Zapier to integrate Zoho Mail with LiveAgent. Make sure you have a Zapier account and you can get started.

Go to the LiveAgent + Zoho Mail Integrations page, scroll down and choose a trigger and an action. Selecting an action and a trigger will connect LiveAgent with Zoho and create a unique integration that's tailored to your business. There are multiple triggers and actions to choose from. Once you've selected your actions and triggers click on the blue connect button.

Next, log in to your Zoho Mail account and allow Zapier to access your account. Last but not least, you'll have to conduct a trigger test to check if the integration is working properly.

Because we picked an action "Create Conversation" we need to fill out the subject, message body, sender, and recipient email addresses, and as well a few non-required fields in case we want to specify the action a little more. The last step is the test of the integration. Zapier will perform the selected action activated by the trigger you picked.
Successful test means the integration works and you can activate it. Turn on the Zap if you're satisfied with your custom integration.
Frequently Asked Questions
What is Zoho Mail integration in LiveAgent?

Zoho is a free email platform/service, and LiveAgent is a full helpdesk solution. By integrating Zoho with LiveAgent, you can automatically receive emails to your Universal inbox without switching between apps. 

What are the benefits of using Zoho Mail integration with LiveAgent?

You receive and send emails from one Universal inbox and get improved workflow efficiency.