Partner
Partner website
Lorem ipsum
What is ManyChat?
Facebook and Messenger are getting more popular as customer service channels. ManyChat is a service that allows businesses to create chatbots for text messaging and Facebook Messenger. These can be used to make sales, marketing, and customer service automated and easier to handle for many businesses. Communicate with people more easily.
How can you use it?
Combined with ManyChat, you can more easily automate your responses on Facebook Messenger and SMS, and handle commonly asked questions with ease. You can keep track of new customers, purchases, subscriptions, tags. You can also manually handle sending a text or Messenger messages, send content, subscribe or unsubscribe customers, handle tags, or find people.
Benefits
Keep track of new Facebook Messenger chats or messages from one solution
Send and reply to messages, forward content
Notifications about chat actions from Facebook Messenger in your LiveAgent dashboard
Seamless workflow with Facebook
How to integrate ManyChat with LiveAgent via Zapier

Follow this guide to seamlessly connect ManyChat's Facebook and Messenger capabilities. With Zapier, you can choose separate Messenger or other triggers and actions to connect these two apps and improve your workflow with customer support and Facebook Messenger.
The process of integrating two apps requires no coding experience and it can be done in a matter of minutes. Zapier will explain and lead you through all the steps in the process. The first step is to log into your Zapier account. If you don't have one, you can create it at this link. You can then proceed to the LiveAgent + ManyChat integration page.
Scroll down on the page and you will see a trigger and action selection. A trigger works as a trigger for your chosen action. That means if something happens in one software a trigger will occur and activate the action happening in the second integrated software. The triggers and actions can be set both ways between software or even within a single software.

Decide which trigger and action would you like to set. You can integrate the software with more triggers and actions anytime if you want to. As a showcase, we picked ManyChat to trigger New Tagged User and LiveAgent action Create Conversation. Any user that gets tagged on Facebook will trigger a conversation action in your help desk. You can create more connections when you need to, so pick your first one and click the blue button Connect LiveAgent + ManyChat.

A configuration of your ManyChat trigger will open up. You need to select your account and fill out the details to make sure the trigger will work. When you're done, we recommend you to test it out to see if it works. 

When you're done with Manychat, all that's left to do is to set up an action. Make sure you fill out the required fields. In case you want to specify the action even further, there is an option to fill out non-required fields too.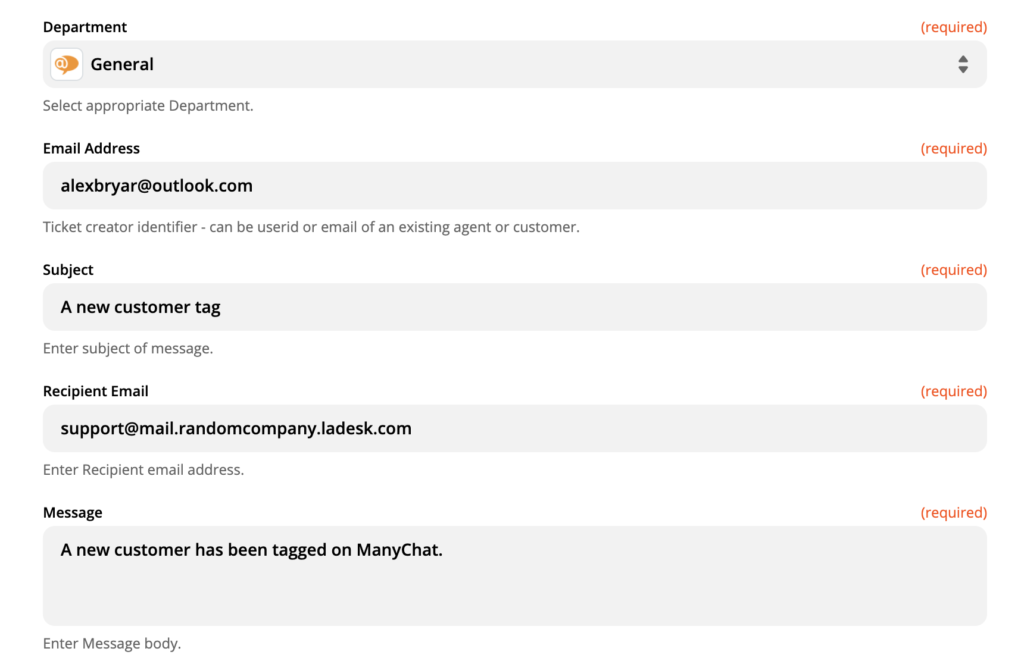 Now all you have to do is make a final test and see if the integration works. In case you run into some trouble, Zapier will offer you a handy troubleshooting guide that will help you solve the problem. If the test runs successfully, your integration is ready and you can test it live.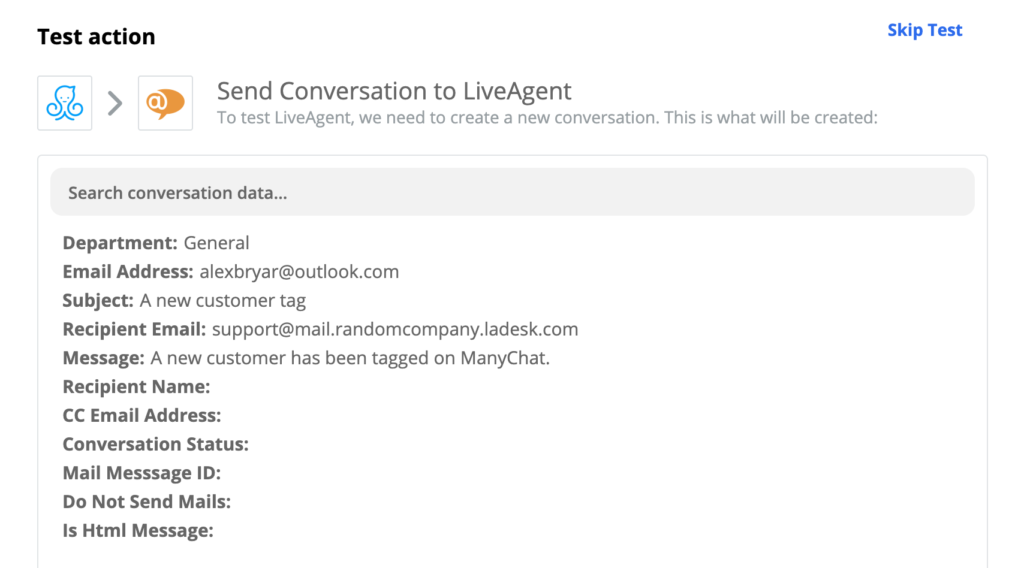 Frequently

asked questions
What is ManyChat?
ManyChat is a platform that allows you to create a chatbot for your Facebook page to help your company grow sales, ROI, and ultimately revenue. 
How can you integrate ManyChat with LiveAgent?
Log in to your Zapier account and navigate to Zapier - LiveAgent + ManyChat. Choose an action > Connect. Fill in the necessary information > Test and Use immediately from LiveAgent.