Partner
Partner website
Lorem ipsum
What is GoTrunk?
GoTrunk is a powerful SIP trunking service for inbound and outbound calling. The company operates on a global scale providing service for thousands of customers.
The company's goal is to provide world-class communications solutions for businesses that use SIP (Session Internet Protocol) and VoIP (Voice over Internet Protocol). In light of this, GoTrunk has partnered with LiveAgent so our customers can utilize their LiveAgent call center to its fullest potential.
How can you use GoTrunk?
GoTrunk can be used as your main VoIP service provider. Simply connect it to your LiveAgent help desk software, set up your call center, and start calling. LiveAgent offers advanced call center features, that allow you to make one-on-one calls with customers, set routing rules to route calls to the correct departments, or even make video calls.
Call centers can be used in multiple ways, such as for improving customer relationship management, gathering customer feedback, or doing phone call surveys for customer satisfaction improvement.
Would you like to see how the call center works in action? Go ahead and check out our call center feature page or have a look at the video below to see everything you can do with LiveAgent's call center software.
Call Center Software Demo | LiveAgent | Live Agent04:40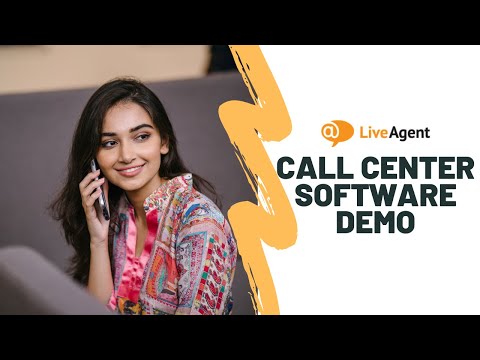 Live Agent
Does it cost anything to integrate GoTrunk with LiveAgent?
LiveAgent provides a free integration with GoTrunk, so you can access it free of charge. However, GoTrunk is a paid service, so to use their phone numbers you will have to purchase a number/subscription.
Benefits of using GoTrunk
Lower calling costs
Easy integration
The option to use a variety of devices (softphone/hardware)
The ability to operate worldwide
How to integrate GoTrunk with LiveAgent
Log in to your GoTrunk account. If you don't have a GoTrunk account, create one – it's free of charge. You also have to go through an account activation process, simply put in your phone number and you will receive a call.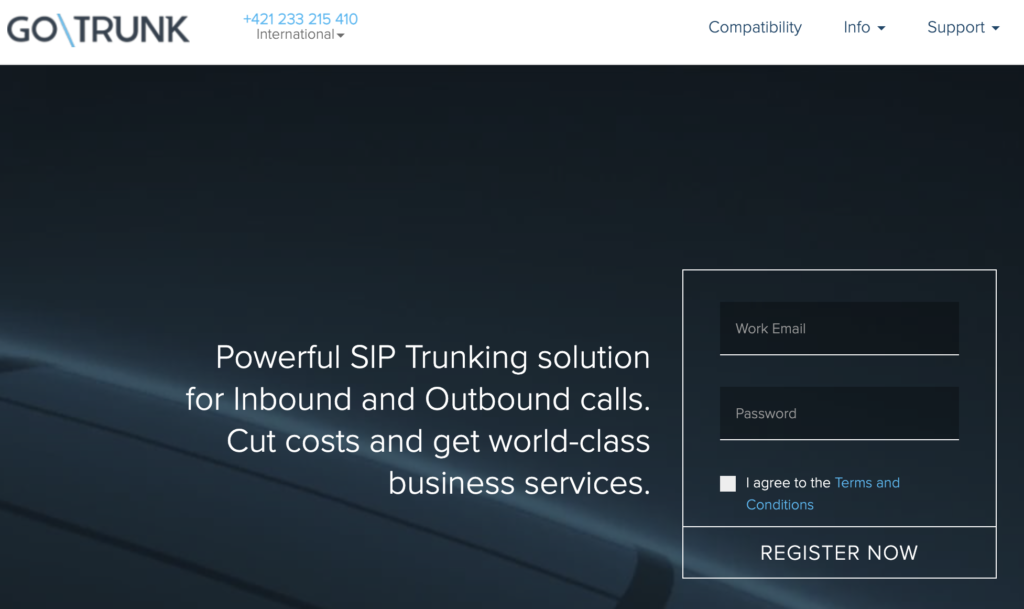 When in your account, open your left dashboard panel and click on Phone Numbers. This is where you can create your GoTrunk number or find one you already own. In case you're creating a new number, there are multiple options to choose from, depending on your country so pick the one that suits your needs best. 

Next, open your LiveAgent account and go to Configuration > Call > Numbers. Click on the orange button to create a new number for your LiveAgent call center. Select GoTrunk from the selection of providers.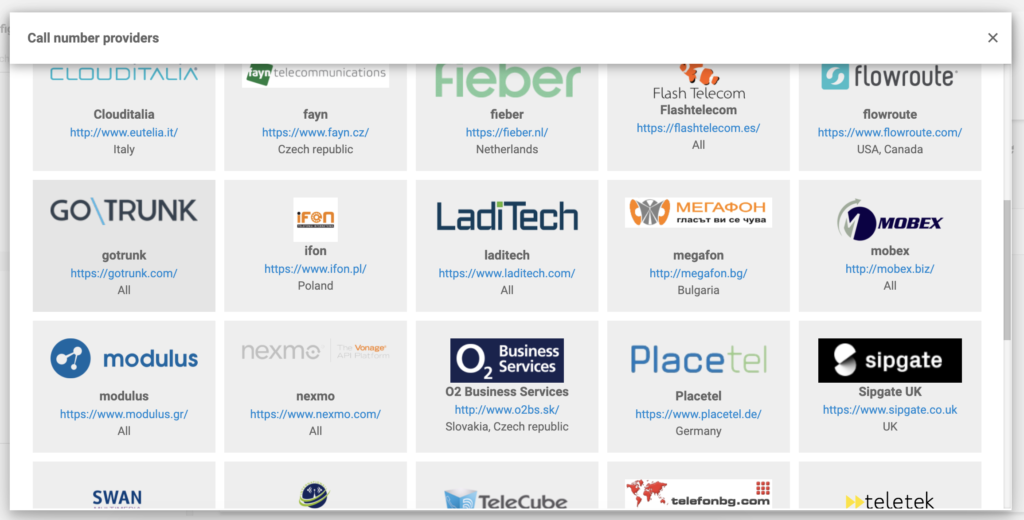 Now all you have to do is to provide your information. Put in your username, password, and your GoTrunk phone number. You can also name the number, select the department that will receive calls from that number, select a dial-out prefix, and also opt-in to record calls. When you're done, click on Add at the bottom of the window.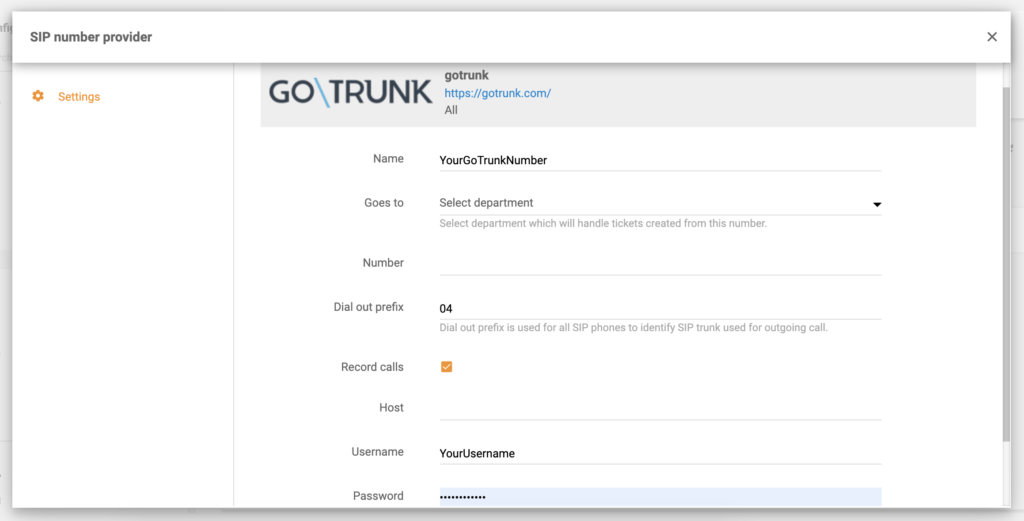 That's it, your GoTrunk number is connected with LiveAgent, and you can start making and receiving customer phone calls. Would you like to learn more about LiveAgent? Have a look at our call center feature page or watch the video down below. In case you want to try LiveAgent on your own, sign up for the free 14-day trial at the bottom of this page.
LiveAgent Product Tour | Live Agent02:25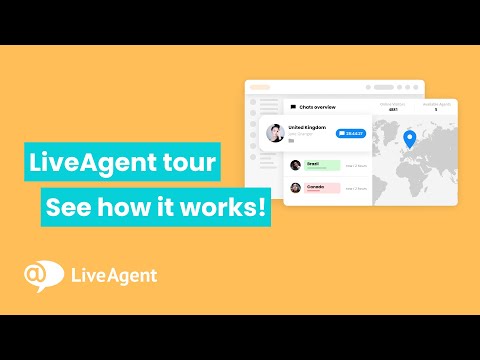 Live Agent
Don't have LiveAgent yet?
No problem! LiveAgent offers a 14-day free trial where you can test the free GoTrunk integration!
Frequently

asked questions
What does SIP mean?
SIP stands for Session Initiation Protocol. It's a signaling protocol that defines messages that are sent between endpoints and manage all call elements. It's used for making calls, video calls, messaging and also the distribution of media.
What is GoTrunk?
GoTrunk is LiveAgent's VoIP partner. In general, GoTrunk is a SIP trunking service for inbound and outbound calls. You can connect your GoTrunk phone number with LiveAgent to create a call center within your help desk software. 
What are the costs of connecting GoTrunk into LiveAgent?
Connecting GoTrunk is free of charge in LiveAgent. Keep in mind that GoTrunk operates independently, therefore can charge you for its services accordingly.