Hey there! Are you looking to elevate your customer support game to the next level and really understand what your customers like, want, and need? Well, you're in luck because in this blog, we will dive into the world of live chat surveys that can definitely help you with boosting your customer support efforts!
Those quick little surveys that pop up at the beginning or the end of a chat conversation may seem insignificant, but they hold a lot of power. For example, live chat users report over 81% satisfaction rate due to its speed, convenience and high resolution rates. But how did we get this number? Simple. Live chat surveys! Live chat surveys, also known as conversational surveys, have become a valuable tool for businesses to gather real time feedback and improve customer experiences.
That's why we'll cover everything you need to know about chat surveys. From understanding what they are, and their importance, to the benefits they offer for successful implementation – we've got you covered! So, if you're ready, continue reading!
What are live chat surveys?
Simply put, they are an engaging and quick way to collect insights and opinions from your website visitors or customers. Instead of bombarding them with long boring forms or traditional surveys, live chat surveys make use of chat windows to initiate conversations with consumers and gather feedback. They allow you to ask specific questions, prompt customers for feedback after a support session, or even use them to measure customer satisfaction levels. They are a great way to engage with your customers and make them feel heard.
Chat surveys are also a feature that usually comes with a live chat software already. These surveys can be customized to fit your brand image, and also to meet your needs and requirements. But there are different types of chat surveys. So, let's explore them!
Types of live chat surveys
There are two main types that you should be aware of: pre-chat survey and post-chat survey.
Each of them plays a different role in the feedback collection process, but both are equally important in understanding the needs and preferences of your customers.
The main difference is that the pre-chat survey allows you to gather information from customers before they even start a chat session. The post-chat survey, on the other hand, is conducted after the chat session ends, and it gives customers the opportunity to share their experience, rate the support they received, and provide any additional feedback.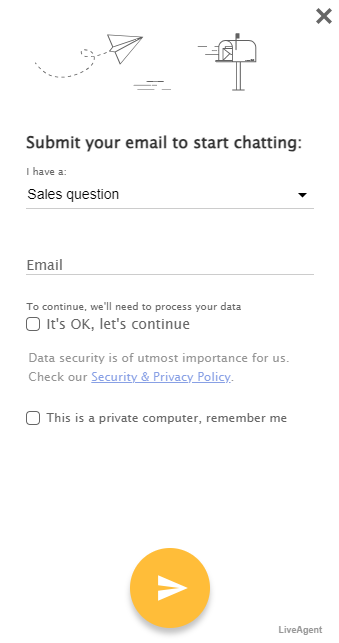 So, while the pre-chat survey helps gather initial information, the post-chat form allows you to assess customer satisfaction with the entire customer support process and identify areas for improvement. Understanding these two types is key in order to implement a feedback system that will enhance customer experience. But before we delve deeper into their benefits, let's explore why live chat surveys are crucial for your business.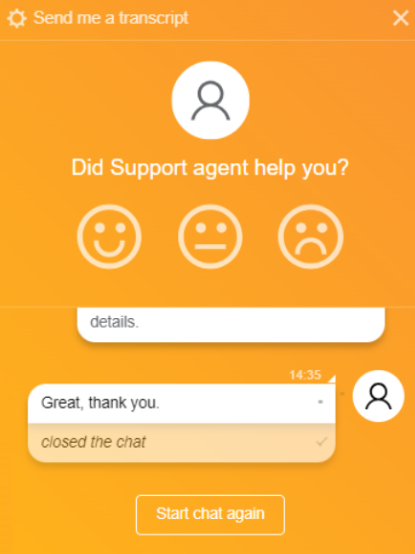 Why are they important in business?
But you might still be wondering, "Why should I invest my time and effort into these online surveys?"
Let me tell you a few reasons why. First of all, live chat surveys offer a plethora of benefits for both you and your customers. Second of all, they give you a direct insight into your customers, helping you to understand their needs, preferences, and pain points on a deeper level. And third, this feedback allows you to fine-tune your products and services.
Moreover, by actively seeking customer feedback, you show your customers that their opinions matter to you, which fosters a sense of trust and loyalty.
Besides, if you want to foster a sense of trust and loyalty, actively seeking customer feedback shows them that their opinions matter to you. Based on research, 83% of customers agree that they feel more loyal and connected to the companies that not only solve their issues, but also react to their complaints.
Understanding pre-chat surveys
Pre-chat surveys, also known as pre-chat forms, are a tool for gathering information from customers before they initiate a chat conversation with your customer support team or a chatbot. They are typically used to understand the customer's needs and preferences in order to provide more personalized support right from the start.
So, when should you consider using pre-chat surveys? Well, they are especially helpful if you want to gather specific information before engaging with the customer. A small detail like knowing the name of the customer and greeting them with their name helps to build a positive relationship straight from the beginning. But you can gather more information than that. For example, if you're a software company, you may want to ask customers about the type of software they are using right now or their technical skill level. Gathering this information then allows your support agents to provide more relevant assistance.
Let's take a look at some of the common questions that can be included in pre-chat surveys:
How can we assist you today?
What brings you to our website today?
How did you hear about us?
Have you used our product/service before?
Are you experiencing any specific issues or challenges?
Keep in mind that the questions should be concise, relevant, and easy to answer.
LiveAgent allows you to enable and create a pre-chat form for each chat button. Through these pre-chat forms, you can request basic information such as name or email address before the customer is able to start a chat. You can also let the user choose the department they want to contact. Once the form is submitted, it will be automatically sent to the selected department.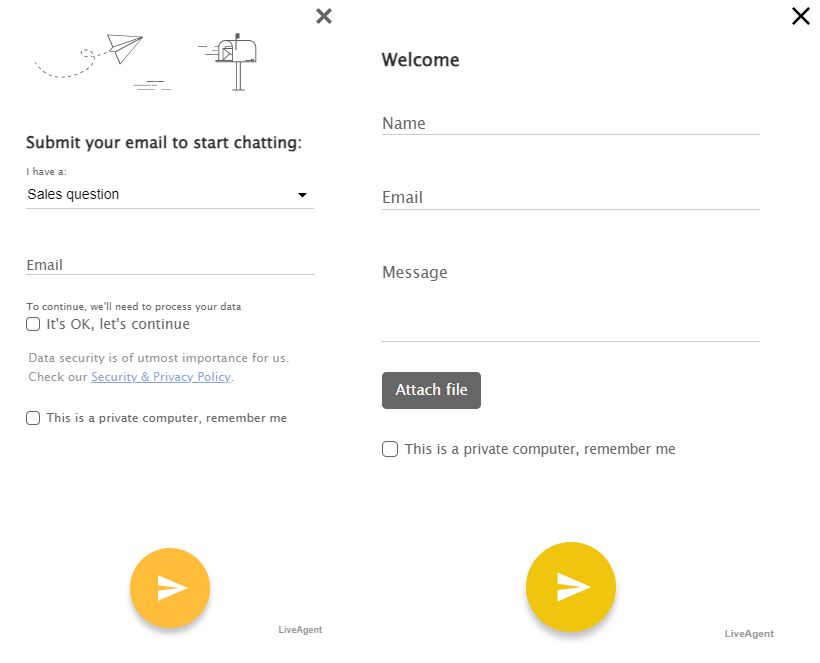 Understanding post-chat surveys
After a chat conversation ends, it's time for the post-chat survey. They serve to gather real time feedback from customers about their chat experience, satisfaction with the customer support, and any additional comments they may have. This feedback then provides richer insights into the quality of support and helps you identify areas for improvement. You can also use it to measure customer satisfaction levels (CSAT).
Ideally, the post-chat forms should be used immediately after the chat session concludes while the customer's experience is still fresh in their mind and while you still have their attention. This allows businesses to capture the most accurate and timely feedback.
Let's look at examples of common questions that can be included in a post-chat survey:
How would you rate the support you received today?
Were your questions or issues resolved during the chat?
Did the support agent fully resolve your issue?
How would you rate the friendliness and professionalism of the support agent?
Is there anything we could have done differently to improve your experience?
On a scale of 1-10, how likely are you to recommend our product/service to others?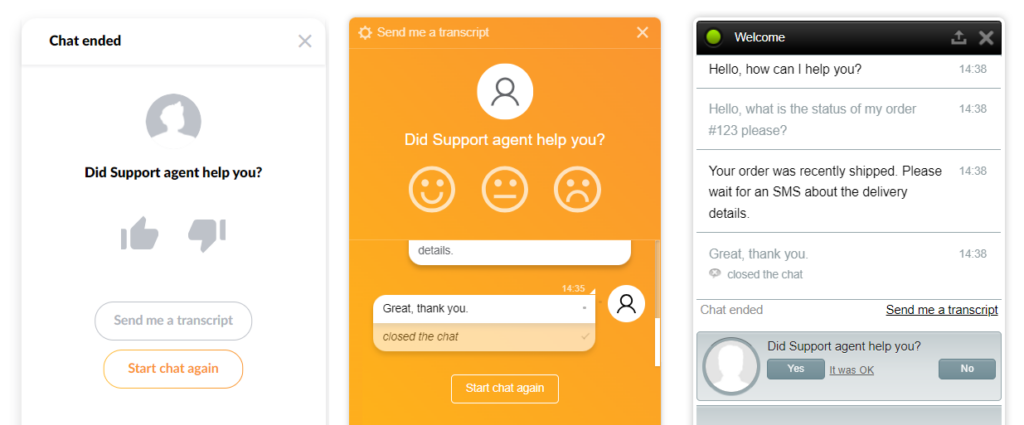 LiveAgent also offers a post-chat survey in the form of a Ranking feature that enables customers to evaluate the answers of your support team. It can be utilized in live chat as well as in email responses to give you an overall overview on how your agents performed, and if your customers received the expected customer service.
How to structure conversational survey questions effectively?
When it comes to structuring conversational survey questions, there are a few key aspects to keep in mind and take into consideration. First, you need to know that there are two types of questions: open-ended questions and closed-ended questions.
Open-ended questions encourage customers to give more detailed feedback, share their opinions and experiences in their own words. These questions are great if you are looking for quantitative data or if you want to uncover specific issues and suggestions.
Example of an open-ended question: "In your own words, please describe your experience with our product/service."
Closed-ended questions offer customers predefined answers to choose from. So, if you want to collect qualitative data and measure CSAT levels, close-ended questions may be the option for you. They make it much easier to analyze the data and compare customer responses.
Example of a closed-ended question: "On a scale of 1-10, how satisfied are you with the support you received?"
Now that you understand the different question types for your surveys, let's look at a few tips on how to structure them effectively:
Make sure the questions are clear and concise. Avoid using technical jargon or complex language that may confuse people.
Use conversational language to make the questions sound natural, as if you were having a genuine conversation with the customer.
Avoid using leading or biased questions. Ensure that questions are neutral in order to obtain genuine feedback.
Find a balance between open-ended and closed-ended questions to gather a variety of insights.
What types of questions should you include in the chat survey?
When you are creating a survey, whether it's a pre-chat or a post-chat form, you need to think about the specific business goals you want to achieve in order to tailor your questions accordingly.
For pre-chat forms use:
Introductory questions: Start your survey with questions that will help you understand the customer's purpose and reasons for reaching out to your customer support.
For example:
What brings you to our website today?
What specific issue or question are you seeking assistance with?
Have you used our product/service before?
Demographic questions: Collecting this type of information can help segment and target your customer base more effectively. Include questions regarding age range, location, or industry. However, make sure you only ask for information that is relevant.
For example:
What is your age range?
Which is the country/region you are located in?
What is your occupation or industry?
Which language do you prefer to communicate in?
Product/service questions: You can also ask questions related to the product or service the customer is inquiring about. This will help you gather information specific to their needs and personalize your support.
For example:
Which specific product/service are you interested in learning more about?
Are you looking for any specific requirements or features?
Have you considered any alternatives in the market? If so, which ones?
Are there any particular challenges you hope our product/service can help you address?
For post-chat forms use:
Satisfaction level: Include questions that can help you measure the customer's satisfaction with the support they received.
For example:
How satisfied are you with the assistance provided today? (use a rating scale or a simple "Yes" or "No" option)
Did our support team meet your expectations? Please use a 5-option scale of rating from Very Dissatisfied to Very Satisfied.
Were your questions/concerns addressed to your satisfaction during the chat session?
How would you rate your overall experience with our support team today? (use rating scale)
Issue resolution: Ask the customer if their questions or issues were resolved during the chat session. This will provide insights into the effectiveness of your support team.
For example:
Did our customer service agent fully address your issue during the chat session?
On a scale of 1-10, how satisfied are you with the resolution provided during the chat?
Did our support agent provide clear and concise guidance in resolving your issue?
Agent performance: You can also include questions that will help you evaluate the performance of your support agents.
For example:
How would you rate the friendliness and professionalism of the support agent during the chat?
Did the support agent demonstrate good product knowledge and expertise?
Did the support agent provide clear and concise explanations and instructions throughout the chat?
Feedback and suggestions: Don't forget to allow your customers to leave any additional comments or suggestions about their experience. Gives them an opportunity to express additional thought that may not fit into other predefined questions.
For example:
Do you have any suggestions for improving our support process or system?
Is there any additional feedback you would like to provide regarding your experience?
Do you have any specific recommendations for how we can improve our service in the future?
8 benefits of live chat surveys
Live chat surveys can bring a lot of value and benefits to your business if you set the strategy right. Let's explore some of these benefits:
Collect customer data
Collecting customer data through live chat surveys allows you to gain valuable insights into your customer base. This approach helps you to make informed business decisions, tailor your products or services, and improve your marketing strategies.
Continuous improvement
As mentioned before, chat surveys provide a direct line of communication with your customers and access to their opinions. By understanding their needs, preferences, and pain points, you can make informed decisions, adapt and improve your business strategies and offerings. This can ultimately drive customer satisfaction and increase the competitiveness of your business on the market.
Personalized support
Gathering customer information also allows your customer support team to provide more personalized support right from the start. Tailoring their responses and addressing specific customer needs have a positive effect on the customer experience, and it helps you build stronger customer relationships.
Improved customer satisfaction
Customers love to see that their opinions matter. Therefore, proactively seeking feedback through chat surveys can demonstrate that. By addressing their concerns and incorporating their feedback, you can boost customer satisfaction levels and loyalty.
Enhanced service quality
By monitoring how customers rate your customer support efforts, you can evaluate the effectiveness of each support agent and their performance. This will also help you identify potential areas that require improvement.
Increased customer retention and lifetime value
What's better than having loyal customers that remain loyal to your brand and continue doing business with you, am I right? It has been shown that by implementing chat surveys, you can increase customer retention rates and lifetime value, ultimately driving revenue growth.
Prevent cart abandonment
Many customers encounter an issue right before they make a purchase and abandon their cart. That is not something any business wants to see. But by offering real-time assistance and understanding the reasons behind cart abandonment, you can address customer concerns and increase the likelihood of completing a purchase. Proactive follow-up based on customer feedback can also help in resolving any issues and converting potential abandoned carts into successful transactions.
Motivate customer support agents
When agents receive positive employee feedback and see the impact of their support efforts, it can increase their job satisfaction. Recognizing and rewarding agents based on customer feedback can foster a positive work environment, enhance their motivation to deliver exceptional support and improve employee retention. On the other hand, constructive feedback can provide valuable insights for improvement, helping to enhance their skills and agents performance.
Best practices of conversational feedback
Now that you have a better understanding of the various benefits of live chat surveys, you may be wondering how to actually start and gain the most out of it. But don't worry! There are several best practices that can help you maximize the effectiveness of your conversational feedback forms, and we are going to share them with you.
Identify your survey goals: The first step is to determine clear business goals, objectives, and purpose of the chat surveys. Setting them will help you come up with appropriate questions and target the right audience.
Keep it short and sweet: Long surveys can discourage your customers from providing their feedback. Make sure to keep your surveys concise and focus on the most relevant questions. Create questions that are easy to understand and avoid using complex terminology or technical jargon.
Ask specific questions: The customer service questions should not only be easy to understand, but they also need to be specific to gain targeted insights. Avoid vague questions that may cause confusion. For example, instead of asking, "How was your experience?", ask, "How would you rate the responsiveness of our support agent?"
Timing is key: But when is the right time for initiating the surveys? For pre-chat surveys, aim to gather information before the chat session begins, but keep the form short to prevent customer frustration. For post-chat forms, the best is to send them immediately after the chat session while the experience is fresh in the customer's mind.
Personalize the experience: Take advantage of the customer data that you gathered and use them to personalize their experience. Address customers by name and refer to their previous interactions if necessary. This adds a personal touch and shows that you value them.
Act on feedback: Remember, collecting feedback is only half the battle. Then it's time to sit down and analyze the feedback in order to use it to improve your processes, training, or products. Show customers that their feedback is actually used to make changes based on their input.
Test and measure your results: Continuously testing and refining your chat surveys is the last and most important step to optimize their effectiveness. You can experiment with different question formats, wording, and placement to find what works best for you as well as your audience. Review the results on a regular basis to identify trends and areas for improvement.
Common mistakes to avoid
Businesses often stumble upon a few mistakes on their quest for customer feedback. Let's uncover some of the most common ones and discuss how to avoid them.
Mistake #1: Asking too many questions
Bombarding customers with too many questions can get quite overwhelming, causing them to abandon the survey or rush through it. Keep your surveys concise and focused, asking only the most significant questions to maximize response rates, maintain customer engagement and gather essential information that you need.
Mistake #2: Using complicated language
Using complex and technical language in your surveys can confuse your customers and deter them from providing feedback. The goal is to make the questions easily comprehensible to everyone. Keep the language simple, clear, and conversational. To encourage participation and accurate responses. Remember, you're having a chat, not giving a lecture at a conference.
Mistake #3: Lack of relevance
Make sure you ask questions that are directly related to the customer's experience with your product, service, or support. Questions that are irrelevant or generic can confuse customers and lead to unhelpful responses. Moreover, avoid questions that can steer customers towards a particular response. Make sure your questions remain neutral and unbiased, allowing customers to give their genuine feedback.
Mistake #4: Neglecting to act on feedback
One of the biggest mistakes a business can make is collecting feedback but failing to take action. Ignoring or neglecting the feedback can lead to dissatisfaction and a loss of trust. Your customers want to see that their opinions are valued and that improvements will be made. So make sure to analyze responses and implement changes accordingly. This shows that you value their input and are committed to enhancing their experience.
Mistake #5: Ignoring negative feedback
Nobody likes to hear negative feedback, but it's essential for growth. There may be a temptation to dismiss or ignore this negative feedback. But, instead, view it as an opportunity to learn and improve. Respond to negative feedback with empathy and take appropriate actions to address and resolve customer concerns.
Case Study: How businesses benefit from live chat surveys
By looking at case studies, you can see how other businesses across different industries have used live chat surveys to make data-driven decisions, improve customer experience, and achieve tangible results.
Amazon
Amazon is one of the most popular ecommerce websites and in order to stay on top, they need to continuously exceed the expectations of their customers. They are doing this by focusing on customer feedback, combining customer reviews with comments in order to improve their products and strategies.
When you contact Amazon's customer support department, you will receive a feedback survey that consists of 3 questions:
"Please rate the service provided by the Amazon representative."
"Please rate how well you could understand the Amazon representative."
"Anything else to add?"
These three questions give them enough information to understand how satisfied the customer is after talking to their customer service representatives. They want to make sure that their customers leave happy and that their issues are resolved.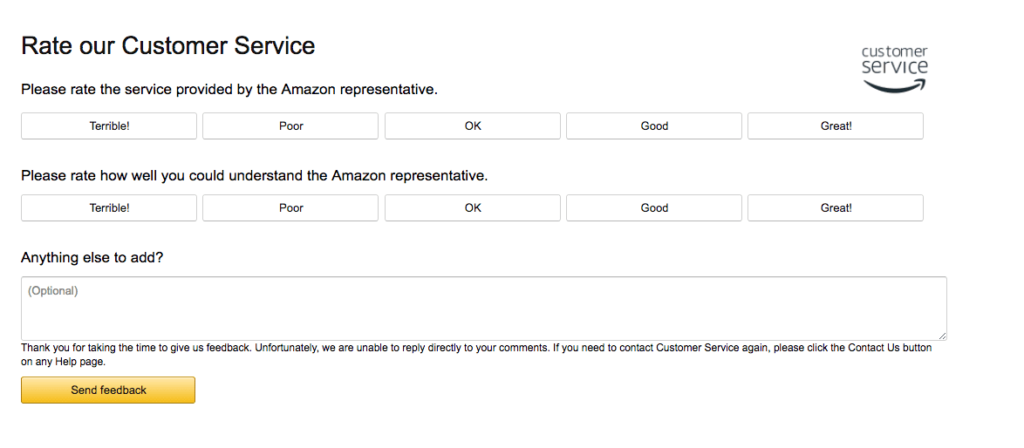 Apple
Apple is another giant that uses surveys to collect insights. They use NPS surveys to generate over $25 million additional revenue in a year. If you are not familiar with NPS, it is a metric that measures consumer satisfaction and loyalty by asking them how likely they are to recommend your company's product/service to someone on a scale of 0 to 10.
The Apple team conducts daily meetings to review the NPS feedback and address the negative comments. By carefully analyzing the comments and following up with those customers who score 6 or lower on the scale, they are able to understand the pain points and make changes based on the feedback.
When they started practicing this strategy, Apple discovered that the people they contacted after negative feedback became even bigger buyers than the people who left positive feedback.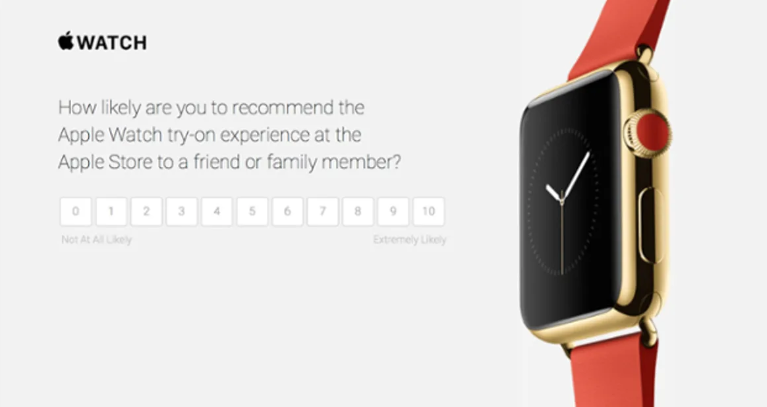 Looka
Looka, formerly known as Logojoy is an online company that makes logos. After finding out that a lot of people were abandoning their website, they decided to find out the reason behind it.

To do so, they needed to gather data from customers who abandoned their website or those that did not return. Looka created a campaign where they sent a clear and straightforward survey, asking people to provide feedback and explanation why they decided to not complete the purchase. Customers could choose from the following options:
The logos are too expensive
I can't refine my logo design
I'm too busy to finish the logo
I decided to go for one of your competitors
I am not ready to start my business
They found out that the second most frequent reason was that the users were not ready yet to start a business. This gave them an idea to send them a follow up email with useful tips, tricks and articles that can help them to start. They also started creating other automated emails depending on the answers from responders.
So, these surveys were a great way to find out the reasons why people were leaving their website without completing the purchase and what can be done to change that.
How to integrate live chat surveys in your business?
LiveAgent is a great software provider that, among other features, also offers the option of integrating live chat surveys. Let's look at how to integrate pre-chat forms, as well as post-chat forms, in LiveAgent.
Pre-chat forms:
Go to "Configuration" → click "Chat" → and then "Chat buttons".
Click on "Create" in order to create a chat button, or click on "Edit" if you want to edit an existing button.
After editing your chat button, check the check-box "Request information by pre-chat form when the chat button is clicked" located in the "Overview" tab.
After checking the box, a new pre-chat form is added to your chat button configuration.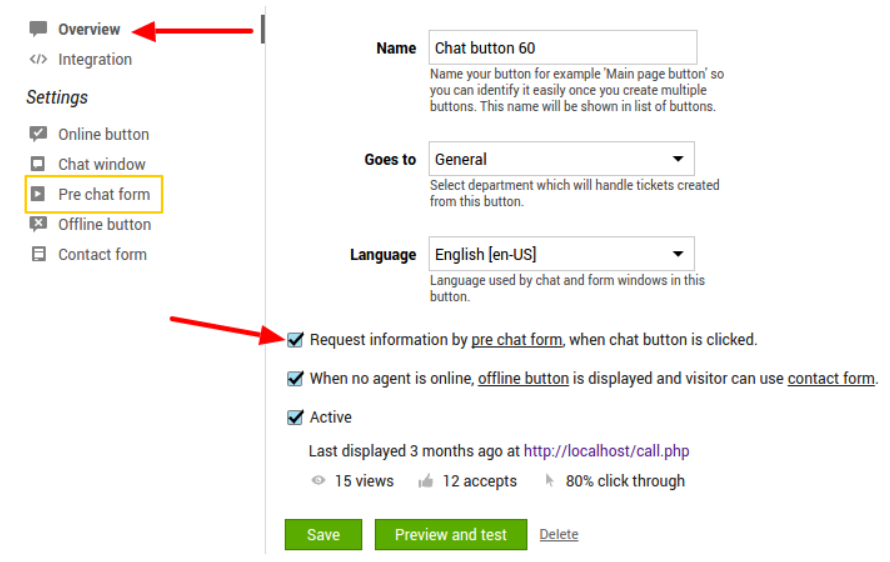 You can configure the main attributes of the pre-chat form such as the logo, title, and form confirmation message that would be displayed after the form is submitted. It also allows you to choose if you want this form to contain a knowledge base suggestion section, where the customer can see a list of your KB articles suggested to him based on the content of his actual message.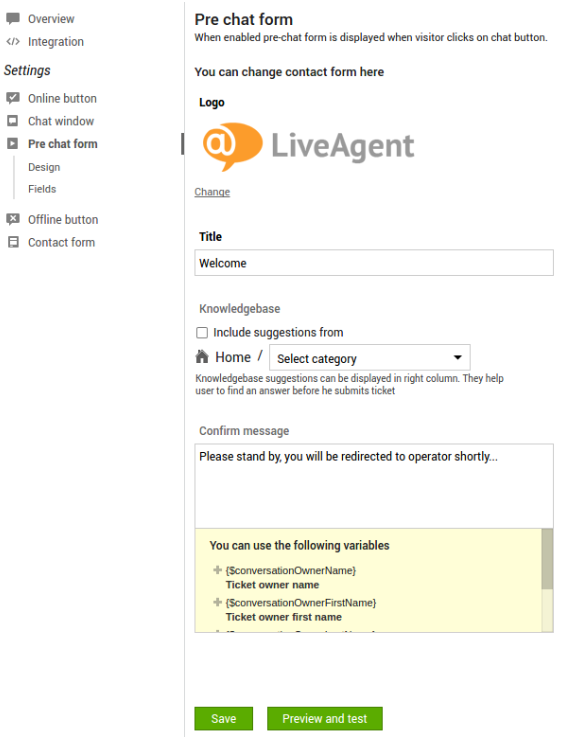 The pre-chat form tab has two additional sub-tabs. The "Design" tab allows you to select from the predefined styles and customize the colors of the form as well as CSS.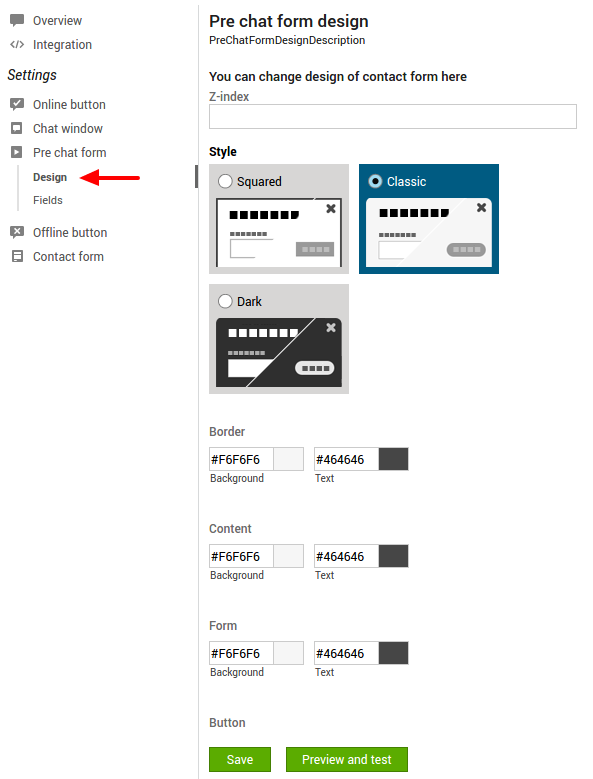 The second tab is the "Fields" where you can add or remove form fields, change their order, as well as their titles. You can also enable the option "Let visitors choose the department". By doing so, it will create another selection field in your form that allows the visitor to choose the department he wants to contact and where the chat will be automatically routed to.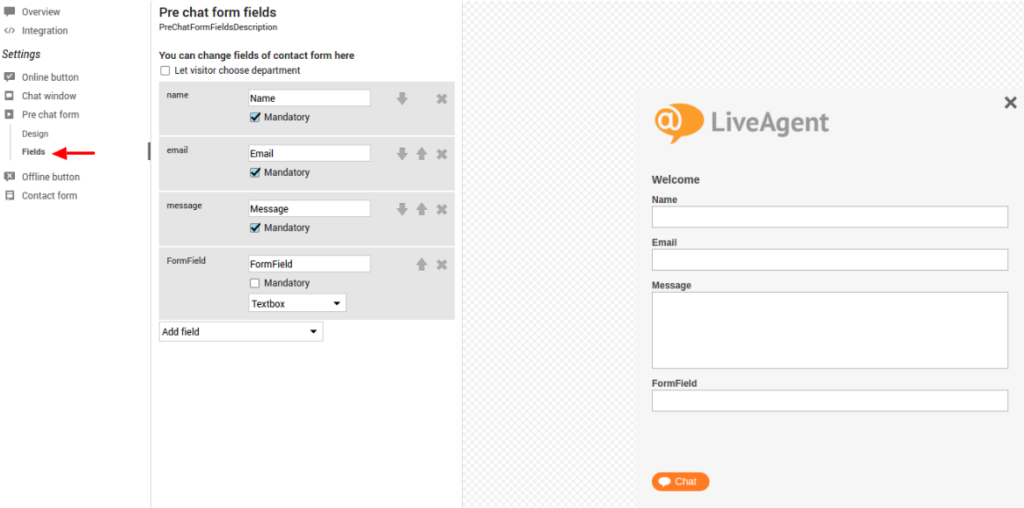 Post-chat survey/Agent ranking
By default, this feature is enabled, but it can be switched on or off. Just go to "Configuration" → "System" → "Plugins".

Default agents can only view their own ratings. However, those with custom roles with the "View rankings of other agents" permission, admins, and owners can view all agents' ratings.
LiveAgent offers multiple rating options:
Positive rating – represented by a happy face, thumb up, or the word "Yes"
Semi-positive rating – represented by a neutral face or phrase "It was OK"
Negative rating – represented by a sad face, thumb down, or the word "No"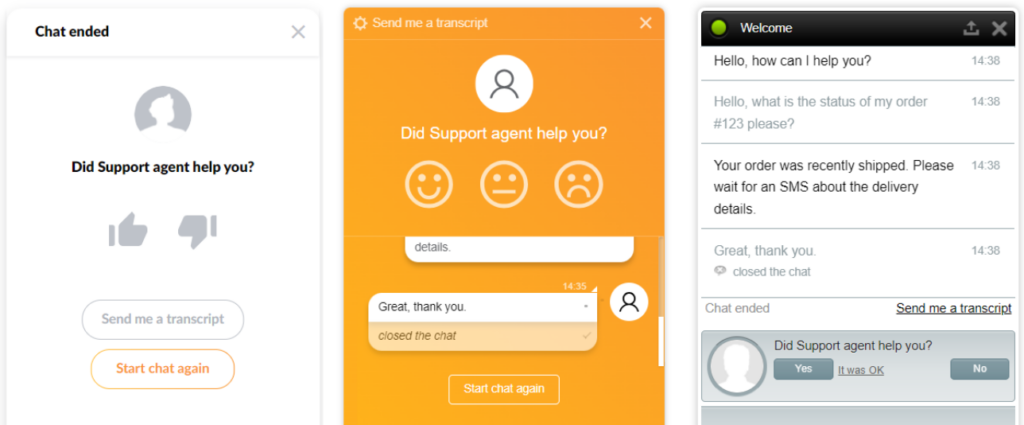 When a chat session ends, customers will be able to see the rating options where they can rate the overall chat communication. From an agent's perspective, the rating appears at the end of the chat, below the last message.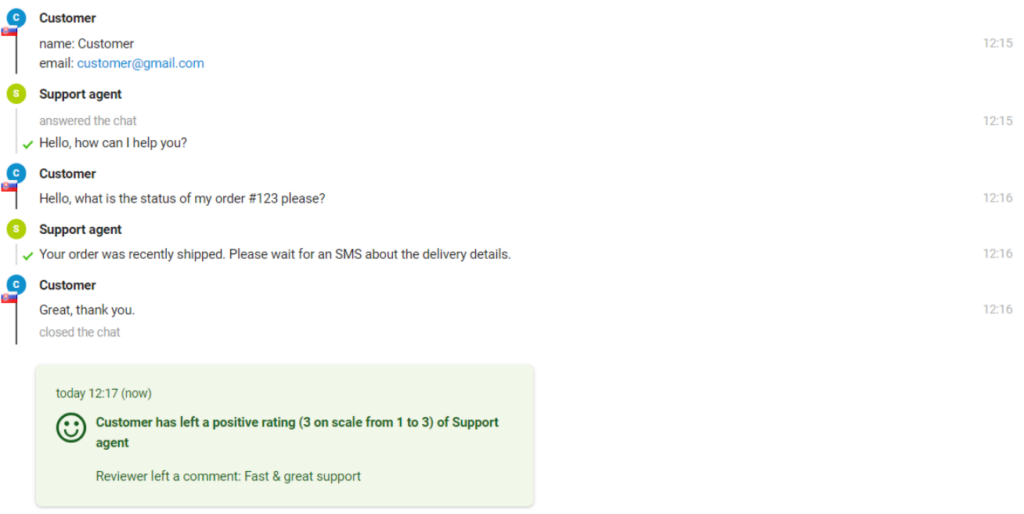 After selecting a rating option, customers can also leave a comment explaining their rating and detailing their experience with the support agent.
How to measure the impact of conversational surveys?
Now it's time to measure the impact of your conversational surveys to understand the effectiveness of your customer support efforts and identify what improvements need to be done. Let's look at some customer service metrics you can use to help you measure it.
Net Promoter Score (NPS)
NPS is a popular customer loyalty metric that measures customer satisfaction based on a single question: "On a scale of 0-10, how likely are you to recommend our product/service to others?" It then categorizes respondents into Promoters (9-10), Passives (7-8), and Detractors (0-6) which helps to calculate your NPS and track changes over time.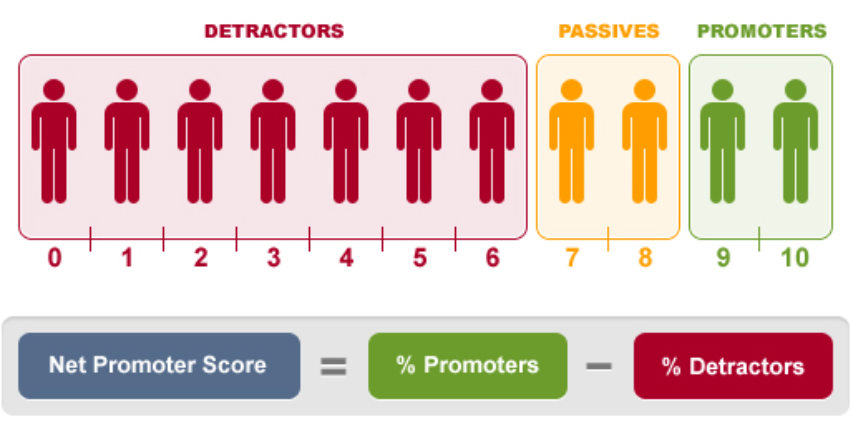 Customer Satisfaction Score (CSAT)
This metric measures the level of customer satisfaction with a specific interaction or experience. It typically involves questions that aim for customers to rate their satisfaction on a scale, such as "How satisfied were you with the support you received today?"

First Response Time (FRT)
First response time helps you measure the average time it takes for a customer to receive the first response from a customer support representative. Checking this metric is key if you want to evaluate the speed and efficiency of your customer service team.
Resolution time
This metric focuses on how long it takes to completely resolve a customer's issue. It can assist in identifying areas where support agents may need additional training or resources to improve and streamline the resolution process.
LiveAgent offers powerful integration with Nicereply, a customer satisfaction survey tool, to measure, track and analyze survey responses effectively. The integration offers an option for customizing surveys and analytics for monitoring agent, team, and department performance.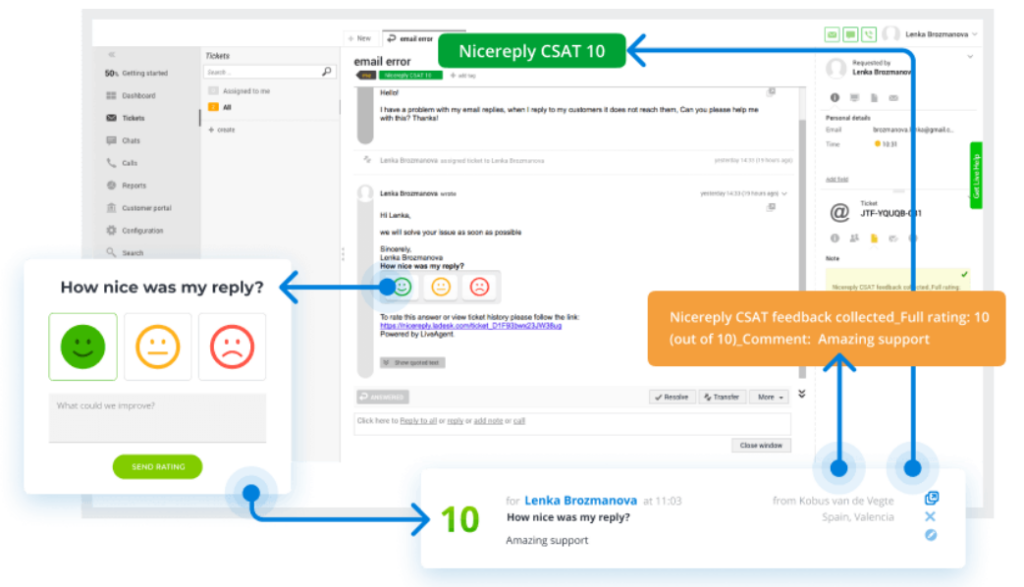 What can you do to improve your results
Last but not least, in order to improve your results and enhance the effectiveness of your customer surveys, consider implementing the following strategies:
Train your support agents: Invest in customer service training programs for your agents in order to be equipped with the necessary skills and knowledge to provide exceptional service. They should learn how to effectively communicate with customers, gain comprehensive product knowledge, and learn problem-solving techniques to be able to handle different types of situations.
Implement a knowledge base: Creating a centralized platform, such as KB, that is filled with frequently asked questions, troubleshooting guides and other helpful resources can empower your customers to find solutions on their own and therefore reduce the volume of support tickets with repetitive inquiries.
Set clear Service Level Agreements (SLAs): By establishing SLAs that define response times and resolution expectations will help manage customer expectations and ensure that tickets are addressed promptly and efficiently.
Use chat analytics: Use these analytics to gather information and metrics about customer interactions. The gathered data can help identify patterns, determine areas for improvement, and make decisions to optimize your support processes.
Conclusion
In conclusion, live chat surveys, also known as conversational surveys, are an effective and engaging way to gather valuable feedback from your customers in real-time. Throughout this article, we've explored the importance of these surveys along with their benefits, and we also discussed the two main types of live chat surveys: pre-chat surveys and post-chat surveys.
Structuring your surveys is also important to make them as effective as possible. We talked about considering a mix of open-ended and closed-ended questions to achieve just that. Open-ended questions allow customers to provide detailed feedback, while closed-ended questions provide structured data for quantitative analysis.
But don't forget to measure the impact of your surveys to be able to continue improving your strategies, products, and services. How to do so? By using customer satisfaction metrics such as Net Promoter Score (NPS), Customer Satisfaction (CSAT) Score, Customer Effort Score (CES), First Response Time (FRT), or resolution time, you can assess your performance and make decisions to enhance your customer support.
So, after all that, are you ready to elevate your customer support game with live chat surveys? LiveAgent offers a 30-day free trial for you! Don't miss out on the opportunity to gather valuable insights, improve customer satisfaction, and drive growth for your business.
Ready to boost your customer satisfaction?
Take the first step towards exceptional customer service and impress your customers with LiveAgent's live chat software.