Partner
Partner website
Partner Privacy Policy
What is Volusion?
Volusion is a cloud-based e-commerce software that lets you build your online store from the ground up so you can start selling your products and services. It has an easy-to-use drag and drop builder available for its customers to make building your online store a simple process. You can also choose one of their responsive themes. 
How can you use it?
Use Volusion when you want to create a top-notch e-shop and start selling your products. Combined with LiveAgent software integrations, you can provide your customers with great customer support from one dashboard. Phone, email, live chat, or knowledge base features are all ready for this job. Start by creating a live chat button on your website. 
Benefits
A reliable ecommerce solution 
Real time customer support on your website
Help your website viewers from one software
Proactive chat invitations help you reach users quicker
How to integrate a LiveAgent chat button on your Volusion site
A live chat button provides an easy way for your customers to reach you from your website in case they have any questions.
Open your LiveAgent and go to Configuration > Chat > Chat Buttons
Click on the orange plus icon at the top of the section to create a new one. Select the design you want from the chat button gallery or upload a custom design from HTML or from an image in the Custom section. When you're done selecting, LiveAgent will take you to the next part of the setup. 
Now you have to name the button and select the receiving department, language, and other options such as forced desktop mode or maximum queue length. This part of the setup is up to your preference. Click on Save when you're done and proceed to the Integration section in the left panel.  
Now all you need to do is copy the code into your website body. Go to your Volusion store administration panel, navigate to Design and click on Template. In the advanced editing select Edit HTML and go to the bottom of the page. Paste the code right above the </body> line and save the changes.
If you're not sure how to do this, you can send the code to your website admin by clicking on the Send code to your web admin option in the LiveAgent integration right above the code. They will take care of the rest for you. 
You're done. Go to your store page and click on refresh to see your new live chat. Your customers will see it each time they enter your e-shop and they can get in touch with a support agent easily from there.
You can also track live chat metrics and visiting users with Google Analytics. Have a look at the video below to see a video tutorial of Volusion integration.
How to add live chat to Volusion store | www.liveagent.com | Live Agent01:01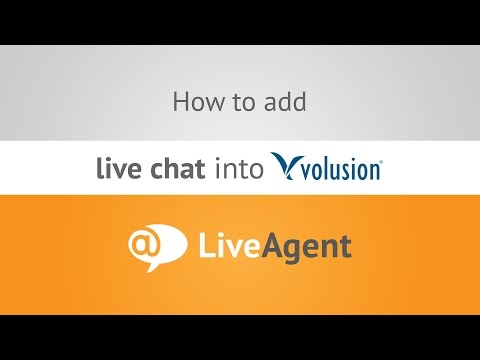 Live Agent
How to integrate LiveAgent with Volusion via Zapier
Zapier is a third party service that creates simple custom integrations between two apps. LiveAgent and Volusion can be connected if you want a different kind of integration available for you.
To start the integration process, you need a Zapier account. Create one here if you don't have it. Then proceed to the LiveAgent + Volusion integrations website. 
Scroll down to the Connect LiveAgent + Volusion in minutes section. This is where you can pick your integration trigger and action to create a custom integration. There are multiple choices, so look through them and select the ones that suit your needs.

Because of the number of options available, our guide and your experience with Zapier may differ but the general process stays the same. As an example, we're going to show you integration with Volusion trigger New Product and LiveAgent action Create Conversation. Click on the blue continue button when you're done
This next step requires you to log into your Volusion account and provide permissions to Zapier. Click through this simple process to continue to the next step. Zapier will also want to test the trigger to see if it works. Go ahead with this step or skip it. 
Another step involves setting the LiveAgent trigger. Fill out all the necessary info the new conversation should include such as sender and recipient email addresses, message subject and message body amongst others. The final step is a test of the entire integration.
You're done and the integration is ready. 
Frequently asked questions
What is Volusion?

Volusion is an eCommerce software that enables you to create an online store. Moreover, providing themes designed by professionals for easier creation and customization. 

How can you integrate LiveAgent with Volusion?

To integrate a live chat button, you need to login to your LiveAgent account and customize the live chat button. After that, simply copy its HTML code and paste it into your e-commerce website.