Partner
Partner website
Partner Privacy Policy
What is Shift4Shop?
Shift4Shop shopping cart software (previously 3dcart) is the ultimate all-in-one e-commerce solution for managing your online store over the web (there's no need to install any software on your desktop). The software enables you to control online and offline payment options, set up real-time shipping options, contact your customers, manage your shop inventory, and much more!
How can you use the Shift4Shop integration?
LiveAgent's Shift4Shop integration enables you to place a live chat button on your Shift4Shop store. The button can help your customers get fast and convenient support. This can increase customer loyalty and happiness and help you turn website visitors into paying customers. 
LiveAgent's live chat widget is the fastest and leanest on the market with loading speeds at 2.5s. Having a chat widget on your site can improve your customer's satisfaction, and in turn sales, and marketing capabilities. 
LiveAgent's live chat widget is equipped with tons of useful features, including proactive chat invitations and online visitor monitoring that tracks how long each website visitor is on your site, what actions they take, as well as their geographical location.
Improve your feedback management and provide website visitors with high-quality customer service today. Start a free 30-day trial.
What benefits do you gain by using the Shift4Shop integration?
An organized, universal ticketing inbox
A fast live chat widget that's fully customizable
Offline forms, offline chat buttons, pre-chat forms for capturing leads
Proactive chat invitations
Real-time visitor monitoring
Improved customer satisfaction
Faster response times
Hassle-free support experiences for your customers
How to place a LiveAgent chat button on your Shift4Shop store
If you'd like to place a LiveAgent chat button on your Shift4Shop site, please follow the integration instructions outlined below or follow the instructions showcased in our video.
How to add live chat to 3dcart store | www.liveagent.com | Live Agent00:47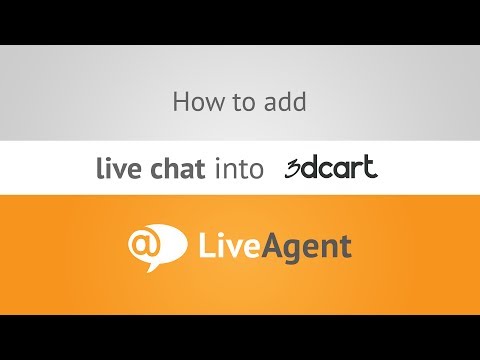 Live Agent
If you have never created a LiveAgent button before, log in to your account and go to Configuration > Chat > Chat buttons and click on the orange button at the top to create a new one. 
Pick a button design and go through the setup. This includes naming the button, selecting the department you want new chats to be routed to, and the chat button's language (amongst other options.) Click on Save when you're done.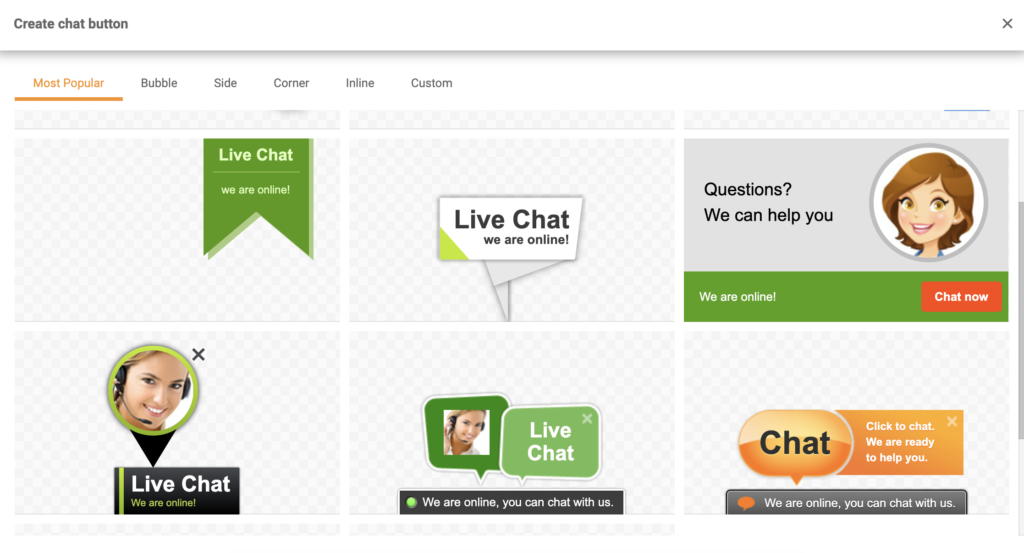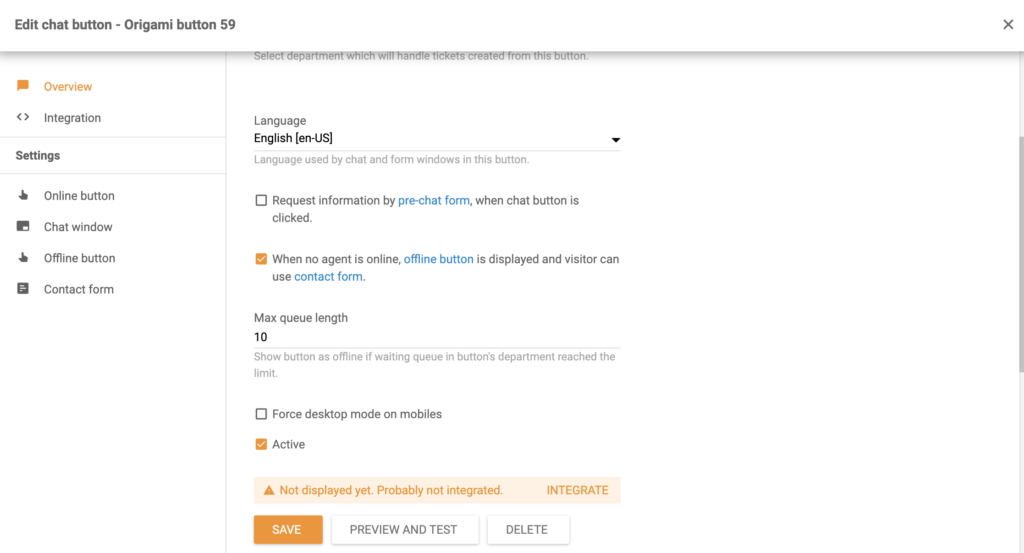 Now go to the integration section in the left panel and copy the code. You will need to place this code into the footer or header of your Shift4Shop website. 

Open Shift4Shop and go to Content > Site Content. Click on the Header and Footer section and paste your button code into the Global Footer section. Enable the block and Save your changes.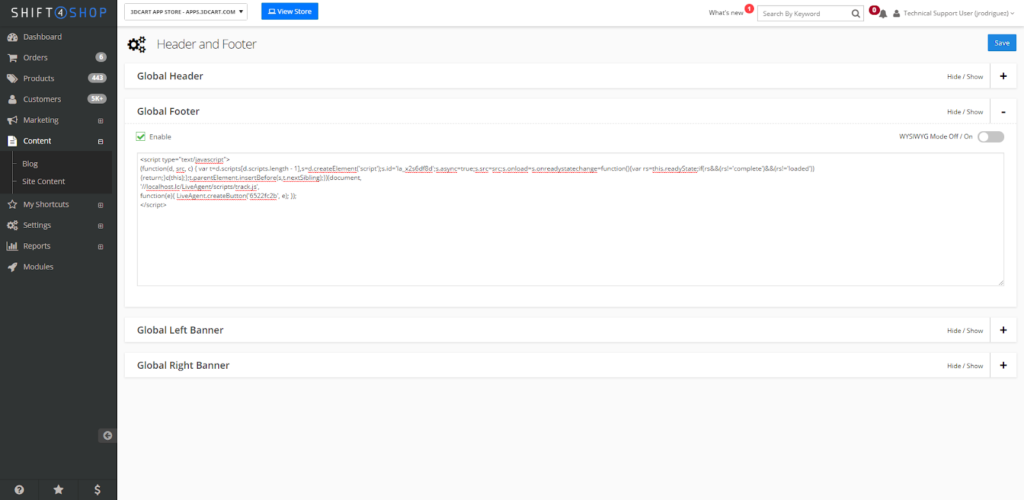 How to integrate Shift4Shop with LiveAgent via Zapier
Shift4Shop can also be integrated with LiveAgent via Zapier. Follow this guide to learn how to make a custom integration. 
This guide may show different options in some parts of the integration setup due to the vast number of integration options. However, it generally stays the same and it's easy to go through no matter what kind of integration you pick.
Create a Zapier account or log in to your existing account and go to the LiveAgent + Shift4Shop integrations page. Scroll down until you see the Connect LiveAgent and Shift4Shop in the Minutes section. Pick a trigger and an action that will connect the two apps.

The first step in our integration is to connect to a Shift4Shop account and allow Zapier to manage our data. Next, there's a trigger test. After that, you need to set up a LiveAgent action. In this example, it's creating an email. Fill out the required fields such as the sender and recipient email adresses, message subject, and email body. Continue with the test and turn on the Zap.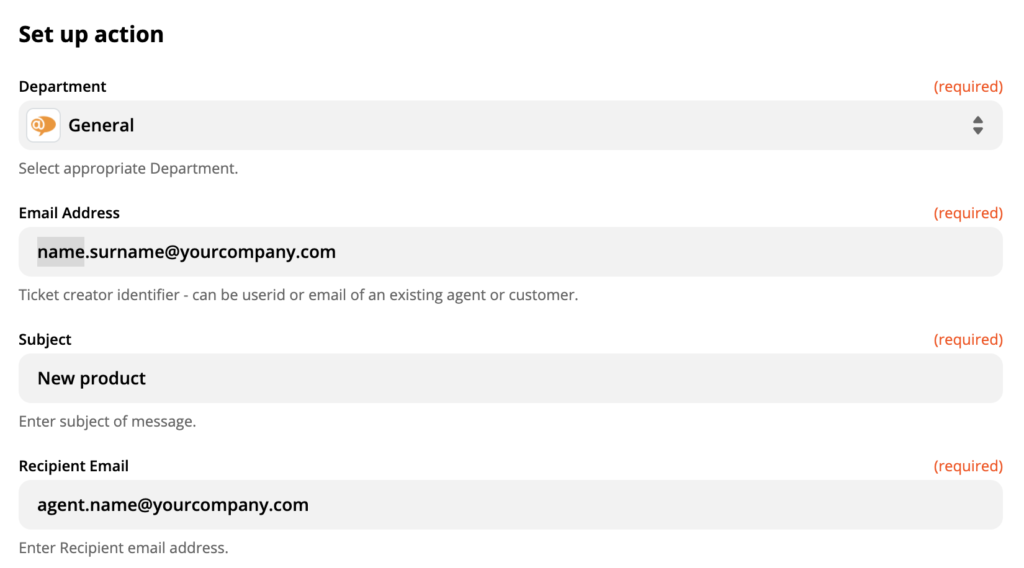 Check your email inbox to see the results, you should receive an email notification about newly added products.
Frequently Asked Questions
What is Shift4Shop

Shift4Shop is an eCommerce platform for online stores.  The company provides a feature-rich platform, making e-commerce easy and effective for all vendors. 

How can you integrate Shift4Shop with your LiveAgent?

In order to implement a live chat button to your Shift4Shop store, you need to: Create a live chat button in LiveAgent > Copy the HTML code from LiveAgent > Paste the code inside your Shift4Shop store (video guide).