What does transfer ticket do?
Tickets can be transferred between departments and/or Agents. In a blank new LiveAgent instance, all tickets belong to the General department by default. If you create more departments and add more agents you can select from a dropdown menu to transfer ticket ownership.
All ticket transfers are time-stamped and the exact time and person responsible for transferring can be seen in the ticket thread.
When an agent transfers a ticket, they can add notes, and comments, and even paste images to provide as much information as possible. This is to ensure that the next agent that will work on the ticket has all the insights they need to resolve it successfully. Ticket transfer is useful in help desks but also it help desks where users utilize IT helpdesk systems to handle tickets.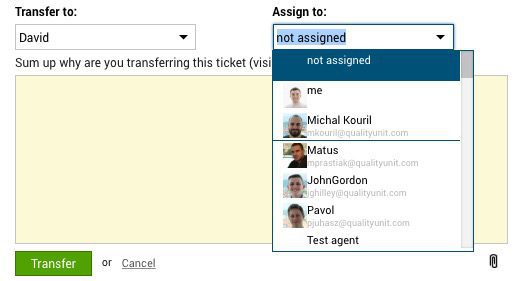 Frequently

asked questions
What does a transfer ticket mean?
A transfer ticket is a ticket that is transferred from one department to another or from one agent to another.
How can you use the transfer ticket option?
To use the transfer ticket option, you need to select the ticket you want to transfer and then select the agent or department to which you want it to go.
Is the transfer ticket feature available in LiveAgent?
A transfer ticket is available from LiveAgent. The default option makes all tickets belong to the general section. If you have more departments and more agents, you must select from the drop-down menu to transfer ownership of the tickets.
Expert note
Transfer ticket is a crucial feature for efficient customer support, enabling seamless collaboration between agents and departments for faster resolution times and improved customer satisfaction.

Andrej Saxon
Sales manager