What is agent utilization?
Agent utilization describes the time an agent spends on phone calls. It is simply a ratio of agent productivity to their time capacity.
Contact center agent utilization is an integral part of call center key performance indicators (KPIs). The other important KPIs to keep track of when it comes to your contact center productivity metrics are average handle time (AHT) and contact per agent per month. These three metrics are the most significant pillars that support your call center productivity rates, agent performance, as well as agent engagement.
Do not confuse agent utilization with agent occupancy. While agent utilization sums up the time your agent spends on the phone with clients but it doesn't consider other call-related tasks. Agent occupancy takes into account each call-related activity the agent performs.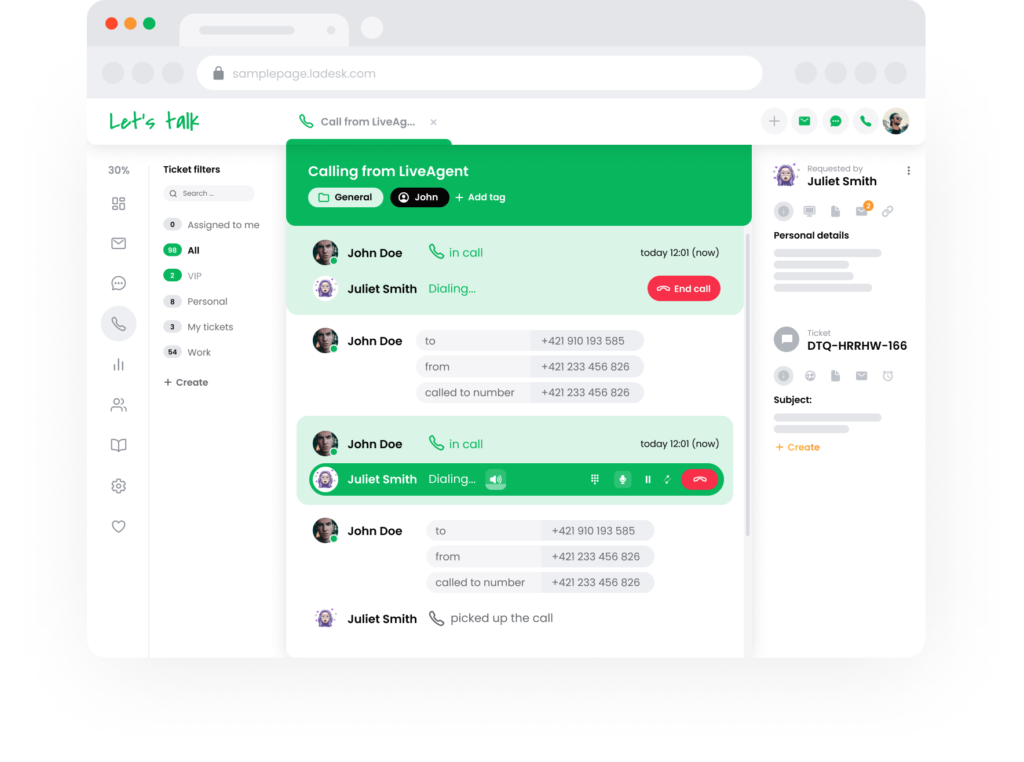 How to calculate agent utilization rates?
To accurately calculate agent performance and their productive time you first need to have reliable data to fill your equation.
Total time the agent spends on customer calls in a given period. You get this number by adding the total number of calls during that time and the average time spent on each of the calls (minutes per contact).
Operation hours in the same time period that you used above.
Now that you have this data, we can go ahead and determine your agent utilization percentage.
The formula is as follows:
Agent utilization (%) = (Total time spent on calls / Total time spent on shift) x 100
This is just the most basic formula. You can add more variables to it to get the most precise results.
When setting a contact center agent utilization goal for your contact center, you need to keep in mind that multiple factors affect your agent's daily activities.
Size of the call center – smaller call centers tend to have lower call center agent utilization rates due to the smaller contact volume.
Business type – for example, tech company call center agents may have longer breaks in between calls to find the solution or discuss customer's technical issues.
Types of calls – average time spent on calls differ in inbound and outbound customer interactions.
Shift – night shifts tend to have lower interaction volumes.
Channel mix – having more than one communication channel in a contact center has become a widely used solution model.
The industry average agent utilization for service desk agents is about 48%. However, based on the factors stated above it can range widely from 22% up to 76%.
Be careful when setting your agent utilization goals. You don't want to end up overstaffed with low agent utilization rates, but you have to be careful to not overwork your staff and cause agent burnout.
You can use tools like LiveAgent omnichannel helpdesk software to help improve your agent utilization rates. It offers features like ticketing software, IVR, automatic callback, CRM, automatic call distribution, reporting, and many more. You can use it to boost your customer satisfaction while keeping your agent happy and your contact center costs low.
Ready to increase your productivity with more agents?
Agent is the most important customer service person, who solves problems and supports the client.
Frequently asked questions
What does agent utilization mean?

Agent utilization is the percentage of time agents spend on both inbound and outbound customer calls. It is an important KPI you need to keep track of when you're measuring your contact center productivity.

How is agent utilization calculated in a call center?

The formula is: Agent utilization = (Total time spent on calls / Total time spent on shift) x 100 You can add more variables for more accurate results.

What is a good utilization rate for a call center?

It depends on the industry you are in, the size of your call center, and how many channels of communication you are using to reach your clients. However, an average service desk agent utilization is 48%, so you can consider anything above a high utilization rate.

How can agent utilization be improved?

Consider using a reliable helpdesk software like LiveAgent to streamline your workflow and increase productivity in your contact center. Furthermore, you can set up regular agent training seminars to train them to better understand customer issues.
Expert note
<p>Agent utilization is the percentage of time agents spend on customer calls. It's a vital KPI for measuring productivity and can be improved with tools like LiveAgent helpdesk software.</p>

Andrej Saxon
Sales manager