What is an inbound call center?
An inbound call center is a call center that exclusively or predominantly handles incoming customer phone calls. It is equipped with the technology to receive and distribute incoming calls, making it possible to set a call route to each department. This means that call center agents wait for the calls to come instead of actively making calls.
Some of the most common inbound call center services are:
Answering customers' questions about a company's products/ services
Resolving customer service issues, handling requests and complaints
Tech support for customers or internal support
Payment processing, handling billing issues
Upgrades and renewal inquiries for SaaS customers
Taking sales orders, order entry, and processing
Scheduling appointments, handling reservations, registrations
Because agents deal with large volumes of incoming calls, the key metrics of success for inbound call centers are first contact resolution, the average speed of answer, handle time, abandoned call rate, customer satisfaction score, and agent productivity.
Benefits of using inbound call center software
Despite the growing usage of digital communication channels, numerous research shows that the phone still remains the most widely used customer-service channel for the majority of today's consumers. In fact, more than 50% of customers across all age groups typically use the phone to reach out to a customer service team, according to a recent study.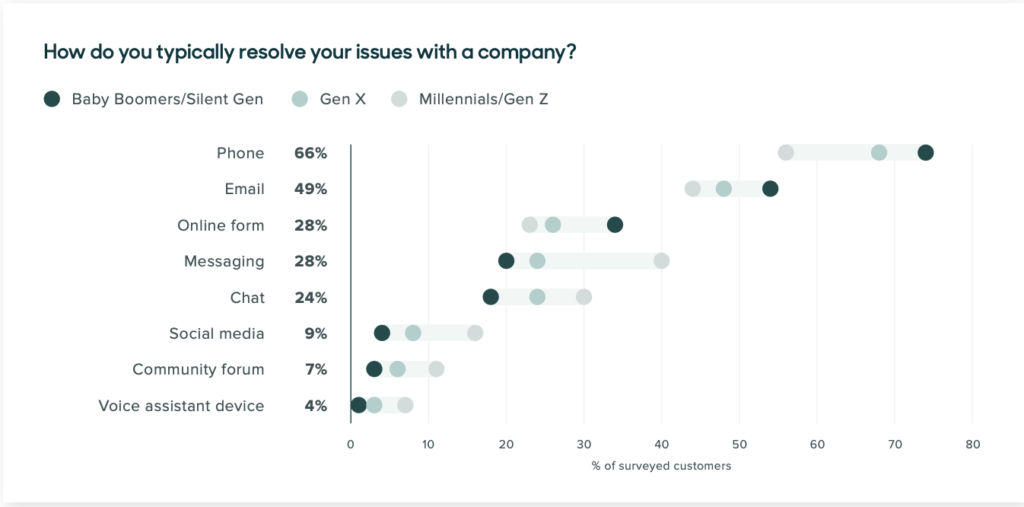 With professional inbound call center software, businesses can efficiently manage a large number of incoming calls and provide a high level of customer service. Advanced features like IVR and automated call routing ensure reduced wait times for customers, personalized support, improved caller satisfaction scores, and a more streamlined customer service workflow for businesses. Inbound call center software also makes it easy to monitor agent performance through built-in analytics tools and controlled support costs.
Call Center Software Demo | LiveAgent | Live Agent04:40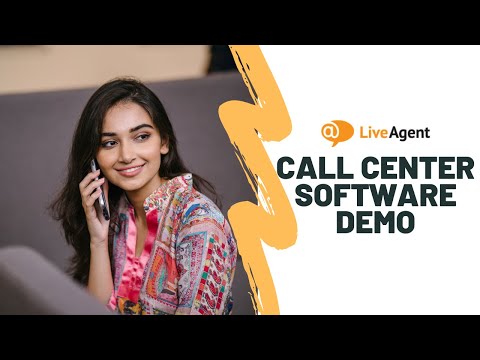 Live Agent
Thanks to Interactive Voice Response (IVR) systems and intelligent automated call routing functionalities of inbound call center systems, customer calls are routed to the right agents or departments. When done right, IVR helps reduce the volume of incoming calls, wait times, call handling time, and prioritizes calls based on value. Moreover, it increases first contact resolution and cuts down on operational costs.
Start your free trial today
Design your own IVR trees and improve your customer service today. Curious about all the opportunities?
How can you set up an inbound call center in LiveAgent?
LiveAgent's inbound call center can be set up in a matter of minutes. 
1. Log into your LiveAgent account and click Call
2. Click Numbers
3. Click on the orange Create button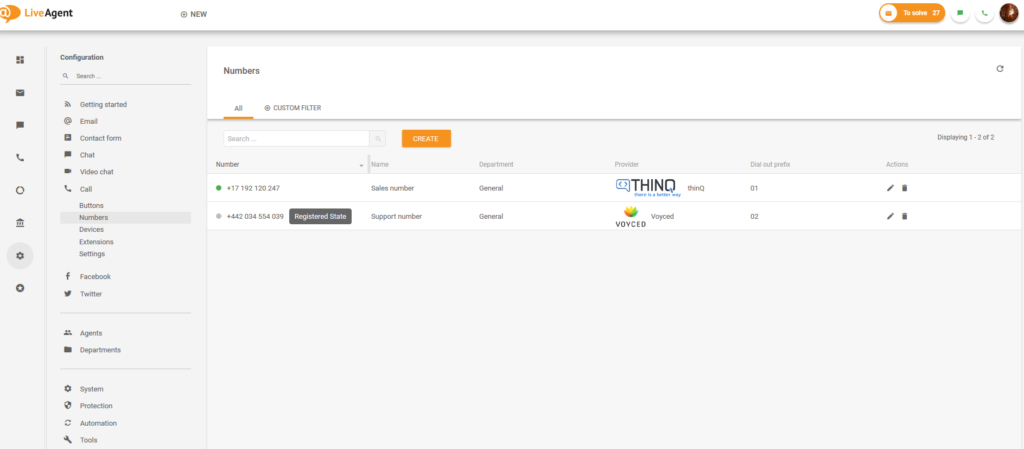 4. Select your VOIP provider (the VOIP provider from which you've purchased your phone number)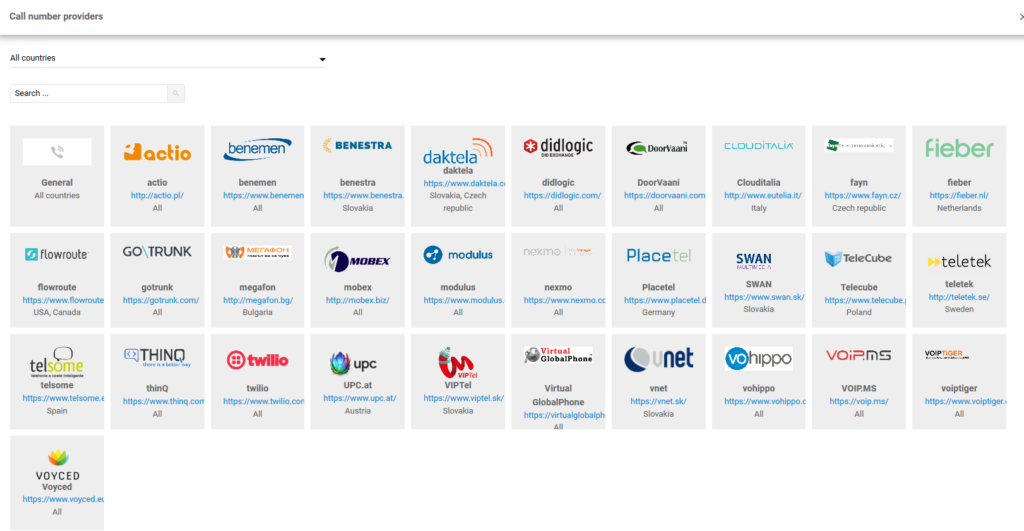 5. Enter a name (it can be anything, it's just for you to remember which number it is)
6. Select the department into which incoming calls to this phone number will be routed
7. Enter the dial-out prefix
8. Check the Record Calls checkbox if you want to record all incoming/outgoing calls from this phone number
9. Type in your credentials from your VOIP provider (Hostname, Username, Password)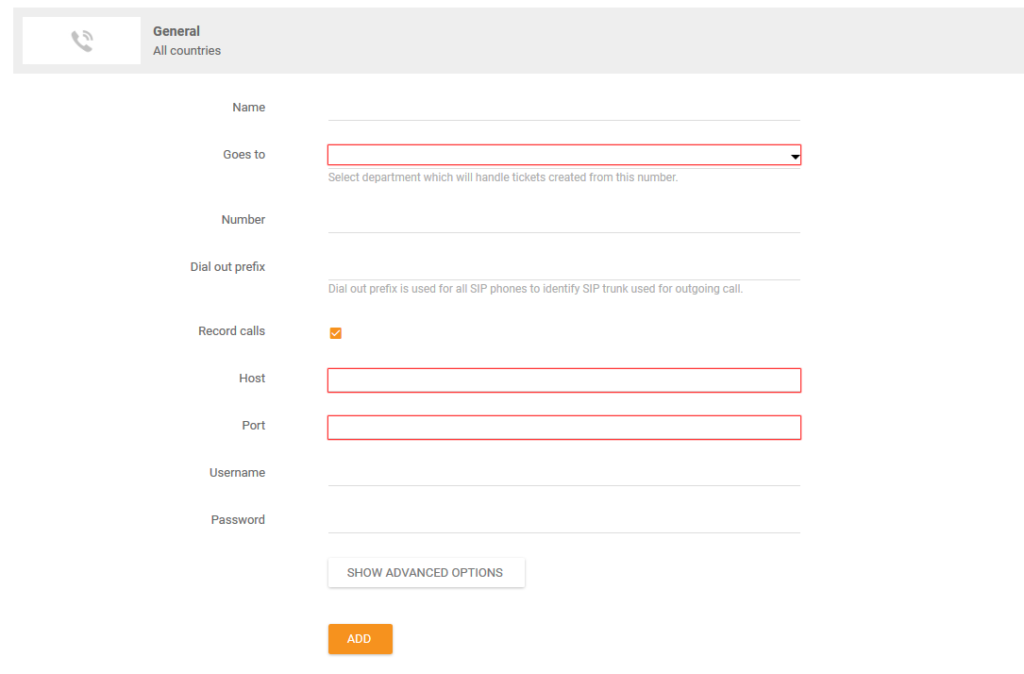 10. Click Add
If the phone number was successfully added and is active it will have a green dot next to it.
11. Next, click on the Edit button and click on IVR.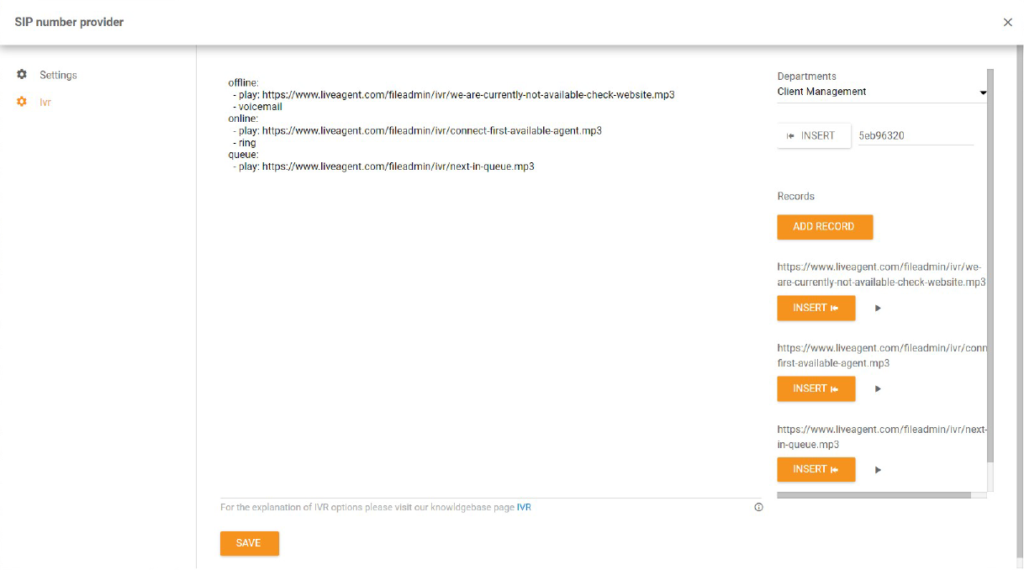 Set up your IVR/welcome messages using this guide IVR (welcome/offline messages).
12. After you're done setting up your IVR, click on Configuration
13. Click Call
14. Click Settings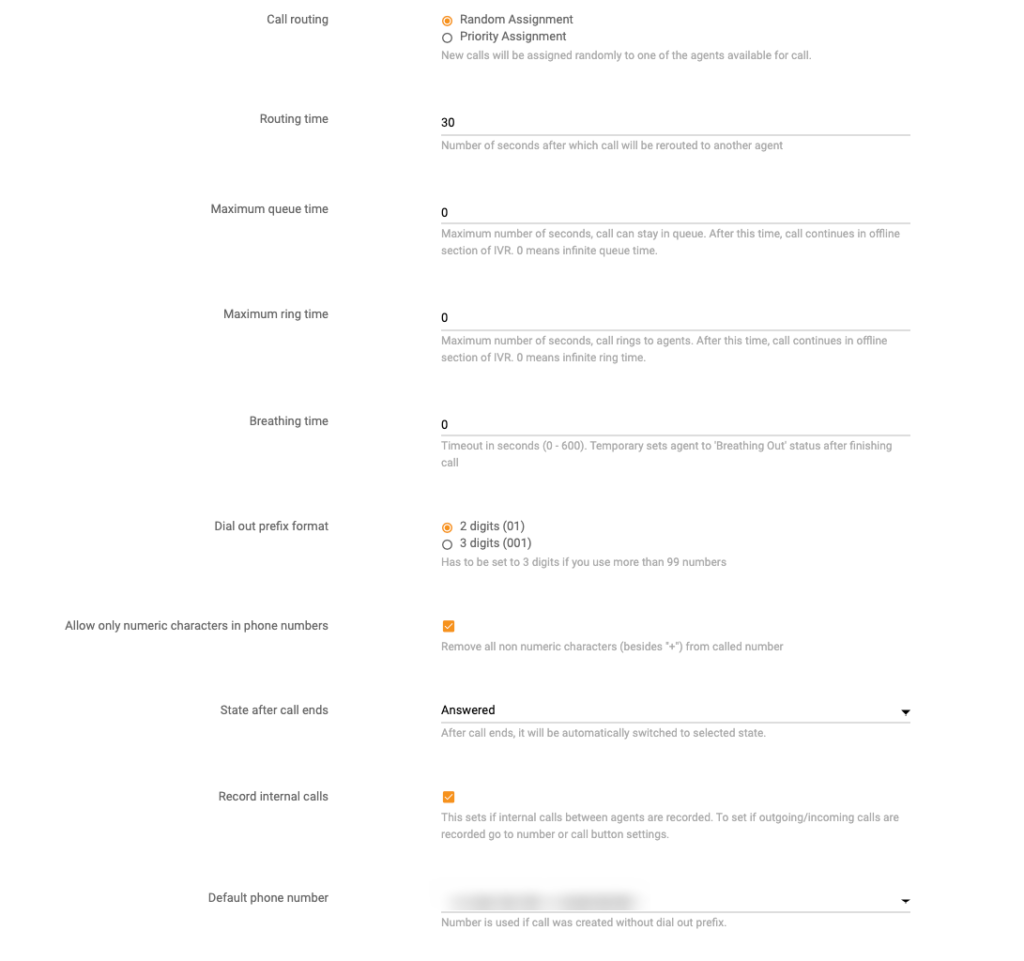 15. Alter the settings according to your preferences and click Save
16. Use this guide to add your hardware and software phones to the Devices screen
17. Next, forward this guide to your agents so they can set up preferred devices for answering calls
What inbound call center features does LiveAgent have?
LiveAgent's omnichannel help desk solution comes with built-in call center functionality and a full range of inbound call center features that enable your support team to handle incoming calls with ease while keeping customer satisfaction levels high.
Smart call routing
With LiveAgent's call routing, incoming customer calls are either routed to a free agent with the highest priority and longest time since their last call or randomly to one of the agents that's currently available to pick up calls. Agents can also set up ACD for routing incoming calls to a personal device, such as a cell phone, which allows them to keep providing support on the go, or on the preferred device.
IVR designer tool
LiveAgent features a comprehensive IVR online designer tool that anyone (even with zero technical knowledge) can use to easily create their own IVR trees. You can literally create your custom IVR tree from scratch directly in LiveAgent's dashboard, including recording or uploading your own audio files into the tree. A well-designed IVR tree can make it much simpler and quicker for customers to reach the right department or person.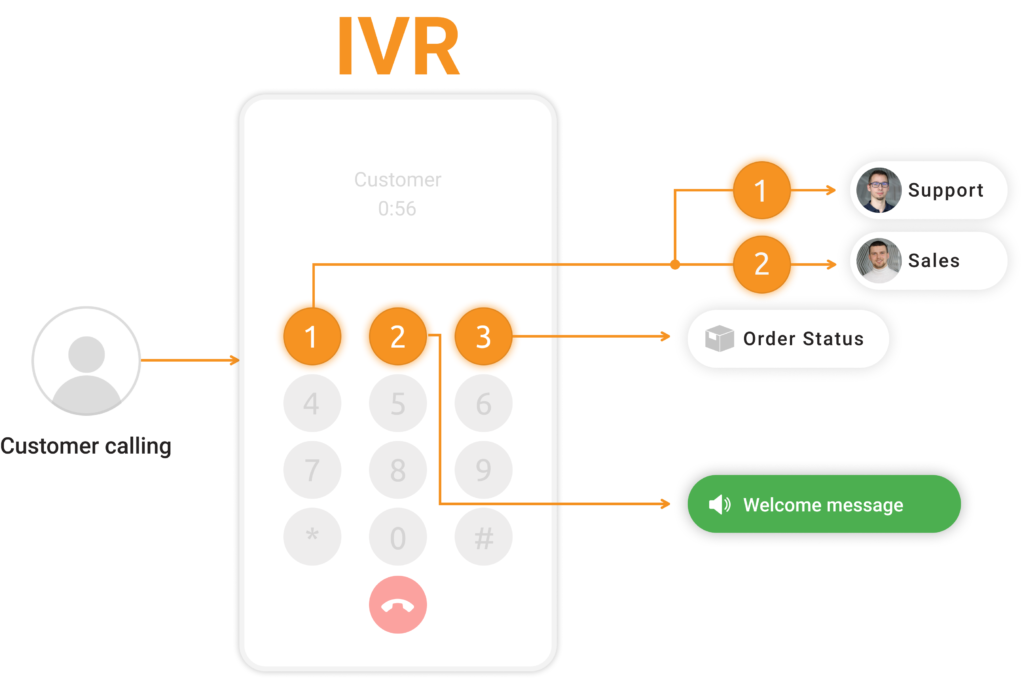 Video calls
If you need a more personal way of communicating with customers, you can use a live video call that works just like a regular Skype call. LiveAgent's video call is completely browser-based so there is no need to install any external 3rd party apps. Your agents can answer video calls directly on their computers (there's no need for a phone). In addition to that, they can simultaneously chat with callers to ensure faster and more efficient support.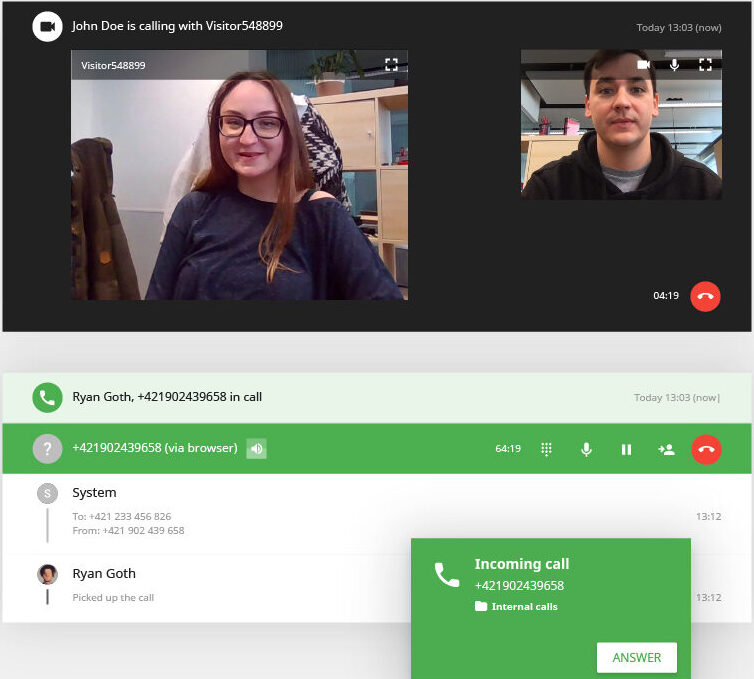 Unlimited call recordings
LiveAgent's inbound call center software allows you to easily record, safely store, and playback your incoming customer calls without the need for additional call recorder software. That ensures you never miss a beat on the important details shared during any call. Use unlimited call recordings to improve the quality of your support, for training purposes, security, or compliance.
Automatic callback
With LiveAgent's automatic callback function, your customers will be able to request an automated callback instead of having to wait on hold when your support line is busy. Having an automatic callback function increases customer satisfaction, reduces abandoned call rates, and increases agent productivity as agents won't have to dial numbers that requested a callback manually.
IVR & CALLBACK FEATURE DEMO | LiveAgent | Live Agent03:38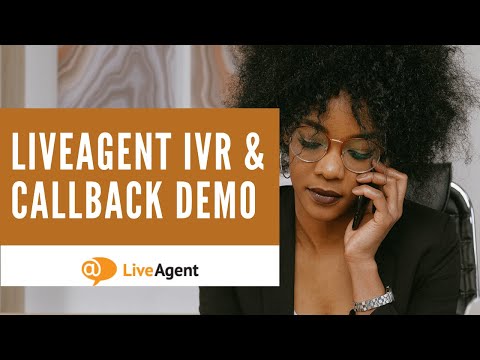 Live Agent
Call transfers
LiveAgent's inbound call center solution offers attended call transfers. This function allows agents to put incoming callers on hold, connect with an appropriate colleague and bring them up to speed, transfer the call to the new agent, or alternatively, return to the caller if the new agent cannot help them. This feature provides seamless issue resolution and ensures better customer satisfaction.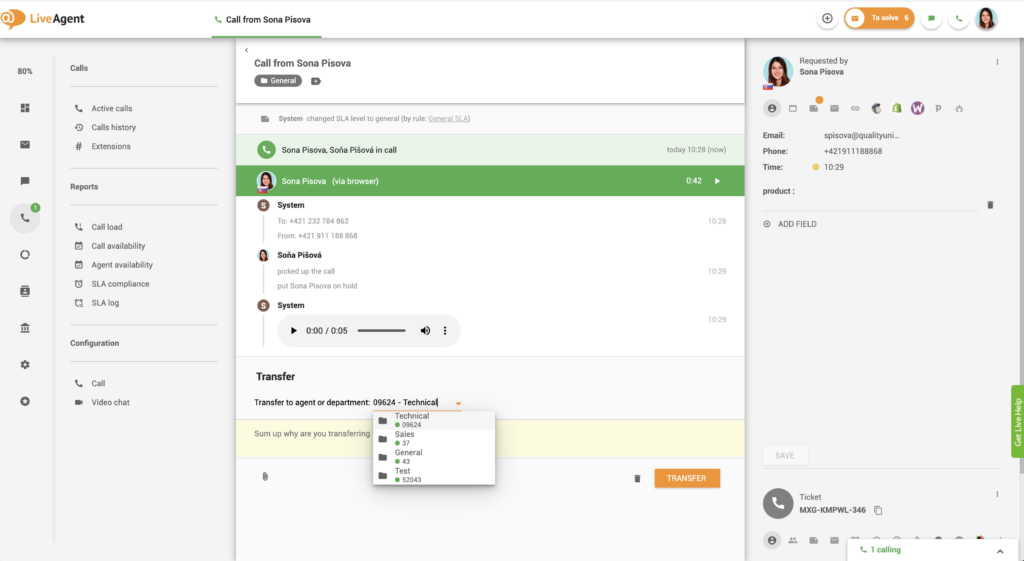 Internal calls
LiveAgent supports unlimited free internal calls amongst all online contact center agents. In case your agents need a helping hand from colleagues, they can instantly initiate internal calls right from the ticket interface. This feature that's directly built into LiveAgent enables agents to get help in a very short time.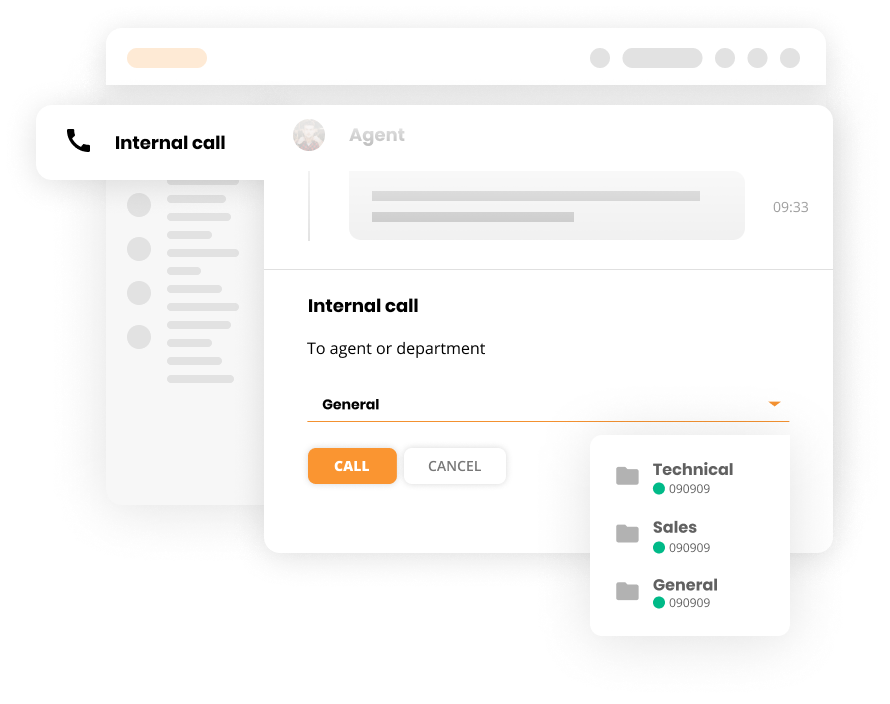 Reporting and analytics
LiveAgent's built-in analytics module tracks a variety of call center metrics,  KPIs and can generate numerous reports. By consistently reviewing them, you can identify gaps in your inbound call center performance and improve your support quality based on the actionable insights you find. For example, analytics can showcase that agents need more training, more staff needs to be hired to meet call volumes, etc.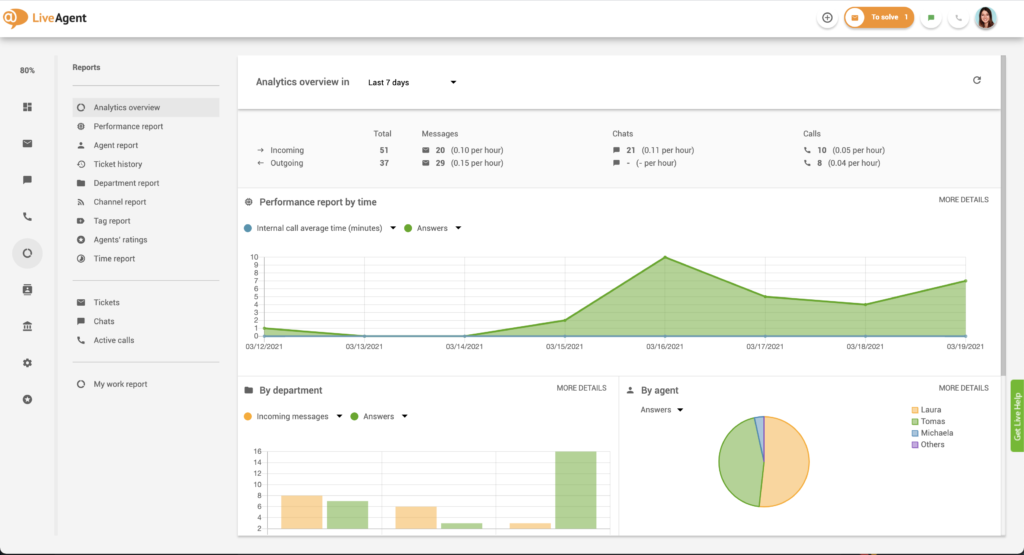 Frequently

asked questions
Expert note
Inbound call centers provide personalized support and efficient issue resolution, enhancing overall customer satisfaction and loyalty.

Andrej Saxon
Sales manager