What is automatic call distribution?
ACD meaning Automatic Call Distribution is a telephony system that receives incoming calls. It filters them based on certain predefined distribution rules and directs them to the right call center agents, departments or IVR menu. We can also define ACD as a call routing system that works with Computer Telephony Integration (CTI) and Interactive Voice Response (IVR) systems to ensure inbound calls are intelligently routed to the most appropriate agents.
Why is automatic call distribution important to have?
Automatic call routing systems are critical for call centers since they are designed to sort and efficiently handle large volumes of incoming calls without overwhelming agents. ACD is particularly helpful in managing call overflows and handling inbound calls outside your business hours. It also helps improve customer satisfaction and reduce customer frustration by making sure calls are connected to agents who are best suited to resolve customer issues.
How does ACD work?
Caller identification: First, the ACD system uses Caller ID, Automatic Number Identification (ANI) or Dialed Number Identification Service (DNIS) to determine all available information about the caller in order to route the call appropriately. Paired with IVR, the system can obtain additional caller information based on the IVR menu selection.
Call queueing: Then, ACD sorts the callers into waiting lists and determines the order of the queue taking into account such factors as status, wait time and the type of customer query. VIP callers, for example, can be prioritized and placed at the front, based on the queue configuration.
Call routing: The ACD system will further route the incoming calls depending on the pre-set distribution rules. E.g., calls can be distributed based on the origin of the phone number, agent availability, agent skill set and knowledge, time of day, queue statistics or other predefined rules.
What are the types of ACD?
There are different types of call distribution methods used in ACD systems:
Linear call distribution/ Fixed order: Phone call routing to agents is in a pre-defined order, starting with the same agent every time. When the first agent on the list is unavailable, the call is routed to the next agent until someone answers.
Circular/ Rotary call distribution: Calls are routed to the agent next in line in a continuous loop, ensuring equal distribution across the entire team.
Uniform/ Idle agent call distribution: Calls are distributed to the agents with the fewest calls or longest idle time between calls (based on the average talk-time), which helps optimize their workloads.
Simultaneous call distribution: Calls ring to all available agents simultaneously, and the one who picks up will handle the call, which minimizes wait times for callers.
Time-based call distribution: Calls are routed to available agents only during a given time period based on their working hours and statuses.
Weighted call distribution: Calls are routed to the available agents based on a predefined weighted score (language proficiency, expertise, efficiency, skill set).
Data-based call distribution: Calls are routed to the agents who are best equipped to handle them based on the available customer data like the customer's preferred channel, VIP status, etc.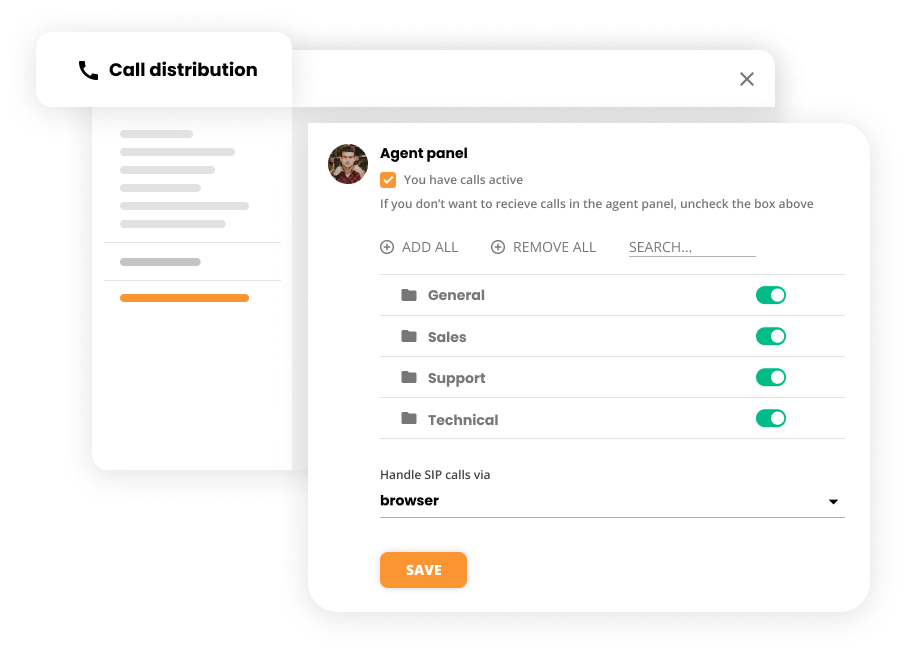 What are the benefits of ACD?
Increased team productivity: ACD systems improve agent performance and maximize agent productivity. Each contact center agent only handles customer calls that are specific to their area of expertise, experience, skill set, level of training and so on.
Better workforce management: Using an ACD system ensures that each member of your customer service or sales team shares the same amount of work by distributing incoming calls fairly and equally.
Improved customer experience: Smart call routing reduces wait times and connects customers to the right agents that can best handle their requests. This means faster resolution, better resolution rates, and ultimately higher customer satisfaction levels.
Increase your productivity
LiveAgent offers you call center software with number of useful features which will make your work more effective. Want to see it for yourself?
Frequently Asked Questions
What is the full form of ACD?

ACD stands for Automatic Call Distributor or Automatic Call Distribution system that is used in today's call centers to efficiently manage large volumes of incoming calls.  It streamlines the communication process without overwhelming call center agents.

What does ACD mean?

The Automatic Call Distribution (ACD) system identifies inbound callers, sorts them into queues and routes their calls to the most suitable agent or department based on the call distribution method used and predefined rules.

What are the features of ACD?

Some of the basic features of Automatic Call Distribution systems include integrations with CTI, IVR and CRM, skills based routing, automatic call back, multiple call queues, voicemail routing, call monitoring, reporting and agent coaching, and other.

How to grow ROI with ACD?

With the right call routing strategy, ACD can enhance the overall call center performance by improving agent efficiency, reducing agent idle time and the number of transferred calls. It enables agents to increase first call resolution rates since each incoming call is always routed to the most qualified agent.
Expert note
ACD is a call routing system that directs incoming calls to appropriate agents using predefined rules. It improves customer satisfaction and ensures efficient handling of high volumes of calls.

Andrej Saxon
Sales manager