What are unlimited call recordings?
Unlimited call recordings are a powerful feature that ensures all of your calls are safely stored in your LiveAgent account for legal, training, or support purposes. It doesn't matter which business or industry environment your company comes from; call recordings are proven to be one of the most efficient means for issue resolution, security, and in various cases meeting compliance needs.
LiveAgent does not limit you on the number of call recordings stored in your account or on their length. You can create, store and manage them from the single multi-channel help desk software.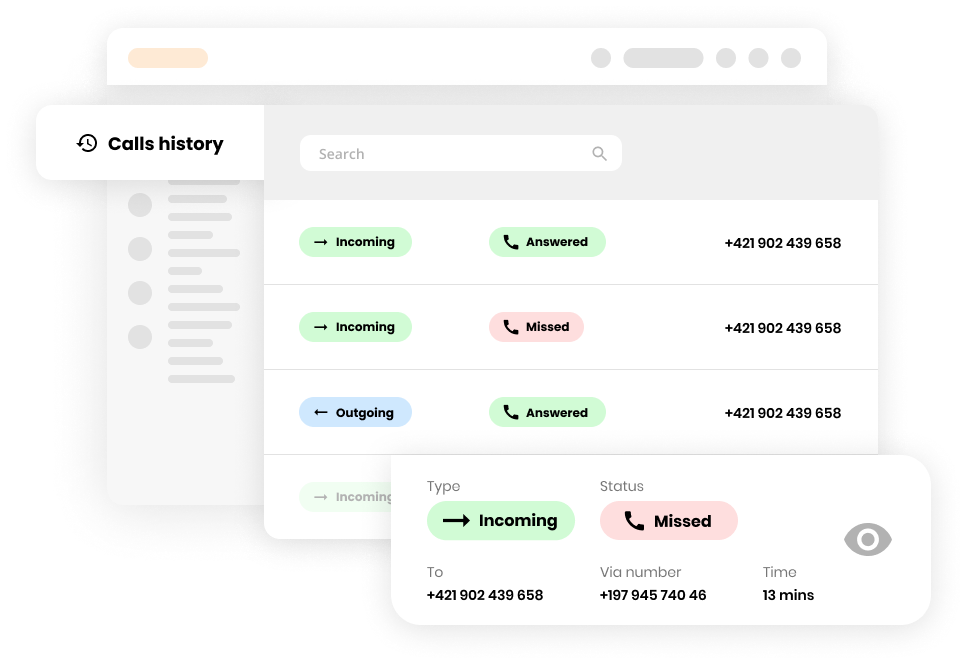 Who benefits from unlimited call recordings?
Companies of all types and sizes, ranging from freelancers and legal professionals to large FSA enterprises, enjoy the benefits of unlimited call recordings and their history. For many, it's an invaluable part of their customer call center software as it gives them an option to search, listen to, or download any call in their account, even the test ones dated back to the creation of the account.
To be specific, the banking industry, insurance companies, and telecommunication companies benefit the most from implementing unlimited call recordings, as many countries require it by law.
What are the core parts of unlimited call recordings?
Unlimited storage
All call recordings are stored in your LiveAgent account without limits on the length or amount of recordings.
No need for call recorder software
All calls handled via LiveAgent are automatically recorded and stored without relying on 3rd party application. This improves the security and confidentiality of your data.
Easy to store and search
Each call recording is converted to a regular ticket with its own unique ticket ID. In addition, you can add notes to the tickets to improve the search.
Access your voicemail anywhere
Besides having the opportunity to store unlimited call recordings, LiveAgent also stores all of your voicemail. So no calls or words are ever lost.
3 benefits of unlimited call recording
Recover the missing details
Sometimes the small, yet essential details might get lost during the voice call. With LiveAgent, you can get back to the recording, replay it and keep your promise to provide excellent customer service.
Improve your existing products
Share the specific call recording with your R&D or product management team. This way, they can learn how customers interact with the product, thus improving their experience.
Useful coaching for your members
New colleagues can learn from the previous calls as a part of their onboarding and education system. This sort of feedback gives them a chance to learn from past experiences.

What are other beneficial call center features in LiveAgent?
Interactive voice response (IVR)
No need to rely on additional 3rd party solutions as you can create your own Interactive Voice Response tree in your LiveAgent account in a matter of seconds. Define the options your customers will choose from, upload a short snippet of music or welcome message together with the instructions on how to proceed. Then, direct the customers to the correct department or specific agent and provide stellar customer service.
IVR & CALLBACK FEATURE DEMO | LiveAgent | Live Agent03:38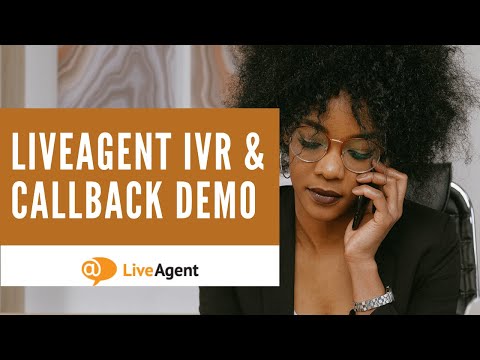 Live Agent
Intelligent call routing
Intelligent call routing or Automated Call Distribution (ACD) is a process that automatically distributes calls to a specific department or agent. This process is based on the set of chosen preferences, such as priority assignment or random assignment.
Businesses can control the flow of the inbound calls by setting up the routing time after which the call is rerouted to another agent or maximum queue time. However, customers want to be connected to agents as soon as possible. So, it is recommended to keep them as low as possible.
Attended call transfers
Call transfer is a call center feature that bumps (or transfers) a call from one agent to another. LiveAgent currently supports attended, warm call transfers that are swift. As a result, your customers and colleagues will always know when you will transfer the call to other agents.
Moreover, you can inform the customer about the change of agent, put him on hold, and let your co-worker help him. You can even implement music played while the customer waits in line to make the transfer more acceptable.
Test automatic call routing for free
Check out how automatic call distribution works in practice with our free 30-day trial. No credit card required.
Frequently Asked Questions
What are unlimited call recordings in LiveAgent?

Unlimited call recordings is a LiveAgent call center software feature, which enables your business to record calls for different purposes, such as agent training, product/service improvement, customer feedback, and more.

What other call center features does LiveAgent have?

How can your business benefit from the unlimited call recordings feature in LiveAgent?