A hosted call center is a software solution that handles inbound and outbound calling, as well as IVR interactions through a single system. Hosted call center systems are great alternatives to traditional call centers because they're web-based and cost-efficient. There's no need to worry about maintaining servers, buying hardware, or installing external software.
Why should you use a hosted call center?
Excellent phone support is the cornerstone of every successful business. Even though traditional call centers are slowly becoming obsolete and replaced by the likes of call center software or hosted call centers, phone support is still in high demand.
In fact, according to the CFI Group, 76% of all consumers prefer phone support over digital means such as emails, online contact forms, and social media. As such, it's important to cater to the majority of your customers by providing quick, personalized, and knowledgeable phone service.
The most hassle-free and cost-effective way to do so is to invest in a hosted call center software.
How can you use a hosted call center?
A call center like LiveAgent offers its users tons of modern and professional call center features, including:
Inbound calling
Outbound calling
Internal calls
IVR (Interactive Voice Response) technology
Call queuing
Automatic callbacks
Attended transfers
Automatic call routing / automatic call distribution (ACD)
Video calls
Unlimited call recordings
Multiple supported call devices including softphones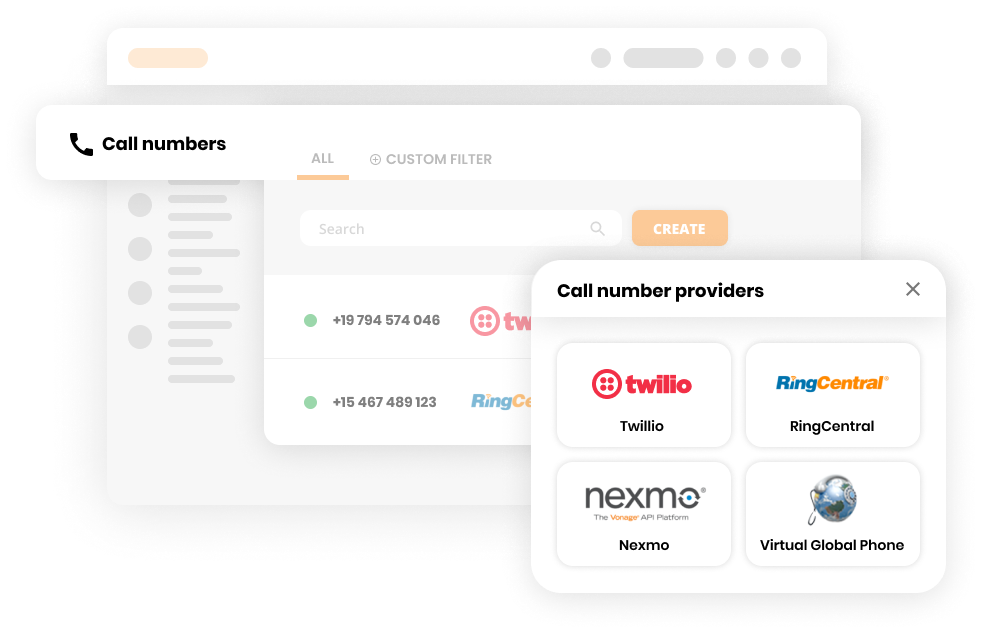 In addition to that, many hosted call centers also provide additional features like:
A built-in CRM software
Internal/ external knowledge bases
Robust reporting, call analytics, and time tracking
And much more!
The hosted call center is a modern type of technology that does not require any additional third-party app to function. In fact, call center solutions are built to maximize workflow efficiency and cost savings and thus include all the features and benefits of traditional help desk software.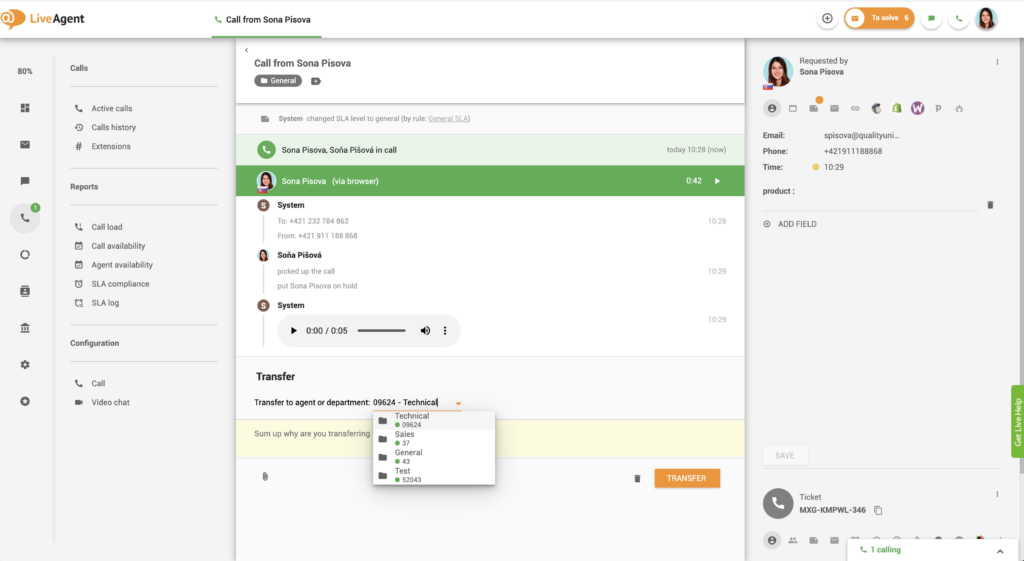 What are the benefits of using hosted call centers?
Improved customer satisfaction
Having a well-organized hosted call center software complete with IVR menus, automatic callbacks, and attended call transfers can improve customer satisfaction. Customers want options when it comes to waiting on hold. They also want to be informed about where they're being routed to, and be assisted even if the person they're being transferred to isn't there to help them. 
Having a comprehensive hosted call center like LiveAgent in your arsenal is the best thing you can do to keep your customers happy call after call.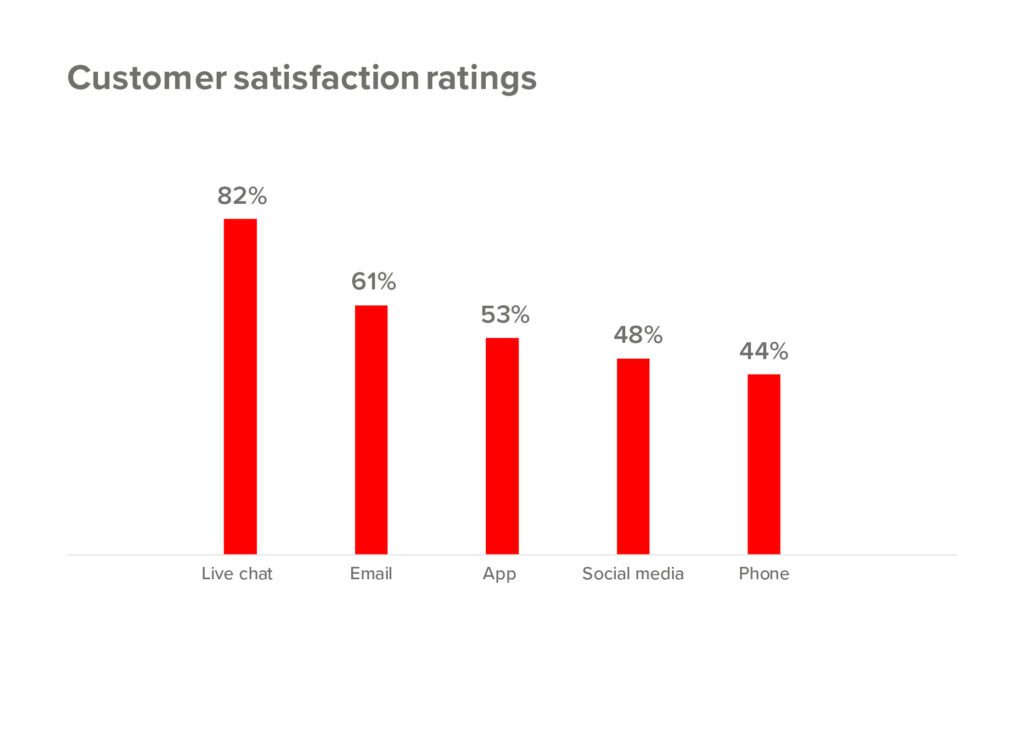 Faster resolution times
Having a hosted call center that's equipped with an IVR system can help you improve your resolution times. By empowering your customers to choose which department they need to speak to, you're eliminating the middle man that usually picks up a phone, listens to what the customer needs, and only then routes the caller to the appropriate department or representative.
Stand out from your competitors with a strong customer service culture​
Great cost savings
Hosted call centers cost a fraction of the price of a traditional call center. The only thing you need to pay for is your monthly subscription and your VOIP phone number. You pay for real-time usage only. There are no extra per-minute charges or hidden fees. With our hosted contact center software, you can choose from a variety of VoIP providers we collaborate with, based on your size, price, location, and niche.
In addition to that, there's no need to pay for rent, expensive hardware, electricity, and more. The call center can also be accessed from any computer or smartphone with internet access.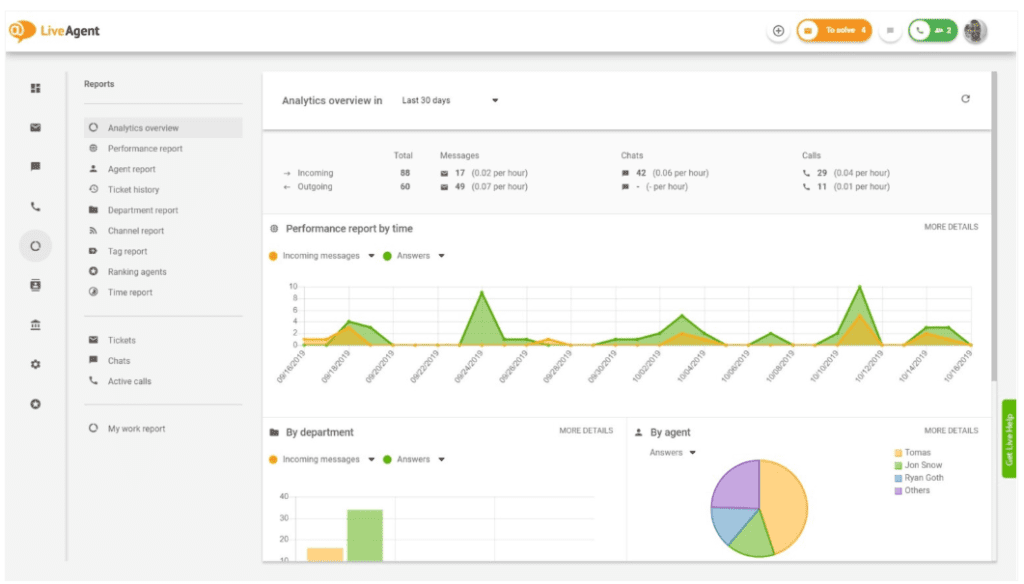 Improved customer efficiency
Hosted call centers like LiveAgent are equipped with additional features and integrations that can improve agent efficiency. Because your agents can access all customer info from their call interface, they won't have to waste any time looking for past conversations, contact details, and more.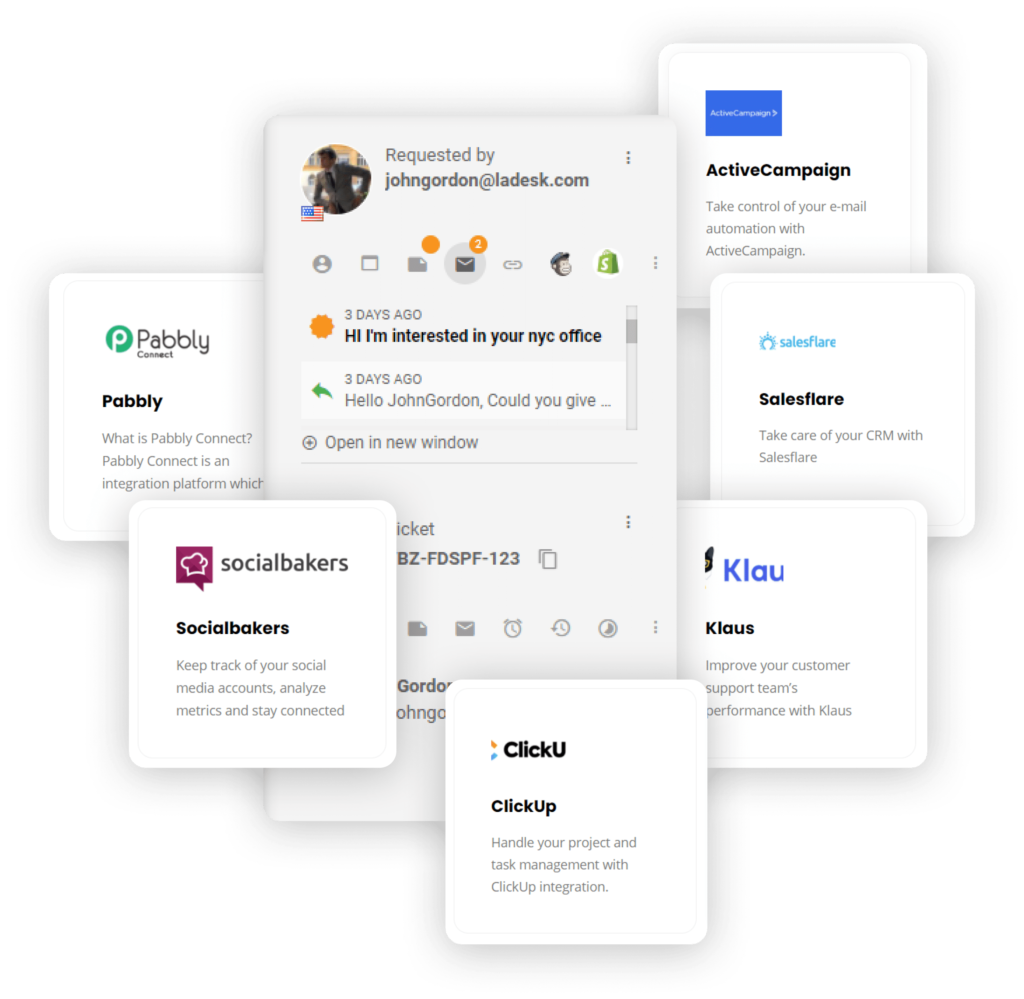 Greater flexibility
Hosted call centers give your agents freedom and flexibility. Working from home or remotely is a completely viable option. Your agents will no longer have to sit in the office or in front of the computer. They won't even have to have a designated device. They can simply forward calls to their personal devices answer calls on the go. Doesn't that sound great?
How can you set up a hosted call center in LiveAgent?
LiveAgent's hosted call center can be set up in a matter of minutes. 
1. Log into your LiveAgent account and click Call
2. Click Numbers
3. Click on the orange Create button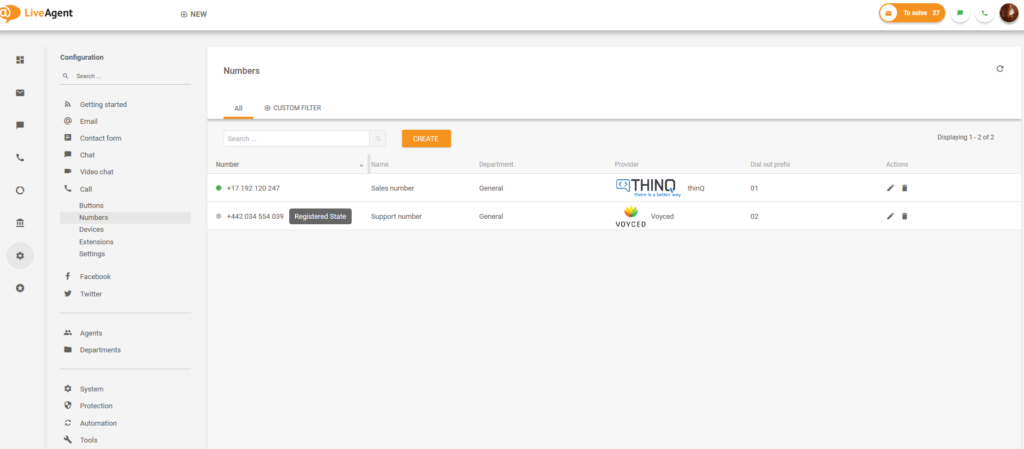 4. Select your VOIP provider (the VOIP provider from which you've purchased your phone number)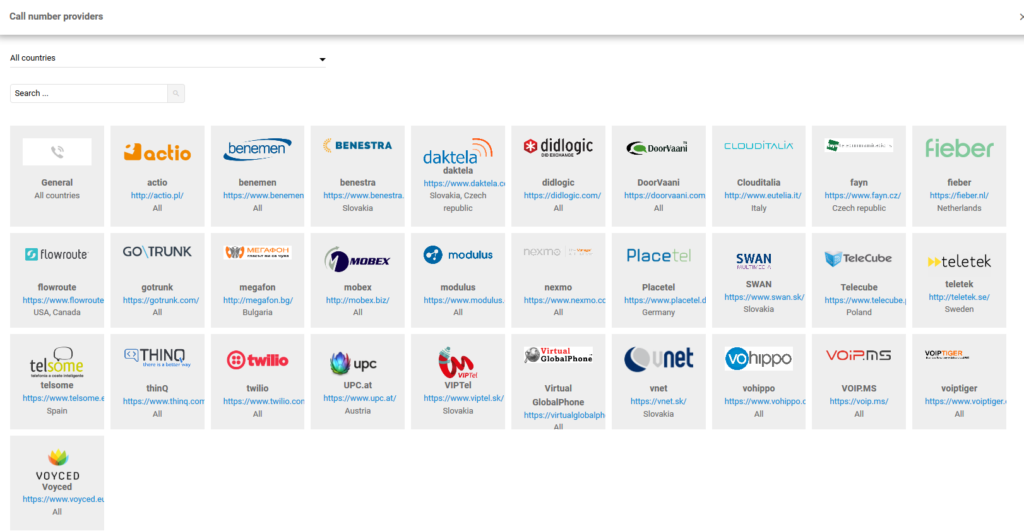 5. Enter a name (it can be anything, it's just for you to remember which number it is)
6. Select the department into which incoming calls to this phone number will be routed
7. Enter the dial-out prefix
8. Check the Record Calls checkbox if you want to record all incoming/outgoing calls from this phone number
9. Type in your credentials from your VOIP provider (Hostname, Username, Password)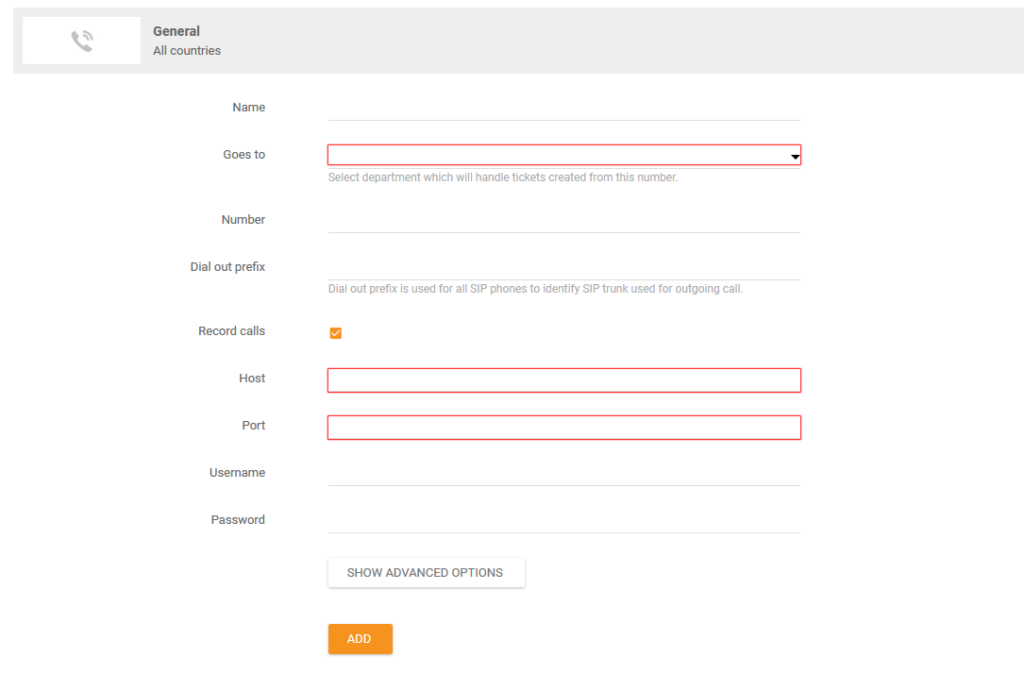 10. Click Add
If the phone number was successfully added and is active it will have a green dot next to it.
11. Next, click on the Edit button and click on IVR.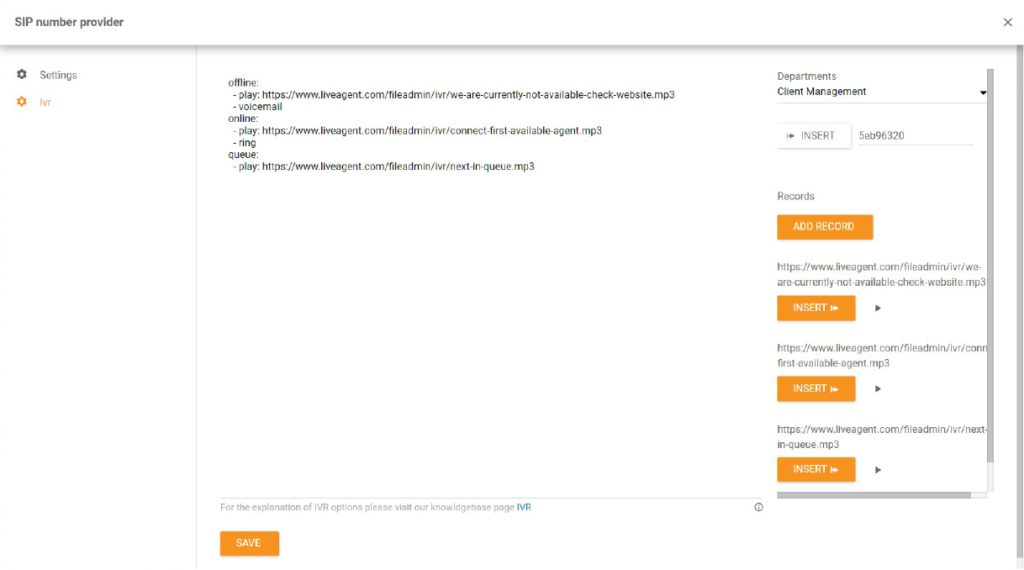 Set up your IVR/welcome messages using this guide IVR (welcome/offline messages).
12. After you're done setting up your IVR, click on Configuration
13. Click Call
14. Click Settings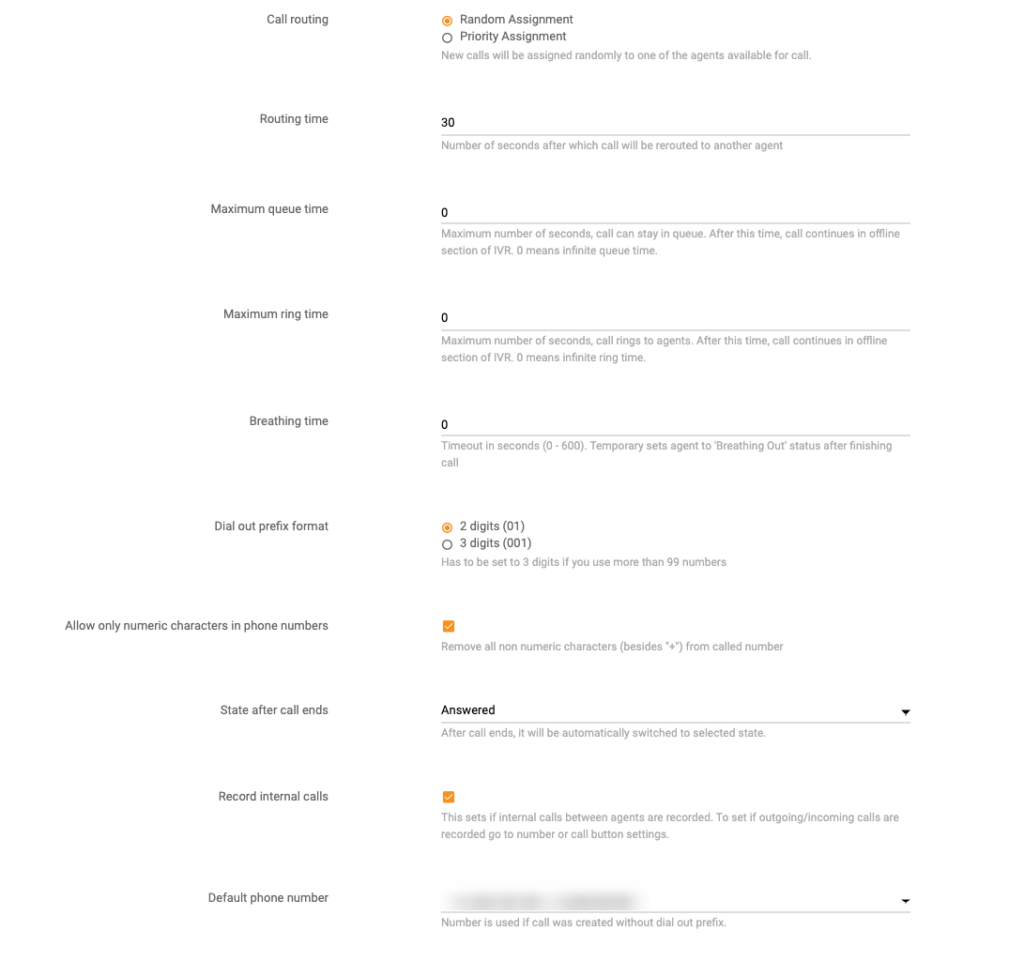 15. Alter the settings according to your preferences and click Save
16. Use this guide to add your hardware and software phones to the Devices screen
17. Next, forward this guide to your agents so they can set up preferred devices for answering calls
How does it look like/work in practice?
LiveAgent is a call center solutions provider that guarantees a great user experience. Call center software is flexible, scalable, and can be accessed from any computer or phone with internet access. It can be used by multiple users at once and customized to fit your business needs. The system is affordable, easy to use, and has reliable uptime. Check out how it works in the video below.
Call Center Software Demo | LiveAgent | Live Agent04:40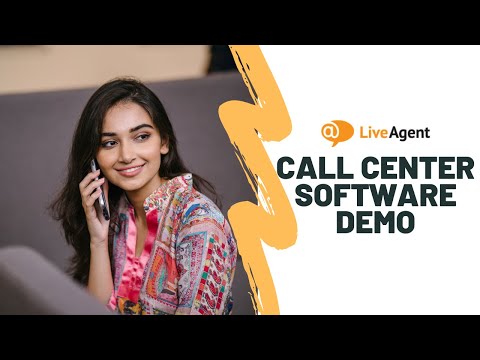 Live Agent
Don't wait any longer to improve your customer support.
Try LiveAgent's hosted call center solution today and see the difference it can make for your business!
Watch a video about hosted call center
Hosted call center software and LiveAgent help desk software are designed to make it easier for businesses to manage customer relations. They allow businesses of all sizes to benefit from the features of a full-scale call center, including automated prompts, call routing, and CRM integration. With a hosted call center, calls are routed to agents in the cloud, so businesses can set up a large-scale call center without the need for extra hardware or staff. LiveAgent help desk software is designed to streamline customer service and make it easier for agents to manage customer inquiries and grievances. With features like ticket management, unanswered ticket alerts, and error tracking, it helps agents and teams prioritize and respond to customer inquiries quickly and accurately.
What's a Hosted Contact Center? | Nextiva02:31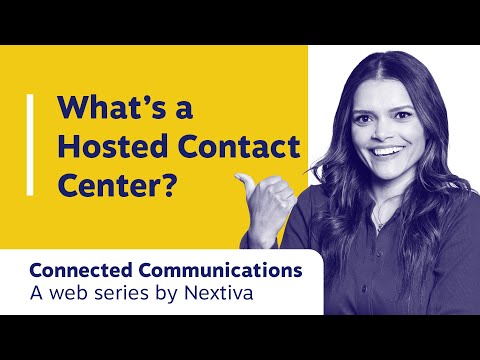 Nextiva
Topics
Hosted contact centers
Advantages of using hosted contact centers
Factors to consider when choosing a hosted contact center service provider
Video summary
The video talks about hosted contact centers, which are contact centers that are hosted in the cloud by service providers without any hardware in the user's office. The advantages of using a hosted contact center include increased accessibility for employees and up-to-date hardware maintained by the provider. Additionally, users should consider factors such as data security and the availability of key features before choosing a service provider. The video ends with a call to comment about the most important feature for a business in a contact center.
Frequently Asked Questions
What is a hosted call center?

A hosted call center is a software solution that handles inbound and outbound calling, as well as IVR interactions through a single system.

Why should I use a hosted call center?

Hosted call center systems are great alternatives to traditional call centers because they're web-based and cost-efficient. There's no need to worry about maintaining servers, buying hardware, or installing external software.

What features are included in a hosted call center?

How can a hosted call center benefit your business?

A hosted call center can improve your customer's satisfaction, improve response times, improve agent efficiency, reduce overhead costs, and give you and your agents more flexibility.
Expert note
Hosted call centers are a cost-efficient and web-based software solution for handling inbound and outbound calls, IVR interactions and improving customer satisfaction.

Andrej Saxon
Sales manager