What is an agent interface?
The agent interface gives agents full control of all activities related to agent work inside a help desk software. The interface has different sections such as the dashboard, and ticket details panel which allows agents to perform a multitude of actions.
What can you do in an agent interface?
Agents can perform tons of actions such as:
Transfer ticket responsibilities
Add notes
Edit customer information
Subscribe and unsubscribe customers from mailing lists
Provide refunds
Conduct both internal and external live chats, video calls, and phone calls
Create comprehensive reports
Create knowledge bases and customer portals
To get a full overview of what you can do inside an agent interface, check out this link.
What kinds of reports can you create in an agent interface?
The reporting dashboard inside the agent interface provides insights into individual and team (department) performances when it comes to ticket resolution, average response times, ticket transfers, first-contact resolution, and more.
By generating reports, you can not only determine agent software utilization but also identify any unusual activities or trends in your employees' behavior.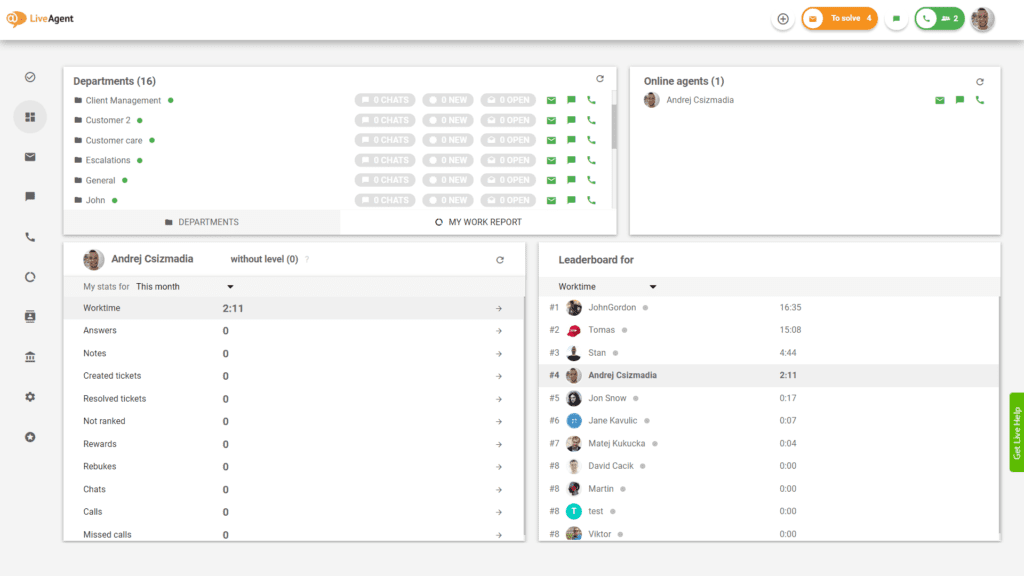 Frequently Asked Questions
What is agent user interface?

The agent user interface gives agents the ability to control and act as part of their work in the help desk software. The interface includes, among others a dashboard, ticket panel, thanks to which agent can transfer responsibility for tickets, edit customer information, coordinate the mailing list, conduct phone calls and chats, create extensive reports, and create knowledge bases.

What features does LiveAgent dashboard have?

In the LiveAgent dashboard you will find everything you need for your current work. There you will find real-time monitoring of agents' work. There you can find the number of open tickets assigned to him, but he can also see the tickets of his colleagues.
Expert note
The agent interface is essential for providing exceptional customer service. With the right tools, agents can efficiently handle multiple channels and leave customers satisfied.

Andrej Saxon
Sales manager