What phones do call centers use?
Call center agents answer questions, listen to complaints, and provide support to customers. To be able to do this effectively they need the right equipment.
Call center phone systems include both hardware and software. Each one has its advantages and disadvantages.
Here are some of the most common types of phone systems that call centers use.
IP phones (VoIP)
IP phones, VoIP, or SIP phones are phones that work via the Internet. These phones convert analog signals into digital and send them as data. You can use your smartphone and transform it into a SIP phone via an app. Or you can download a desktop app and use your laptop.
VoIP phone (2-line VoIP phone)
A 2-line VoIP phone or multi-line VoIP phone is similar to an IP phone. However, instead of connecting only two people, they allow multiple lines – several devices can be attached to a single line. This is very useful in call center environments.
Mobile phone systems
Lots of call centers use mobile phones to conduct their business. They usually use an app that connects the device to the system. This approach gives more flexibility and allows employees to answer calls remotely.
Virtual assistant phones
These phones can also be landline or Internet-based – the key difference is that they come with virtual assistants or receptionists. You can record answers, greet people, and let them choose the department they need to contact depending on their inquiry.
Traditional phone lines
Also called POTS (Plain Old Telephone Service) or landline phone, these traditional local lines are outdated, but they are reliable and easy to use. They work on analog lines, and you can hook them to typical telephones, but there are also options to connect them to PBX or VoIP systems.
What equipment do you need for a call center?
Running an efficient call center requires more than just a phone system. Modern call centers use various equipment and technology to perfect their services and improve operational speed.
Desktop computers and laptops
These are used for inbound and outbound calls just like any other telephony service. They require reliable call center software like LiveAgent to manage and further streamline calls.
Call center agents often have to perform other tasks apart from talking to clients. They can resolve tickets, update CRM, etc. if they have a computer available.
Headsets
Even though call center environments can have up to dozens of people in a single room, it's essential to have clear communication with clients. That's why old phone receivers are not good enough – each agent needs to have a headset with a microphone.
Consider whether you will get Bluetooth (wireless) headset or a USB headset.
Wireless headsets offer more accessibility and less disruption. Customer service agents can walk around the office while talking. However, they need to be charged. On the other hand, USB headsets don't need charging, but they limit movement.
Ultimately, you need to decide what type of headset will work best for your call center.
Microphone
The price of a headset with a microphone can range from around $25 up to $400 and sometimes even more. It's essential to use headsets that have noise-canceling microphones. It ensures that customers will always hear your agents.
VoIP/SIP Phones
Although you can use different phone systems, VoIP or SIP phones are the current standard, and the majority of modern call centers use them.
For call management and setting up lines, the "SIP" Open Standard is used. Voices are transmitted using an IP network to RTP. VoIP phones offer many advantages, including:
reduced costs – Compared to landline phone systems, VoIP phones cost on average $30 less per month. Upgrading to VoIP systems is cheaper due to "SIP Trunking." This protocol lets organizations keep their current hardware while digitizing their voice services.
better scalability – It's easy to scale with these phone systems as they don't require installing new dedicated hardware or phone lines. A call center only needs to add another phone and "plug it" into the system.
softphone support – With a cloud-based SIP system, you can make or receive calls from anywhere, as long as you have a stable Internet connection. These systems support softphones (mobile phones). You can easily use your smartphone simply by installing a dedicated app.
improved voice quality – VoIP systems have no call drops and they are clear and crisp. However, to get the full potential of your HD voice, you must meet the bandwidth requirement and implement a robust and reliable network.
Call center software
Call center software is integral for the operations of a call center. It helps organize and manage interactions with customers, as well as monitoring leads, reporting calls, and managing phone calls.
All the interactions are monitored and stored within the CRM. This software also lets organizations create customer profiles to keep important information about them at hand. You can store a client's phone number, email address, location, details about previous interactions, etc.
Apart from streamlining all the daily processes within the call center, it also synchronizes outgoing and incoming calls, tracks, and routes calls to agents.
Benefits of call center software:
better reporting – Call center managers can evaluate agent productivity, average handle time, call revenues, upsell rates, and other vital data.
higher query resolutions – Many call centers serve as customer support hubs. IVR routes calls based on the services, products, customer's location, and spoken language to find the best-fitting agent.
increased efficiency – when call center agents use call center software, their response time to both outbound and inbound calls improves. It also simplifies their daily tasks, allowing them to concentrate on communication with customers.
Help desk software
In customer-centric organizations like call centers, it's important to give the best possible service. By utilizing reliable help desk software call centers can improve their services even further.
The help desk is a bundled service software that allows call center agents to deal with many different customer queries including complaints, information requests, service requests, incident reports, etc. Help desk software records multiple forms of contact, including calls as tickets.
Here are some of the main benefits of using help desks:
fast resolutions of customers' issues – for each new issue, a ticket is created for an agent to work on
increased productivity – agents can effectively assist, analyze, log, and manage help desk tickets
availability and data – they allow customers to resolve their inquiries either using self-service or by contacting a customer support representative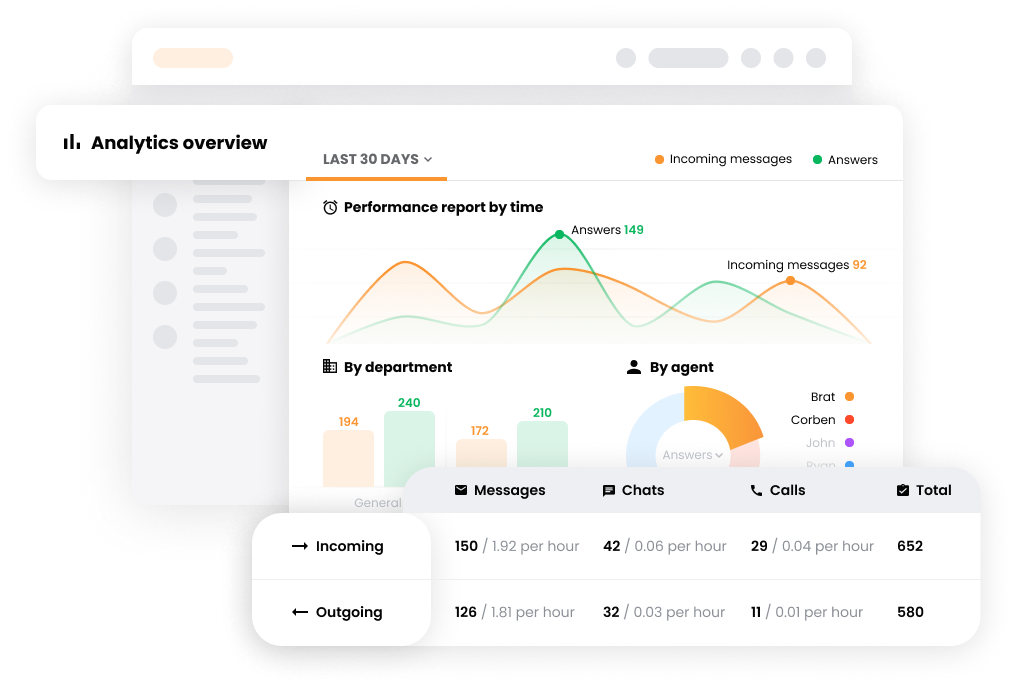 How to choose the right call center phone system?
A call center phone system is a network of hardware and software tools. Here are some of the features you should look for in your phone system.
Advanced features
The more advanced features your phone system has, the better. However, you should prioritize those that are the most important for your business.
conference calling
call monitoring
push to talk
call queuing
call barging
call pulling
call recording
anonymous call rejection
digital receptionist
IVR
integration with smartphones
softphone integration
CRM integration
IP PBX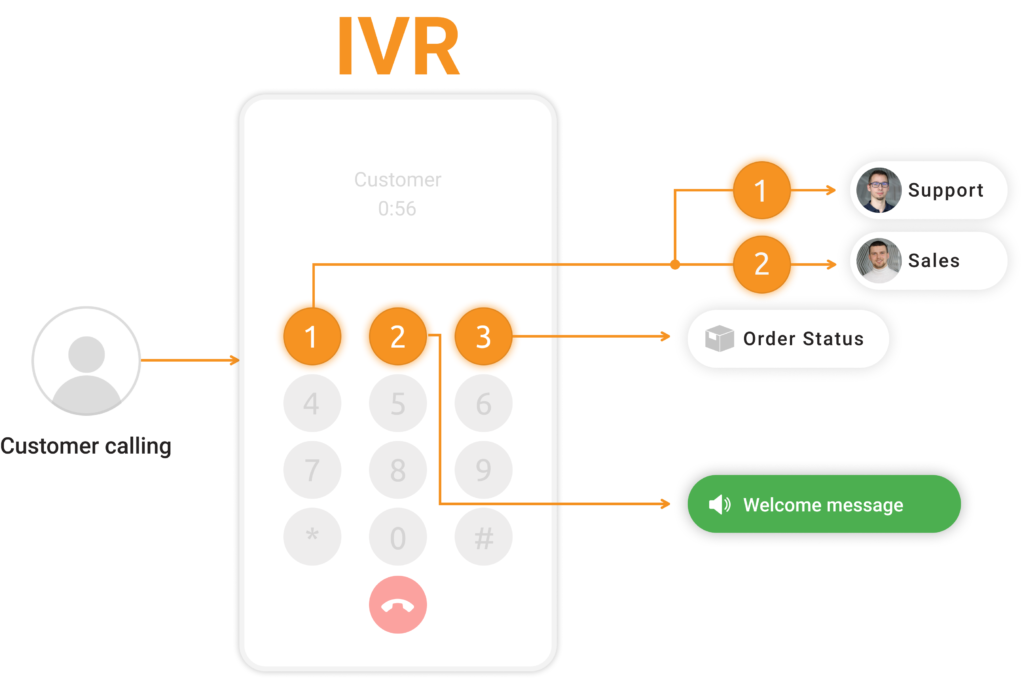 Processing times
Call processing includes all the steps for handling incoming calls. It is the time needed from the initial ringing of the phone to the connection with an agent. It is a significant metric and can play a major role in the overall efficiency of the call center.
Security standard
Even though VoIP phone systems have many advantages, they still require proper security. When looking at an offer, make sure to look for SOC 1, SOC 2, or SOC 3 security standards. These will help you move in the right direction in terms of security. At the same time, consider finding encrypted VoIP services to reinforce security even further.
Payments
For most call centers the best option is to use a cloud-based solution. In this case, you'll pay for the services monthly via a subscription fee. Check vendor's payment options and policies in advance.
Routing options
Look for a system that can switch between various options so that you can adjust it according to your current needs:
predictive behavioral call routing
round-robin routing
least occupied routing
skill-based routing
priority routing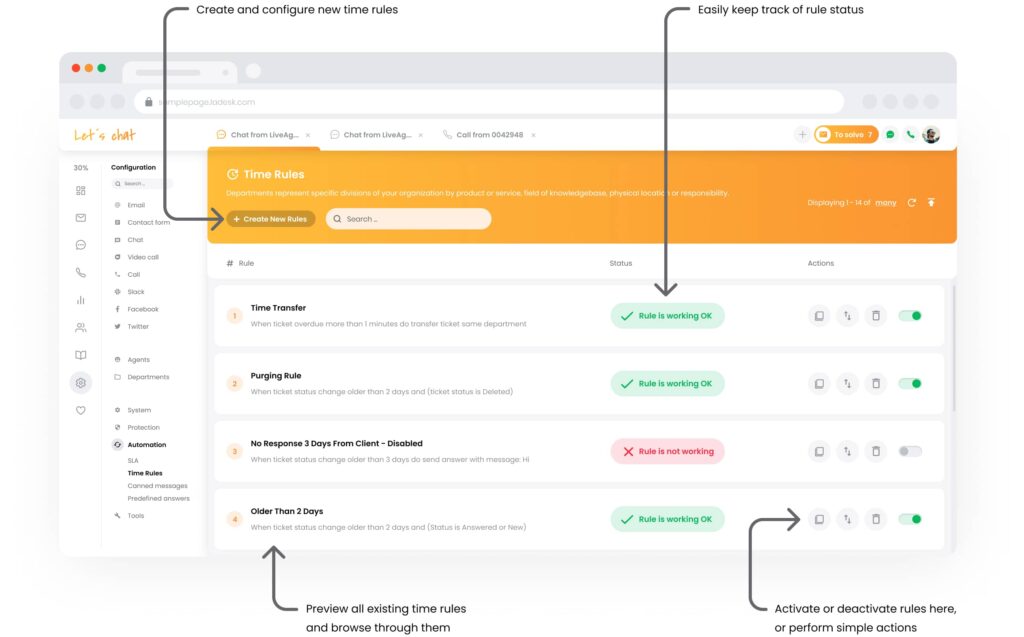 Self-service options
Many people like to resolve their issues themselves. It's important to find a phone system that supports automated features that guide clients towards a knowledge base where they can get the information they need.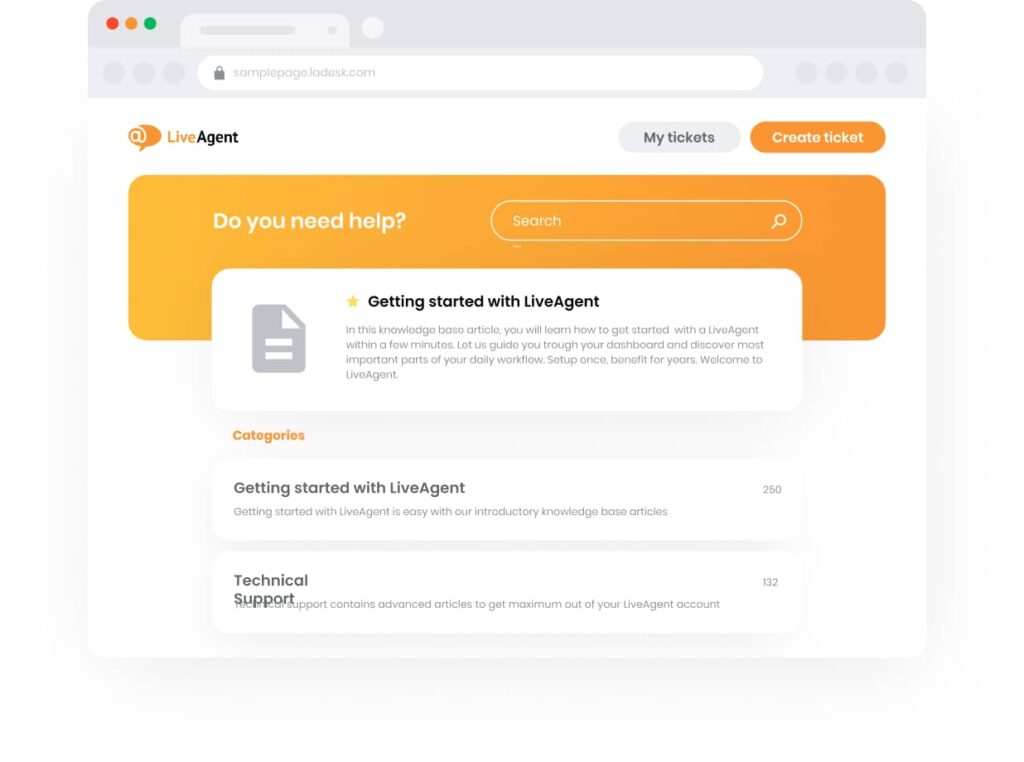 Pricing option
Phone system providers have different pricing plans to choose from. Most SaaS solutions use subscription fees. However, there are also pay-per-minute options.
Cloud contact centers
Cloud contact center software includes various tools and cloud-hosted applications that can help you work with multiple channels. You can use these tools to enjoy the advantages of telemarketing and over-the-phone sales. If you want to expand your services to more than just phones and emails, real-time chat, etc., look for a cloud-based contact center solution.
Choose only the best for your call center
LiveAgent offers numerous features and integrations for call centers that can come in handy. Curious about all the opportunities?
Frequently Asked Questions
What phones do call centers use?

Most call centers today use VoIP phone systems or some variation of this technology. These systems support many technologies and integrations, offer flexibility, have great sound quality, and are scalable.

What equipment is needed for a call center?

All modern call centers need to have phones, headsets with microphones, computers or laptops, help desk software (e.g. LiveAgent), and CRM software.

How to choose the right call center phone system?

It all depends on the needs of your call center. Look at the features like supervisor controls, reporting, analytics, queue management, virtual assistants, interactive voice response, multi-channel communications, etc. After you've shortlisted the features you need, compare the pricing options. Bear in mind that the price will also be different when choosing between a basic plan or an advanced plan.
Expert note
Call center phone support is crucial for businesses to provide prompt and efficient assistance to their customers. It's an essential part of customer service and helps improve overall customer satisfaction.

Andrej Saxon
Sales manager