What equipment is needed to run a call center?
You can only achieve a high service level and a smooth customer experience with the right equipment and professional call center software in place. Because of this, the number of businesses using traditional on-premise call centers is gradually declining, and more organizations are opting for cloud-based call center solutions. The key to setting up a modern call center is to provide agents with computers, headsets, high-speed internet connection, and a work area.
Computer (desktop/ laptop)
Whether call center agents will work on-site or remotely, they will require computers (desktops or laptops) to access call center software and other communication tools they may need to handle inbound calls and outbound calls. In most cases, there is no need for the most advanced computers to ensure high agent efficiency. However, the following are frequently recommended minimum specifications for call center computers:
The latest Windows or Mac OS operating system.
At least 8 GB of RAM (more memory generally improves performance).
A hard disk space of about 280 GB.
Antivirus and spyware protection software.
Headsets
Each call center agent should be equipped with an individual headset that includes headphones and a microphone. It is best to use professional, high-quality headsets as they provide better sound, are more reliable, and are naturally more comfortable for agents. In addition, for busy call centers with agents working close together, headsets should ideally come with a noise-canceling function to keep background noise out and ensure clear communication.
Internet connection
Because most modern call centers use VoIP (voice over internet protocol) technology (rather than analog telephone lines) for making and receiving phone calls, having a reliable high-speed internet connection is vital. However, the availability of adequate bandwidth is crucial to ensuring high-quality calls, smooth communication, and uninterrupted service. Depending on the number of agents and the software used, the bandwidth requirements may vary.
Office space
It is usually necessary to allocate and equip an office space for an in-house call center unless you implement a virtual call center where all agents work remotely from their own locations. Further, since the microclimate at work may affect agent productivity and performance, especially if a call center has many employees working in a small space, it's essential to provide an air conditioning system and a fire safety system to ensure a safe working environment.
What are the call center tools?
Call center software
Call center software (whether on-premise, cloud-based, or browser-based call center software) is the primary tool that call center agents need to handle inbound and outbound customer interactions and multichannel communication. In addition, the software should be equipped with ACD (automatic call distributor) and call routing. These are the primary call center software features that ensure calls are distributed to the most appropriate agents.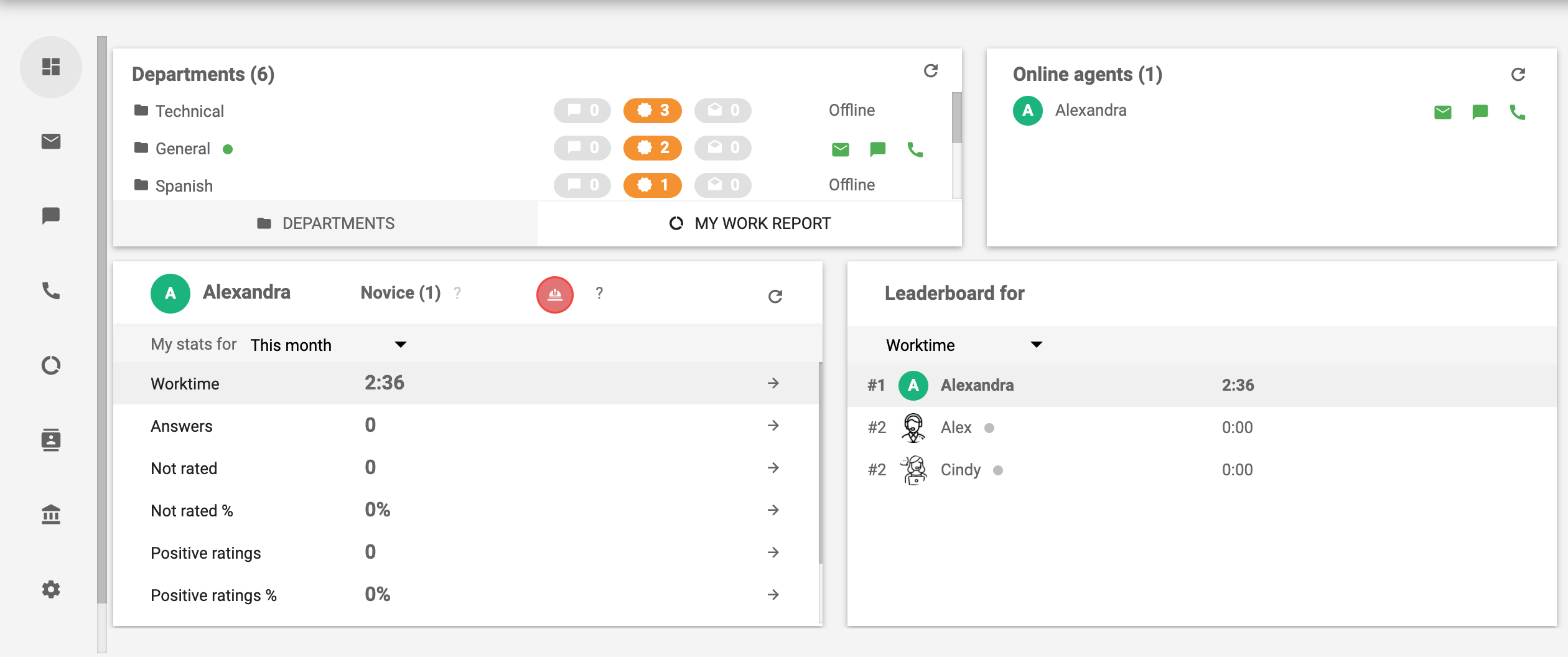 Call recording
A call center software solution usually includes call recording tools. Agents may benefit from call recording for several reasons. In the first place, they can always refer back to the recorded customer conversations if they need context for a previous interaction. Additionally, call center managers can use it for quality assurance and agent training.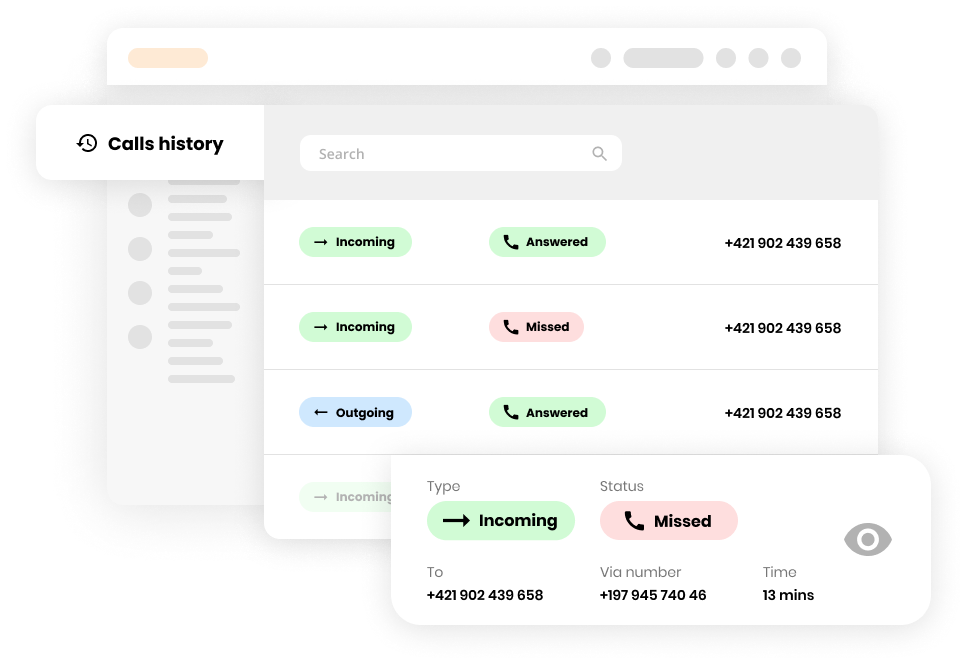 Auto-dialing tools
Auto-dialer software tools (such as predictive dialer or power dialer) can be either built into call center software or come as standalone solutions. Predictive dialing tools are essential for outbound call centers. They allow outbound call center agents to make more calls in a shorter time without needing to dial phone numbers manually, reducing idle time and increasing agent productivity.
Customer Relationship Management (CRM)
Customer relationship management (CRM) tools integrated into call center software can optimize agent performance and enhance the customer experience. CRM systems store important details about customers and their service history, giving agents instant access to data such as client demographics, call logs, purchase history, etc. Armed with this information, agents can personalize customer interactions and deliver better experiences.
Analytics tools
Call center cloud solutions commonly come with built-in analytics and performance monitoring tools. With the help of call center analytics and reporting tools, call center managers can consistently track various call center metrics and KPIs to get deeper insights into how agents are performing, who might need additional training, and what can be improved to ensure better customer satisfaction.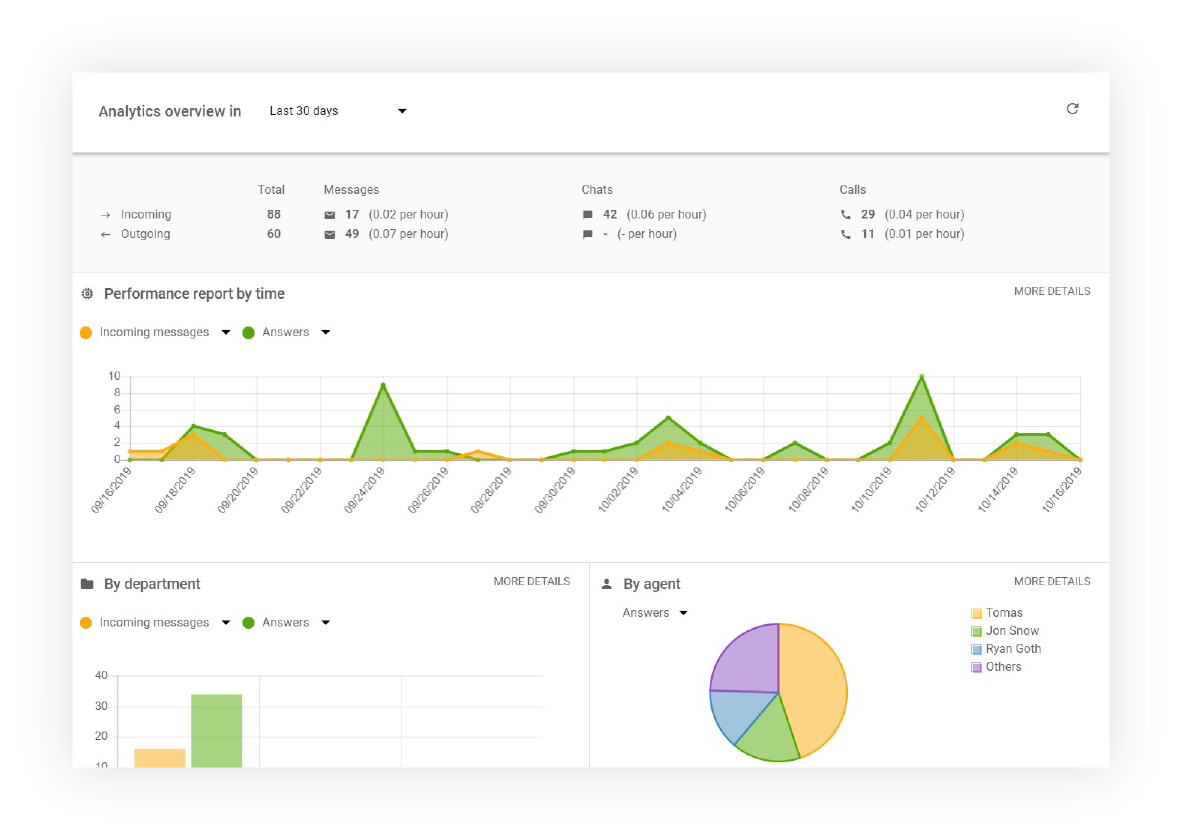 Workforce management tools
The use of workforce management tools is crucial for call centers with high call volumes. Call center managers can use workforce management tools to forecast call volumes, predict agent staffing based on historical trends, optimize agent schedules, and monitor schedule adherence. A well-managed workforce ensures the correct number of call center agents are available at the right time to handle the expected volume of calls.
How much does it cost to set up a new call center?
The most important factor in setting up a new call center is choosing a cloud-based or on-premises solution. Unlike cloud-based tools, on-premises call centers require investing upfront costs into call center hardware, licenses, housing servers, and ongoing expenses for maintenance and upgrades. Other costs to take into account when calculating the totals may include the following charges:
Employee salaries and benefits
Administrative expenses
Employee training
Office space rent
Building and utility fees
Agent equipment
Furniture and office supplies
Call center software costs
Call center software like LiveAgent is usually available for a monthly fee per agent. However, that may significantly vary based on the call center software provider you choose, the range of features included in your pricing plan, and the number of agents who will be using the software. You may additionally want to consider the calling costs that are not included in these ongoing expenses.
Frequently Asked Questions
What equipment is needed to run a call center?

Setting up and running a cloud-based call center requires allocating a dedicated office space (unless agents work remotely) and providing call center employees with proper equipment. That includes computers that must meet specific requirements, high-quality headsets (preferably with the noise-canceling capability), and a high-speed internet connection to ensure uninterrupted service.

What are the call center tools?

Call center software is the primary tool agents need to perform call center operations (handle inbound and outbound customer calls). Other critical tools may include call recording software, auto-dialing (for outbound call centers), customer relationship management (CRM) software, call center analytics and reporting, workforce management, call accounting tools, and more. These tools can be either built into call center software or come as separate solutions.

How much does it cost to set up a new call center?

The costs required to set up a call center depend on several factors. E.g., the initial upfront expenses may vary based on the type of call center you will implement (a cloud-based or on-premises call center solution). The latter involves investment into hardware, software license, and on-site servers. Other expenses include agent salaries, office rent, call center equipment, and ongoing monthly per-agent fees for using call center software.