What is VoIP software?
VoIP stands for Voice Over Internet Protocol. VoIP software enables callers to leverage VoIP technology to make calls online. It is an outstanding alternative to using a regular telephone line both in terms of cost-efficiency and productivity. VoIP software enables VoIP phone service.
The purpose of VoIP solutions is to streamline communications, standardize the workflow for your customer service teams, and enable them to achieve great results with a centralized solution. This minimizes holding times and therefore affects customer satisfaction levels.
How does VoIP software work?
VoIP software uses the internet and standards for voice and video communications, such as H.323 and the Session Initiation Protocol. It leverages these technologies to take your analog voice signals. Then, it converts these signals into digital ones without making any voice quality trade-offs. VoIP services will then send your data over the Internet.
VoIP converts a digital signal into a regular phone signal allowing your business to make and receive traditional phone calls, whether they are from mobile phones or fixed-line telephony users.
Take Interactive Voice Responses (IVR), for instance, which is a standard feature in cutting-edge VoIP software solutions. With it, you will have an automated business phone system that can interact and gather information from customers.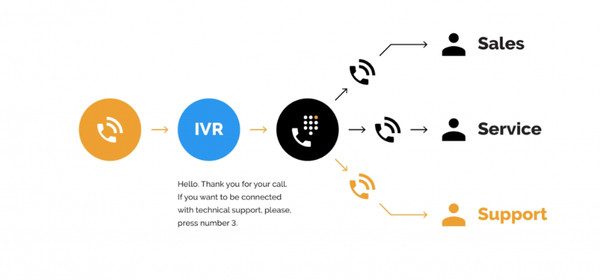 Benefits of using VoIP software over traditional telephones
First and foremost, you will have a centralized voice communication system your call center agents can use across devices. With the best free softphone, you can make phone calls to traditional landline phones, analog devices, and mobile devices.
VoIP software is also considered a lot cheaper solution than using regular phone lines. Depending on your budget plans, you can get rid of some huge costs, including long-distance call costs and mobile calls costs as well as expensive hardware.
VoIP software can also streamline video conference calls which allows you to organize online meetings even if you have a hybrid workforce.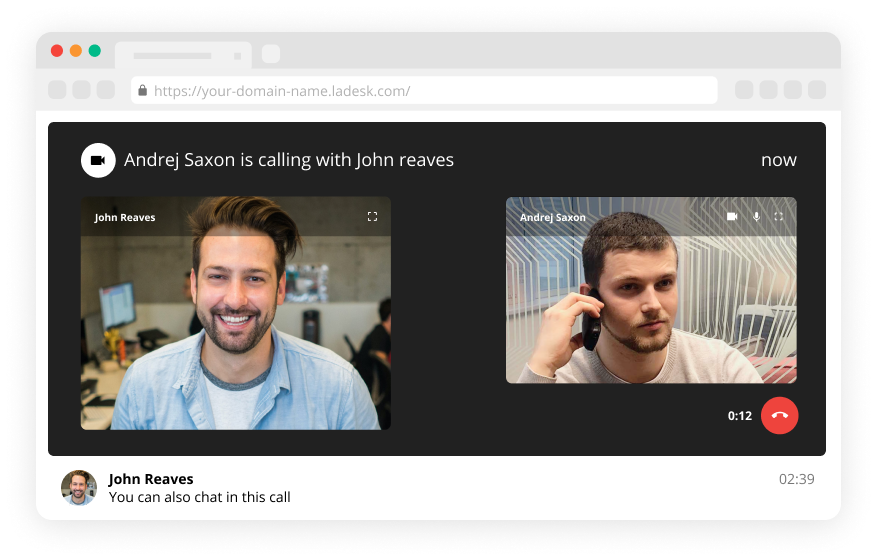 The best business VoIP providers
There are thousands of VoIP providers worldwide. It can be difficult to choose the one for your business. Here is a list of popular VoIP platforms you can further look into and pick the one that reflects your business's communication needs:
Ooma
CloudTalk
SolarWinds VoIP
Actio
Avoxi
Benemen
Didlogic
Modulus
Nexmo
TelcaVoIP
Before you make your final pick, you need to know what features and services make a good VoIP provider.
Things to consider when looking for a new VoIP software
First, you need to check the price. It can make or break a deal. A leading cloud-based phone company will have a transparent VoIP pricing policy. You need to decide your budget for new VoIP software and narrow down your options accordingly.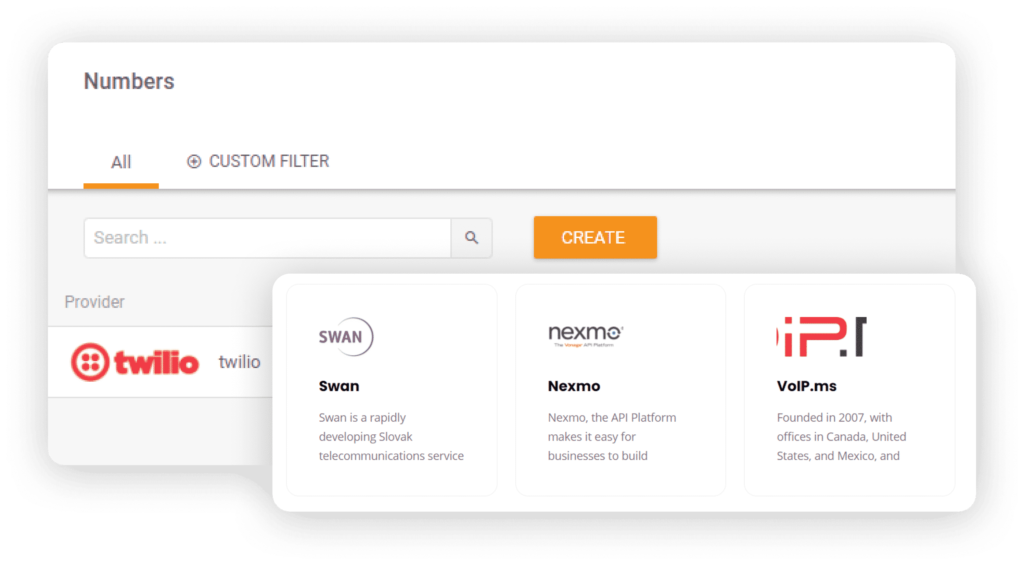 Your company size also plays a role. More specifically, the number of people on your customer service teams and the size of the market you serve will help better determine a VoIP provider. Finally, look for a demo video to see the software in action.
Key features of VoIP software
All VoIP softphones come with basic functionalities such as caller ID and call holding. It is the advanced features and additional functionality that should interest you. Let's quickly go through the key features you should look for in your future VoIP system:
automated calls — it enables a system to transfer incoming calls automatically to the correct extension
call queuing — the system can place inbound callers into a relevant queue automatically
screen sharing — advanced systems will have the capability to enable screen sharing, so your support team can solve problems faster
advanced calling features — with call monitoring, whispering, and barging, you will have complete control of voice communications and the ability to improve your operations
mobile apps — the VoIP software mobile apps are a nice bonus to have access to, and it's slowly becoming one of the basic features in the VoIP software offer
Call recording – VoIP recording allows you to record calls for later review or training purposes.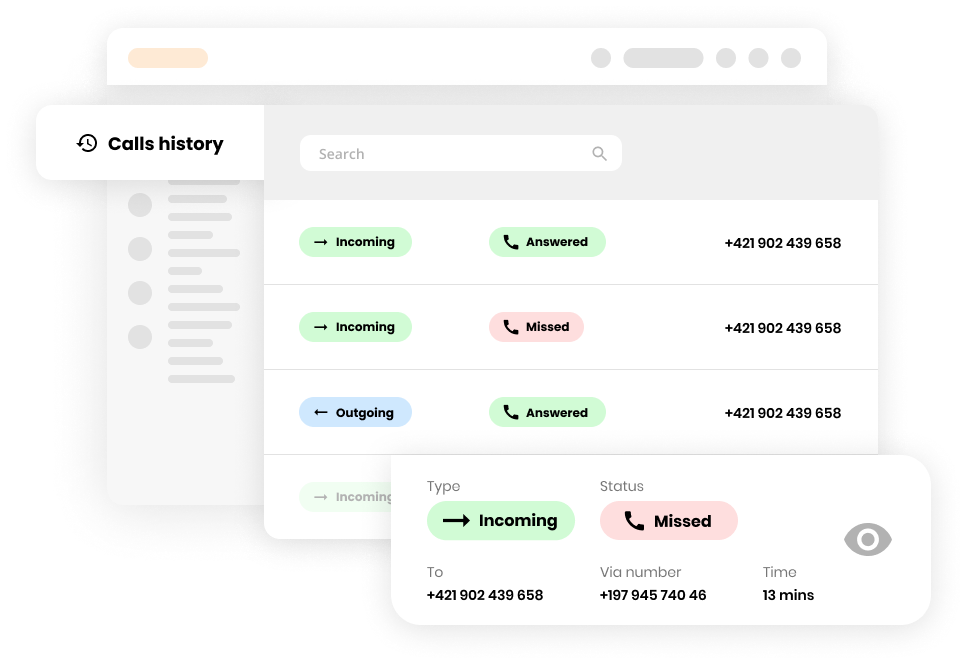 How to make the most of VoIP software
To ensure the success of implementing your communications platform, you need to determine your goals. You may want to use it as an engagement platform or add it to your collaboration platforms stack.
In either case, to make the most of VoIP software, you should:
Define your business goals.
Share the benefits of a VoIP system with everyone on the team.
Organize onboarding training.
Provide ongoing support to employees who need help with VoIP software features.
Does VoIP work if the internet is down?
Voice Over Internet Protocol, as the name suggests, is a protocol that uses the Internet. When the Internet is down, your VoIP system is down as well. You will not have the ability to make phone calls while you don't have a connection to the Internet.
Looking for a VoIP software for you?
LiveAgent offers wide range of useful features and integrations. Your only responsibility will be to choose the best features for you.
Frequently Asked Questions
Is VoIP software needed in business?

VoIP software enables business communications to thrive in the age of the Internet. It enables businesses to make calls online while using a single solution for all their voice communication needs.

What is VoIP software?

VoIP software is an application that makes online calls possible. With VoIP software, your customer service teams will be able to make and receive calls online whether the call recipient uses a landline, mobile device, or VoIP phone.

How does VoIP software work?

VoIP software converts the analog signal into a digital one and sends it over the Internet. A modern telecommunication system leverages the internet to streamline internal and external business communications.

What are the benefits of using VoIP software over traditional telephones?

VoIP software offers many benefits. It is a cost-efficient solution enabling businesses to make affordable international calls. It offers easy-to-use tools to make and receive calls and brings landline, mobile, and online communication under one roof.

Which business VoIP provider is the best?

There are many VoIP service providers out there. Some of the best are Ooma, CloudTalk, SolarWinds VoIP, Actio, Avoxi, Benemen, Didlogic, Modulus, and Nexmo.

What are the things to consider when looking for a new VoIP software?

When looking for a new VoIP software, you need to consider its price, your company budget, size, number of customers, business goals, and what features VoIP software provides at certain price points.

What are the features of VoIP software?

VoIP software features enable its functionality. You should ensure that your new VoIP software has features that reflect your business needs and goals. The VoIP software features include automated calls, video calls,  call queuing, screen sharing, call monitoring, whispering, barging, and dedicated smartphone apps.

How to make the most of VoIP software?

To make the most of VoIP software, you need to ensure that everyone on your team is involved in the process of selecting the software. Make it a primary communications platform and provide onboarding training to your staff.

Does VoIP work if the internet is down?

No, VoIP doesn't work when the Internet is down. VoIP uses the Internet to relay messages, and while the Internet is down, your system will be temporarily out of commission.
Expert note
VoIP software streamlines communications and enhances customer satisfaction for businesses. Its features, cost-efficiency, and productivity benefits make it a game-changer for call centers.

Andrej Saxon
Sales manager