What is a ticket watcher?
Often, you want to see the progress of a Ticket, even though it might be assigned to a specific agent or a department. This can happen in numerous situations e.g. the ticket was created by a VIP customer or is being answered by a new hire and you simply want to keep an eye on an opened ticket.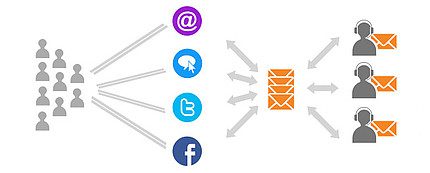 Frequently

asked questions
What does ticket watcher mean?
Ticket watcher is a person who tracks the progress of a specific ticket but is not responsible for it. He receives a notification when an update occurs, such as a ticket reply or status change.
Why should you use a ticket watcher?
Ticket watcher is worth using when a ticket has been created, for example, by a VIP client, or you need to check whether the new employee is doing well with the tickets or you just need to have control over a specific ticket.
Does LiveAgent provide the ticket watcher option?
LiveAgent provides a ticket watcher option. A given ticket can be linked to the view of a specific agent or the entire department.
Expert note
Ticket watcher is a useful tool for tracking the progress of a ticket, even if you're not responsible for it. LiveAgent provides this option for better customer service.

Andrej Saxon
Sales manager