What is call center automation?
Call center automation refers to using a call automation solution to automate the tasks previously handled by the human agents. An automated call center offloads repetitive tasks from support agents and improves operational efficiency while reducing operational costs. The automation platforms feature cutting-edge technologies such as Interactive Voice Response (IVR), call routing, and callbacks. They help streamline call automation, minimize wait times, and reduce idle time for all agents.
Contact center automation creates an effortless customer experience. It enables businesses to have a customer engagement platform of their own and improve customer satisfaction and boost sales.
What software is used in call center automation?
Call center software powers the entire call center automation initiative. It's often used interchangeably with contact center software or call automation tools. LiveAgent call center software leverages the latest contact center technology and voice automation to enable you to use:
Intelligent automation
IVR (Interactive Voice Response)
Intelligent call routing
Virtual agent
Artificial Intelligence
Outgoing and incoming call management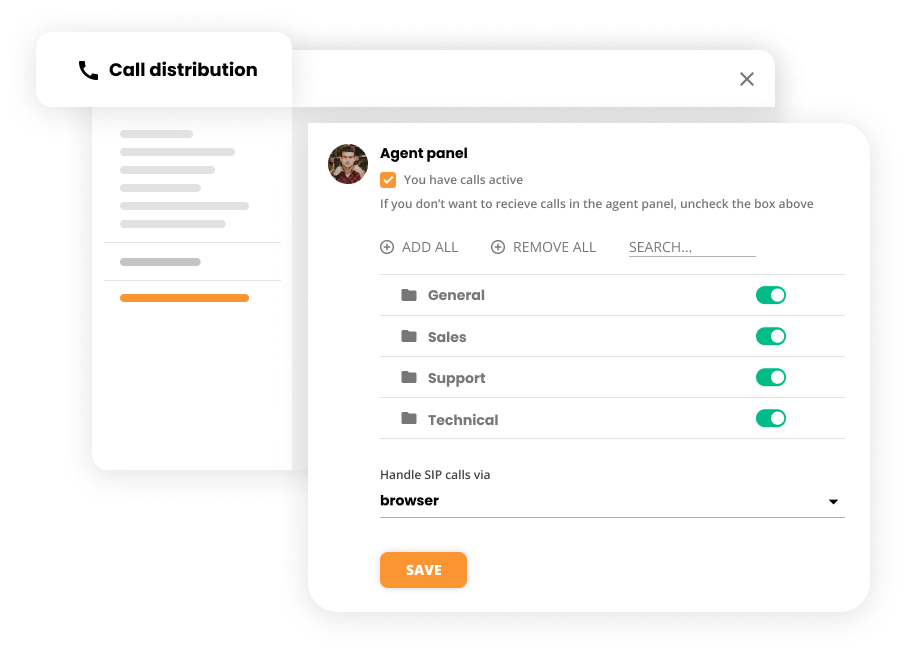 It is an end-to-end contact center software with support for both inbound and outbound call centers.
Who uses call center automation?
At the moment, call center automation stands at the core of the customer service industry. However, many other industries depend on call automation, especially businesses with in-house call centers. Call center software use-cases are often bound to specific departments and job positions.
Customer contact center staff depend on call automation as it helps them offload a lot of mundane tasks. The following job positions use call automation on day to day basis:
Contact center agent
Call center manager
Customer service agent
Automate your workflow
LiveAgent offers wide range of useful automation and rules options. Why not try for yourself and see how helpful they can be?
How do you automate calls?
LiveAgent enables you to leverage customer service automation capabilities in real-time to automate calls. Given that this is a complex task, it was only possible to achieve it through careful programming and technologies that can understand natural language, in other words, AI.
The platform takes every customer query, analyzes it, and assigns it to a relevant communication channel. Interactive Voice Response, for instance, can help you connect potential customers to suitable agents instantly. Paired with call routing, IVR will utilize every available agent in the best possible way.
Finally, the callback feature comes in to help callers request callbacks when there are no available support agents or the line is busy.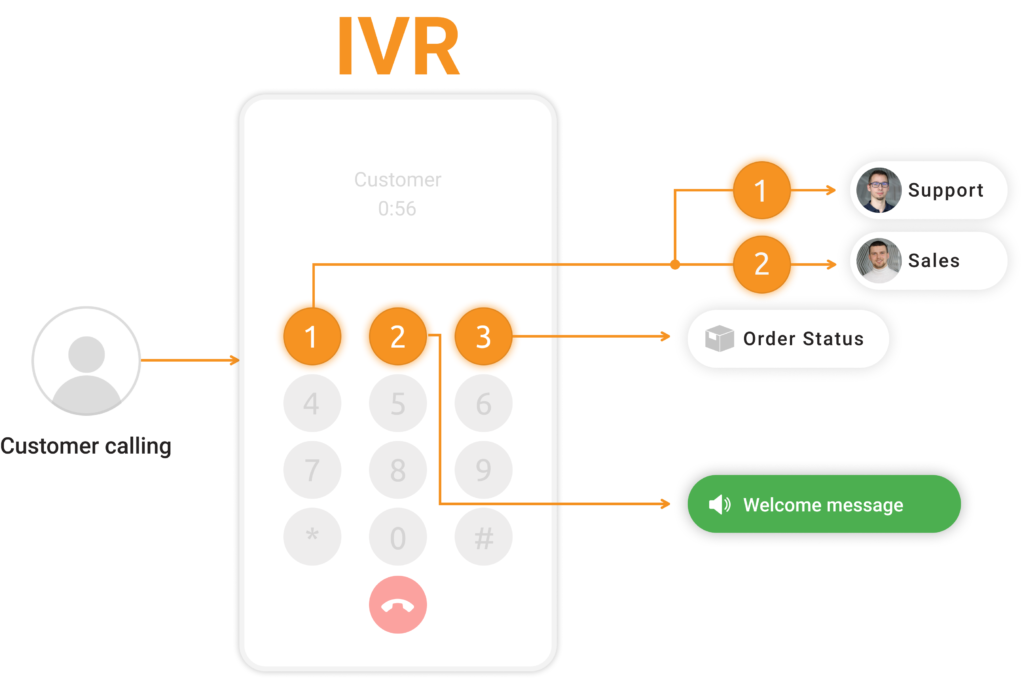 What are the current trends in call center automation?
Call center automation transformation began with the implementation of call center software. However, this is a dynamic landscape. It's crucial to keep up with the latest trends and meet consumer demands.
One of the current trends of call automation is digital transformation. It challenges the status quo in the customer service industry and calls for integrating technologies into the business. One of these technologies is call center software.
Using CRM alongside call center software is another trend that emerged thanks to its ability to personalize the customer journey and improve customer interaction.
Finally, LiveAgent can significantly enhance your communication capabilities and agent productivity. Currently, the platform integrates a dozen of communication channels, including:
Email
Chat
Calls
Facebook
Slack
Twitter
Viber
Forum
Contact forms
Video calls
Feedbacks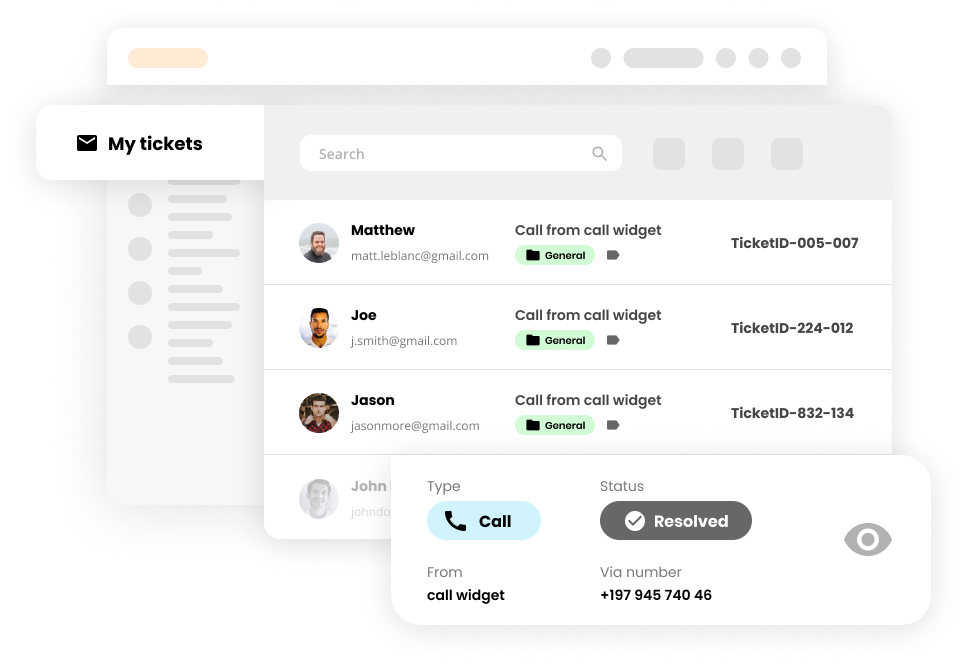 How does call center automation boost customer service?
Call automation automates repetitive and mundane tasks to make every business hour count.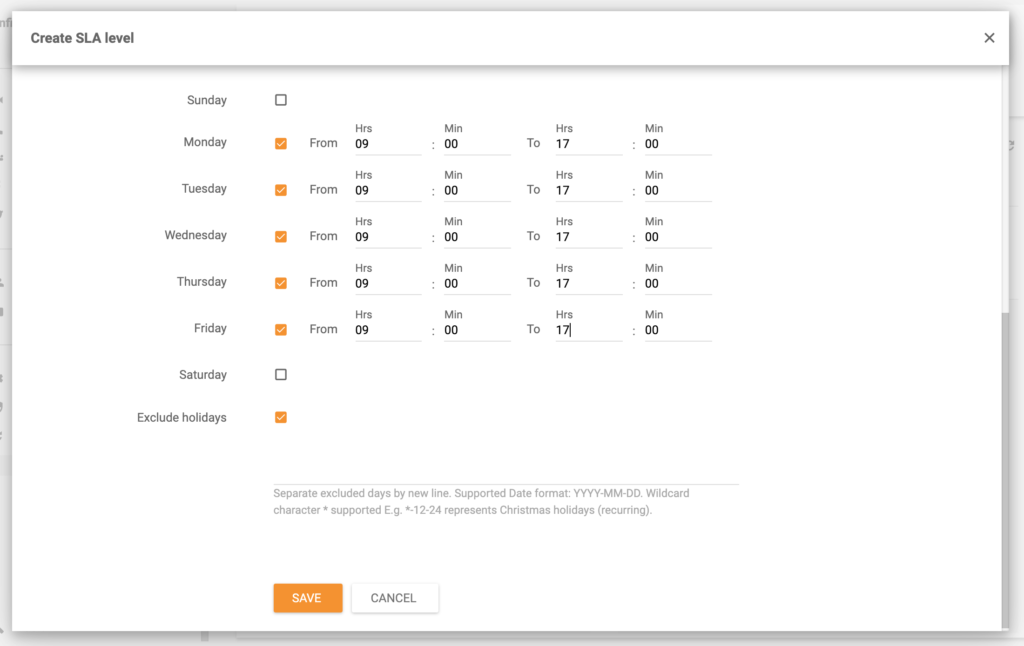 It also improves the callers' overall experience with IVR, callbacks, and intelligent routing, by minimizing wait times. Something as simple as the callback option makes it easier and more convenient to reach out to customer support.
What are the benefits of call center automation?
Call automation can help you delight customers, deliver an exceptional customer experience, and improve customer satisfaction. LiveAgent can help you achieve all of the above by improving the most important KPIs of your call center:
Reduced average handle time
Faster resolution time
Reduced customer abandonment rate
Enhanced employee experience
Improved employee satisfaction
Reduced labor cost, operational cost, and contact center cost overall
Streamlined recording and storing of client feedback
Improve your call center
Handle all your calls with ease and make your call center efficient more than ever with the help of LiveAgent.
Frequently Asked Questions
What is call center automation?

Call center automation is a process of automating call center tasks. Call center software is a tool that enables the automation of repetitive tasks. The tasks that can be automated range from simple repetitive tasks to complex predefined call routing automation.

What is the most popular software for call center automation?

Modern call center software, such as LiveAgent, uses advanced features to automate various processes in a contact center. It comes with IVR, call routing, and callbacks and even utilizes Artificial Intelligence and natural language processing.

Who does call center automation benefit the most?

Companies in the customer service industry depend on call center automation on a day-to-day basis. The call automation does wonders in the hands of contact center staff, including contact center agents and call center managers.

How do you automate calls?

Automated calls are the core of customer service automation. LiveAgent helps automate calls in real-time to appropriate agents via different routing methodologies - IVR, intelligent call routing, and streamlined callback. It ensures that every customer issue is resolved on time.

What common practices are used in call center automation?

The current major trends of call automation include: Digital transformation Streamlined customer interaction Support for various communication channels Personalization via customer journey analysis

What does call center automation do for your customer service?

Using call automation can help you enhance customer service in several ways. It frees up time for agents, automates matching customers with a specific query to relevant agents thanks to IVR and call routing, offers a callback option, and enables contact centers to serve customers via multiple communication channels, all from one screen.

What are the benefits of call center automation?

Call automation can help your company delight customers and provide an exceptional customer experience. The more specific benefits include reduced average handle time per customer, reduced contact center costs, and improved employee satisfaction.
Expert note
<p>Call center automation refers to using software to automate tasks, reduce operational costs, and improve customer experience. Benefits include reduced handle time, costs, and improved satisfaction.</p>

Andrej Saxon
Sales manager